"Swarm" Production Designer Sara K White on Creating Fractured Spaces for the Celebrity-Obsessed
Swarm has a way of hovering in your thoughts long after you've finished the latest episode. The new series from Janine Nabers and Donald Glover (available now on Prime Video) takes the conceit of toxic fandom and unleashes a psychological thriller with a nasty, lasting sting. Starring a phenomenal Dominique Fishback as Dre, a socially stunted retail worker who is deeply, even desperately committed to two and only two people in her life: Her beloved sister Marissa (Chloe Bailey), who aspires to be a makeup artist, and the mega-famous pop superstar Ni'Jah (Nirine S. Brown), a larger-than-life icon with a legion of fans and global fame.
Dre's love for both of them is all mixed up—growing up, the sisters were equally demented over their obsession with Ni'Jah, but as a young adult, Marissa has become goals oriented as she adjusts to real life, which includes pesky things like bills. Dre has made no such journey, she remains as committed to Ni'Jah as ever, and this commitment fuels Swarm's propulsive narrative energy. When Dre surprises Marissa with tickets to a N'Jah concert for her birthday (she spends half of her rent money to purchase them), Swarm begins its flight pattern toward madness.
Helping Nabers, Glover, and the rest of the Swarm team achieve the varied looks the series explores, from Dre's Ni'Jah-centered world to a wellness center that's anything but, was production designer Sara K White. We chat with White about tackling one of TV's spikiest, most satisfyingly off-kilter new series.
What were your initial thoughts when you dug into the pilot script?
I just thought that the characters were really unique and that the scenarios they exist in were places I don't often get a chance to design. I really liked the idea of pushing the aesthetics with the idea of genre films in mind. This is my first foray into the horror/thriller world. I've always loved psychological thrillers and have always been intrigued by some of the opportunities for design in horror films. I was just super excited to get to play in this area, and knowing Donald [Glover]'s previous work, I knew the comedy was going to be really strong and layered, and there would be a wonderful irreverence. I was super psyched to come on and push the aesthetics as much as I could within the bounds of the reality we're in.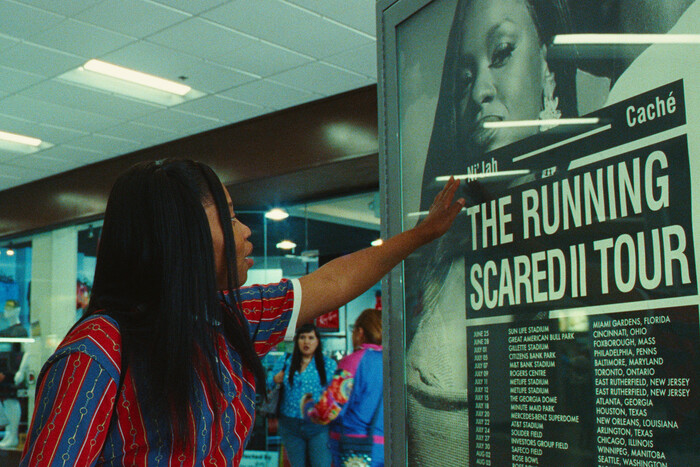 Swarm really moves around into a lot of new, interesting, often weird spaces as we follow Dre. What was your priority in creating these spaces?
The priority is always to make sure the characters feel real. Each different episode is wildly divergent. We're going into spaces that are really gorgeously designed, and we're also going into spaces that are disgusting. The authenticity of the people who are in those spaces was a grounding element for me. I was able to really collaborate deeply with our cinematographer [Drew Daniels for 6 episodes, Gabriel Patty for 1], and costume designer [Dominque Dawson] to push ideas. It was about making sure that the lighting, costume design, and my own design were all balanced. That's how we were able to hit that level of consistency, even though each episode was unique.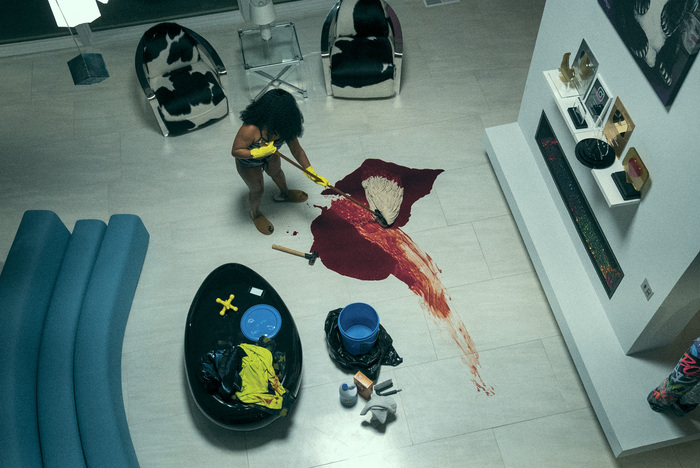 How much of Dre's mental instability played into the way you approached your design?
I thought about Dre's inability to connect with people on every set, so I played with symmetry and color to make it feel uncomfortable for the audience. Yes, the action and the character certainly do that, but every time we could make a space feel off-kilter, that was something I wanted to do.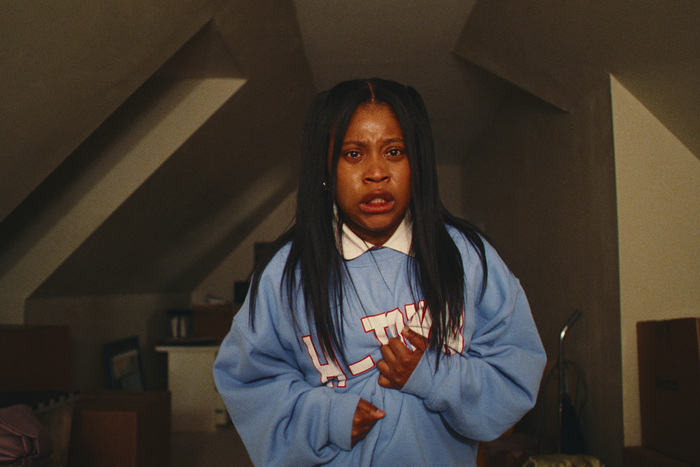 And then there are spaces that just immediately feel off, like at the "wellness" center in episode 4.
We wanted to speak to the wellness industry and a variety of other cults that have been based on this idea of wellness that's inauthentic but portrays itself as truly helping people. There was a need to convey that really clearly to the audience, and I think we found a location that was really aesthetically beautiful and obvious in a way. We also created the bedroom that Dre gets brought to, and the direct influence for the way those beds were laid out and styled was a 1940s mental health clinic. So it's a balance of playing with wanting to show what's driving her mental state and hinting at where she's losing it. The sets help drive at what's making her feel uncomfortable and attacked and imprisoned. In that environment, she very much felt like she was out of control at the end. So it was bringing all of those influences in and finding the right way to lay them into the set.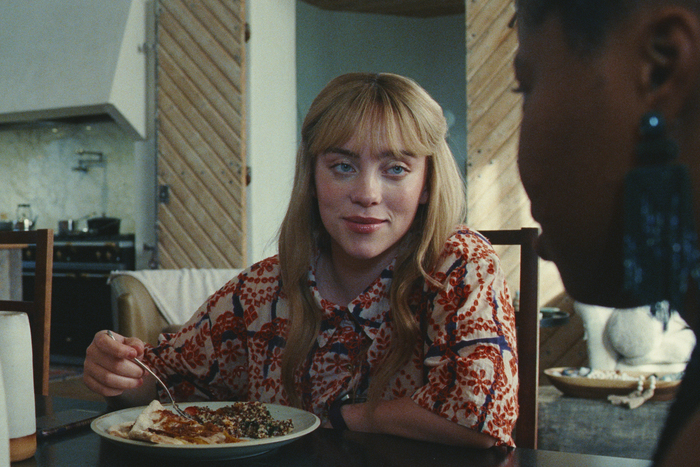 Was episode four shot on location or on a set?
Swarm was mostly location-based. As far as the dressing of those locations, that was 70% that we brought in, and the rest we used elements that were already there. So with episode four, we used some of the larger furniture that was already there, but we brought in artwork that was going to push the cult aesthetic. For the bedroom, we decorated that from scratch. The yurt that we created, that sweat lodge, we created from scratch. We built that in situ, the same as the fire pit where she has that final breakdown scene. So it's finding a good foundation with the location, but then we brought in a significant amount of dressing.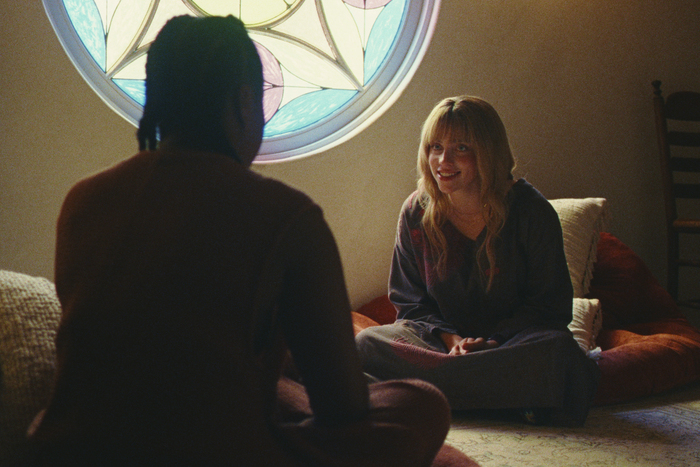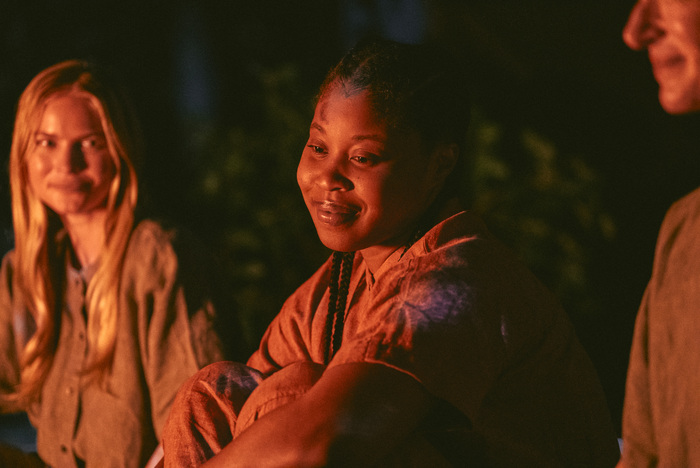 What other film or TV series references did you discuss with creators Donald Glover or Janine Nabers?
The one that Donald really wanted everyone to watch was The Piano Teacher. Watching a human break down and finding the moments where they're really insecure, and pushing on those moments and creating a disturbance. The production design in that film is incredibly simple and honest and really falls into the background, while you still understand so much about the characters through it. The woman and her mother living in that apartment, it's clear that this is a woman who doesn't have her own space or her own life and doesn't know when she's ever going to get it. And she doesn't have the strength to ask for it herself, and it creates an environment where she becomes incredibly unstable. It's very subtle but also very communicative.
Any others?
We also talked about Madeline's Madeline; we talked about Jeanne Dielman, and we also talked about Mandy. I just loved that movie and how powerful the aesthetics are. So finding places where we could push things was really exciting for me, so I talked to Donald about all that.
How much did the notion of toxic fandom itself inform your specific choices?
We were exploring the idea of parasocial relationships from the get-go. Especially in Dre's room and the elements she brings with her, that's where explored it the most. Her ability to understand the relationships she should have with others around her is super limited, so the interests she's got represented in her bedroom are extremely limited to the one person she believes she's communicating with, and that's Ni'Jah. The elements she surrounds herself with really respond to the relationship she thinks she's having with this person who doesn't exist to her in a real way.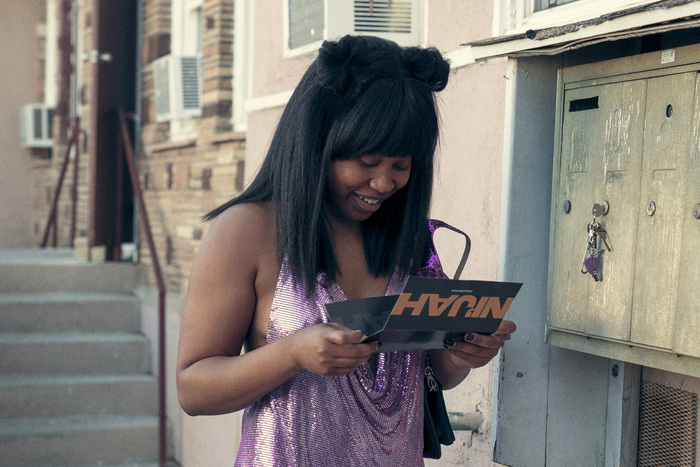 Swarm is streaming on Prime Video.
For more stories on Prime Video films and series, check these out:
Rachel Weisz Delivers Double the Trouble in Prime Video's "Dead Ringers"
"Daisy Jones & the Six" Makeup Department Head Rebecca Wachtel Captures the Many Faces of Stardom
"Daisy Jones & the Six" Cinematographer Checco Varese on Evoking 70s Vibe Through a Contemporary Lens
Featured image: Dominque Fishback is Dre in 'Swarm.' Photo courtesy Quantrell D. Colbert/Prime Video