Sundance 2018: Cinematographer Ashley Connor on Lensing Madeline's Madline & The Miseducation of Cameron Post
Cinematographer Ashley Connor has had an incredible run since graduating from Ithaca College's film program. You know your work is special when the New Yorker's film critic, the brilliant Richard Brody, singles out your technique in a review.  Connor has already built an impressive relationship with writer/director Josephine Decker, lensing both Butter on the Latch and Thou Wast Mild and Lovely (the film that got Brody's attention), and now Madeline's Madeline at this year's Sundance. The film is focused on the eponymous Madeline, a young woman in an experimental theater troupe whose director pushes her to thread her troubled past and dizzying interiority into their collective art. Soon enough, the lines between what's personal and what's performance blur, and throughout this story of artistic devotion and delusion, Connor's right there with the actors, camera on her shoulder, moving with them. Brody was here in Park City, and he once again found Connor's work brilliant, and singled out Decker's film as one of the three astonishments of this year's festival:
"Decker's film, which is shot (by the cinematographer Ashley Connor) in jagged angles and torn edges, with physical energy and piercing clarity, is filled with the urgent drive for artistic creation—as well as with the practicalities and pitfalls, the sincere ardor and the manipulations, deceptions and delusions, that the worldly ways of art entail."
Connor also lensed Desiree Akhavan's The Miseducation of Cameron Post, adapted from Emily Danforth's coming-of-age novel. In a dark twist of fate, The Miseducation of Cameron Post is suddenly a very topical, even urgent film. Starring Chloë Grace Moretz as the "perfect" high school girl turned outcast (after she's caught with another girl in the back seat of a car on prom night), Cameron's bundled off to a conversion therapy center that "helps" teenagers "struggling with same-sex attraction." Cameron Post was still in production during the 2016 presidential election. We'll let Connor explain the rest. 
The above is but a snapshot of Connor's increasing workload. She's lensed music videos for such luminaries as Jenny Lewis and Angel Olsen, has recently shot two pilots for A24/Hulu, and has three additional films coming out this year: Olivia Newman's First Match, Alex O Eaton's Mountain rest and an Untitled Daniel Scheinert film that she likens to her first foray into Coen Brothers-like subject matter.
I got the chance to speak to Connor at Sundance about her two films playing here, her career thus far, and why she loves shouldering the camera herself.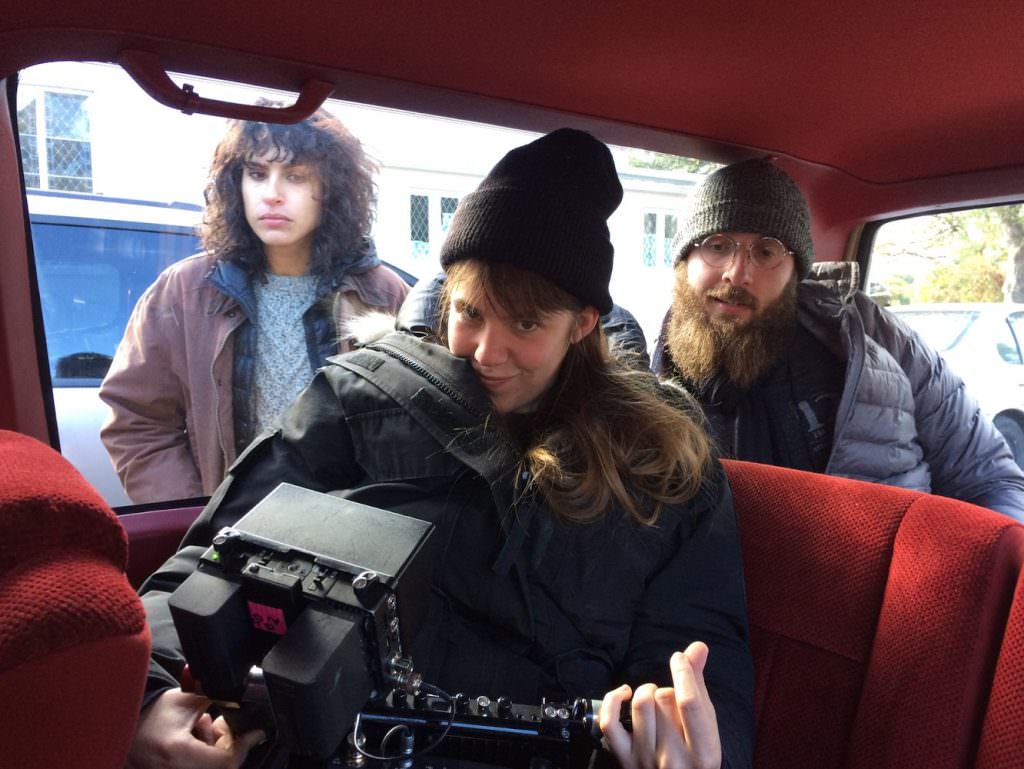 Your films here are very different, in tone and in subject matter—how much do you modify your aesthetic and your film language from one film to another?
I approach each project very differently. Desiree's movie, The Miseducation of Cameron Post, was our first time working together. Desiree works much different from Josephine's. Josephine has a bit of a chaos reigns approach, it's more improvised, a lot crazier, there's not a lot of real structured blocking. She gets everybody to this fevered pitch of working together. Desiree's much more structured.
So you didn't block at all for Madeline's Madeline?

There would be some scenes where I would tell her I'd need some blocking, or that if somebody hits here the light's going to be a lot better, but for the most part it's very improvised camera work. The first two movies we did together that premiered at Berlin, they are almost entirely improvised, very crazy, and people really responded to that aesthetic. We've continued that on.
When you say improvised, from your standpoint does that mean handheld?
It's usually very handheld. There are a couple of scenes on sticks, but they're very contained scenes. For the most part I'm all handheld, running around, and everybody's flying by the seat of their pants and praying it works [laughs].
I reach the great compliment New Yorker film critic Richard Brody gave you…
I know. So basically Josephine's first film premiered at the Maryland Film Festival, nobody else wanted it, but Maryland was super excited to premiere it, they really saw the potential before anyone else did, and Richard Brody was there, with a couple of other people in that world, who saw it at the 11:30 pm screening, and there was like 20 people in the audience, and they just loved it. After that screening, Berlin then called Josephine and was like, 'Full stop, don't do anything, we want it.' She told them she had another film she was editing, and they wanted that, too. So it just kind of worked out in a magical, strange way. And Brody's been super supportive. Then I finally talked to him this year, because I've always stayed a little bit away. He's so nice, and I didn't want to cross any lines, but finally this year I thanked him for supporting the weirdest movie in the entire world.
That guy is a film encyclopedia…if he's saying good things about you, that's no joke.
He's insanely smart.
So handheld has been your primary technique for your work with Josephine…but is that your go-to aesthetic?
No, I think for a while some people deeply associated me with that because the first two features I had were very crazy. I studied experimental filmmaking at Ithaca, but I'm deeply invested in very different kinds of storytelling. I'm not somebody that's going to do the flashiest camera move all the time, because I tend to keep it a little bit smaller, what I would call more emotional. So it was kind of a fight in the beginning to break out of this one box. It's so perfect this time because Cameron Post and Madeline's Madeline are so different. They share the fact that they're both about teenage girls struggling.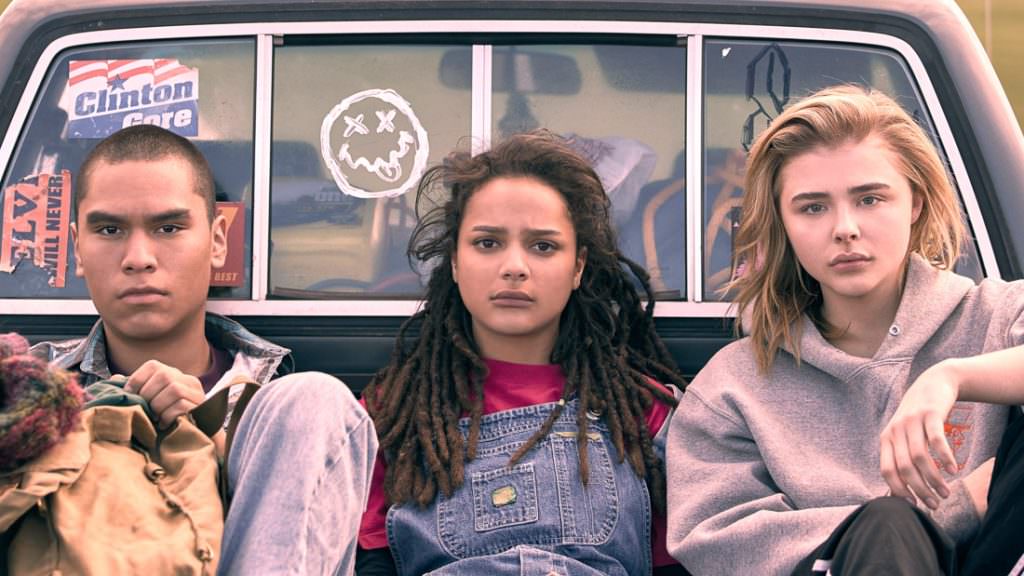 Tell me a bit about your experience on The Miseducation of Cameron Post
It stars Chloe Grace Moretz, and it's set in the 90s and she's sent to a gay conversion therapy camp to "fix her"…and we really wanted the cinematography to reflect the institutional nature of these places. So it's a lot of beige, a lot of blues, a very limited color palette for most of it, until the kids start breaking out a little bit more and we start breaking out a bit more into the color space. It was very much trying to make you feel like you're part of this group that's so contained and so stuck where they are.
And you're shooting this in late 2016…
Yeah, while we were shooting it was during the election, and we already knew it was a slightly political movie, we were shooting in upstate New York where there were homemade signs like "Burn Hillary" and tombstones that said Hillary Clinton—it was around Halloween, I should say. But it was really dark. And we were this little enclave of liberals staying at this place, we lived where we shot, the whole cast and crew. But when Trump won…the thing is, film sets are very fluid spaces where you're absorbing people's energies, you know. When someone's down, you try to pick them up, you're sort of capable of feeling the collective heartbeat, and guiding the ship to make sure everybody's on the same page. So the day after the election, everybody was, like, beyond depressed. I've never been on a set where every single person was crying. We woke up at 5am to the results, because we all had eventually gone to bed, and Desiree, in a hero's move, just came out at the end of breakfast, when everyone was crying and holding each other, and she just comes out and gives this…I don't even know how she did it, but it was the most thoughtful speech and rallying cry. She talked about how Mike Pence still supports gay conversion therapy, suddenly our film that's set in the 90s is so topical.
Wow. Well, this is sort of an odd segue from that, but…tell me about the lighting element of your work, and how important that is.
For me, I've been using the same gaffer for years. Danny April. He and I had met very early on, I think the first paid project I did, he was on. And we just spoke the same language, and for him and I, we have a similar theory, which is letting the actors move around, I like to keep it vaguely natural, so the light source is a little bit further away so the actors can move and explore. For me, I never want an actor to feel too contained by the gear around her. I want her to feel like she has agency in the scene, and then I can adjust to make it look better to what they want to do. If you don't have a good performance, you don't have a movie.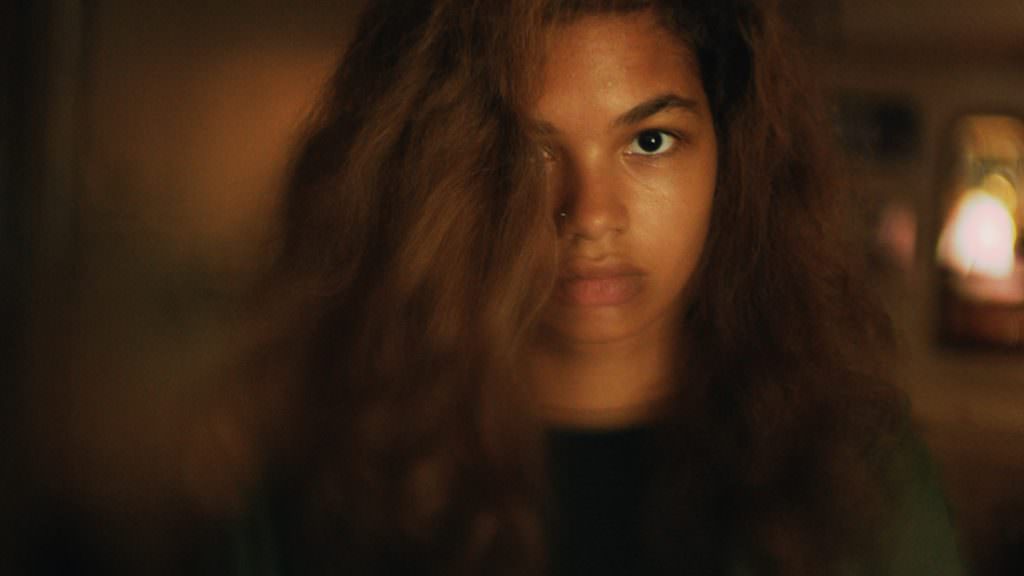 For Cameron Post, it was very set in the real world. The lighting was quite natural, we weren't trying to do anything too crazy, it was very much about this institutional feeling. For Madeline's Madeline, it becomes very much about the interior world of this teenage girl and this psychotic break that she's having, so we could be more playful at times and incorporate more color. Its very much about a theater group, a director putting on a play, and taking the personal experiences of her actors lives, and then suddenly this girl realizes the director is using her in a way that she doesn't feel comfortable, and it's about her dealing with that internally and coming to terms with that. We just had more to push the lighting in different ways. The camera also becomes more surreal and abstract.
When you were working on Madeline's Madeline, you were literally chasing the actors around with the camera on your shoulder?
Oh yeah. Its like being a dancer, I'm in conversation with the actors constantly. So I really think my handheld work is kind of what separates me in a lot of ways. I really respond to actors, and I love having a camera on my shoulder. For Josephine's movie, I'm doing backbends and like rolling around on the floor and building rigs for the camera to fuck with the focal plane. For me, I like being involved, I like holding the camera, I like getting so close to an actor and then removing myself. I like being responsive to their movements.
Do you have anything stabilizing the camera?
It's just me. It's funny because I don't like easy rigs, I'm not into MOVIs or anything like that, you know, one of those steadicam lights, where the camera's on a gyroscopic thing that uses motors to stabilize it. I just always prefer it on my shoulder, and I like constantly doing full bends and standing up and sitting down and rolling around. I think the opening shot of Madeline's Madeline I did a backbend.
After a day of that I imagine you're exhausted.
Yes, very much so. I wouldn't have it any other way.
You've also done music videos, like for the great Angel Olsen. How much does your approach differ when you work with musicians?
One of my best friends, a director, after we graduated college, we had a rule for music videos that was 'Give us $500 and we will make you a sick low budget video.' It was just her and I doing these crazy things for really low budget, and we'd beg, borrow and steal for everything. We had a friend who knew Angel when she lived in Chicago, and that's how we started working with her. I tend to get contacted a lot from musicians who want to direct their own videos, and I think for me, they don't have the cinematic language, but it's my job to help them get there. They're visual people, and they know how they want to represent themselves. I don't think you need to know all the language in order to be a good director or have a good vision, you just need to find a good collaborator who can help you and guide you.
Angel eventually decided she wanted to direct some of her own videos and kind of break out. So I went down with a couple of her friends to Ashville and floated around for a couple of days, working on her songs "Intern" and "Shut Up Kiss Me." It's all about representation and power. I work with a lot of women and for me, it's about how they want to envision themselves and represent themselves. I think so much of their image is taken from them, and represented differently in media. Angel, I think, was sick of people calling her some sad sack folk musician. Angel's one of the funniest people alive, and very self deprecating and hysterical and goofy, and so this way of people envisioning her, she's like, 'That's not me. It's the music I sing, but it's totally not me.' So she wanted a break from that and to show a little bit more of a playful side. I tend to do a lot of sexual videos as well, but really grounding it in ways of representing female or queer or non binary gendered sexuality in a way that gives the person their power back, and makes it aware. Nobody's going to call me to just do some dudes playing guitar, and when they do, I'd say, I'm not your person to make you some sexy video, because I don't believe in that. I think there has to be friction, there has to be awareness. I don't do music videos for massive paychecks, I do them because I love the music and like the ideas.
You have a lot of stuff coming up in 2018—is there any one of these projects you feel like is a step in yet another direction for you?
I think they're all so different, and I love them all in their own ways. When I sign onto a project, I think of it as a diary of my life at that time. I get to write a new page with every film and hopefully learn something new. I actively choose projects that will challenge me and make me do something out of my comfort zone. This year, hopefully it's an exciting year. There's one film I can't say much about…that's more of a Coen Brothers movie that stylistically I'd never delved into. It's just a different kind of movie, something that's more playful camera work, and definitely more of a masculine, boy movie [laughs] that I think I can get down with. Films are too homogenous a lot of times, I call it beige, it's not like I can't do beige, but I get more excited when someone wants to get weirder. We live in an age where people are so afraid of trial and error, of failure, you have people on set just constantly asking things like, 'Should you be doing that? Is this going to work?' Asking all these questions, which are fine to ask, but they take away the director's power to experiment and play and try something new. I think we need to fuck up the system in some way, and hopefully my work does that.
Featured image: Helena Howard and Molly Parker appear in Madeline's Madeline by Josephine Decker, an official selection of the NEXT program at the 2018 Sundance Film Festival.