"Daisy Jones & the Six" Cinematographer Checco Varese on Evoking 70s Vibe Through a Contemporary Lens
Cinematographer Checco Varese won a 2022 Emmy for his gripping treatment of Appalachia's opioid epidemic in Dopesick before taking on the relatively innocent place and time dramatized in Daisy Jones & the Six. The 10-episode series (adapted from Taylor Jenkins Reid's novel), now streaming on Amazon Prime, follows the rise and fall of a mid-seventies Fleetwood Mac-like L.A. band fueled by drugs, sex, and rock and roll.
Varese, who shot six of the show's ten episodes, including the pilot, summarizes the clash between mercurial Daisy (Riley Keough) and headstrong band leader Billy Dunne (Sam Claflin). "These human beings are lonely. They come from dysfunctional families, so they're trying to find a family in the music. The singer becomes the father figure; the audience becomes like siblings they never had. If you look at the story under that optic, you can immerse yourself in this world quite simply."
Speaking from a hotel room near Vancouver, where he's reuniting with Keough on the true crime series Under the Bridge, Varese explains how he made classic rock's golden age palatable to contemporary audiences while incorporating iconic locations like Laurel Canyon, the Sunset Strip, and the hippie-magnet Greek island of Hydra.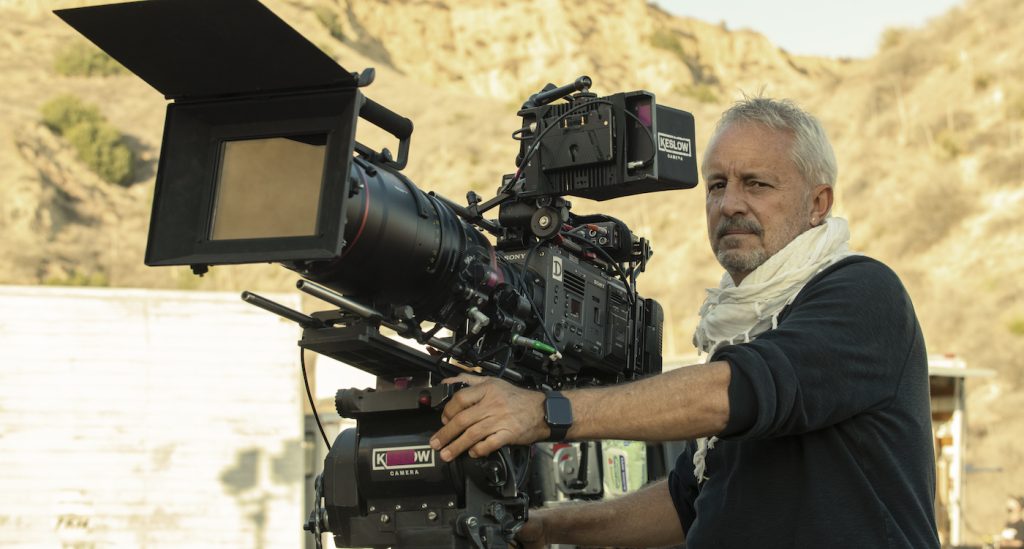 Daisy Jones & the Six takes place during a very specific time and place in American music culture. Before working on the show, were you familiar with L.A.'s mid-seventies rock scene?
I was born in 63 in Peru, so this period in Los Angeles was extraneous to me, but I do remember my older sister in her colorful shirts and pants that are very wide at the bottom and the platform [shoes]. I remember my brother getting married in sandals and his bride wearing little flowers in her hair. So I lived through a Peruvian version of this era, without the rock and roll and drugs.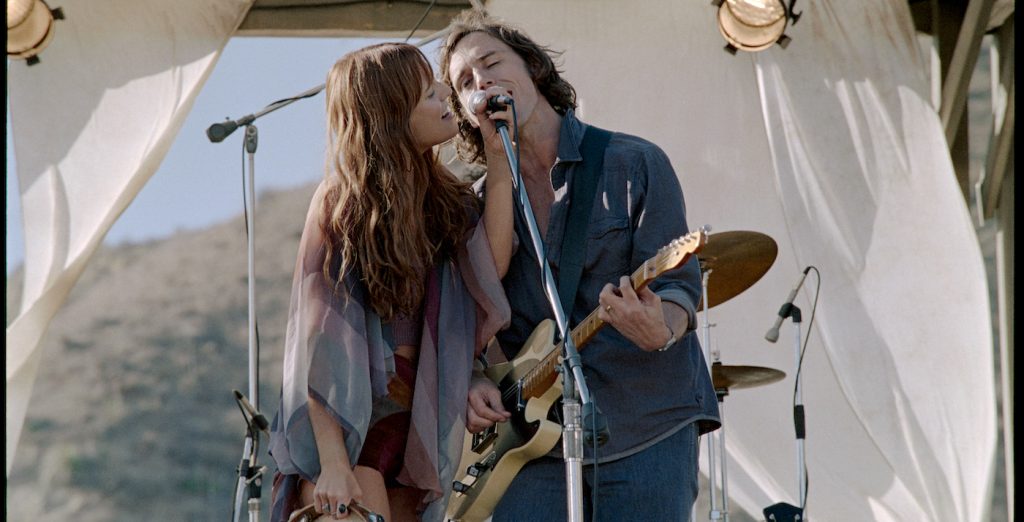 So how did you go about evoking this west coast mid-seventies vibe?
There was this appetite [from some people] to make this show look as if I had a [16 millimeter] camera and was running around shooting stuff in the seventies. But my first mantra was to create the world I would have seen in the 1970s through the optics of an audience educated in 2023 and make it polished and attractive and beautiful.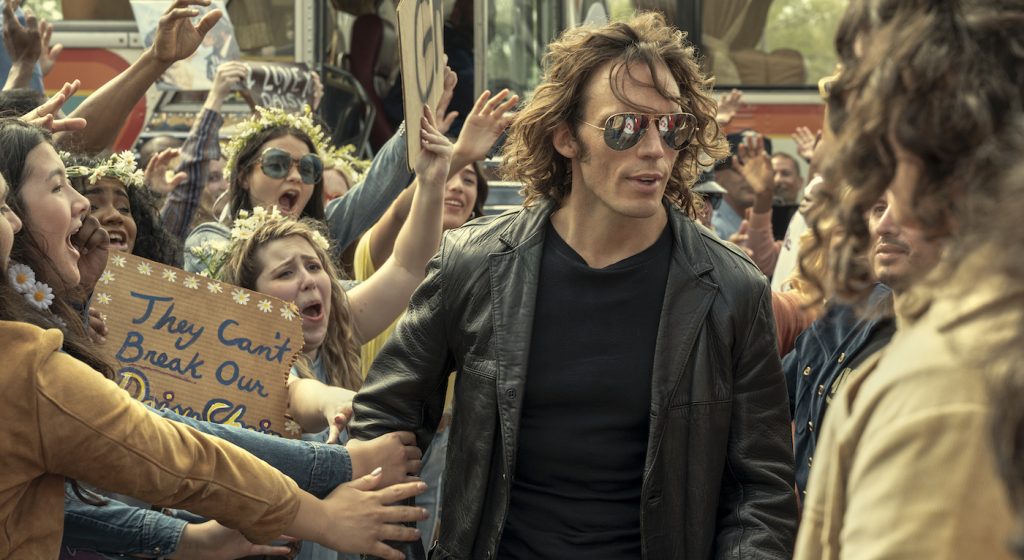 The story begins in Pittsburgh, where Billy and his friends form the band that will become The Six.
They're in the northeast, where the light is gloomy and cold. There's this whole American mythology where you go to the west for freedom — unless you're Indigenous, but that's a different movie. In this story, the guys go west for freedom, to see the sun setting in the Pacific. We created this story arc around the defining idea of going from the gloomy northeast to the shockingly warm light of the west.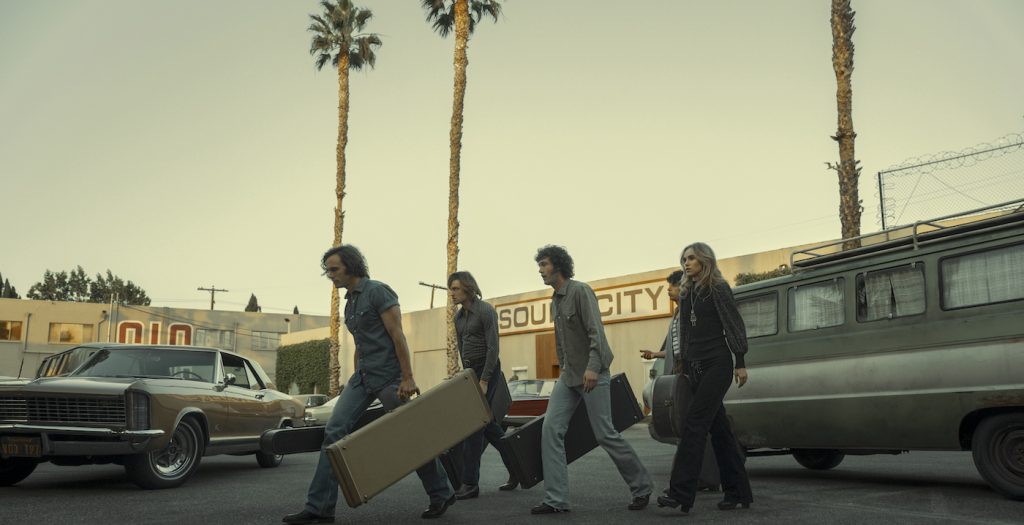 Where did you shoot the Pittsburgh sequences?
A few blocks from Laurel Canyon. [laughing].
What? The sky looks so drab. How did you create overcast "Pittsburgh" in sun-splashed L.A.?
I put the camera north facing, so the sun was on the other side, and timed it so the sun was more behind the characters. We created rain with rain towers for the scene at the garage where the guys leave home. It's the magic of manipulating the world in a way that you can take the audience [into your story].
Cut to Laurel Canyon, where the musicians move into cozy little houses suffused with shafts of golden light.
The houses in Laurel Canyon are mostly made of wood with little particles floating in the air, whether it's pollen or termites. Everybody used to smoke back then, whether it was weed or cigarettes, and if you fried an egg, the whole house would fill with smoke because this is before smoke alarms. We experimented with all of that to imprint this feeling onto the Laurel Canyon scenes. Sometimes the light is the sun and sometimes the light comes from a light that my gaffer puts there.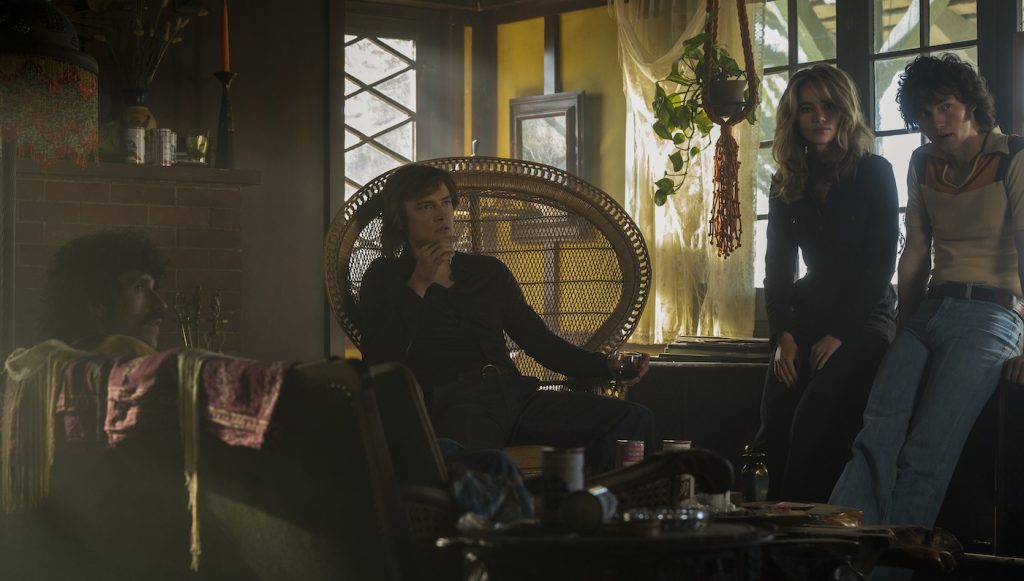 You filmed on the Sunset Strip, legendary in the seventies for its red-hot music scene. Did you shoot some of the actual clubs from that period?
Yeah. We went to the Troubadour, and another club on Sunset Strip called Filthy McNasty's. I remember people saying, "Let's get the camera up high so we can see the whole Sunset Strip," and I said, "Only if you're ready to get 150 cars from the seventies and park them there." In filmmaking, there's a basketful of money; if you spend too much too soon, the basket will get empty. In Episode Two, when Riley goes into this club to play the piano, I suggested we make Daisy the hero and lower the camera, so we see her coming like she's conquering Troy. That has a kind of double meaning. One was: It's a hero moment. But also, I didn't want to put 150 cars behind her!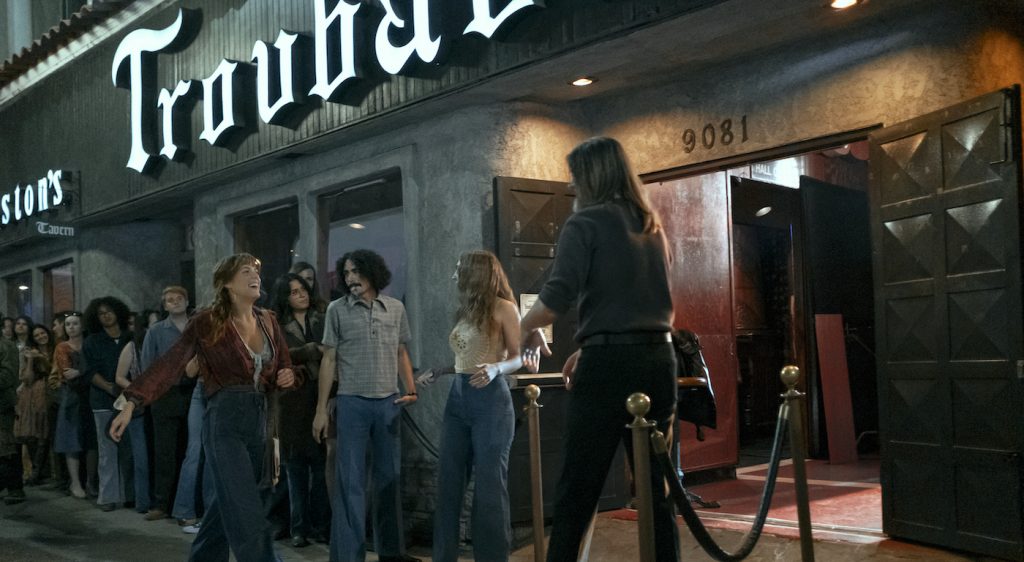 Daisy Jones first joins the Six on stage at a big outdoor festival in Hawaii attended by a rowdy crowd of rock fans. How did you capture that action?
If you'll recall, there was a thing called the pandemic at that point, so the fear, the question we all had was how do you get 250 extras together, five feet apart, so they don't create the next pandemic? We took the paramount idea from our producers and directors that this concert is really about the relationships and all these looks the characters give each other, between [Billy's wife] Camila backstage and Daisy, between Billy and Daisy. By playing those looks, we stay with the characters and the drama behind the curtain. At the same time, we avoid having to get a thousand extras in every shot.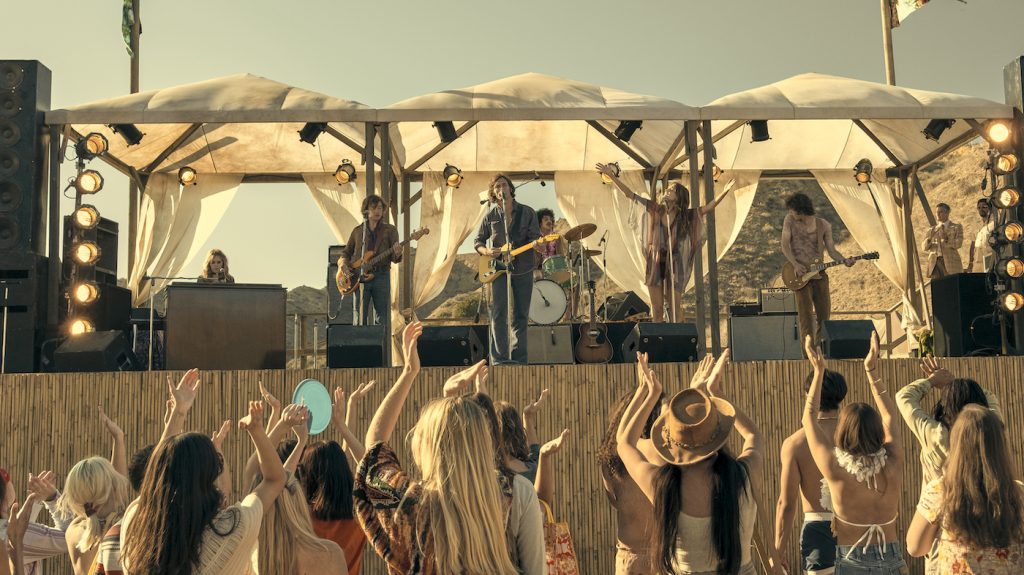 But you do show the crowd a few times.
Imagine [the crowd as] a pie in which we [only] show slices, with all the extras moving to the left or to the right [for each shot]. But if you dissect that scene, 85 or 90 percent of the shots are either showing the beautiful sky of Hawaii — actually, Simi Valley [near Los Angeles] where we shot — or looking back at speakers and amps, or roadies, or the musicians. Because in the end, it's about the music. When the pandemic hit, the actors rehearsed every day among themselves and learned to be a band. When you see Riley singing, that's really Riley singing, Suki's really playing the piano. That's what gives it credibility.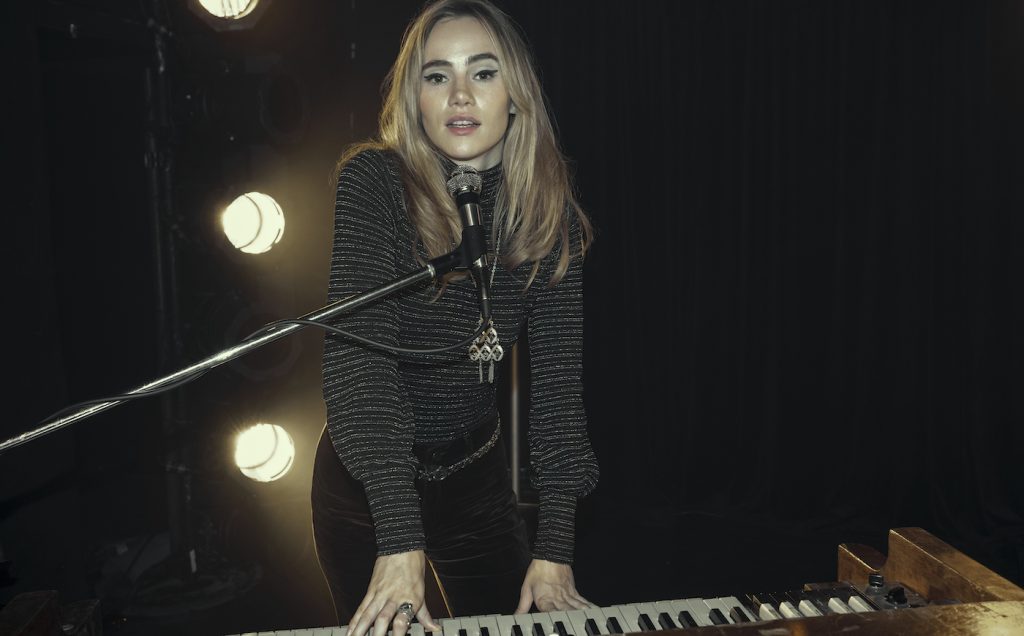 How many cameras did you use to capture the live band performances?
Two cameras, maybe three. Working with my brilliant operator Joseph Arena, we designed the shots so the camera was always searching. I believe camera language is like prose or poetry. The camera pauses for a second; it's a comma. The camera pushes in for a close-up; that's an exclamation point or a question mark.
Halfway through the series, Daisy gets upset with Billy and runs off to Greece. Was that another location you shot in L.A.?
No, we really did go to Hydra. It's an hour and a half by ferry from Athens and one of the few Greek islands that doesn't have any cars, which meant that mules carried our gear. You'd see a $250,000 camera attached to a mule going up the steps. It was a wonderful experience. Everyone wants to see the turquoise waters of the Aegean Sea. The truth is, the turquoise only exists at 8:30 in the morning, and then the sea turns silver like the Pacific. It's all about timing and when you shoot what.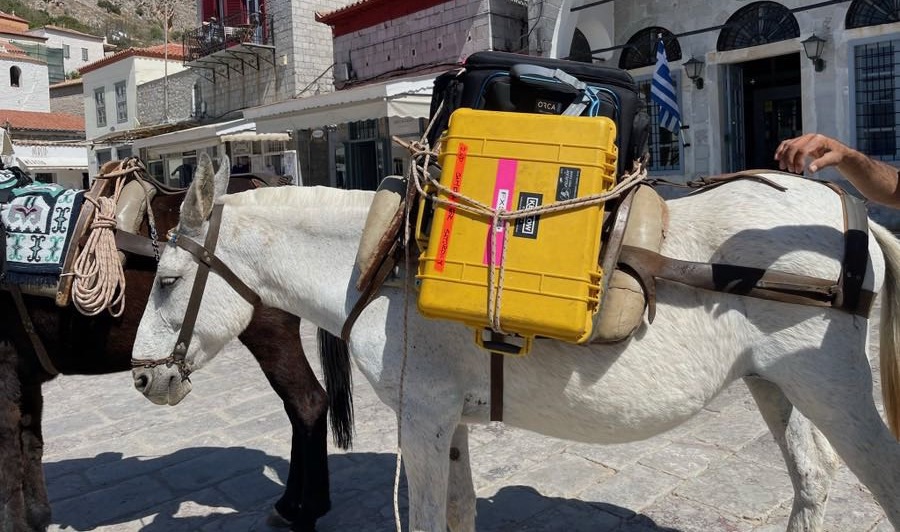 You used Sony Venice and Venice FX cameras. What kind of lenses did you work with?
Daisy Jones has such a big ensemble with so many primary characters that they had to do this six-day tour de force hair makeup wardrobe test. During that time, I asked my camera house, "Okay, send me every single lens invented by humanity, and I'll test them all." Because I'm agnostic about lenses and cameras. I don't paint with the same color brush in every movie. For this one, I ended up going with these French lenses called Angénieux Optimo Primes, which have a creamy, gentle quality.
There also seems to be a bit of film grain incorporated into the footage. How did that happen?
The film grain was applied in the final colorization process with Stefan Sonnenfeld at Company 3. Stefan created an algorithm by which you can apply grain that he's scanned into this library of film stocks from the 70s, 80s, and 90s. It allows you to replicate — not replicate but pay homage to those looks. I used whatever trickery I had up my sleeve so that you feel like you are in the era.
You spent several months working on Daisy Jones & the Six. What comes to mind as your favorite scene?
I think my favorite scene is when Daisy tells Billy, "I love the sound of your voice." Was it the most difficult scene? By no stretch of the imagination. It's very simple. But watching it, that scene made me cry. Is it my favorite? Maybe.
For more on Amazon Prime Video, check out these stories:
"Harlem" Costume Designer Deirdra Elizabeth Govan on Season Two's Evolving Looks
"Spider-Man Noir" Live-Action Series Coming to Amazon
Ben Affleck & Matt Damon Chase Michael Jordan for Nike in First "Air" Trailer
Featured image: Josh Whitehouse (Eddie Roundtree), Suki Waterhouse (Karen Sirko), Sebastian Chacon (Warren Rojas), Sam Claflin (Billy Dunne), Riley Keough (Daisy Jones), Will Harrison (Graham Dunne. Courtesy Amazon Studios.