"Transatlantic" Costume Designer Justine Seymour on Outfitting Socialites & Surrealists in a Time of War
In 1940, the U.S. still maintained an official stance of neutrality in World War II. Across the Atlantic, however, relief organizations were already on the ground, working their influence at local embassies and trying to convince the American government to grant entry visas to refugees. Netflix's new limited series, Transatlantic, is based on the efforts and exploits of two such Americans at the helm of the Emergency Rescue Committee, journalist Varian Fry (Cory Michael Smith) and socialite Mary Jayne Gold (Gillian Jacobs).
Fry was a well-connected intellectual. Gold was a wealthy ex-Chicago émigré whose considerable family funds made the organization's work possible. Written by Anna Winger (Unorthodox, Deutschland 83/86/89), Transatlantic gathers Surrealist movement luminaries as well intellectuals like Hannah Arendt under the Marseille sun as Fry, Gold, and their colleagues hide a who's-who refugee list (Max Ernst, Andre Breton) in a borrowed villa. Helming costume design for the series is Justine Seymour (Unorthodox, The Mosquito Coast), whose work spans decades, artistic movements, and multiple income brackets, as the ERC fields requests from non-famous refugees, gets involved in a British POW rescue mission, and is paid a visit by Peggy Guggenheim (Jodhi May).
Seymour hand-sewed certain looks, like an Elsa Schiaparelli-inspired brassiere worn by Mary Jayne Gold, and used weekend downtime to develop the series' "money shot," a party at the villa hideout in which the house's illustrious denizens take a night to let off steam. Delving into Surrealist art and inspiration, the designer plotted looks for each character, ranging from buttoned-up Fry (refused to do more than remove his jacket) to Peggy Guggenheim (required a dress hand-made entirely out of gloves and a feather corset in order to match Max Ernst's "desire to be a loplop bird, which was one of his things.") For Peggy, Seymour even asked showrunner Winger to shoot a scene outside the script, of a cook plucking a chicken, in order to justify the socialite art collector's feathery look.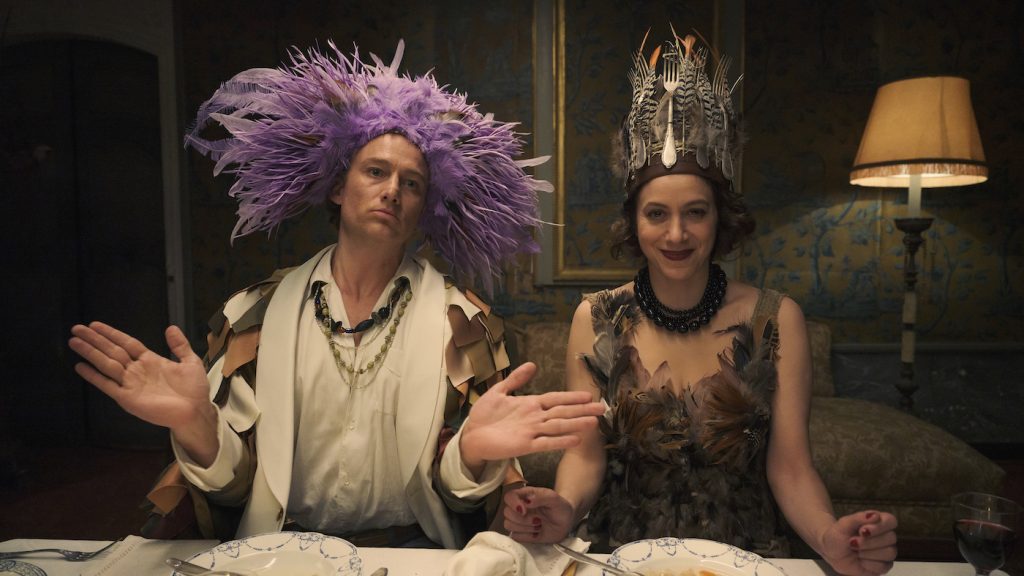 But one night of Surrealist-inflected revelry aside, most of the ERC's work was dead serious, and for Seymour, that meant outfitting revolutionaries and refugees alongside socialites and diplomats. We spoke with the costume designer about assigning looks from different decades to the show's characters, finding inspiration in the golden age of Hollywood, and working Surrealist references into unexpected details.
Approaching a year like 1940, do you look to the early part of that decade, or more so earlier?
Definitely earlier. I always think that people have a wardrobe, they have a closet, and that's what I try and bring to a television show. I think, what would someone realistically have in their closet? Luckily for me, Varian Fry had written quite a detailed account of his time in Marseille, which included the contents of his suitcase which he'd brought over from New York. He was a Brooks Brothers man, so I knew that slim cut, clean lines, and not too much fuss was going to be his look. And for all the refugees, I even looked at the late 20s. They were poorer. I didn't go for those shapes for the dresses from the late 20s, but if there was a coat that had a collar that was relevant in 1928, I would have maybe used that on an older lady. All of the costumes for the extras were done top to toe, and every single one I checked and made sure I was happy with.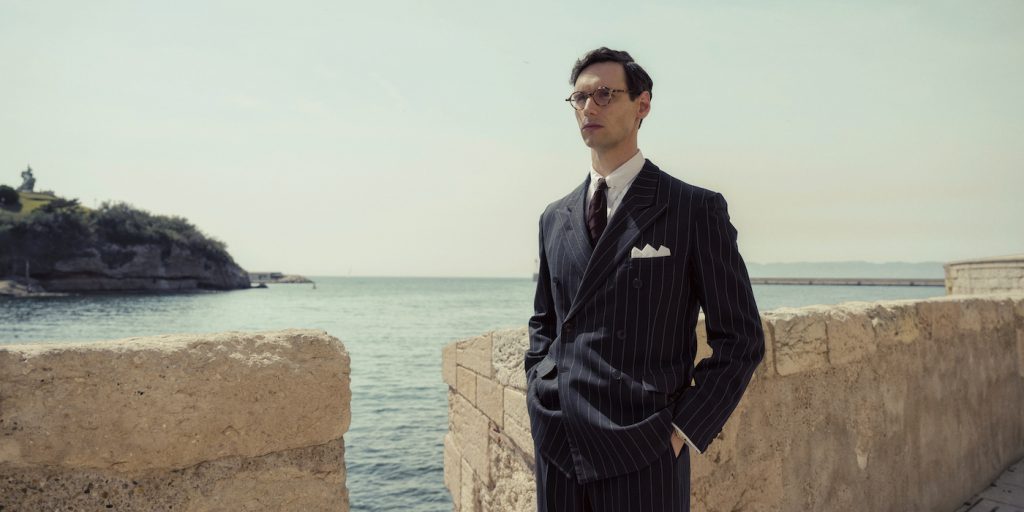 And among these characters, Mary Jayne Gold really stands out.
With Mary Jayne, of course, she had her finger on the pulse and had the money to go shop in Paris, so I made her much more contemporary. While I was doing my research, I was looking for fashion designers of the time, but really where people were getting their inspiration was from the golden age of cinema in Hollywood. You know that old saying that Oscar Wilde has, which was that life reflects art much more often than art reflects life? I think at that time, that was 100% true. People were watching films and then going home and making the dresses. That led me to watch quite a few films and think about what Mary Jayne might have had at the time. Also, Gillian Jacobs had really enjoyed the work of an actress called Irene Dunn, so she was one of my inspirational people to watch and just see how she wore her clothes, then try to emulate it for Mary Jayne.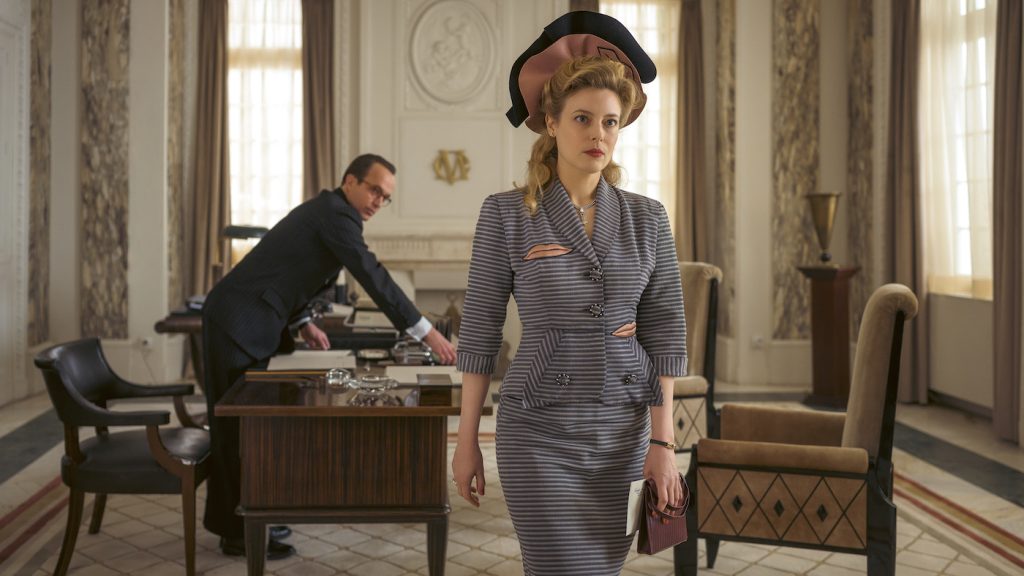 We even learn who Mary Jayne Gold is through a fashion moment when she trades dresses with Ursula, who's desperate and mid-flight. How did you plan the design for that scene?
That's her opening dress. I knew she was going to be walking across the piazza to get to the restaurant, and then she has quite an important conversation with Patterson. I wanted the color palette to really stick out and really bounce. And I wanted to introduce her personality as not only cheeky but happy to go to any means to get what she felt was right. She was a moral woman for the greater good, and I really wanted her to shine. And what better to shine than yellow or gold? I also played a lot with gold to have that link between her name and the palette. And then once Ursula [is in the dress], it goes on a huge journey, so we had to have five repeats for her. Of course, all of that had to be orchestrated. That was the very first dress I started creating with my tailor, and I found the fabric in Marseille, actually. On the way down from Paris, I got off the train and found this fantastic fabric shop and just bought a huge piece of lace I really liked, and I actually ended up cutting it up and creating all the detail on the dress.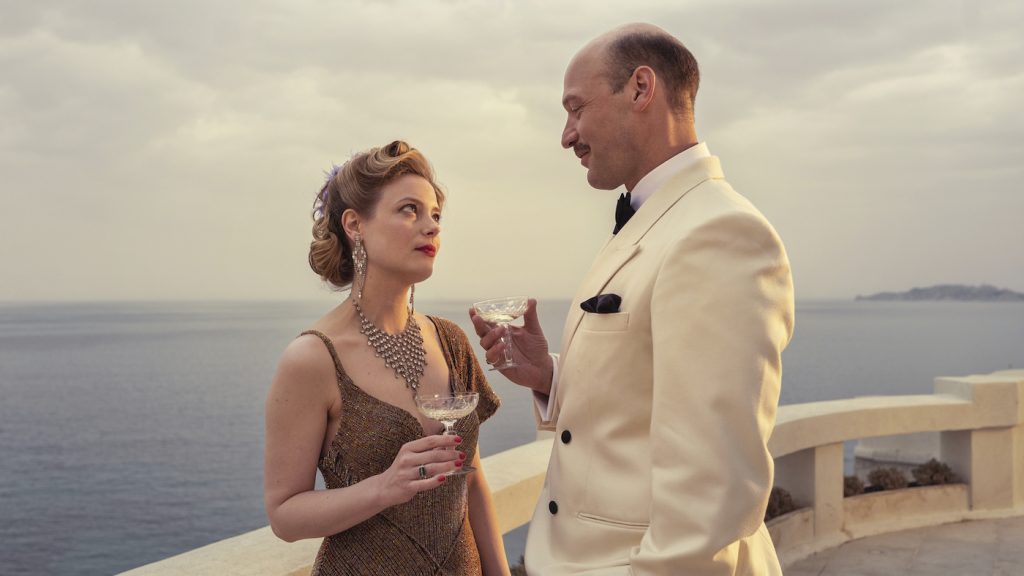 From there, Mary Jayne remains the show's fashion linchpin. Did you start with her and work outward?
I always treat creating a palette like a jigsaw. The number one actor is who I build the jigsaw around. I did a lot of research into her actual wardrobe and any pictures I could find of her. She'd come across as a very free spirit, but of course, she had loads of money, and her favorite designer was Schiaparelli. So I used Maison Schiaparelli as a base for her wardrobe, and I put lots of little clues in there that lead into the Surrealist world. Schiaparelli was collaborating with Dali at the time, and they were friends. I went to all the amazing costume houses in France, and we were pulling anything I really liked that I thought might work for the character. Then I went to all the beautiful antique markets in freezing cold December and dragged up through all those beautiful pieces some amazing treasures that were as cheap as ten euros and then became quite ridiculously expensive, which of course I didn't buy. My favorite thing is to go to the flea markets and antique markets. They're all quite curated. They know what the value of the piece is, but there were still some treasures I found that were cheap and cheerful.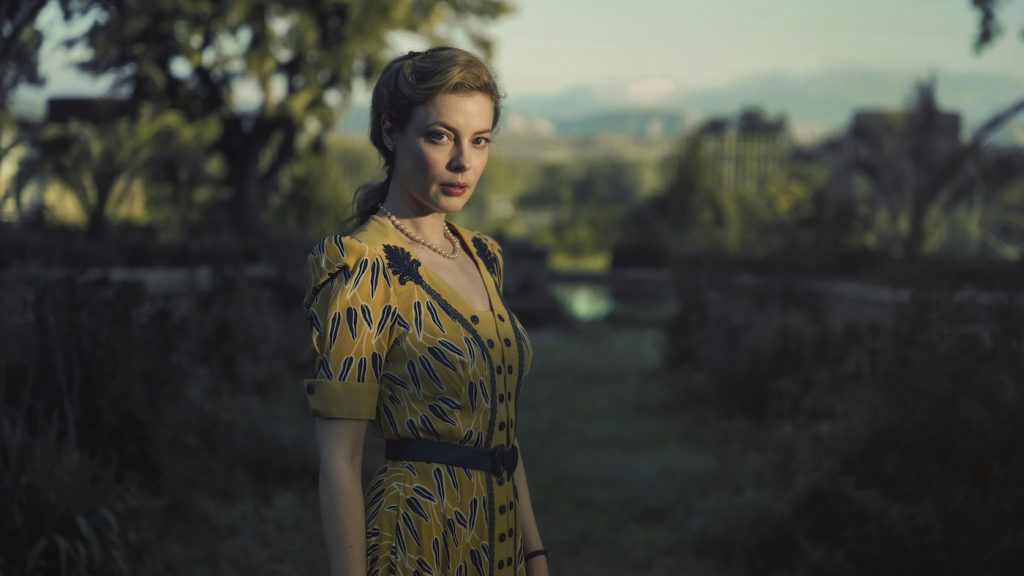 Did any of those pieces make it into the final cut?
What happened in the 30s and as the war took over was that rather than people going and buying new clothes, they accessorized a lot more. They would use lots of brooches and just add to whatever they had. So [the finds] are littered throughout. I put them on hats. There's a scene where Mary Jayne first meets Margaux, and she's got this insane hat I'd made, and it's got a beautiful yellow thing on the side — it's actually half a belt buckle.
That scene is emblematic — these two strong women meet to discuss something of dire importance while wearing these fabulous outfits.

That was the whole idea, actually. The Margaux character was based on Josephine Baker. She was the spy in plain sight. A famous, beautiful Black lady waltzing around Europe, collecting information — who would ever have thought? I went all out to make her look like this sort of powerhouse of not only beauty and elegance but intelligence and determination. And she's a little cut-throat, to be honest. It was all for the cause, not for the individual.

For more on big titles on Netflix, check these out:
The Last Kingdom: Seven Kings Must Die" Stunt Coordinator Levente Lezsák on Orchestrating a Viking Melee
"Beef" Costume Designer Helen Huang on Dressing "Chill" Angelenos Seething With Rage
Chris Hemsworth is Back as Tyler Rake in Thrilling "Extraction 2" Trailer
Featured image: Lucas Englander as Albert Hirschmann, Cory Michael Smith as Varian Fry and Gillian Jacobs as Mary Jayne Gold in Transatlantic, Courtesy of Netflix © 2023