"Beef" Costume Designer Helen Huang on Dressing "Chill" Angelenos Seething With Rage
Girl honks boy. Boy gets revenge. Complications ensue.
Beef features Oscar-nominee Steven Yeun and comedian Ali Wong as star-crossed L.A. malcontents whose lives go haywire after a road rage incident. Created by Lee Sung Jin (Silicon Valley, 2 Broke Girls), who was tapped last week to write Marvel's upcoming Thunderbolts movie, the ten-part Netflix series (streaming now) presents outwardly chill characters who are seething on the inside. Lee Sung Jin, AKA Sonny Lee, enlisted costume designer Helen Huang to figure out their clothes.
"I like thinking about people and society and how things work together visually," says Huang, who moved from China to southern California's San Gabriel Valley when she was six years old. As a kid, she wanted to be an archaeologist. "I love history, and that's why I'm in costuming," Huang continues. "For me, clothes are the medium, but what I really do is tell stories about people."
Forgoing a career in archaeology, Huang studied painting at ArtCenter College of Design, interned for Vogue Magazine and styled commercials. She broke into television by emailing costume designer Debra McGuire for two years until the Friends veteran hired her for a show. Recent credits include the post-apocalyptic Station Eleven drama and the Paul Rudd-Will Ferrell two-hander The Shrink Next Door.
Speaking from New York City's Silvercup Studios, where she's working on HBO Max's new series The Penguin, Huang explained how she pulled clothes from Goodwill, Norma Kamali and dozens of other sources on her mission to dress Beef characters in outfits tailored to their personalities.  
The first time we see Ali Wong's character Amy, she's in the car wearing this quirky knit cap. What's up with the hat?
I generally like hats for characters, although it depends on the director and the DP because sometimes they don't want to light it. For Amy, it's such a sort of optimistic-looking hat, and the flipped-up brim is kind of like a punctuation mark. The whole outfit is laidback, but the hat gives it an alertness and perkiness. Also, since it's a knit hat, the texture is warm.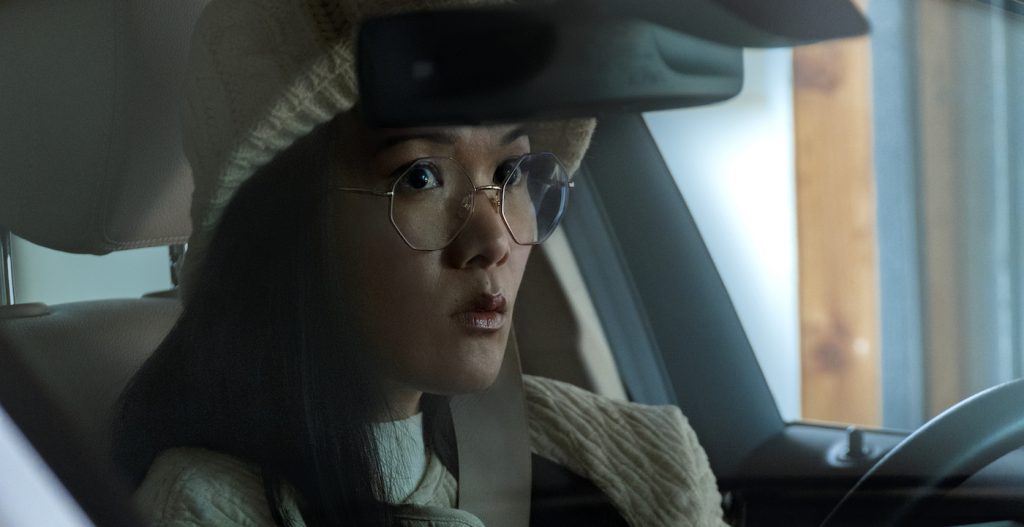 Amy avoids bright colors in her wardrobe. Why is that?
When I first talked to Sonny, I showed him mood boards and suggested we should put Amy in this white-creamy-khaki pared-back palette because she's very controlled in what she presents to the world but not so controlled on the inside. It's an interesting contradiction because she has a lot of internal aggression.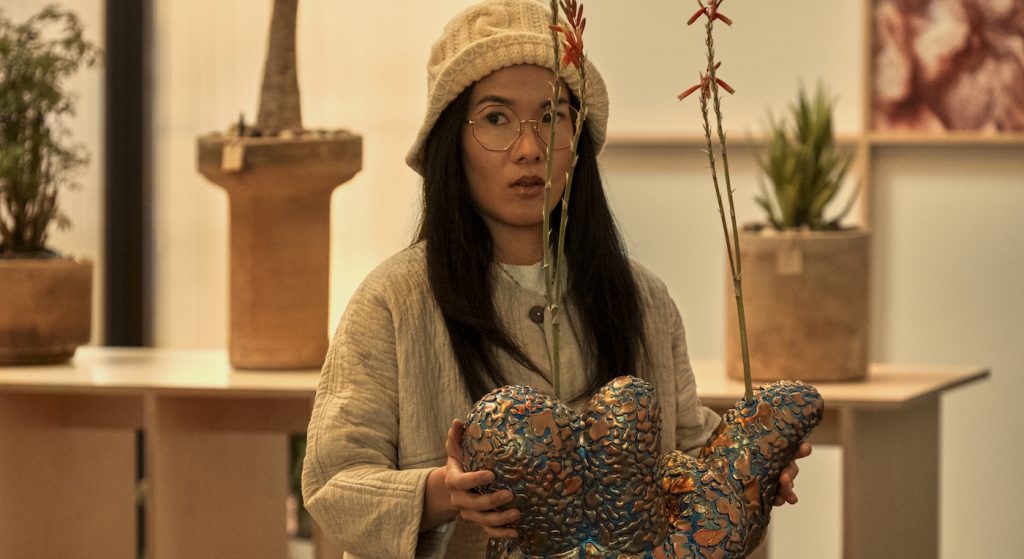 Amy owns an upscale boutique, so it makes sense that she would have sophisticated taste in clothes.
We wanted to dress Amy as a creative person. Most of her pants are wide-legged. We didn't do any slim-fit things or denim because that doesn't go with white on white palette. Amy does wear dresses, and she wears a lot of culottes. It's not so much that we were trying to keep her feminine. It was more about using boutique designers that you don't see often in L.A., like Cawley Studio, Heru, and Tori Birch. For one scene, we used an asymmetrical Norma Kamali top with pants that are really flowy, partly because of Ali's natural proportions as a person but also because we liked playing with silhouettes on her, and she was willing to let us do that.
Amy's husband George, played by Joseph Lee, comes across as this relaxed stay-at-home dad wearing loose-fitting sweaters. How did you arrive at his look?
Amy and George are both tasteful, and they only go to specific boutiques, so their clothes are very curated. George has this creative bubbling underneath that's different from Amy, who's more practical and economically driven. Sonny and I wanted to give George [clothes with] a little more print, a little more color. We also talked about how Asian men look internationally because, since I started my career, Asian people who come on shows are usually day players dressed to story — if you're a scientist, we dress you like a scientist — but there's not a lot of history or character involved. Since Beef has this all-Asian cast, we get to explore the main characters more as people. Japanese men, Korean men, and Chinese men are very stylish, especially Japanese men, so we had George wearing John Elliott and Nanushka. Through George, we wanted to look at these pockets of subcultures. Amy and George are in one pocket, and then Danny and his world are in another pocket.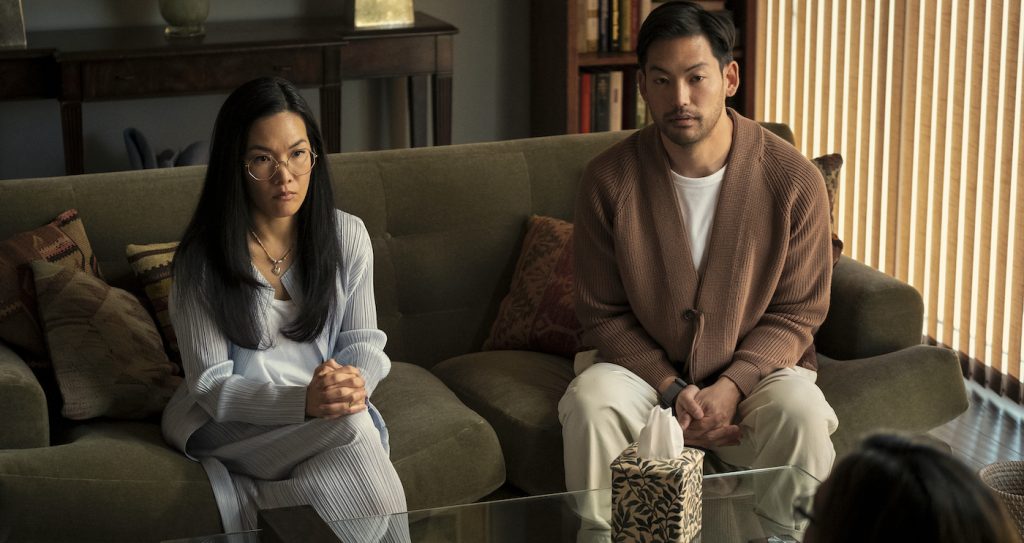 So true. Steven Yeun's Danny is a handyman who definitely does not do designer clothes!
I wanted Danny's clothes to seem very lived in. The idea is that a lot of men stop buying clothes and re-wear the same things over and over again. Also, I often see men dressing the way they were until the age of 25, and then they stay inside that idea of themselves and don't change any more. Danny wouldn't have new clothes, so it was a lot of Goodwill.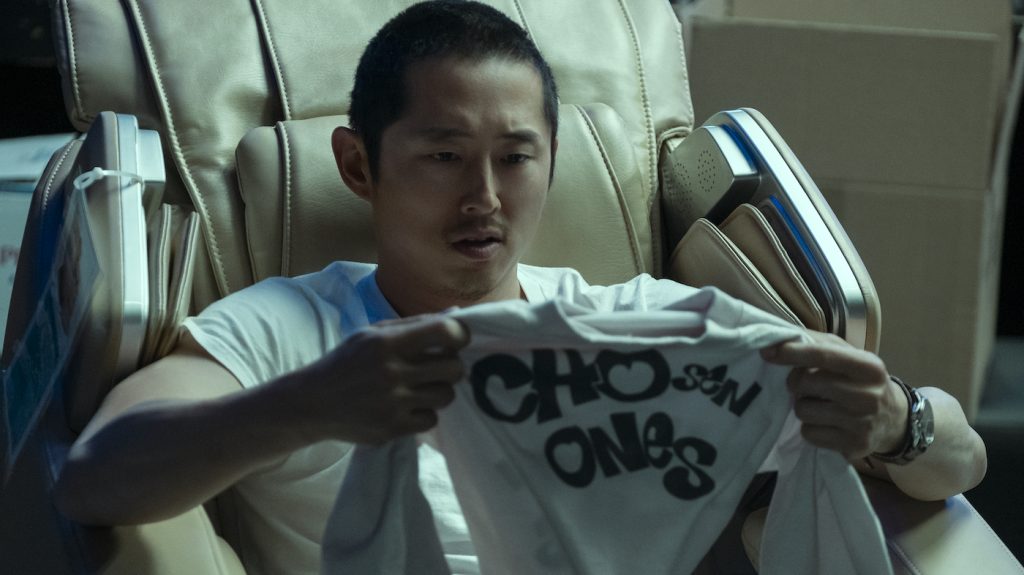 Did you think about people from your own life when you dressed Danny?
My half-brothers were skaters from Torrance, so I wanted to bring in that skater element for Danny, even though he's grown up now. We found vintage stickies and vintage jeans aged to look like they're from the early 2000s. For Danny's club look, we found an old DKNY shirt and an old pair of Calvin Klein black slacks at Goodwill. Sonny, the showrunner, gave us his 1999 Structure belt that he never threw away, so in a way, Danny's whole outfit came out of our collective memory — people that we remembered, places we remembered, what I remember seeing guys wear at KTown clubs, things like that.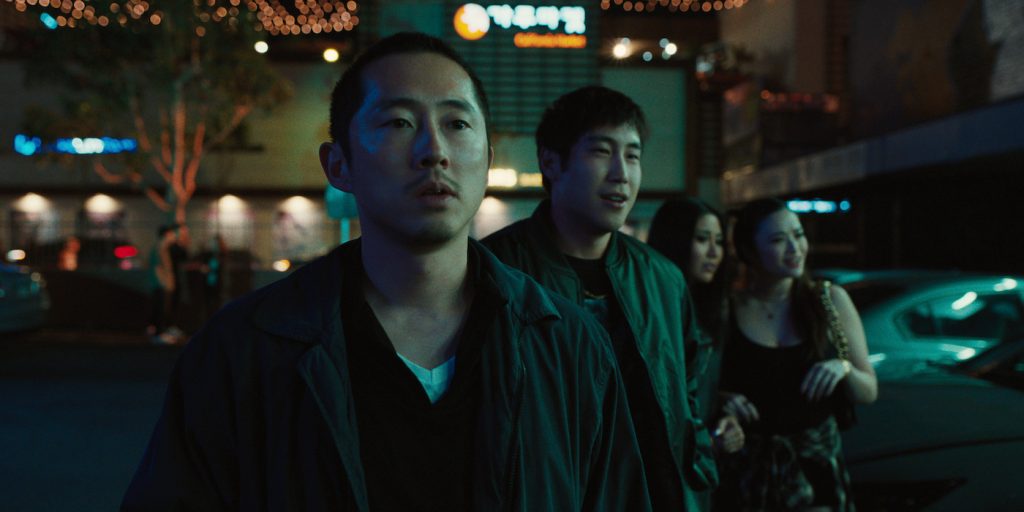 So even though Beef takes place in 2023, Danny dresses like it's the early 2000s.
Ten, twenty years ago. Yeah.
You hadn't worked previously with Lee Sung Jin. How did you get the job on Beef?
I asked my agents specifically for an Asian show, and they sent me Beef. I read his script and realized I want to do Beef because Sonny's an amazing writer. It's not about the immigrant experience. It's about this universal thing of people having existential crises in their everyday lives, which I really enjoyed. It's also visually very specific to the Asian community.
Everything Everywhere All at Once broke new ground for Asian American talent on the movie front. Before Beef came along, what had your experience been like in the TV space?
In general, since I've been working in this industry, I feel like there's been something missing when people dress Asian characters — a lack of understanding. With Beef, it was very rewarding to work with production designer Grace Yun and mostly Asian heads of department because we had a shorthand. We were able to bring our understanding and memories to the show. When we did flashbacks for Amy and Danny, Ali and Steven sent me pictures of their parents when they first immigrated to America. It's like, "These are more references than I need!" But it's just because everyone wanted to be a part of having their story told. For me, Beef felt very special in its specificity.
Beef is streaming now on Netflix.
For more on big titles on Netflix, check these out:
Chris Hemsworth is Back as Tyler Rake in Thrilling "Extraction 2" Trailer
Rob Lowe is a Narcissist-Adjacent Biotech Entrepreneur in Netflix's New "Unstable"
The Original Power Rangers Return in "Mighty Morphin Power Rangers: Once & Always" Trailer
Featured image: Beef. (L to R) Steven Yeun as Danny, Ali Wong as Amy in episode 107 of Beef. Cr. Courtesy of Netflix © 2022