Costume Designer Justine Seymour on Subtle Power on Display in "Women of the Movement"
After his 1955 murder, Emmett Till's death became a galvanizing event for the burgeoning Civil Rights movement. The mutilated 14-year-old was given an open casket funeral at the behest of his mother, Mamie Till-Mobley, who wished the world to see what Roy Bryant and J.W. Milam had done to her son. Lynched while on holiday to visit family in Money, Mississippi, after being falsely accused of whistling at a white woman, Carolyn Bryant, (Emmett had a stutter, and he whistled as part of his coping mechanism to control it), his murderers were acquitted, then admitted to the murder in a magazine, Look, only a year later. Beginning with Emmett's birth, ABC's Women of the Movement quickly moves ahead to 1955, reenacting what happened to Emmett (Cedric Joe) and then shifting focus to Mamie (Adrienne Warren), from her pivotal decision for her son's public viewing to her rebirth as an activist.
The limited series's costume designer, Justine Seymour (Unorthodox, Mosquito Coast), anchored her design process around Mamie. "She was always really done up and presented beautifully, so that's what I started with. Of course, most of the photographs available to me were post the loss of her son," said Seymour. "As we started before that, I had to extrapolate what she would have been like. I chose to make her joyful, fun-loving, and very vibrant and colorful." At home in their comfortable Chicago apartment, Mamie and Emmett have a warm, jovial relationship, and the mother is hesitant to let her son travel to the South, where Jim Crow is in full force, to visit his sharecropper-preacher great uncle Mose Wright (Glynn Turman).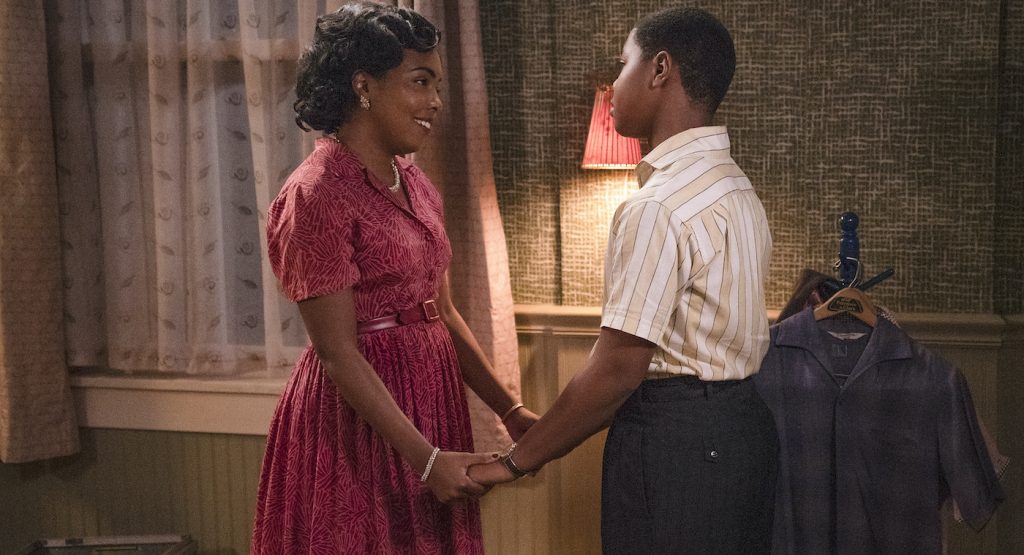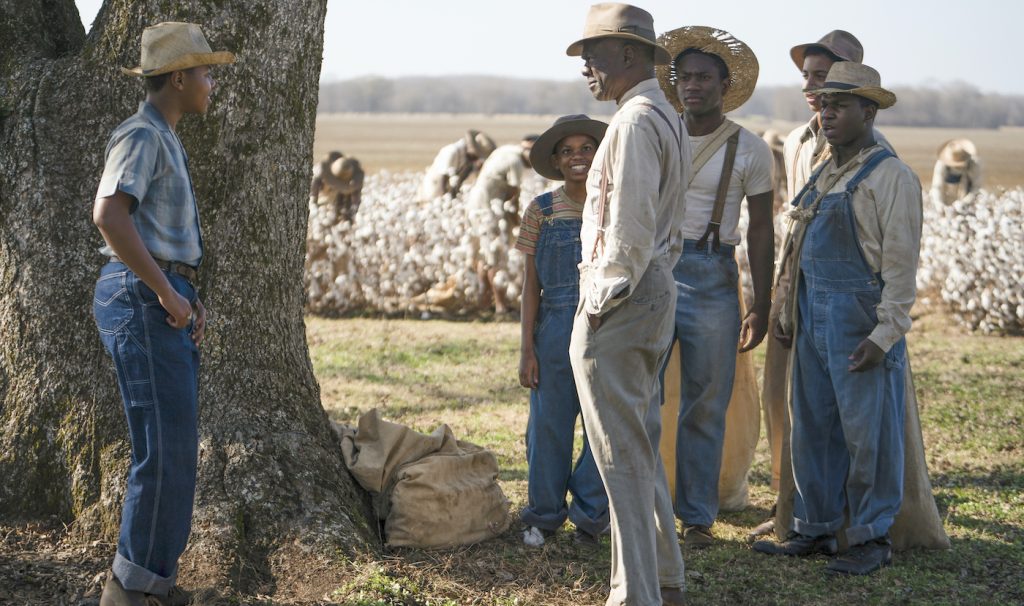 Once Emmett arrives, the Tills' middle-class household in quasi-integrated Chicago feels a world away from Money, MS, where the only thing Blacks and whites seem to have in common is poverty, a difference heightened by the show's costuming. "I had a very strong color palette for Chicago, which I then imported when Mamie came down South looking for her son," Seymour said. "I wanted it to feel like she was very different from the Southerners." In just one example of the show's Mason-Dixon line drawn through fashion, Mamie's suits are a sharply tailored contrast to Carolyn Bryant's (Julia McDermott) dowdy workwear at her family's store.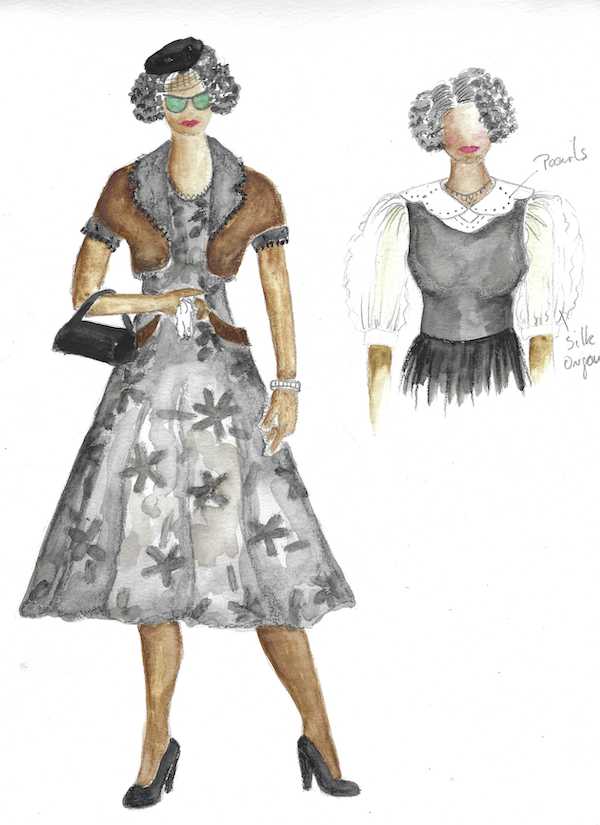 A stylistic detail conspicuously absent from both regions are the fluffy skirts and exaggerated wasp waists usually seen flouncing through mid-50s period pieces. Whether on Mamie, her mother Alma (Tonya Pinkins), or the southerners, Seymour gave the show's women a slimmer, more subdued silhouette. "Even though I wanted to use iconic looks from that time and make it really as it was, I didn't want to sugar coat it. Not everybody wore bobby socks in the 50s," said Seymour, who relied instead on getting the reality of the era across by forgoing big petticoats and faithfully recreating what Mamie really wore, which became an anchor for everyone else around her. "People looked beautiful then, anyway, because we used to care a bit more about how we presented ourselves," the designer pointed out. "But Mamie was a heightened woman, even in the 50s."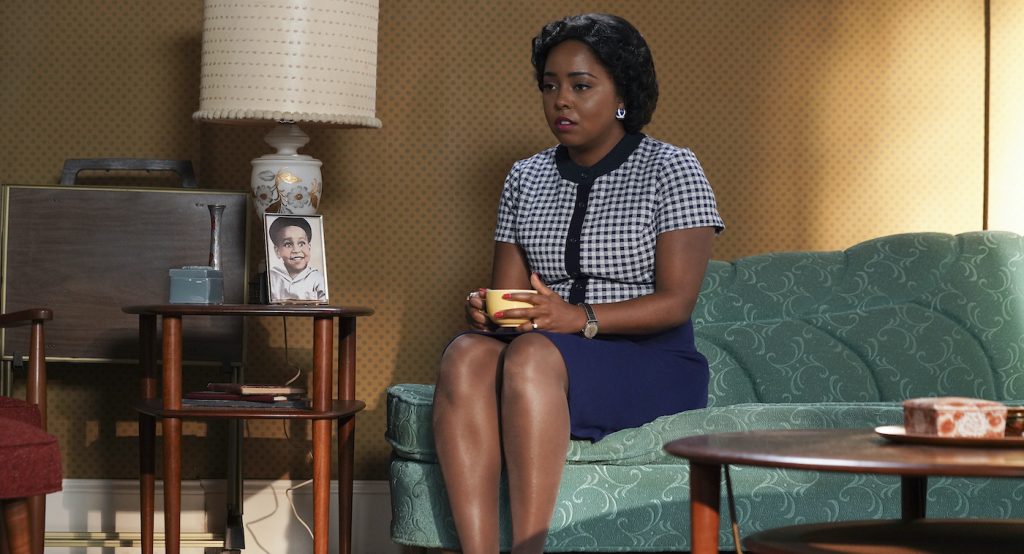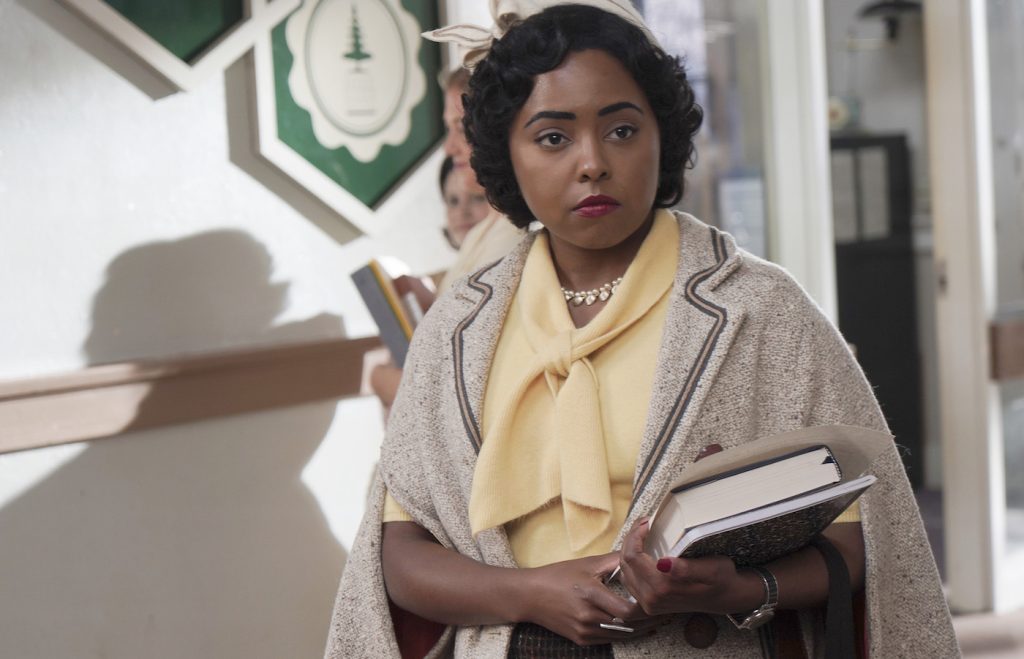 For a color palette, Seymour had to get creative. After learning from Adrienne Warren that blue was the only color that didn't work for her skin tone, the costume designer used the hue to help Mamie look her worst the day she learns what's happened to her son.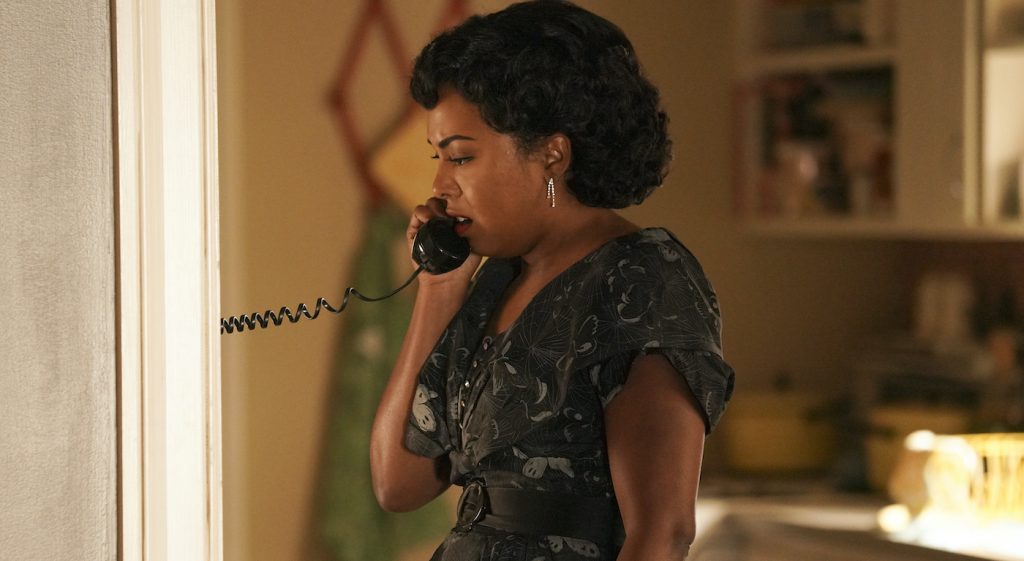 Afterward, working off a black and white photo and making a symbolic color choice, Seymour had a graphic artist recreate the fabric for the dress Mamie was wearing when she went to pick up Emmett's body and witnessed, for the first time, what was done to him. "I decided to use the blood from her that had gone into her son to give him life, which had now come back onto her because he had passed away," Seymour said. Mamie's clothing then cuts to black. "I wanted there to be lots of playfulness with her wardrobe — sort of sensual, fun, and bright — so as soon as the story started to get darker, I could pull out that happiness, and I could pull it away visually on a subliminal level for the audience to understand that things were really changing, her mood was changing, and she wasn't coping."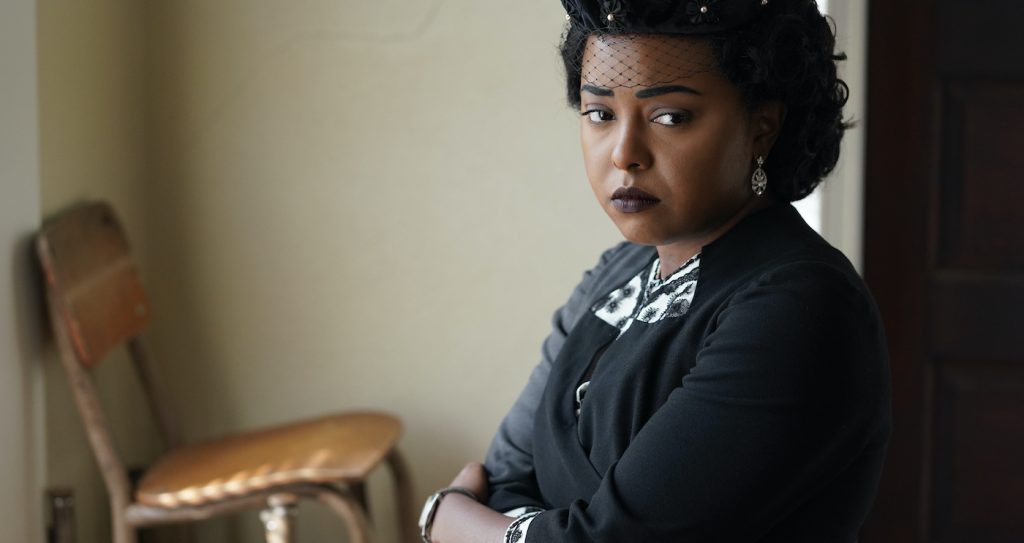 Given all we know about Emmett's murderers, Bryant and Milam, respect wasn't even a consideration behind their courtroom garb, so it should come as no surprise when the two men appear in court in their shirtsleeves. With everyone in the same room, the difference between them, their wives' simple dresses, and Mamie's fashion can't be ignored. "She was also of a higher socio-economic group than the people who had murdered her son," Seymour noted. "I wanted that to speak strongly to the audience, so that as she's there in the courtroom, she's this pillar of strength and this beautiful, educated Black woman, as opposed to the white supremacist, nasty, bullying men who committed a terrible, terrible crime."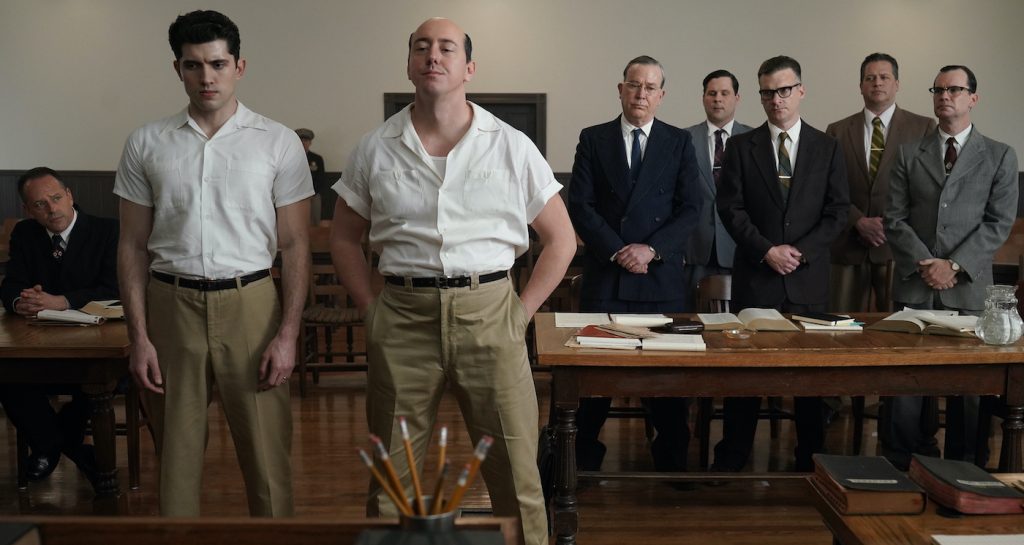 Prior to the trial, the costume designer sometimes had to infer what Mamie ought to wear based on her research, but once "Women of the Movement" reaches the courtroom, she shot for total historical accuracy. "I recreated a lot of her clothes — anything I could get a picture of, I had remade for Adrienne to look exactly like Mamie. And then all the men within the courtroom, I just copied them exactly. There was one guy in a plaid shirt and I put one guy in a plaid shirt — we counted out the rows and did it really strategically."
Earlier, however, at Emmett's funeral, Mamie is dressed in the same outfit as her mother, as they were in reality. "I never found out the reason why," but Seymour faithfully recreated their outfits. "I wanted her to look strong. I wanted her to look like the black letter on a white page that wrote the history of America, and what was happening. That's where her story was going to start, from that day, moving forwards to show the world what had happened."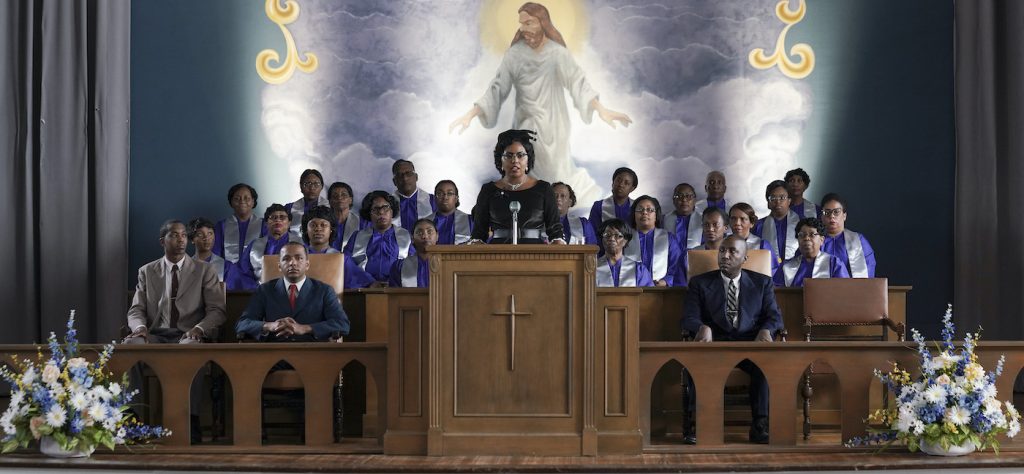 Featured image: WOMEN OF THE MOVEMENT – "Let the People See" – After her son's body is recovered in Mississippi, Mamie (ADRIENNE WARREN) insists on having a public wake with an open casket to ensure that he did not die in vain. The case becomes national news, which puts pressure on Mississippi officials to do the unthinkable-go to trial. (ABC/James Van Evers)