Unorthodox Director Maria Schrader on Creating Netflix's Surprising Hit Series
Maria Schrader is best known for her award-winning acting roles — she starred in the acclaimed wartime romance Aimee and Jaguar (1999) and plays Stasi agent Lenora Rauch in the spy thriller Deutschland 83 and Deutschland 86 now on Hulu — but she's also an esteemed director. In both her exquisite biopic about the Austrian writer Stefan Zweig: Farewell to Europe (2016) and, now, as director of all four episodes of the hit Netflix series Unorthodox, Schrader creates intimacy and authenticity with meticulous period detail, galvanizing performances and atmospheric layering of past and present.
"You have to create a world," says the Berlin-based Schrader in a telephone interview from Germany. For Unorthodox, that world is the insulated Hasidic Satmar community of Williamsburg, Brooklyn. The first episode begins with 19-year-old Esty (Shira Hass) secretly fleeing the sect and her arranged marriage to the meek but controlling Yanky (Amit Rahav). She lands in multicultural, bustling Berlin, where she plans to reconnect with her mother who also escaped the religious community when Esty was a child.
Even though it's set largely in the present, Unorthodox had to be constructed as a period film with detailed Hasidic customs and rituals from the costumes to the Yiddish dialogue to a lavish wedding scene.
"The whole wedding sequence was shot in two days. We prepared a lot. If you are tight with time and budget, you have to work hard and prepare well," says Schrader. "Everything under the chuppah was rehearsed, like the theater." More than 200 extras were hired for the scene. "Some of them were just Berlin people who'd never had contact with Judaism. Some men were cast just for their beards. With two hundred extras, we did not have the ability to put beards on everyone."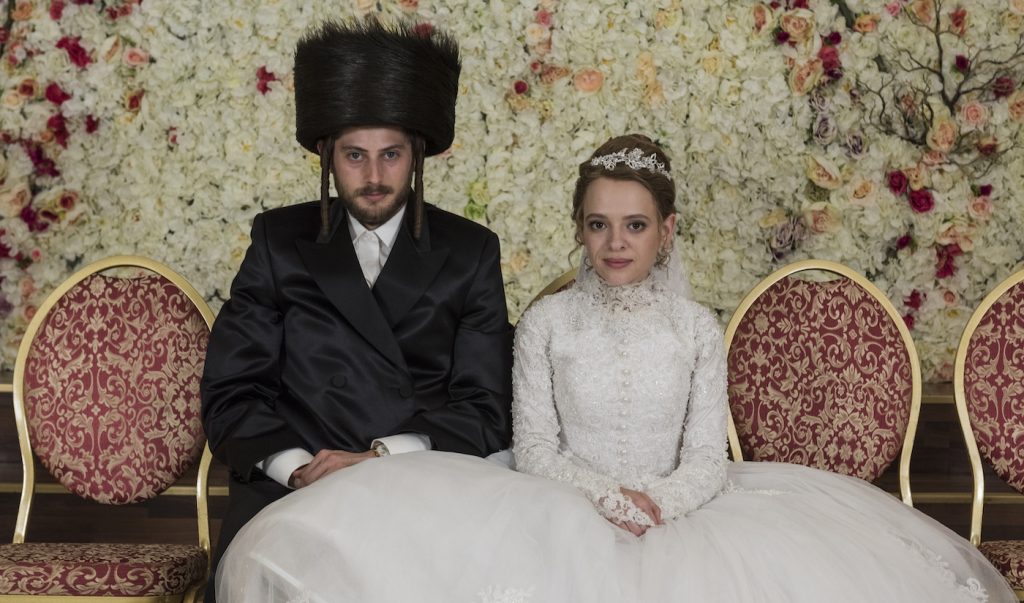 This international flavor and spirit infused the entire production, which is just what Schrader wanted. "It was incredible; we aroused interest — [the extras] learned the songs, they learned to dance, they learned many rituals and [there was] such a mixture of tenderness and curiosity and communication with each other," she says. "I enjoyed this already with Stefan Zweig because we had people speaking seven different languages. It brings out the best."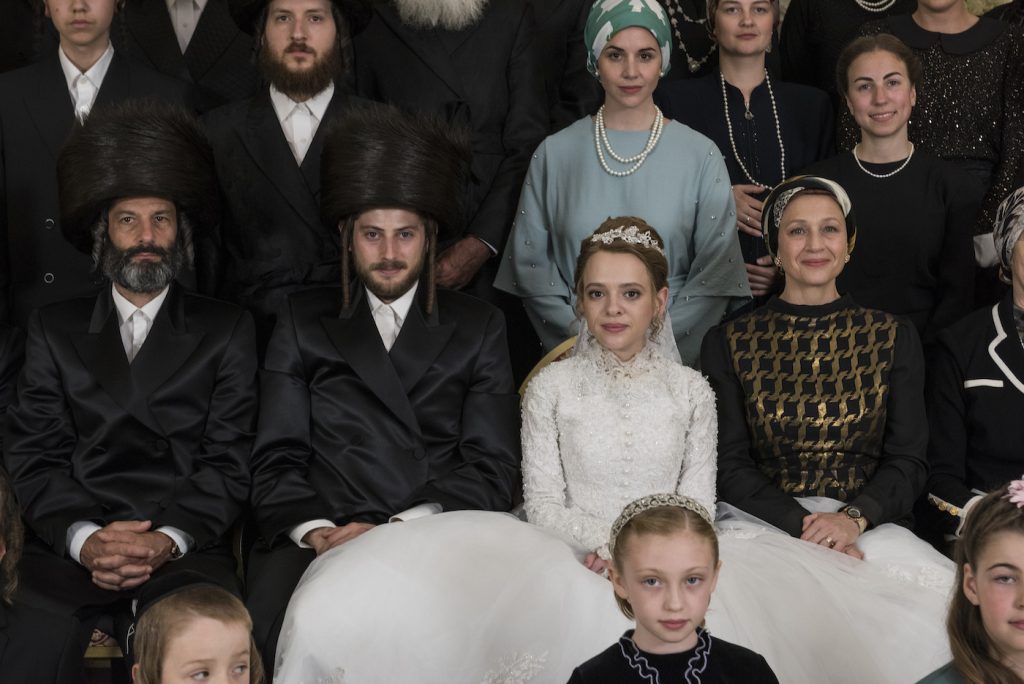 Specific human stories that expand into universal themes have marked Schrader's work ever since her directorial debut Love Life, based on Zeruya Shalev's novel, which she shot in Israel and Africa in 2007. She's drawn to projects, whether acting or directing, that invite her to "discover more and more," she says.
"It's like playing Medea onstage; I played Medea for almost 10 years [and] every time, you discover — the roof is so high. A film like Unorthodox touches so many themes."
Inspired by Deborah Feldman's bestselling 2012 memoir Unorthodox: The Scandalous Rejection of My Hasidic Roots, the all-women creative team includes Berlin-based American writer-producer Anna Winger (who wrote Deutschland 83 and Deutschland 86) and Alexa Karolinski. Winger approached Schrader about directing early in the process of developing the series.
"We got to know each other during Deutschland. Since I am also a writer, familiar with other parts of filmmaking, we started to have meta conversations and discovered a similar outlook, shared tastes [in] how to approach stories, almost like a philosophy," Schrader says. "She saw Stefan Zweig and said, 'we must work together.' The moment Netflix gave us the green light, they told us when to deliver and it was more or less in a year."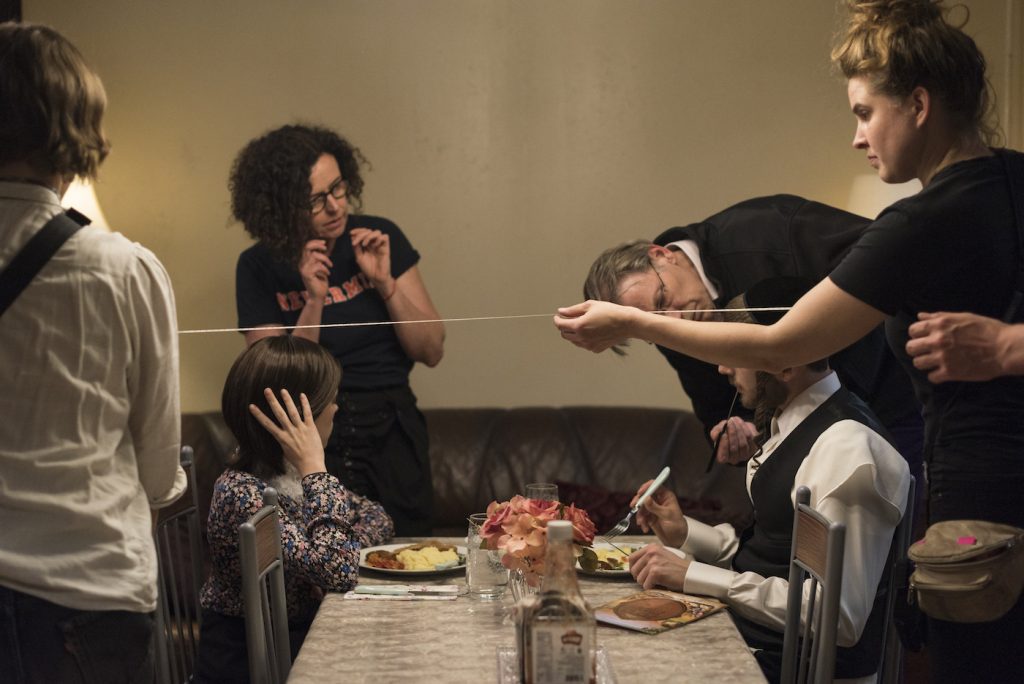 Schrader worked closely with the writers in drafting the show's scripts. "I was in the discussions; not co-writing but giving ideas, talking about dramaturgy, the parallel lines of narrative and how to combine, what to focus on," she says. "There was constant talk, which was important for me because it was the first time I was directing something that I had not personally written."
Despite her success as a director, Schrader plans to continue acting.
"I love acting so I'm not dependent on making a living as a director," she says. It was while she was appearing as Martha in a production of Edward Albee's Who's Afraid of Virginia Woolf? in Hamburg, Germany that production began on Unorthodox.
"Opening night was January 19. I flew to New York, then we started shooting [in Berlin]. I had five or six performances [of the play] to go. I'd drive to Berlin to be on the set at 6 a.m. Every time I thought, I have to go on stage and I'm so tired. But when you are onstage, for those two hours, it puts you in the here and now like nothing else. Then you come offstage and you see all the messages again and must prepare for the next day. But it's empowering to have that moment and concentrate on something different. Every time, I was happy; I was less exhausted."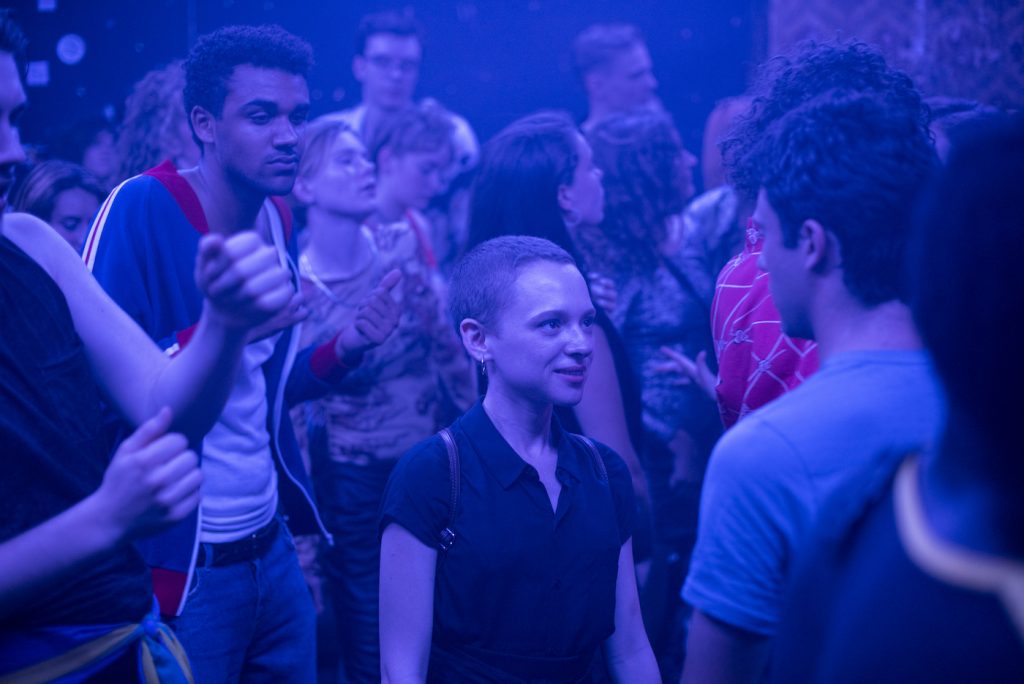 Coming from the art house film world where small indies struggle for attention and audiences, Schrader marvels at Netflix's instant global reach. "For a long time, it really felt like we were this small, German production under the radar. We had a small budget, [it was] all in Yiddish, and we are next to these big, ocean cruisers of series. But at the end of the day, we are all like products in a store side by side on the same shelf," she says. "I realized how in an instant [it creates] buzz in many countries and then suddenly everyone is watching. This is actually the most incredible thing — that women wearing burkas are seeing [Unorthodox] in Arabic countries. It is amazing."
Featured image: Director Maria Schrader on the sets of Unorthodox. Courtesy Netflix.