"Polite Society" Writer/Director Nida Manzoor on Her Genre-Melding Feature Debut
Writer/director Nida Manzoor grew up on martial arts, action, and Bollywood, so it makes sense that her feature directorial debut Polite Society would be a genre mashup that includes all that and more. An idea she's been kicking around since her teen years, the film is a celebration of sisterhood, inspired, in part, by her experiences as a kid learning karate with real-life sister Sanya. Though you might know Manzoor for her iconoclastic and very feminist series We Are Lady Parts, about an all-female Muslim punk band, Polite Society is raising her profile in the global film industry with her inclusive, empowering story featuring South Asian female leads. 
Polite Society follows teen Londoner and aspiring stuntwoman Ria (Priya Kansara), who balances attempts to fit in at school and her video stunt blog with trying to thwart a budding romance between her big sister Lena (Ritu Arya) and possibly-too-good-to-be-true suitor Salim (Akshay Khanna). Even as Lena and Salim's courtship appears headed to the altar, Salim is still creepily tied to the apron strings of his mysterious mother, Raheela (Nimra Bucha). It's a good thing Ria has the loyal, all-in support of her besties Alba (Ella Bruccoleri) and Clara (Seraphina Beh), who have her back no matter how crazy things get.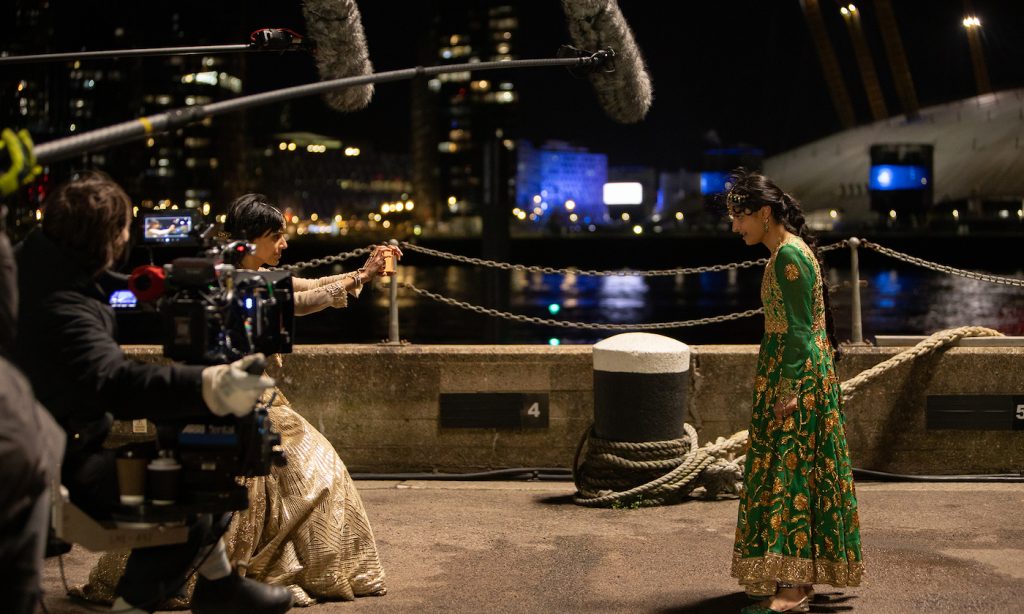 As the story unfolds, audiences are treated to extravagant fight scenes, tight action sequences, and a showstopping Bollywood dance number, all filtered through the experience of one girl coming of age. As such, the script doesn't shy away from female rage and issues around identity, making the film a unique delight for viewers who've rarely seen themselves reflected onscreen.
Manzoor discussed Polite Society with The Credits, pointing to her influences and revealing how her collaborations were integral to making this unusual genre-bending film successful on so many levels. 
Polite Society is a love note to your favorite genre movies growing up. Some films mentioned as inspiration are Crouching Tiger Hidden Dragon, The Matrix, and the Bollywood classic, Devdas. What specific moments might be a callback only fans of those films would recognize?
I think fans of the film Devdas, the Bollywood film you mentioned, will really see how much we're homaging it in the dance moves, the action, and the color of the costuming. That film inspired me because I think it's just a feat in filmmaking, the way the actors move with the camera. There's this big background, it's just a spectacle beyond all spectacles, and I think fans of that film will really see how deeply and truly we're paying homage to it, but filtered through a teenage girl. That was joyful. I think fans of The Matrix and Woo Ping's fight choreography, in general, will see my love of the Hong Kong kung fu style, especially in that Raheela fight. There are some moves that are iconic from Hong Kong kung fu that I wanted to shoot in the way I'd seen them, but, again, I wanted to bring South Asian costumes to it because, in my culture, the costumes are so beautiful. There are references all over the place, some that I don't even realize. I'm coming to terms with the fact that there is definitely a Jane Austen sort of vibe. She's not a filmmaker, but if she was, she would probably be a huge influence on me. I read so many Jane Austen novels growing up that there's something of that high society "women behaving badly" thing that's all over my film, too.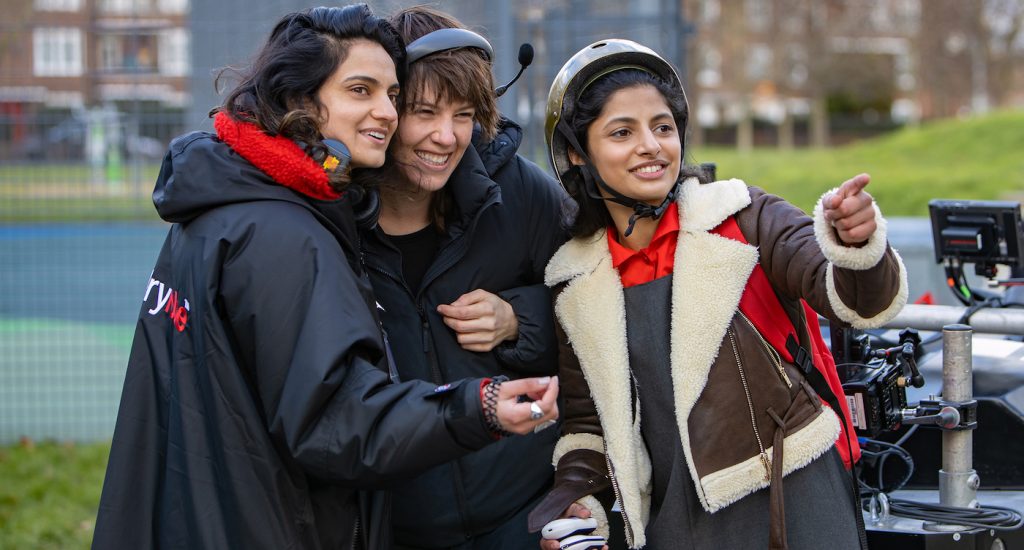 What are some elements directly pulled from your memories growing up with your sister, Sanya? The whole "I love you. I hate you." thing they've got going on is so spot-on.
It's true, right? There's something about your love for your sister. We are so fiercely protective and so loyal, but at the same time, we can be so cruel to them and know exactly the thing that will cut them down. That's why I think there's an intensity to sister relationships, which is very different from a romantic relationship. My own sister and I were extremely close. She's my biggest supporter and fan, but also, when we were growing up, we hated each other. We were vile to each other, and there's truth to that. So it was really exciting to get to bring that to the screen. We both studied martial arts and trained in karate together. There are some very vivid memories I have of fighting her physically and dealing with the humiliation of fighting her, as well as the kind of real physical pain of fighting her, and all these things mixing together at once. I think it's where the germ of the film came from, was when I was a teenager and in these fight situations with my very own sister.
Your focus is on well-composed shots and bright colors as part of the aesthetic of the film. In terms of collaborators, it has to be very synergistic. You've worked with costume designer PC Williams, editor Robbie Morrison, and production designer Simon Walker before. 
I was incredibly lucky with Robbie, the editor, Simon, the production designer, and PC Williams, my costume designer. I have worked with them multiple times before. They are my team, and they're my family. They also work very well together. Simon and PC, especially as production designer and costume designer, work so well together on my show, We Are Lady Parts. Their color palettes have incredible synergy. I trust them completely, and it's always a joy to work with them. Robbie Morrison, my editor, has cut every comedy I've ever written or directed. He knows the tone I love to work in and brings his own incredible eye for comedy and for performance to it. We spent months together in the edit, refining it, finding the jokes, moving away from the jokes, finding them again. Robbie is such an important collaborator for me. 
How did you collaborate with DP Ashley Connor to bring the look together?
I'd never worked with her before, but I was just a huge fan of her work. She brought such thoughtfulness. She's such a knowledgeable and intelligent DP, the kind of DP I haven't worked with before who has such a deep and passionate understanding of the script and of the character. She brought such a cinematic elevation to the film, but also a kind of punk vibe. She's from the indie cinema space, and we wanted that. I wanted her to stay true to herself as a DP. She loves to go handheld. She loves it to feel a little bit bursting at the seams. There's a wildness and a freedom to the way she shoots. It was just a thrill to get to work with her. Prepping with Ashley is the most fun ever; we just swap film references, watch lots of films, and constantly remind each other of the films that are inspiring us as we shoot. We're like, "70's Scorsese! It can be a bit out of focus." We were looking at Park Chan-wook's movies, his Vengeance Trilogy being both stylized but also fizzing. It's not overly stylized, there's a vibrancy of movement within the frame, and we wanted to bring that to it. It was just constantly back and forth, sharing references, and having a really great time.
Polite Society is playing in theaters nationwide. 
For more on Universal Pictures, Peacock, and Focus Features projects, check out these stories:
Christopher Nolan Reveals Riveting "Oppenheimer" Footage at Universal's CinemaCon Presentation
New "Fast X" Trailer Finds Jason Momoa's Dante Taking on the Family
"Renfield" Stunt Coordinator Chris Brewster Sinks His Teeth Into Hyperkinetic Action-Comedy
Featured image: Priya Kansara stars as Ria Khan in director Nida Manzoor's POLITE SOCIETY, a Focus Features release.
Credit: Parisa Taghizadeh / © 2023 FOCUS FEATURES LLC.