"Boston Strangler" Production Designer John Goldsmith Recreates a City's Nightmare
There's an entire film genre known as Boston movies, many of which are lampooned for their mangled accents. Good Will Hunting and The Town are two of the best, owing in large part to homegrown talents Ben Affleck and Matt Damon.
Boston Strangler, which debuts March 17 on Hulu, can be added to the short list of movies that get many things about Boston right. The film explores the city's provincialism in the early 1960s and how its sense of identity shatters as 13 single women between the ages of 19 and 85 are murdered in their homes. Boston Strangler is as much a journalism movie as a true crime one. It's anchored by Keira Knightley as Loretta McLaughlin and Carrie Coon as Jean Cole, two real-life beat reporters for a Boston daily who battled institutional sexism in order to break one of the most notorious crimes in history.
Production designer John Goldsmith understood this was a Boston story and was thrilled that much of it would be shot in and around the city.
"When I first talked to [writer-director] Matt Ruskin, he talked about wanting to make a Boston movie. I've done other period pieces like John Adams, which should have been set in Boston, but we made it in Williamsburg, Virginia," said Goldsmith. "You might find that urban fabric somewhere else, but I wanted to figure out a way to ground Boston Strangler in something specific to Boston."
Goldsmith drew on his professional and personal knowledge. A Boston native, he studied art history at Boston University and earned master's degrees in design and architecture from Harvard University. His extensive pre-production research included studying paintings at Boston's Museum of Fine Arts and Harvard University's Fogg Museum.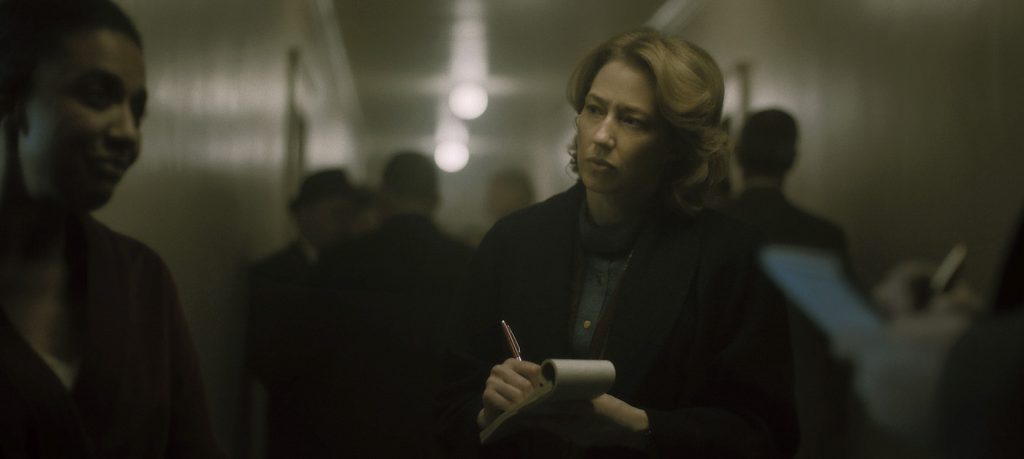 "I looked at Colonial-era paintings by John Singleton Copley and Benjamin West. I thought, 'What if we made color chords that came from those paintings that we translate for wallpaper, upholstery, and costumes?' It's a foundational idea that isn't obvious to an audience, but we would know that an effort was being made to locate this movie specifically in Boston and its past," he said.
Goldsmith has long been drawn to period films; he was the production designer for the first season of the TV series Perry Mason which is set in 1930s Los Angeles.
"I love the conceptual part of design. There's a logistical component in taking modern Boston and making it 1964. But luckily, so much material in Boston is intact. The urban fabric is fantastic," he said. "This story is about the truth being revealed in a situation that's complicated. So at one end, it's a monochromatic, white-and-black world of the reporters and the newsroom. Then it begins to move into a murkier world where patterns and colors start to come in. The victims' apartments have the most obfuscation and the most complexity because violence has entered in. How do you express that?"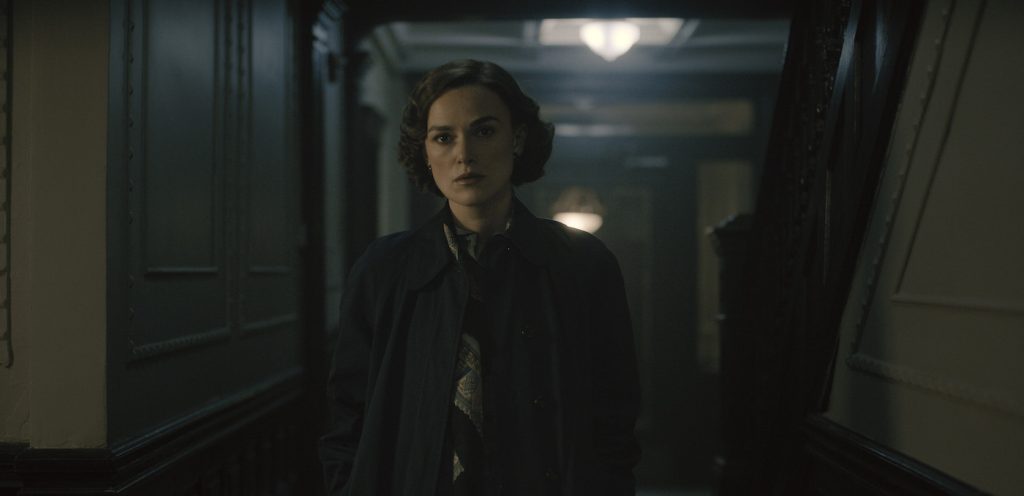 The police initially dismiss the brutal killings because the victims are unknown single women. McLaughlin and Cole, in Woodward and Bernstein fashion, fight to keep the story in the paper because they feel personally connected to it and did the legwork. Their news editor, played by Chris Cooper, backs them up even when he's taking heat from the police chief, who doesn't want publicity.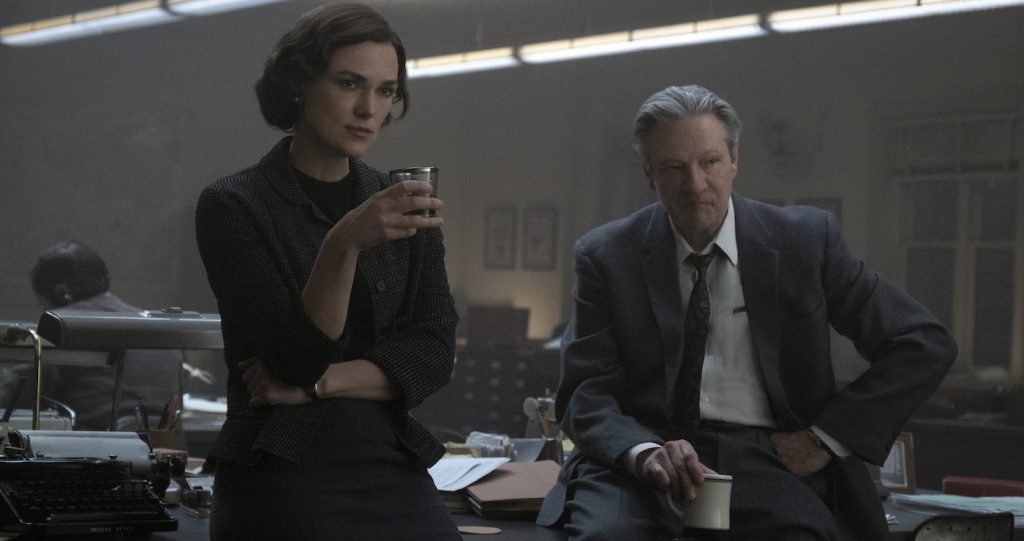 The bustling newsroom is central to the story. Goldsmith worked closely with cinematographer Ben Kutchins to create "an institutional look," paying attention to the room's size, color, and the height of the ceilings. "We didn't just want a box. We built a 3D model that we moved to a stage at New England Studios [in Fort Devens, Mass.], and we shot it there."
He commended the work of set decorator Sophie Carlhian and the property masters for the look of the newsroom with more than 60-period desks, matching lighting fixtures, paperwork, images on the walls, and news pages tacked to bulletin boards. These details "gave the room so much life and hopefully helped the actors feel grounded in this place," he said.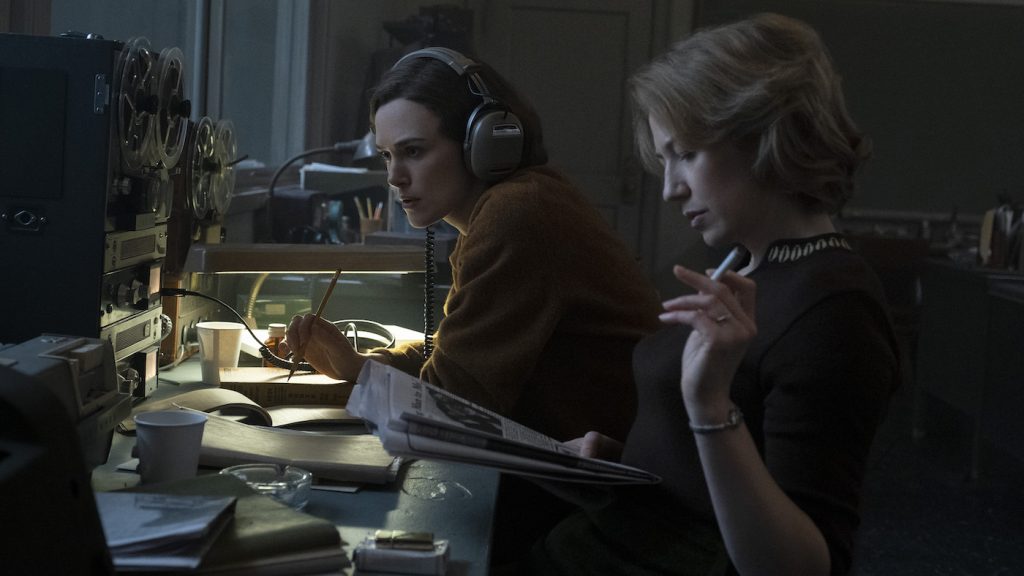 Although Goldsmith watched many movies from the '60s, there was one he avoided: The Boston Strangler from 1968, directed by Richard Fleischer and starring Tony Curtis as Albert DeSalvo, who eventually confessed to 11 of the slayings. The new version has a different focus, including revelations that the police mishandled evidence and ignored crucial leads. It includes a scene of Detective Conley (Alessandro Nivola) working as a consultant on the 1968 film.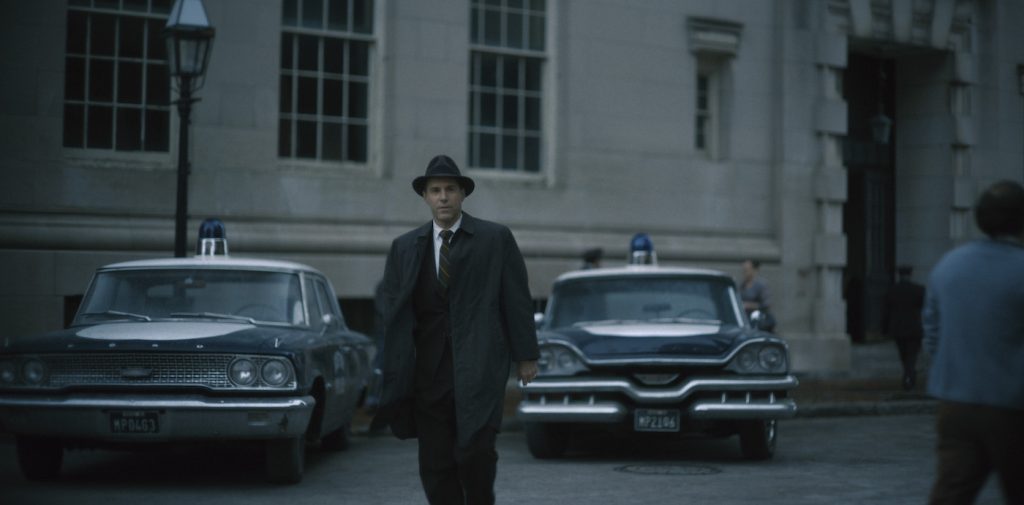 In staging that scene, says Goldsmith, the filmmakers "reflected the cheesy, Hollywood version of that story. "I wanted a monochromatic newsroom, but I hoped that was also the world of the police, that they were also at work getting the truth, but that wasn't the case. It's a human institution and a complicated one which is one of the reasons why the reporters' work was so important to fighting that culture of complacency."
The film's larger issues include finally giving Cole and McLaughlin their due. "I'm always interested in messages, in conversations we should be having," said Goldsmith. "We have only so much time, so if you're going to say something, then say something with meaning. These two female reporters went up against societal norms. If that informs a larger conversation, then I'm pleased that this movie can be part of that."
For more on what's streaming on Hulu, check out these stories:
"Kindred" Costume Designer Jaclyn Banner on Dressing the First Octavia E. Butler Adaptation
Let "Hellraiser" Production Designer Kathrin Eder Take You To Hell With The Cenobites
"Reasonable Doubt" DP Robert E. Arnold on Lensing Hulu's Legal Drama
Featured image: (L-R): Carrie Coon as Jean Cole and Keira Knightley as Loretta McLaughlin in 20th Century Studios' BOSTON STRANGLER, exclusively on Hulu. Photo by Claire Folger. © 2022 20th Century Studios. All Rights Reserved.