Let "Hellraiser" Production Designer Kathrin Eder Take You To Hell With The Cenobites
The Cenobites are back and seeking new victims for their blood-letting games. This time, they have the perfect playground for their sadistic mission. Hellraiser production designer Kathrin Eder created a lavish and indulgent new environment for the inter-dimensional pain-seekers to explore.
Time doesn't bind The Priest (Jamie Clayton), more commonly known as Pinhead, and their mutilated crew. Thirty-five years after Frank played around with the puzzle box, new mega-worshiper Roland Voight (Goran Visnjic) has dedicated his life and fortune to calling the creatures back to Earth. His excessive wealth creates a surreal and unsettling space to explore. 
"Voight's obsession with the Cenobites and the cube and the boons he might be rewarded with definitely inspired how we went about the design of this mansion," Eder explained. "It was a complex puzzle to solve. The movie is placed in Massachusetts, and we wanted to have something that's realistic enough to believe that a mansion like this could exist there. But at the same time, we knew we had a little bit of liberty because the world of Hellraiser allows us to move into a fantastical realm. There was a really fine play with what's still real and where does it become a visualization of Clive Barker's world and what he created."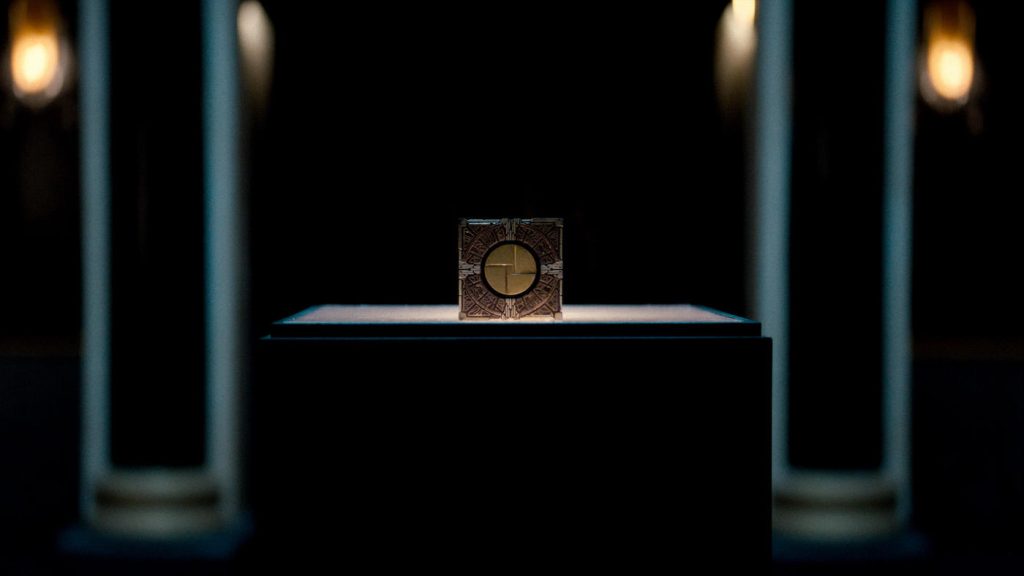 The Cenobites have always been a symbol of temptation, vice, and uninhibited desires. The new film drills beyond personal obsession and draws in vulnerable new targets struggling with addiction. A fascinating battle develops between the characters who are succumbing to their temptations and those fighting to free themselves from the destructive hold of dependency. 
"[Director] David [Bruckner], edgy as he is, definitely paid a lot of attention to understanding which aspects of the original Hellraiser we should bring into this film in order to honor Clive Barker and this feeling of what Clive evoked in the original first two movies," Eder assured. "At the same time, we definitely wanted to be truthful to the story that the writers wrote, and that story centered around young adults in their twenties that are struggling with larger themes that we might not have seen in the original film, such as addiction and seduction."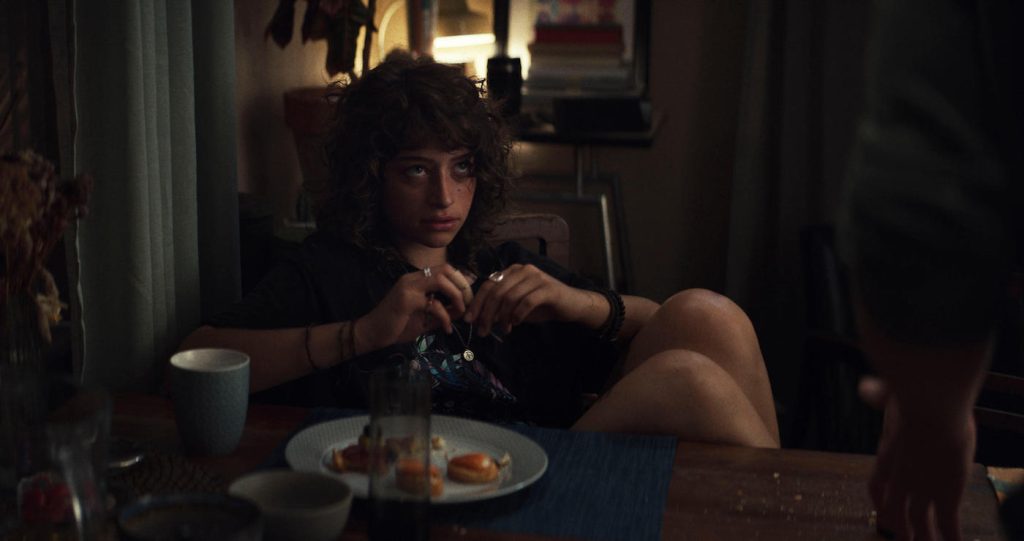 Voight is the new Frank Cotton to the extreme, with far greater monetary resources to devote to his Cenobite mania. He possesses unchecked power, shady staff, and an untouchable cloak of protection that obscures his predatory hunt for sacrifices. His disreputable methods for fulfilling his fetish-driven lifestyle are evident in his custom mansion. He's a reflection of our times, Eder notes, with plenty of real-world mega-rich egomaniacs that she drew on for inspiration.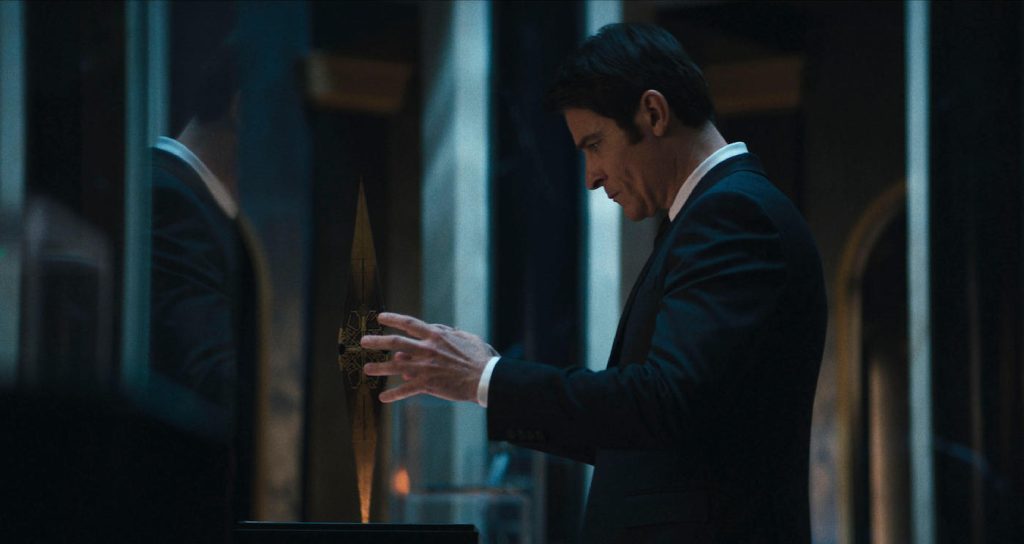 "There are so many of these men. There was a lot of food for inspiration and food for thought of who Roland Voight might be and what he got away with," Eder noted. "That was important to me. That was always my secret anchor. What can we tap into? It really gave me the guidance and allowed me to go down these dark paths of research. What did torture look like over the course of history? How was pain visualized in art? Is there a sense of pedophilia in certain Baroque paintings of children, or could it be interpreted as such? It was a real challenge, but at the same time, exciting, thrilling adventure to put myself into Voight's brain and wonder what kind of art he would have on the walls and what colors he would choose and why."
That level of depravity can be frightening to probe. Eder is a self-professed "scarecrow" when it comes to watching horror, but she has become more appreciative of the genre since working with Bruckner on the haunting and atmospheric The Night House. Delving into the dark nature of monsters and villains has helped her to create memorable manifestations of their tortured minds.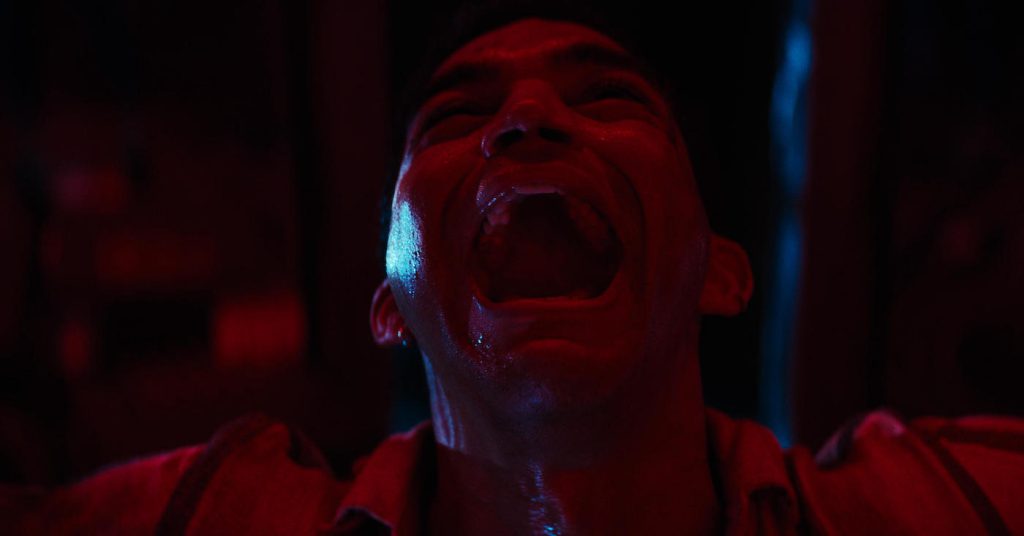 "That's why I became so appreciative of horror films because, in horror films, we visualize something about the human soul and the human psyche that is difficult to verbalize in a normal setting," Eder explained. "In this genre, we get to explore those dark themes and fears and deal with them. I think that's really important that we do that rather than keeping that somewhere locked up. It's kind of a safe space to deal with very difficult things and questions."
To reach the ultimate Cenobite reward, the puzzle box, designed by Martin Emborg, must be solved in a precise order with the necessary sacrifices offered at each level. Whether that prize is truly desirable is up to the player, but it's alluring enough for Voight to emulate the puzzle box in the pseudo temple he's created. The mansion's mysterious mechanisms and geometric details suggest that they serve a premeditated purpose of their own. 
"One thing I noticed studying mansions throughout history is that the repetition of details is much more pronounced than in the world of normal human beings that don't have obscene wealth at their hands to build their dream homes," Eder noted. "That also played a key part as to why there is symmetry because we multiplied certain things. When you look at the showroom, for example, it's not a square. It's a hexagon [which is] a very occult symbol. We designed one side of that hexagon. Naturally, the other five sides would be a complete copy of that one. When you look into the room with our aspect ratio, you will always see some sort of symmetry because there is repetition throughout."
Despite Voight's efforts to conquer the otherworldly realm, the Cenobites are always the ones pulling the strings – or nerve endings, in this case. When his plan collapses and turns him from master to prisoner, the mansion is abandoned. Eder took the lavish design and aged it into an abandoned, haunted shell.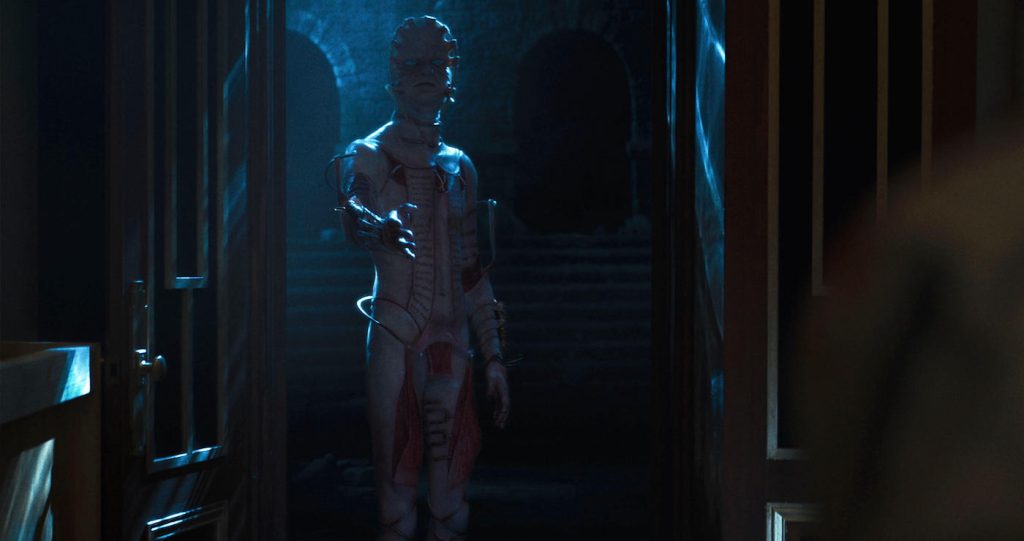 "What was very important to David was to take something that once looked impressive and immaculate and wealthy and powerful and then throughout Voight's struggle with the Cenobites and the boon he ended up with over the course of the six years that lead us to where the story is taking place right now, there is decay," Eder said. "We played a lot with how we take an immaculate space and how it would look six years later in a decayed version. That decay really represents chronic pain because Roland Voight is the living proof of what chronic pain can do to someone."
As the puzzle box claims more victims, portals begin opening with greater frequency and dimensions collide. When anti-hero Riley (Odessa A'zion) arrives, darkness has fallen on the mansion, and we really get to see the Cenobites in their full glory. Keith Thompson led the design of The Chatterer (Jason Liles), The Weeper (Yinka Olorunnife), The Gasp (Selina Lo), The Asphyx (Zachary Hing), The Mother (Gorica Regodic), and The Masque (Vukasin Jovanovic). Eder worked with cinematographer Eli Born to design spaces that played to the element they show best in – the darkness. 
"We did concept designs in order to visualize the color palettes that I proposed for Voight's mansion. We did camera tests as well where Eli, with his color timing that he had in mind, photographed a very large group of samples of different colors on the grayscale. Red was important, gold was important, certain greens and blues. Then we made those decisions together. I think it was always clear that it was going to be dark because the Cenobites are more mysterious and read really well in the dark. So, contrast was important working with practical lights and how the lighting design helped us to shape those spaces. So, when we're in a dark room, the room behind might be a little lighter to reveal a certain depth in space."
Of course, there's a particular light and coloring clue that will signal to true Hellraiser fans that the Cenobites are approaching. "When the dimensional doorways open and the Cenobites come into this world, in the original film, it was announced with some blue flickering light. We tried to stay truthful to that. Eli put a lot of work into making those light gags practical, which is really wonderful."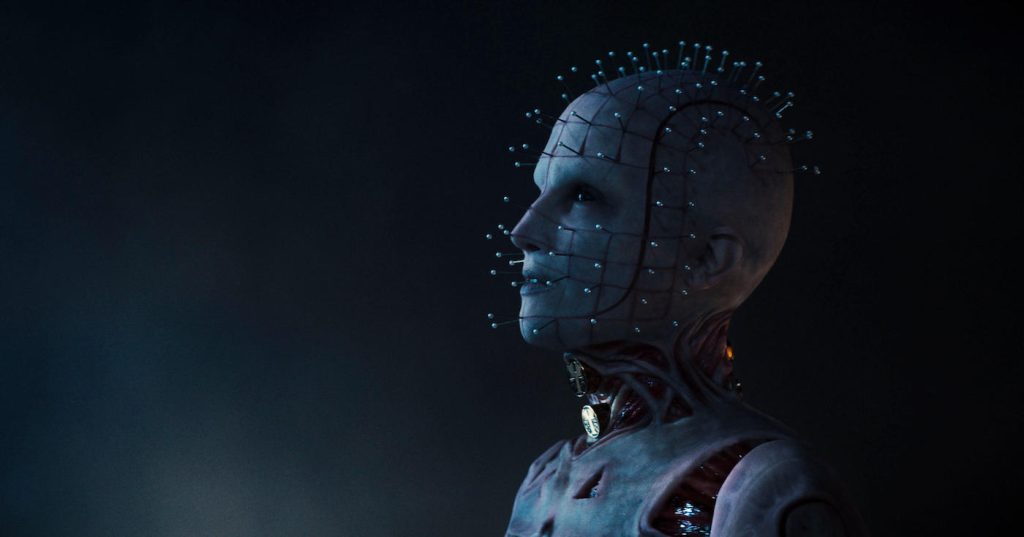 Despite being easily spooked, Eder said she was too preoccupied with her job to get spooked on set. "What's scary is will we nail the right mood and tone? You don't want to go overboard. It can never look farcical. Too much aging sometimes brings a little bit of an uncanny reality to it. That can get scary sometimes," Eder admitted. 
However, not every member of the crew was so lucky to avoid a good jump scare. 
"My boyfriend, who also worked on the show, has this really great story. He was on set on a dark stage when we were filming, and he turns around and suddenly The Chatterer, which is an eight-foot Cenobite, stands behind him soaked in blood, and there was this moment of like, 'Oh my f———g God. What is happening here?' Because The Chatterer casually said, 'Hey, what's up? How are you doing?' Scary moments came with a really funny connotation because seeing the Cenobites in the dark on stage was pretty crazy. Like, it was so convincing. It was so great." 
Hellraiser is now available to stream on Hulu, if you dare.
For more on Hulu, check out these stories:
"Reasonable Doubt" DP Robert E. Arnold on Lensing Hulu's Legal Drama
"Ramy" Costume Designer Nicky Smith on Season 3's Style Evolution
Emmy-Nominated "Dopesick" Cinematographer Checco Varese on Layering in Subliminal Clues
Featured image: Jamie Clayton as Pinhead in Spyglass Media Group's HELLRAISER, exclusively on Hulu. Photo courtesy of Spyglass Media Group. © 2022 Spyglass Media Group. All Rights Reserved.