"Kindred" Costume Designer Jaclyn Banner on Dressing the First Octavia E. Butler Adaptation
Although Hugo and Nebula-winning novelist Octavia E. Butler was the first science fiction writer to ever receive a MacArthur Fellowship and the first Black woman to gain popularity and critical acclaim as a major science fiction writer, many are unaware of her genius and influence on the genre. That is about to change because now, finally, a number of her works are being adapted for the screen. The first is an FX series based on her 1979 novel Kindred created by showrunner Branden Jacobs-Jenkins, who executive produces the series with Darren Aronofsky and his partners at Protozoa Pictures. 
Kindred is centered on aspiring writer Dana James (Mallori Johnson), who finds herself inexplicably pulled back and forth in time. Her two anchor points are present-day Los Angeles and antebellum Maryland in the early 1800s, which, as a Black woman, puts her at enormous risk. 
To complicate things, Dana's white boyfriend, Kevin (Micah Stock), accidentally travels back in time with her to a plantation owned by Thomas Weylin (Ryan Kwanten) and his wife Margaret (Gayle Rankin). Dana has deep familial connections with members of the enslaved who toil on the Weylin plantation. 
As part of this project, Kindred costume designer Jaclyn Banner was tasked with creating hundreds of authentic Regency Era costumes, including over a hundred indigo muslin dresses for the enslaved women on the show. In a chat with The Credits, Banner discussed her process and her part in bringing Butler's landmark sci-fi novel to life.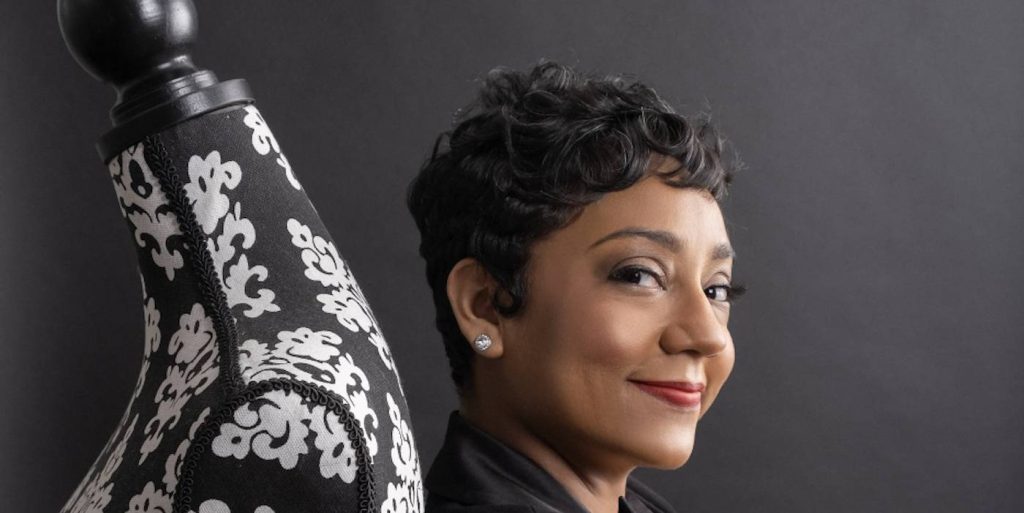 What was your process in creating the indigo muslin costumes for the enslaved female characters on the show? 
In the book, they are in blue dresses, so of course, that's something that we wanted to do for the series. I actually did two versions of the dress because, at the beginning of this series, it's winter. As we go on from episode five through eight, we're in summer, so I did two different versions, a winter dress and a summer dress. The summer dress is actually more of a teal kind of blue, having a bit more green tones in it, versus the winter dress. It sounds like it's an easy thing, but no. During this time, the enslaved were given cloth to make their clothes from, and it wasn't always the most comfortable or the softest of fabrics. It's muslin, it's linen, and linen during those days was really rough, so we tried to find the right fabric that would still give that appearance, but our cast and our background actors would have to be in these dresses, day in, day out, working in the heat of Atlanta in the summer, so it was important to make it as comfortable as possible for them. Also, with the climate of the show, and its sensitive nature, it was essential to make people as comfortable as they could be but still give the appearance of clothing from the period.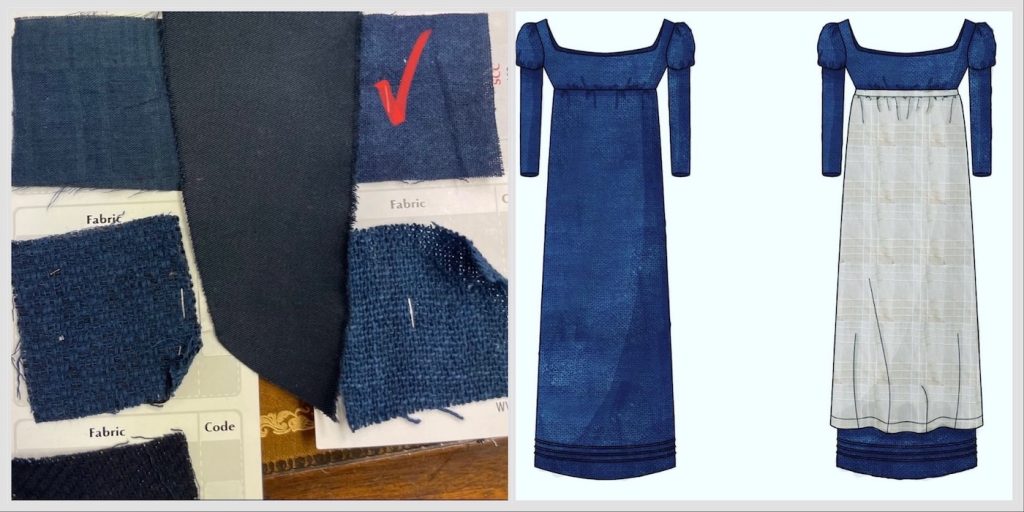 How did you go about sourcing what you needed?
I found the right fabric from Siam Costumes in Thailand. They sent me boxes of various fabric samples that ranged from cotton and linen and muslin to silks and satins, because those are the things that I used for most of Margaret's costumes. I found the right one for the blue dresses, and they ended up having probably over 100 yards of this indigo fabric, and it was great. Even though it was already dyed, we still had to do our process to it, just to make sure that we got the color right and to get all the excess dye out, so people aren't sweating and winding up with blue dye all over their bodies.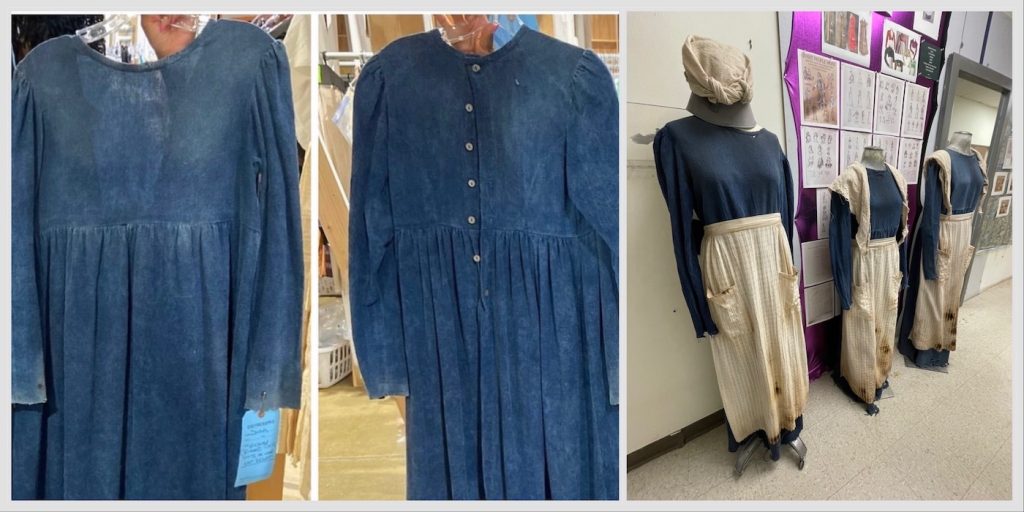 What was the difference between the summer dresses?
For the summer version, we used the same fabric, but at that point, they had run out of indigo, so we had to dye it ourselves. We did various samples, and then the color we ended up using was by accident. With aging and dying, it's kind of like trial and error. You add a little bit of this color and you see what it does. We wanted to do the same color as the winter dresses, but we got this great sample, and I showed it to Brandon [Jacobs-Jenkins], and he said, "Oh yeah, I love this." It gave a different feel. It still worked within the realm of the show and with the production design because that was one of the biggest things in finding the right blue. Jerry Fleming, who was our production designer, did a fantastic job of designing the Weylin house, with all the colors in the wallpaper and the flooring and all of that. I was definitely in constant communication with him about each room, Rufus's room, Margaret's room, Tom's room, the library, the office, the foyer, all of these different places, in addition to all of the other sets that we used. So we fine-tuned it, we got it down, and it just worked great. Blue is a universal color and looks good on just about everybody, but in addition to working within the realm of the show and the production design, it was important to find a color that would work well on our various complexions, and both of those colors did that.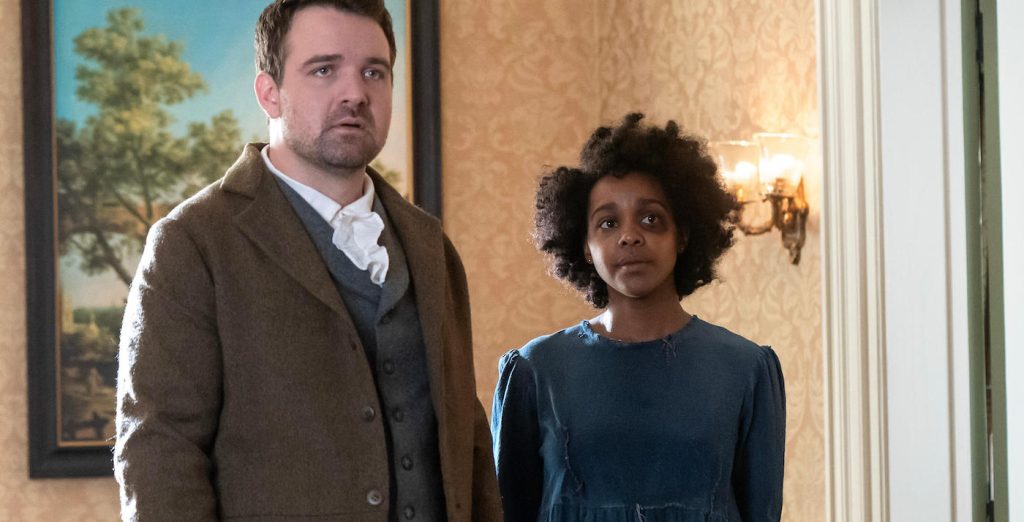 You were very thoughtful about the costumes for the enslaved and made a lot of different little changes depending on the jobs they did.  
Yes. We made a conscious effort not to really show the enslaved how we have seen them before. In Roots, we've seen them in clothes that were ragged and haggard, and we've seen other shows where they are in really dirty clothing with lots of holes. With this project, we knew it was definitely of a very sensitive nature and could trigger a lot of different things for a lot of different people, so we tried to be conscious of that. We also wanted to show that the enslaved are still human beings. They're in this situation; some of them think it's temporary, some believe it's for life, but some are actually working towards their freedom and trying to get away from that situation. For example, if they worked in the field, of course, they'd be e a little bit dirtier than those working in the cook house. For the people in the cook house, we might put burn marks on their aprons, and a little burn mark on their sleeve, and maybe some food stains and things like that. If there were someone who was forced to be on the floor doing a lot of cleaning, the knees would be a little bit more worn than other characters.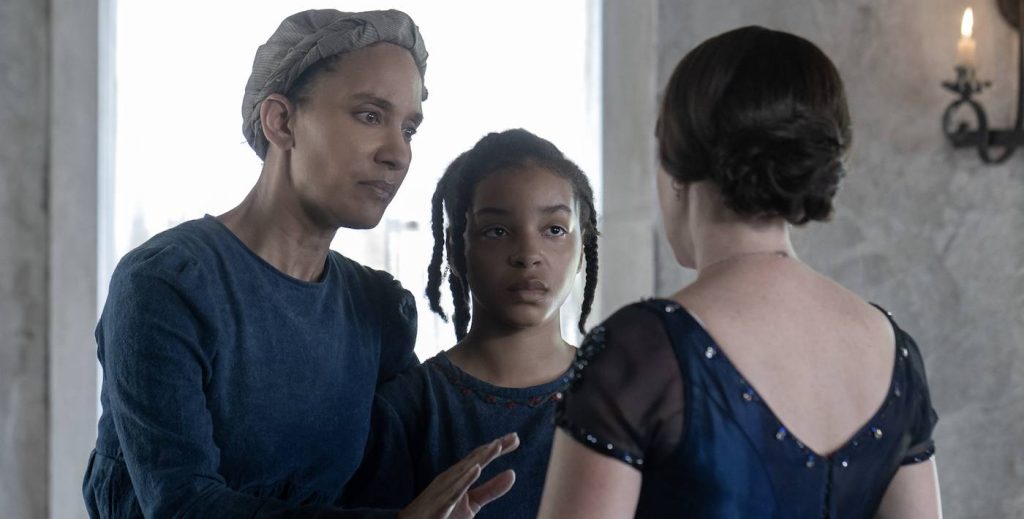 You create elements on costumes that speak to character. Can you give an example viewers can look for? 
Sure. So for Carrie specifically, she's Sarah's daughter, and she's a child, but she's also one of Rufus's friends, her and Nigel. Being that she's Margaret's dresser, and she is skilled at making clothes, one of the things that we thought would be cool for her, just to set her apart from the other enslaved, was that in her free time, she doodles or embroiders flowers and little things like that on her clothes. The camera may not pick up on this, and it may not be something that anybody else picks up on, but with the younger version of her, during winter, the embroidery on her dress wasn't that great because she's working on her craft. Then three years later, when we come back in episode five, and we're in the summer version, you can see a little bit more of the detail and how she's been honing her craft. That was something different we did for her to express her character. 
This is the first of Octavia E. Butler's works to be shown onscreen, which is surprising given how many awards she won as an author while she was alive. 
Absolutely. It's unfortunate that artists a lot of times get their just recognition when they're no longer with us. Kindred was written in 1979, decades ago, and finally, her work is coming to light onscreen. There are a number of her books being made into films and series now, but I'm happy that we were the first ones out the gate. I'm proud I could be a part of that. 
 Kindred is streaming now on Hulu.
For more on films and series streaming on Hulu, check out these stories:
Let "Hellraiser" Production Designer Kathrin Eder Take You To Hell With The Cenobites
"Reasonable Doubt" DP Robert E. Arnold on Lensing Hulu's Legal Drama
"Ramy" Costume Designer Nicky Smith on Season 3's Style Evolution
Featured image: Mallori Johnson as Dana James Photo by Richard DuCree-FX © 2022, FX Networks