Harpo Films Director of Development & Production Lauren Tuck Wants Her Creators to Flourish
Harpo Films and OWN: Oprah Winfrey Network has been leading the pack in Hollywood in terms of diversity and inclusion for years. From the very beginning of OWN's drama series Queen Sugar, creator Ava DuVernay envisioned using all female directors for the series, and both OWN and Harpo Films were 100% behind that. DuVernay's show proved a hit, and her commitment to hiring diverse female directors resulted in greater success for the 42 helmers that took part. Similarly, after years of holiday movies showing all white protagonists and storylines, Harpo and OWN began releasing Christmas movies featuring stories and characters from communities of color, with other networks and production companies subsequently following suit, expanding representation across platforms, all for the better.
With the recent premiere of the new docu-series The 1619 Project, for which Harpo partnered with Hulu, they are continuing to give voice to subjects and issues centering the Black experience in America. As director of development and production of Harpo Films, Lauren Tuck, whose focus is scripted programming, has been integral to a number of OWN projects. They include Queen Sugar, David Makes Man, and All Rise, as well as their popular slate of holiday movies. 
The Credits spoke to Lauren Tuck about all things Harpo and OWN, especially their commitment to centering the Black experience onscreen.     
Can you unpack your work for Harpo Films, its connecttion with OWN, and how you work across both?
Harpo is Oprah's privately funded production company, but we wear two hats. When the network first started, it was really mostly unscripted programming, and then about eight years ago, OWN really wanted to get into the scripted space. OWN didn't have scripted executives, they only had unscripted executives, so they looked towards us. We, under Harpo Films, were already handling scripted television and feature films on a variety of platforms, so Harpo Films became the functioning scripted division of OWN. In many ways, we are one group, one team under Oprah's mission to uplift storytellers. So, while we have our own separate projects still, we also have projects for OWN, like the holiday movies and All Rise. We really help to bolster the OWN scripted slate and development slate and made Tuesday nights a successful scripted night, with shows like Greenleaf, Queen Sugar, and David Makes Man. 
Who are a few mentors in your career that helped bring you to where you are now?
A great mentor, who is still someone I talk to, consider a friend, and adore, is Paul Weitz. I worked with him at Depth of Field. He was really the person who taught me that I love development. What was so lovely is he was a writer/director, and he would have me read his scripts and I'd be able to give notes. He was very big on collaboration, and if I had a thought or note, he'd want to hear about it. No idea was too small. Even though you're an assistant, to have a seat at this table, to have a voice, was just so important. I realized working there that I love reading new voices. I love finding those interesting new stories that we haven't seen before. It was with Paul that I really honed in on development as what I love and what I crave. Then my boss Carla Gardini, here at Harpo, who is like Paul, she always wants to hear my opinion and she has always championed things that I'm excited about. It's really nice when you have those people in your life. Especially in this crazy industry, it's lovely to have people you can go to for advice or talk to about navigating things.
You lead development and production on OWN's annual holiday movies, which reflect more diverse communities. Can you share a bit about that?
It came from our audience, really, people hungry to see themselves in these spaces. We're so big on research and understanding what our audience wants, and they really just kept saying, "We want to see ourselves in the holiday space." I love holiday movies too, and it felt like unless it was the best friend who had no arc, you really didn't see us. So we decided to dip our toes in this space and haven't looked back since. It's been, my goodness, about five years now, and it's been so rewarding, because it's so essential to have movies and projects with people that look like you. I think people just don't realize how important images are, and we have holiday movies where it's families and romance and Black love.
Like A Christmas Fumble.
With A Christmas Fumble, we heard from people that were just so happy that we were celebrating a Black love story. It's great being able to say yes; we finally have our seat at the table for holiday movies. People took note and now are following suit and featuring more diverse casts, or, I should say, featuring more of America, and it's been great for us. It's been just an honor to be able to work on the holiday movies showcasing our communities, because we also celebrate holidays! 
On Queen Sugar, Ava had all female filmmakers through the whole series, which was wholeheartedly supported by OWN, and it changed the career trajectories of those filmmakers. How does that continue as a guiding light for projects through Harpo?
I think people are looking at Queen Sugar and realizing, "Why aren't we following what is clearly a successful model?"  We joke now and say that we can't hire the Queen Sugar directors because they're all so busy and doing wonderful, fabulous things. People are really taking note, seeing that crews can and should be inclusive. It's been great to be a pioneer in that way.
And you continue make sure there is inclusivity and diversity above and below the line. 
For us it's important on all the projects that we do. On All Rise, with our great showrunner Denitria Harris-Lawrence and Simone Missick as executive producer, but also the crew, making sure it was inclusive from the top to the bottom. You know, when we do our holiday movies, we look at that, as well, whether it's cast or below the line, with makeup, hair, all of it. It's really important to us to have representation across the board.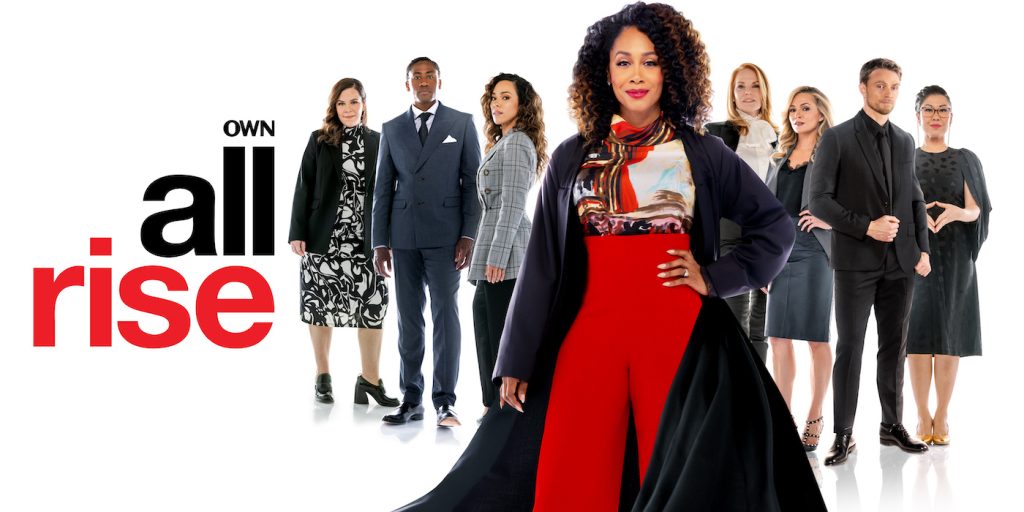 Especially in films and shows featuring a spectrum of different skin tones, having cinematographers and hair and makeup artists, just to name two departments, that know how to highlight Black skin. 
Absolutely. You have to know how to light Black skin. That is a must, finding Black cinematographers. Many of our holiday movies are shot in Canada, but we're very intentional, so we find talented Black artists there as well. Also, with hair and makeup, that's important to the Black community. You want your actress to feel confident and comfortable. So yes, the head of the makeup department, the head of the hair department, it's a priority for us to hire people who are African American. For one of our holiday movies, we were able to hire someone who was an assistant, and she became the head of the department, so that was really rewarding. It makes a difference, and you can see on the screen. You can definitely point it out. 
What is an example of a time recently when you were reminded you're doing exactly what you're supposed to be doing in your career?
I knew I'm doing what I'm supposed to do when we called this writer, and this was literally her first feature film, to tell her we that we really loved her pitch and were moving forward with her project. It's a scripted project that we're doing under the 1619 banner. We just knew we were changing the course of her life, and I was so excited for her.  She's doing what she wants to do, and hopefully the world will see this movie. For me, this is why I got into this business, to help lift up writers and people who are up-and-coming in their career and then seeing them flourish. 
Featured image: Lauren Tuck. Photo Courtesy of Harpo Films