How The "Babylon" Sound Team Built a Sonic Bacchanal
The opening sequence to Damien Chazelle's Babylon (in theaters today) hits you like one of the many lines of powder its characters will ingest. It's eye-opening, choreographed chaos, leaving you with an intensely euphoric feeling – quite fitting for a story that revisits Hollywood's infancy of the 1920s and '30s when La La Land was a sandbox of drugs, sex, and all night partying. 
It's here we meet Manny Torres (Diego Calva), a low-level "yes man" with aspirations to make it in the biz, putting together the finishing touches on an elephant-sized bash for the who's who, including silent movie star Jack Conrad (Brad Pitt) and Nellie LaRoy (Margot Robbie), a party-crasher looking to make a name for herself on the silver screen. Bedlam arrives at nightfall when tux-clad half-naked men, topless women, and hundreds of drunkards and coke fiends descend on the mansion of studio boss Don Wallach (Jeff Garlin), drinking and snorting anything and everything until sunrise. The mash-up has serious FOMO vibes and is glued together by the music from a live orchestra playing in the ballroom. That orchestra is led by trumpeter Sidney Palmer (Jovan Adepo), and galvanizing the moment is a tantalizing dance by Nellie, which catches the eye of a producer who needs to replace an actress who happened to die of a drug overdose in a nearby room. It's her chance at stardom.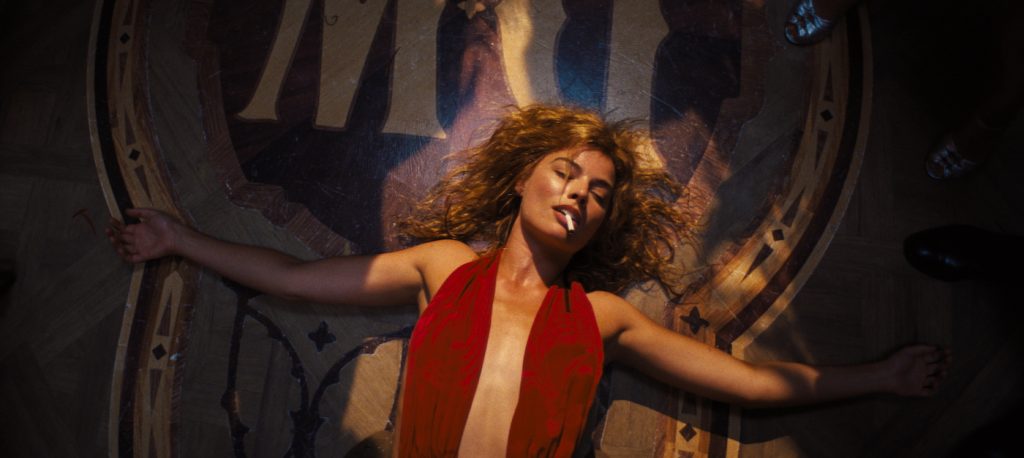 Beautifully shot on anamorphic 35mm push-processed film by cinematographer Linus Sandgren (La La Land, First Man) and exquisitely alluring production design from Florencia Martin (Licorice Pizza), the visual tapestry of Babylon invites you into the world with open arms, though it's the sonic creativity that subliminally keeps you moving to the beat of Chazelle's narrative drum.
"His films are very motivated by music," says production sound mixer Steven Morrow (La La Land). "There's a lot of discussion in preproduction about certain music hits and cues as well as the feel he [Chazelle] wants. We work heavily with the music department to make sure Damien has all the tools he needs." Composer Justin Hurwitz returns for his fourth film with the director, and his up-tempo score helps drive the opulent soundscape.
"Damien wanted the sound to be visceral and real, to be a little larger than life," says the multi-hyphenated supervising sound editor Ai-Ling Lee (La La Land, First Man), who collaborated alongside the likes of supervising sound editor Mildred Iatrou (La La Land, First Man) and re-recording mixer Andy Nelson (La La Land). "Because there's a lot of action in the frame, he wanted the sound to be as immersive, in a sense, as much as the visuals."
In filming the epic party, production sound fitted each actor with a wireless transmitter and lavalier to record their dialog. Boom operator Craig Dollinger placed an additional microphone overhead when viable, though the set walls of the Wallach location were lined with mirrors, limiting opportunities. The bigger hurdle for sound though was finding a solution to the music from the orchestra, so it didn't trample on the dialog throughout the scene. Morrow decided to give each band member an earwig that the music would be played through, allowing them to mimic playing their instruments. The problem: there were dozens of dancers who also needed to hear the music, plus Robbie's character. Sound utility Bryan Mendoza organized a system to give each one of them their own earwig to hear the songs and dance to the lavish choreography created by Mandy Moore (La La Land).
For Robbie's dance number, Morrow devised another solution. "Mandy and Margot came up with the song Firestarter [by Prodigy] that she's dancing to. Everyone else is dancing to what you hear on screen, but Margot had a separate earwig and transmitter so she could hear that specific song," Morrow notes. "It may not look like it, but that party scene became a technical challenge where we had 42 earwigs going out on two different channels."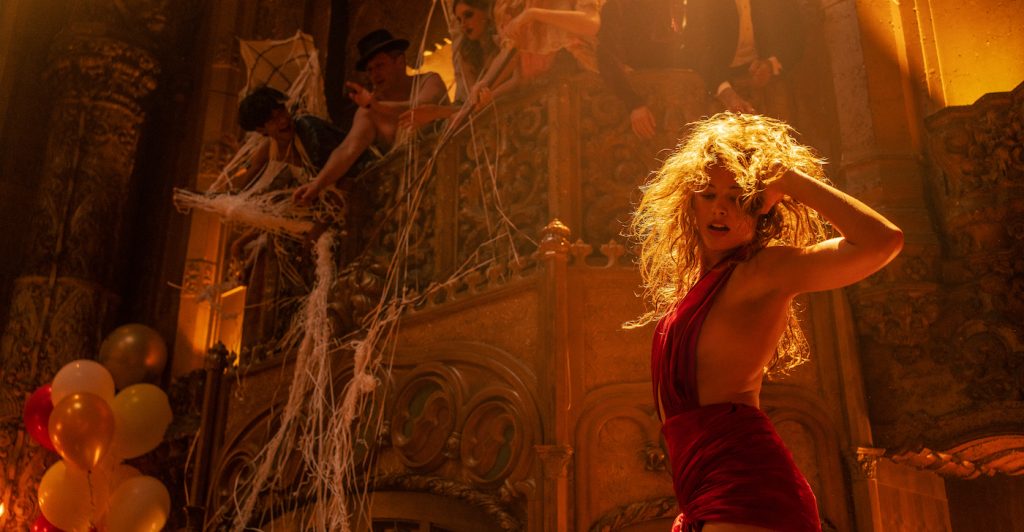 Lee admits the opening party sequence is heavily driven by music. For sonic clarity, post had to craft a visceral sound effects track that heightened the scene without overwhelming the audience. "Andy Nelson started the mix by setting what's the loudest he can play the music for the sound effects, like the party crowd, fights, elephant, etc. I made sure not to play them too loud and be specific when we play them, rather than a bed of sounds. This way, if a small sound doesn't overpower the music, that helps create an illusion that the music is always big, except for certain moments like the crowd cheers taking over the music on the last half of Nellie's dance sequence," explains Lee.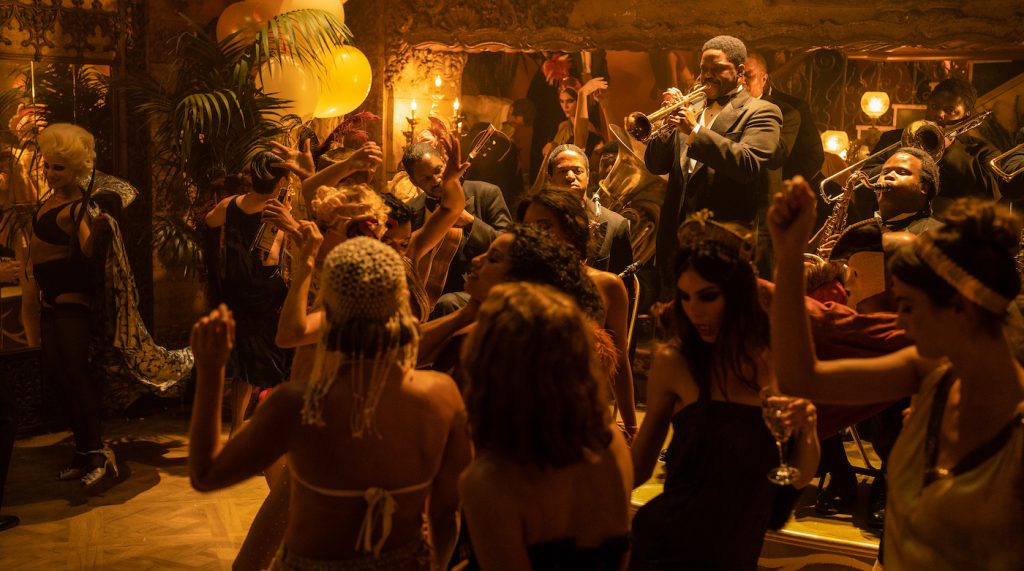 The mantra for production sound throughout filming was to find creative ways to protect the dialogue and not let the music play over entire sequences. Another such instance was a massive battlefield scene that has multiple storylines taking place at once, including Nellie's first day on set, where she's asked to repeatedly shed a tear and Jack Conrad climbing a hill to kiss a princess at sunset.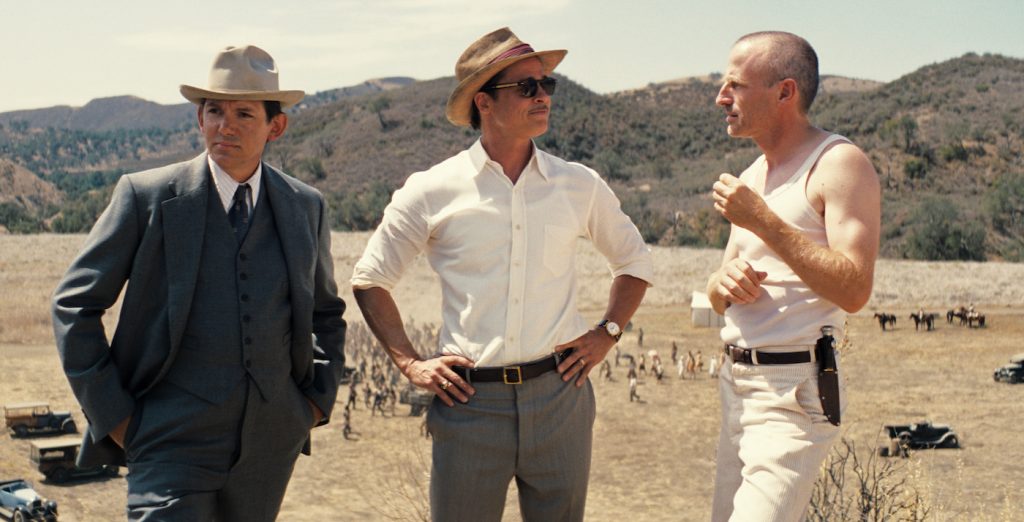 Supervising location manager Chris Baugh found an empty field in Simi Valley where Martin designed a number of open-air sets to represent Kinsocope studio owned by Wallach. "Kinoscope is what you'd call a Poverty Row studio," Martin says in the production notes, "so we wanted to show how ramshackle and seat-of-your-pants the approach in those days could be. It's really these pockets of fantasy sprouting out of the desert, where only months or weeks before nothing existed." Every individual movie set, every painted backdrop – all were created from scratch."
The colossal sequence had over 700 extras fighting, explosions, horse stunts, and a full orchestra. "On a traditional movie, you would blast the music and the orchestra would play along as the battle takes place. We thought since we had a large earwig count already, why not just give everyone in the orchestra an earwig, including the conductor [cameo by composer Justin Hurwitz]. This way, they can play along to the silent music, and then good sound effects of the battle and everything that's going on could be recorded."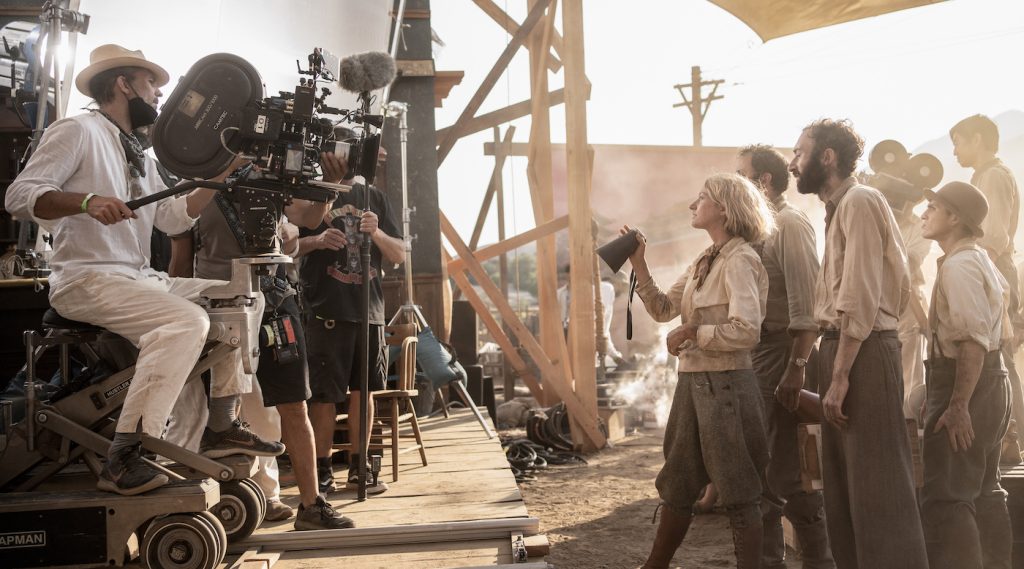 Lee sent two sound effects recordists to capture the aural palette during the multi-day shoot. "They were able to set up a bunch of mics around the set to record a wider perspective of the extras yelling, attacking, and the different prop sounds," mentions Lee. "We thought it might be kind of cool to capture the sound of 1,000 extras with props weapons and hear what it sounds like." Morrow adds, "It may seem odd to say [to Chazelle] we don't want to play this orchestra out loud, but in the end, it helps the authenticity of the scene. It lent all that extra sound that would be very difficult to recreate where you have all these extras on the field running at each other."
In post, the team further pushed the battle sequence, finding moments to aurally heighten the drama of the unfolding storylines. "Justin's score is driving a lot of the scene forward," says Lee. "For sound to play it up, we would hit the cut to play in rhythm and pitch to his score." Mixing in Dolby Atmos created more of an immersive soundscape where they pulled sound effects from the center speaker placing them in different perspectives for viewers to hear and feel.
Morrow admits none of it would be possible without the collaborative nature of Chazelle. "Damien really cares about every aspect of a movie, and you can tell that in the small details. He has storyboards he sends out to everybody to understand what his goals are for the shoot, but he's collaborative in the sense that he's not locked into a specific vision. It's a very rewarding experience working on his movies."
For more films and series from Paramount and Paramount+, check out these stories:
The First "Scream IV" Trailer Finds Ghostface in New York City
"Transformers: Rise of the Beasts" Trailer Reveals the Maximals, Predacons, & Terrorcons
"Babylon" Official Trailer Finds Brad Pitt & Margot Robbie Living the High Life
Featured image: Margot Robbie plays Nellie LaRoy in Babylon from Paramount Pictures.