Best of 2022:"Guillermo del Toro's Pinocchio" Animation Supervisor Brian Leif Hansen Packs Puppets With Emotion
It's that time of year—we look back on a few of our favorite interviews from 2022 in our annual year-end list.
Inside a nondescript warehouse on the outskirts of Portland, a little boy made of wood galvanized efforts by stop motion filmmakers for three years before emerging now to wow moviegoers in Guillermo del Toro's Pinocchio. This dark stop-motion iteration of Carlo Collodi's 1882 tale, in theaters and streaming on Netflix, takes place in 1930's Italy, adding Mussolini and forest witches to the story's signature evil doers: circus master Volpe (voiced by Christoph Waltz) and the monster whale.
Puppets were fabricated in Manchester, England, and Guadalajara, Mexico, then shipped to Portland, where 41 animators teamed with grips, gaffers, lighting designers, camera operators, and scenic artists to create the fairy tale world inhabited by Pinocchio (voiced by English 10-year-old Gregory Mann) and his father Geppetto (David Bradley). Pinocchio co-director Mark Gustafson enlisted veteran Danish stop motion artist Brian Leif Hansen to serve as the show's animation supervisor. "We averaged 3.8 seconds of animation output per week," says Hansen, who abandoned his early ambitions to become a chef and instead moved to England, where he helped animate Tim Burton's Corpse Bride. Hansen later served under Gustafson on Wes Anderson's Fantastic Mr. Fox stop-motion feature, followed by Laika-produced Missing Link and Kubo and the Two Strings.
Speaking from Manhattan, where he helped install the Museum of Modern Art's "Guillermo del Toro: Crafting Pinocchio" exhibition, Hansen drilled into the painstaking process of bringing 12-inch tall heroes and villains to life.
Stop-motion animators move Pinocchio characters in tiny increments to build a scene. What kind of blueprint do the animators refer to as a guide?
The animators rely heavily on these [animatic] storyboards, and the voice actors have already been directed, so there's a voice track to let them know what's going on. The animator is like an actor. A director relies on the animator to give life to the character and to give a performance, and most times, they get it right.
This film packs such an emotional wallop. Part of that must come from the way voice actors inspire animators to synch the puppet's movement to feelings expressed through their vocal performances.
Yeah. Emotions are a very important thing. [As an animator] You've got these headphones on, and you're moving these puppets around; if you listen carefully to the voice recordings, you can hear breath and hear the actor shifting around. So you listen very carefully to the voice, and then you stuff all of that into your puppet in a way that lifts it up, enlarges it to become almost a caricature. You don't just do it plainly. It's crucial to have a good sound to work with when you're creating a performance.
You worked as a hands-on animator yourself for about 15 years, and now, with Pinocchio, you've graduated to animation supervisor. How did that happen?
Mark Gustafson needed a wingman, somebody who's done this many times before, to make sure he could deliver this high level of animation. That wingman being me. It turned out we work really well together.
What's the division of labor?
Mark basically takes care of the emotion and the story, and I take care of all the technical things that need to be working so the animator could do his or her best performance. Also, I'm sort of a cheerleader, keeping up the spirit of this jolly ambiance within the animation department. Animators are artists, so they're sometimes nervous about their work. And you need to make sure they focus on the right things rather than things that nobody's going to see.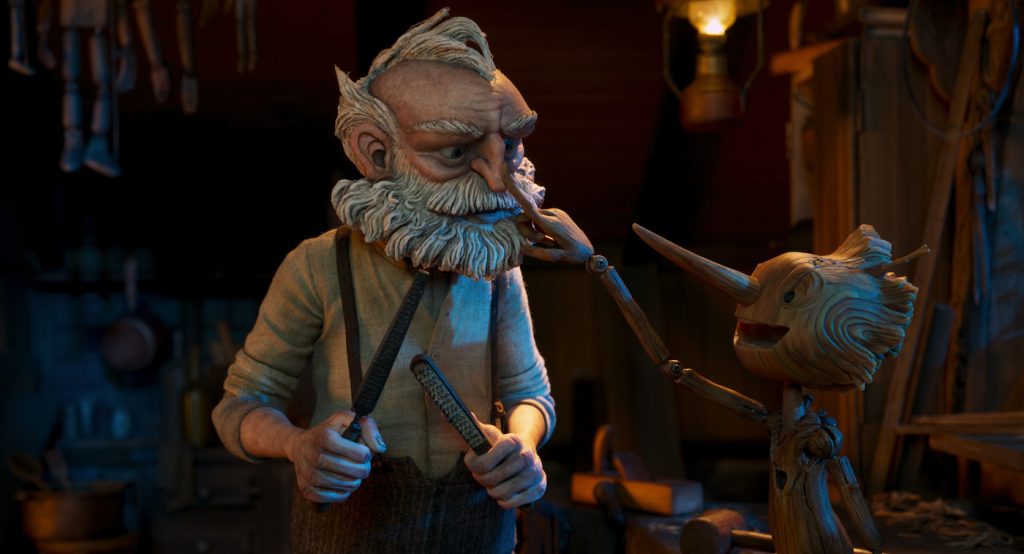 The puppets in Pinocchio are moved by hand 12 or 24 times per second of screen time. How do the animators make that happen?
There's enough tension [in the gears beneath the silicone surface] to hold a pose. You go in and move the core of the body, arms, legs, then your head, then your eyes and eyelids. Then you step away from the frame and they take a picture. Then you go back in and move everything again. What's crazy about this process, called straight ahead, is that you don't have key poses drawn on paper to show where you're going. The animator's moving into unknown territory, so you have to have everything planned out in your head before your start. Otherwise, it's going to go south really quickly. For example, if you come in too high or too low with the puppet's heel, it'll look like he's got a limp. Walking a human is really difficult because the human eye easily recognizes if it's not perfect. Dogs are easier.
In this digital age, it's refreshing to realize that the human hand, not an algorithm, dictates exactly how high the eyebrow goes or where the finger will point.
Exactly.
Stop motion is so labor-intensive! Just to get the timeline straight, when did you start, and when did you finish?
I started in January 2019. There was only one animator at the beginning. Two weeks later, another couple started, then a third one started. We ramped up to a maximum capacity of 41 animators on 60 sets. We shot the first frame in August 2019 and the last frame this August. We were rushing big time, and everything was being shot at the same time. We had like 30 Pinocchio's, 18 Geppetto's, seven Volpes. If there were only one Pinocchio, it would have taken ten years to shoot the movie. [laughing]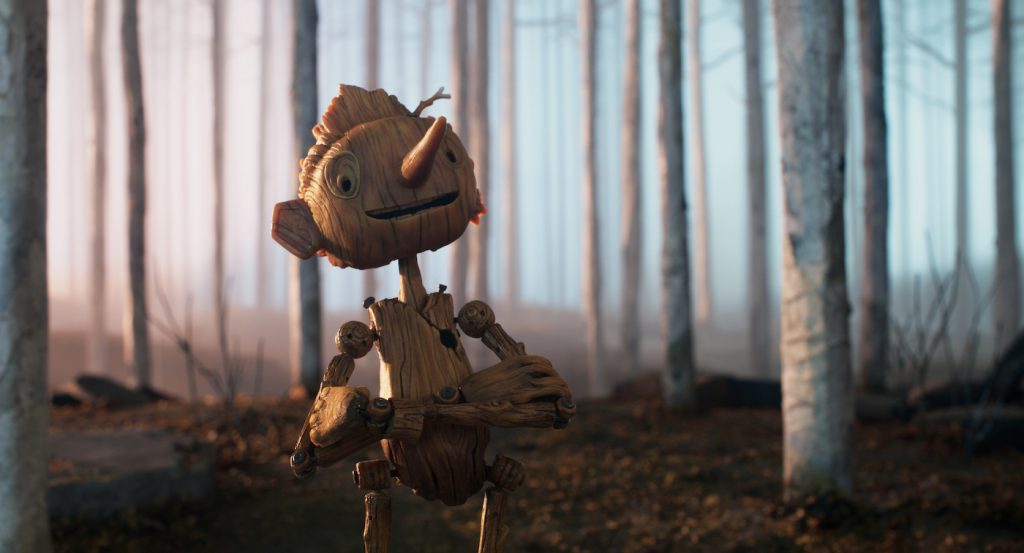 Different crews for different sets?
Yeah. The Director of Photography, Frank Passingham, had four lighting and camera teams, each with ten or twelve sets. One crew did most of the church sequences. We had two and a half churches. Other people worked primarily on Geppetto's workshop, which was actually three workshops split down the middle so we could shoot from both directions at the same time.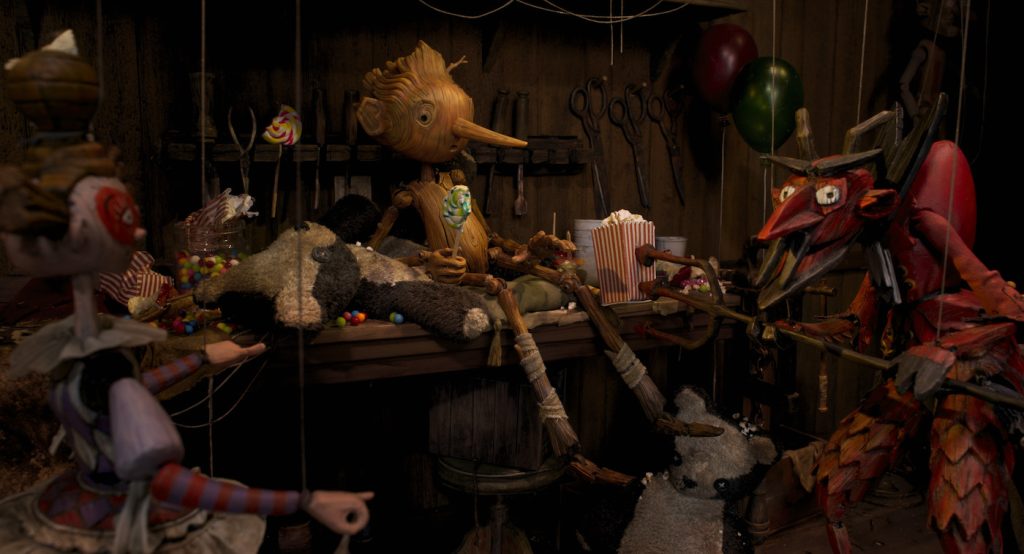 Count Volpe, the greedy carnival boss voiced by Christoph Waltz, has a huge physical and performance presence. What was it like bringing him to life?
In Guillermo's terminology, Volpe is a ten. He's very purposefully the most caricatured being. And he has a Jekyll and Hyde personality: He's either this showman with the happy face and big arms [waving around], or he's this narrow-focused meanie. Also, the Volpe puppet was very big, so his joints need to be tight, which made them difficult to move. Most of the time, Count Volpe had to be attached to a rig because he was too heavy to stand by himself.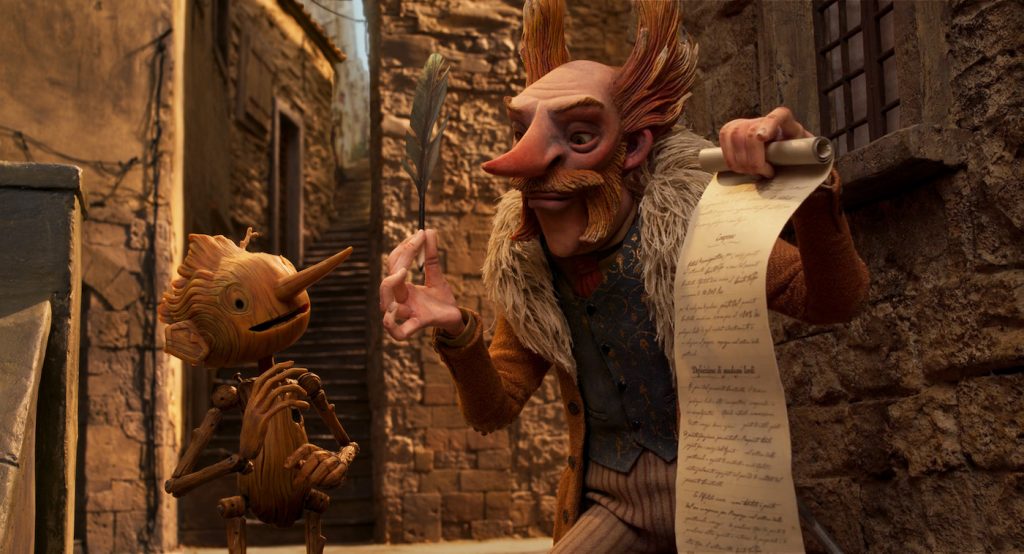 Looking back at your immersion for more than three and a half years in the Pinocchio bubble, which sequence stands out as your favorite?
There are so many well-animated shots that I don't really have a favorite. But the interaction between Geppetto and Pinocchio in the church is beautiful, the argument in the woods between them is genius, Geppetto waking up drunk and discovering Pinocchio for the first time is great, and the songs are funny and cool . . I could go on. But it's not like there was one big mountain we climbed and everybody cheered when it was over. This was more like hedge jumps in the Olympics.
Hurdles?
In Denmark, we call them hedges but yeah, in Pinocchio, there was constant problem-solving that had to happen on the spot, but they weren't impossible to solve because the problems came a little bit at a time. You had a whole team of collaborators, so you could just pick away at it, slowly.
You're making progress, three or four seconds a week.
Yes, because if you had to think about the whole movie all at once, you'd just sit in the corner, shaking and crying. Here, we just had to carry on with these little bits that needed to be made, and then after you make all the little bits, you have a big thing.
For more on Guillermo del Toro's Pinocchio, check out these stories:
Bringing Stop-Motion Puppets to Life through Sound in "Guillermo del Toro's Pinocchio"
"Guillermo del Toro's Pinocchio" Early Reactions: A Stop-Motion Masterpiece
Guillermo del Toro on Why He Set "Pinocchio" in a World of Fascism
Featured image: Guillermo del Toro's Pinocchio – (Pictured) Pinocchio (voiced by Gregory Mann). Cr: Netflix © 2022