"Guillermo del Toro's Pinocchio" Early Reactions: A Stop-Motion Masterpiece
There was never a question that Guillermo del Toro was going to do something distinctive with his Pinocchio adaptation. Now that the film had its international premiere in London, critics have had a chance to see just what the visionary director has done with his first animated film. The answer, at least thus far, is unsurprising—Del Toro has created a bracingly original, deeply personal stop-motion masterpiece.
Del Toro revealed last week why he chose to set his version of Pinocchio in fascist Italy during the reign of Benito Mussolini. In fact, he drew a line between his Pinocchio and two of his most critically acclaimed past films, The Devil's Backbone and Pan's Labyrinth, both of which were set around the time of the Spanish Civil War: "The three movies are to do with childhood coming up against something that has to do with war and violence," he said during a special event held by Netflix before the film's world premiere this coming Saturday. "I think for me, it's always been the movies about fatherhood and being a father or being a son, and I think in those iterations, Fascism seems to be concerned with a father figure of a different kind and the desire to deliver ourselves to a father that unifies thought. So I think it's both a background and it is something interesting thematically."
Now that critics are starting to weigh in, we have a sense of what Del Toro and his team have achieved. Here's a brief snapshot of what the critics are saying.
Wendy Ide at Screen International writes that Del Toro's first animated film, which he co-directed with stop-motion maestro Mark Gustafson (he was the animation director on The Fantastic Mr. Fox), crackles with originality: "Netflix's impressive run of high-quality animations continues with Guillermo Del Toro's Pinocchio, the director's gorgeous first foray into animation and a prickly, bracingly macabre spin on the much-adapted tale. It relocates Carlo Collodi's 1883 story to an Italy simmering with fascism in the first half of the twentieth century and doesn't shy away from the monstrous elements of the sentient marionette with flammable feet and no impulse control."
The Hollywood Reporter's Leslie Felperin writes that the film is "like an affirmation that just as life is messy and marvelous, so too is this baggy, sometimes raggedy but often beautiful adaptation of Carlo Collodi's episodic book about a living wooden puppet, first published in the late 19th century, rendered here via exquisitely executed stop-motion animation."
Meanwhile, Variety's Guy Lodge writes that Del Toro has managed to honor Carlo Coloddi's deathless 19th-century original while infusing it with his own particular genius: "In spirit, however, this notably peculiar, frightening animation feels more in line with Collodi's imagination than most previous iterations. As you might expect from the man behind "Pan's Labyrinth" and "The Devil's Backbone," there's a dark, violent sense of consequence to this one, a healthy sense of grotesquerie, that makes its happy ending — yes, that's still on the cards, but not exactly as you'd expect — feel hard-earned."
Over at The Wrap, Nicholas Barber says that Del Toro has managed to create a film that's both fearlessly sinister and irrefutably charming: "It's intense, creepy, often harrowing stuff, so you can see why del Toro has said in interviews that his Pinocchio isn't a children's film. But that doesn't mean that brave children, and brave adults, won't adore it. Del Toro and his co-writers, Patrick McHale (Adventure Time) and Matthew Robbins  (Crimson Peak), balance the more hellish misadventures with chirpy humor, Alexandre Desplat's songs are sprightly fun, and the Ray Harryhausen–worthy models have a folksy, old-world charm and a limber grace. Stop-motion movement has rarely, if ever, looked as natural."
Guillermo del Toro's Pinocchio will premiere in select theaters in November and stream on Netflix on December 9, 2022.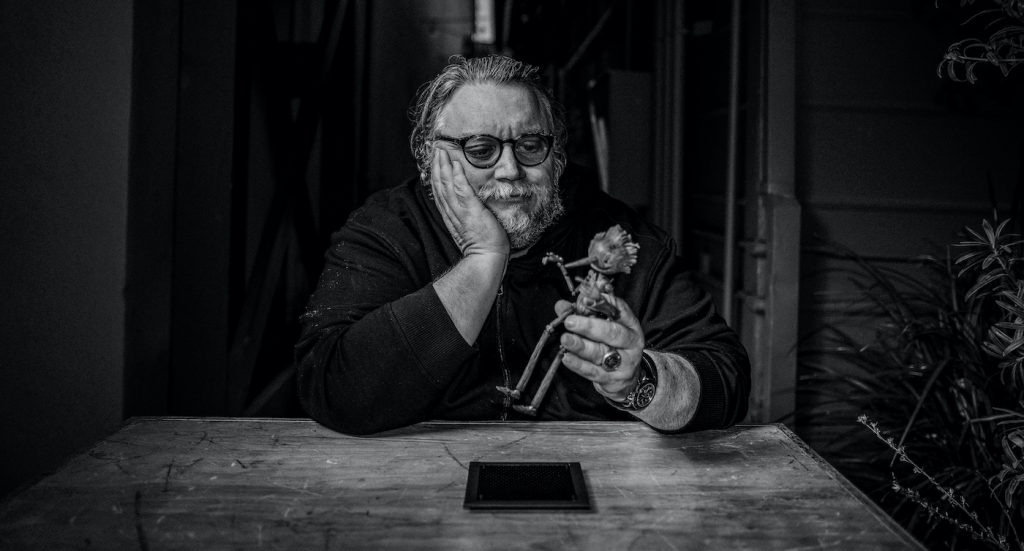 For more on big titles on Netflix, check these out:
Guillermo del Toro on Why He Set "Pinocchio" in a World of Fascism
The Official Trailer for Guillermo del Toro's "Cabinet of Curiosities" is a Creepfest
First Trailer for "Barbarians" Season 2 Reveals Return of Netflix's Underrated Epic
Featured image: Guillermo del Toro's Pinocchio – (L-R) Gepetto (voiced by David Bradley) and Pinocchio (voiced by Gregory Mann). Cr: Netflix © 2022