Best of 2022: Bill Hader on Bringing Up "Barry"
It's that time of year—we look back on a few of our favorite interviews from 2022 in our annual year-end list.
For eight seasons, Bill Hader gained a legion of fans with the hilarious characters he brought to life on Saturday Night Live. Since then, his popularity has only grown with his Emmy-winning portrayal of the manic hitman/aspiring actor in the HBO series Barry. But to hear Hader tell it, performing wasn't his initial goal. For as long as he can remember, he wanted to direct.
"Since I was fairly young…I would say 10 or 11 was when I first started to notice the 'directed-by' name," Hader says during a recent Zoom interview. "I remember John McTiernan —  realizing, 'Oh, the guy who did Die Hard, did Predator. This director's name is on the movies I like.' These types of things."
Likening it to being in a band and hearing punk music for the first time, Harder's perspective changed completely. "'Oh, that's effective.' And 'I think I know how they did that,'" he continues. "And then trying to do it myself."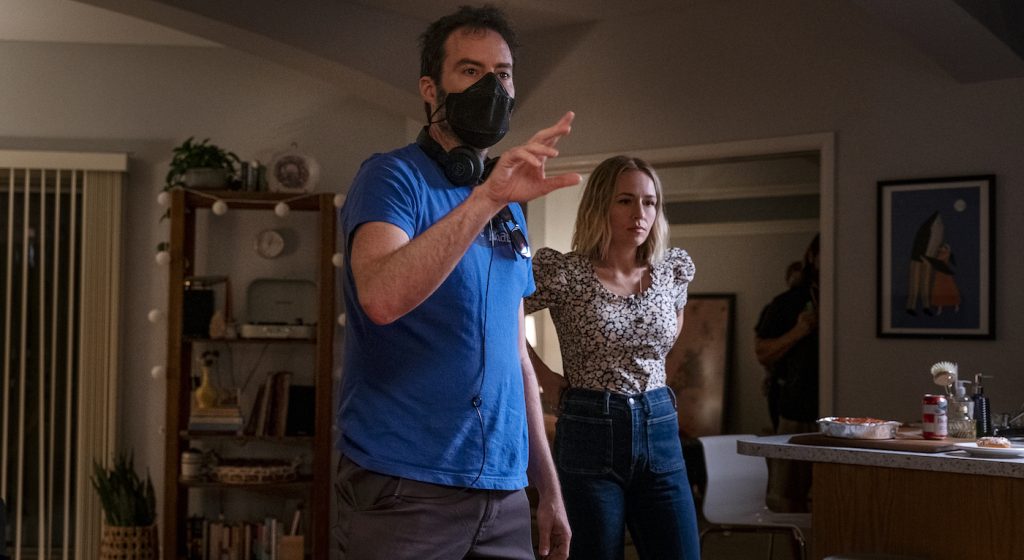 For Hader, that meant commandeering his dad's video camera and making Evil Dead-inspired horror shorts featuring his sisters. Though they fueled his filmmaking ambitions, they're destined to remain in Hader's past. "Oh, no, no…no one will ever see these," he says with a laugh when asked about their whereabouts.
Hader's career start took several turns. The Oklahoma native relocated to Los Angeles in 1999 with an eye toward writing and directing. Initially, he found work as a PA, honing his scripting skills during off-hours. But after several years with little traction, Hader changed course. A friend, who was a member of The Second City Hollywood, encouraged Hader to perform. He joined the troupe in 2003 and comically blossomed onstage. One night, Megan Mullally caught him in action and steered Hader to his SNL gig.
It made Hader a star, earning him Emmy nominations in 2012 and 2013 for Outstanding Supporting Actor in a Comedy Series. Simultaneously, he wrote and contributed voices for South Park, winning an Emmy in 2009 when the series was named Outstanding Animated Program. He acted on the big screen in such features as Adventureland (2009), The Skeleton Twins (2014), Trainwreck (2015), and IT: Chapter Two (2019).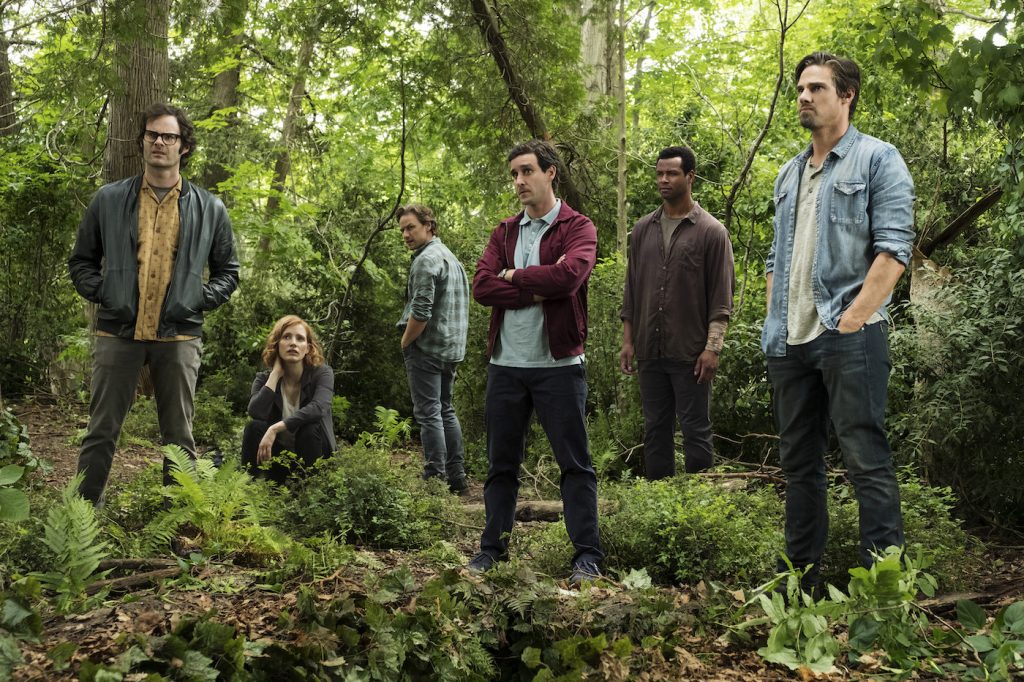 But Hader never lost sight of his directing ambitions. So when talks turned serious about greenlighting Barry, he seized on the opportunity. The move even caught series cocreator, Alec Berg, off guard.
"I was in a meeting with Alec Berg and the people from HBO and just said, 'I'd really like to direct this,'" Hader remembers. "And he kind of looked at me, 'You would? We haven't talked about this.' I was like, 'No man, I think I could do it.' So yeah, it was what I've always wanted to do."
Hader directed Barry's March 2018 premiere episode and was hooked. Now in its third season, he has directed nine more.
"I love it," explains Hader. "I mean it's exhausting, but it's a lot of fun."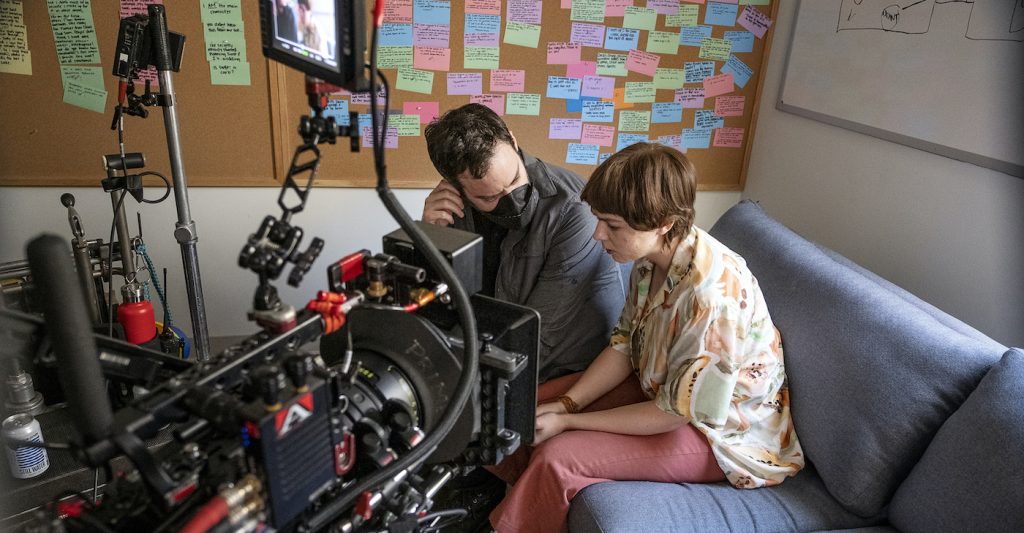 Not surprisingly, Hader has excelled as a director. Barry's debut episode earned him an Emmy nomination. He won a DGA award for the second season episode Ronny/Lily. Hader admits that finding his directing style has been an evolving process.
"I was incredibly prepared to an insane degree when I directed the pilot," says Hader. Every shot was figured out. Every cut was figured out. And as time has gone on, I think I've gotten a little bit more confident. Every single piece of it doesn't need to be that thought out. I don't actually need all these shots. This one shot can make it work."
Hader finds his acting experience has helped to make him a better director. He often uses lessons learned to make shoots run smoother. He avoids doing too many takes, believing they wear down a cast and crew. He strives to keep the days short for the same reason. If a scene needs to be shot at night, he schedules it over two nights. An all-nighter, in Hader's words, "Just makes people insane."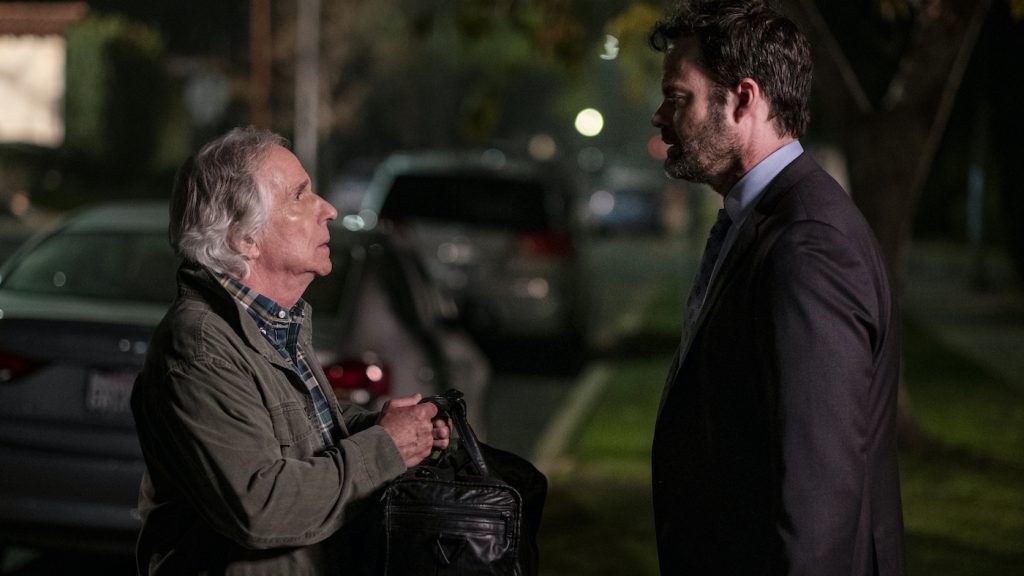 "Keep it simple and try to encourage people," Hader explains. "So much of it is giving people the confidence to go for it. As an actor, you don't want to look like an idiot. You have to be brave to put yourself out there in a way that might look silly. I can see people relax after a take when I tell them, 'We got it. Let's try this or that. This is the time to have fun.'"
When asked to name some of his favorite filmmakers, Martin Scorsese and Akira Kurosawa readily come to mind. Hader adds that regular viewers of Barry can easily see the influence the Coen brothers have had on his directing.
However, don't be surprised if you get a Sergio Leone feeling when watching forgiving jeff, the Hader-directed first episode of Season 3. Reminiscent of a scene from Leone's Spaghetti Westerns, it opens with Barry standing on a desolate Southern California cliffside framed by a giant dead oak tree.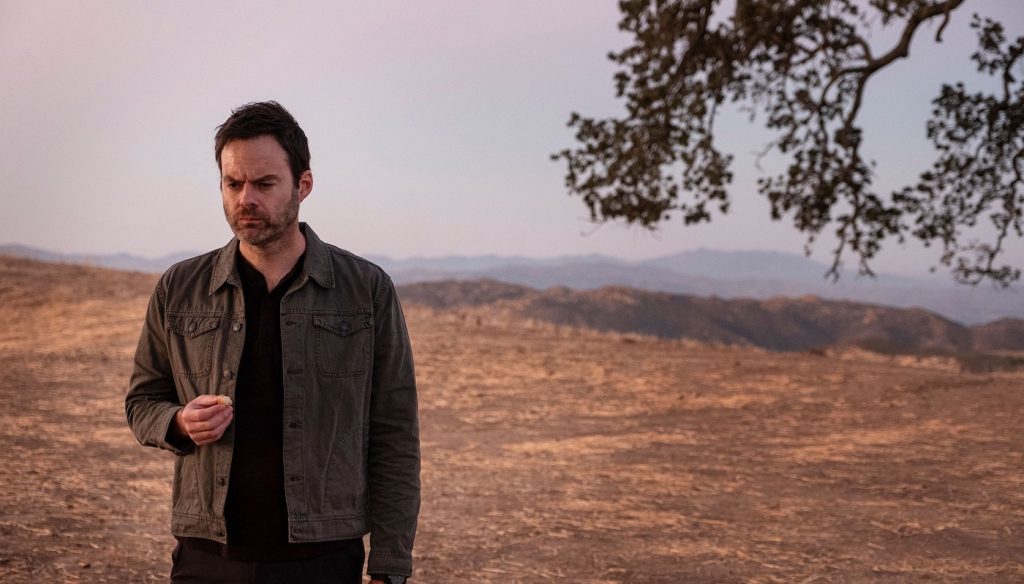 Barry and another man are watching the Jeff of the title dig his own grave. Turns out, Jeff has slept with the other man's wife and the cuckold husband has contracted Barry, via social media, to kill Jeff. The husband makes a macabre request. He wants Barry to slice off Jeff's eyelids so he has to watch Barry pull the trigger. Barry goes to his car to find a pair of clippers. But when he returns, the husband has had a change of heart. Jeff has apologized and the husband is ready to forgive him. Barry doesn't take the news well. As the sunrise peeks over Barry's shoulder, he turns his smothering rage on both men.
"So we shot that at dawn. It had to be shot in about 30 minutes because it was all natural light" Hader details. "We set up when it was dark and the sun was coming up. When we were on my close-up, we wanted the sun to start peeking out behind this hill. The minute it did, I could see Carl Herse, the DP, getting excited. I was doing the take and he was like, 'It's happening! It's happening!' We were running. We were gunning. And it worked out perfectly."
It's moments such as these that make Hader glad he made the move to directing.  
"I really do like being on set with the crew," continues Hader. "I just love the energy — especially when things are going well. It's a long process, long days, and it takes people away from their families. It can be arduous, so you want to make sure you're doing something that is worthwhile and hopefully having fun."
Hader also enjoys that directing keeps him involved throughout the entire process. To him, it's hard to beat being on a mixing stage and seeing the final results. "The mix is the last moment.  You actually get to sit there and say, 'It's finished. I'm looking at it. Wow,'" says Hader. "It's like, 'Okay, I sat down with an idea. Now here we are. We got it.'"
Hader has written a script — a dark comedy – and hopes that one day it will serve as his feature directing debut. But as Barry heads towards its Season 3 finale on June 12, it appears that those plans are on hold. HBO recently announced that it's picking up Barry for a fourth season and Hader will direct all eight episodes of it.
"I mean Barry's my whole life," says Hader. "I would love to make a feature, so whenever that happens…we'll see."
For more on Warner Bros., HBO, and HBO Max, check out these stories:
Christopher Walken Will Play the Emperor in "Dune 2"
Fantastically Creepy "Westworld" Season 4 Trailer Reveals Premiere Date
Dragons, Deceit, & Danger Highlight Official "House of the Dragon" Trailer
Featured image: Bill Hader in "Barry" season 3. Photograph by Merrick Morton/HBO