How "Tár" Costume Designer Bina Daigeler Dressed Cate Blanchett in Power
There is a sharpness to Lydia Tár (Cate Blanchett) that has allowed her to scale her way to the top of the classical music world as director of the Berlin Philharmonic. Those hard, cutting edges prove useful in her profession but leave scars on her personal relationships. Her straight edges and demand for perfection are reflected in a wardrobe created by costume designer Bina Daigeler. 
"For everybody, the way you dress somehow explains a lot," Daigeler observed. "The first impression that people get, sure, they look into your face, but also, they see the total [package], and so I think she's a person who is very conscious about what she is wearing. The pantsuits are a little bit her uniform and her protection." 
Lydia gravitates toward masculine silhouettes. She reaches for button-down shirts in rehearsals and custom-tailored suits, elevated by a tuxedo-style collar, in performances. Polished and powerful, the clean lines demand respect but are also a true expression of Lydia herself. 
"First of all, she is dressed in something that she feels comfortable in, and that represents her and her inspirations," Daigeler explained. "For us, how we composed her character, the inspirations were more on the male conductors than on the female conductors. You can see how much she is inspired by Karajan and Bernstein, and that is somehow her world, and I think that it gave her a lot of power and a lot of strength. On the other side, it is super comfortable. It is like these two-piece suits, then we used all the combinations. It has something of power and strength. It also gives her importance when she's coming into the scene."
Although a fictional character, the dynamics of Lydia's field reflect our own world. Very few women have led a symphony in a major city. Lydia has helmed four, working her way through Cleveland, Boston, and New York before landing at the top spot in Berlin. As a coveted EGOT winner – Emmy, Grammy, Oscar, Tony – no one can question that she has earned her artistic triumphs.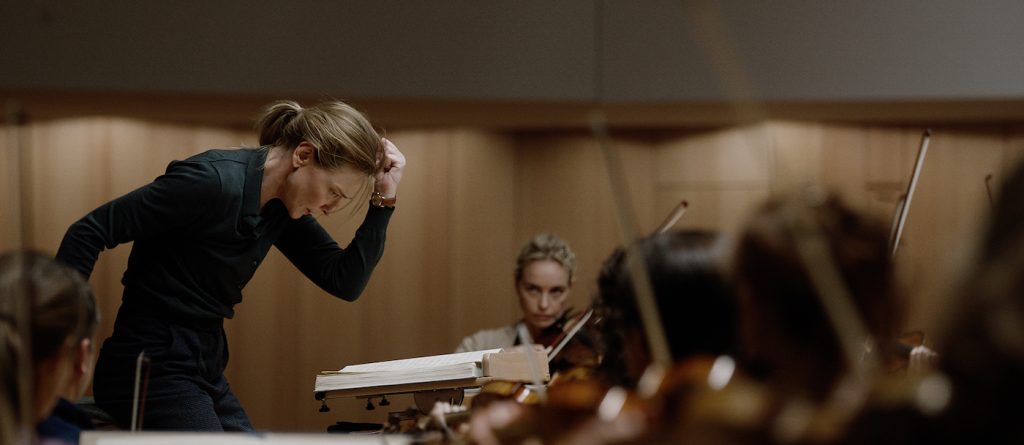 "Obviously, such a big orchestra like the philharmonic, any kind of German or international philharmonic, they are big institutions," Daigeler noted. "They were very male-ruled. There are many more famous male conductors than there have been female conductors."
A masterful monologue hints at Lydia's narcissism in her role. Not only does she claim to control the orchestra, but she insists she even shapes time itself with her movements from the podium. A conductor's baton may be their most powerful tool, but their clothing can also be a subtle support for the physically expressive aspect of their job. 
"It's all adapted so that she has movement. We really, really, really adapted it," Daigeler revealed. "We even made the jeans that she is wearing because it has a higher waist so that she gets a stronger feeling, and she feels supported around her core. So that was also something important for her. Of course, we talked a lot about the movement and what makes a nice silhouette."
Daigeler was brought into the project early on and heavily relied on Todd Field's script, which she called "deep" and "precise." She prepared a mood board that pinpointed her intuition for Lydia's style, but the actual costumes Blanchett reached for each day were fluid, allowing the character to take shape in real-time.
"In contemporary movies, I like to build up a closet, but leave them open and make them just the same day that we shoot certain scenes because the characters grow during the shoot," Daigeler described. "In every scene, they know more about themselves. For example, in the first nine days, we shot all the music scenes. All the philharmonic things, all the musicians. That was a big step for Cate, but then that was a huge knowledge that she knew how it really is to conduct, how it is to be in front of a real philharmonic and be a professional conductor. That helped us all to move forward with all her other changes."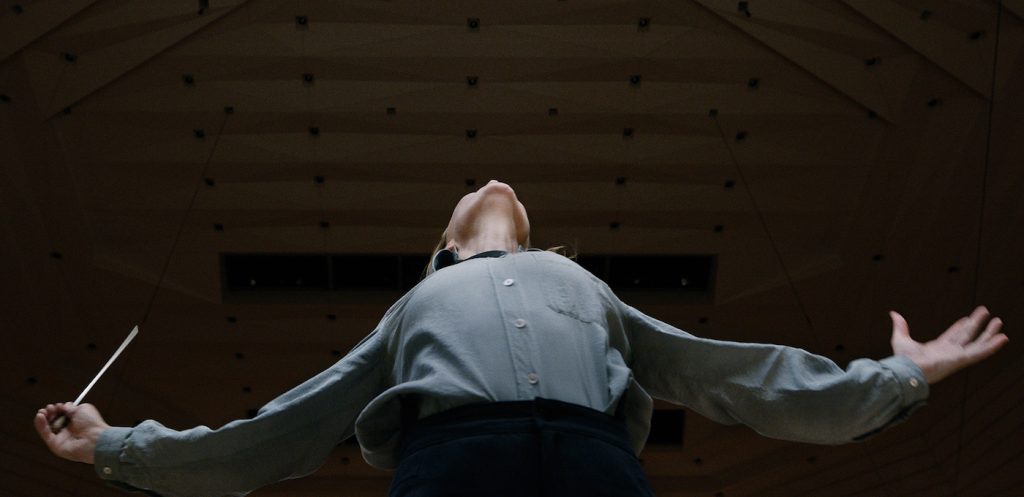 Those surrounding musicians each called for their own personal style. Despite performing as a cohesive unit, their day-to-day lives reflected a wide range of expression. Yet, they all have immense talent and drive in common. 
"Each of them has their own character and own personality," Daigeler noted. "We are obviously moving in a very high level of an intellectual, rich, artistic world from Berlin and internationally. That is somehow reflected in the movie in the wardrobe and also in the production design. All the characters are set up around the philharmonic. It's a high level of income for a lot of people, so you see that."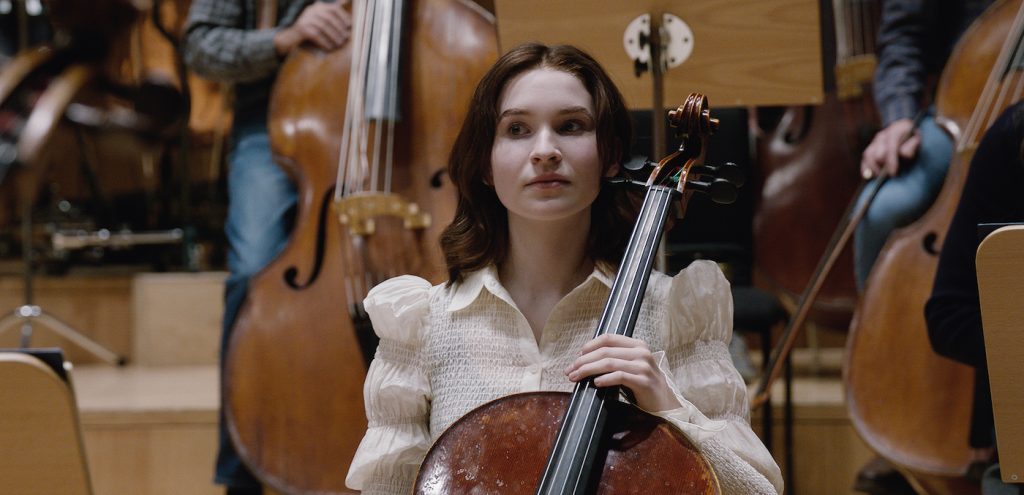 Set in a gloomy German autumn, the film has a muted palette. Lydia lives in dark tones and a smattering of lighter neutrals that speak to both her severe personality and the new city falling under her spell.
"It's definitely a reflection of her world, and it's also definitely a reflection of Berlin," Daigeler said of the color choices. "There is a lot of Berlin style in it. It's also autumn, and Berlin is quite a gray city. It just matches everything that happens in these colder colors that explain the whole story."
Yet, nothing is casual or common about Lydia. She wears only the finest products, and each piece makes a statement. Daigeler shopped internationally in London and Berlin and Paris. Each piece had to be perfectly fitted, and many of the designs were made specially to Blanchett's measurements from fabrics chosen by Daigeler. 
"I like different textures," she said. "You will also see her shirts, it's textured silk. It's not very plain. Everything has something interesting in it."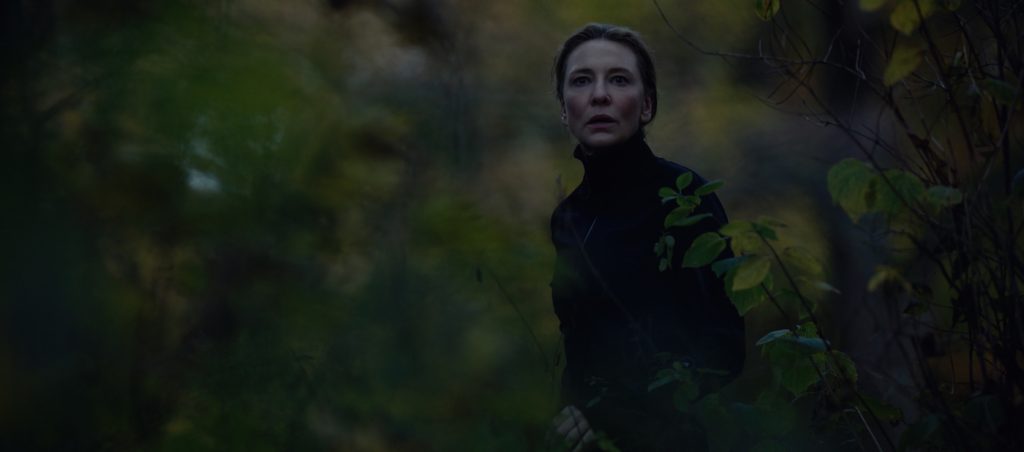 As Lydia clutches at her ambition, her desperate obsession with authority infiltrates her whole life. Her relationship with her partner and first violinist, Sharon Goodnow (Nina Hoss), is strained despite a mutual lust for greatness and the incredible success they both enjoy in their careers. The absolute control Lydia wields over the orchestra does not translate well into life beyond the stage, and she begins to unravel.
"In the movie, there is an arch where the fit of the suits and the pants go different, and then there are also other colors and other textures and materials introduced toward the end," Daigeler explained. "All that, of course, helped Cate to create her personality and to express her better. To get more feeling for who Lydia Tár is."
When most of us are facing a collapse in our personal lives, we often reach for worn tee shirts and sweatpants. Lydia's descent is more of a dignified relaxation achieved by fit and fabric that signals her unraveling.
"I went a little bit more for wool, and it's just a softer shape and more like a sweater," Daigeler said. "She loses it a little bit, and she's less pulled together. You will notice, and it's reflected in the way she gets more casual and softer, but not so far as sweatpants. It doesn't match with her."
Tár is now playing in theaters.
For more on Universal Pictures and Focus Features projects, check out these stories:
"Friday the 13th" Prequel Series "Crystal Lake" Coming to Peacock
How "TILL" Costume Designer Marci Rodgers Captured the Racial Dynamics of 1955 America
New "Armageddon Time" Clip Teases Writer/Director James Gray's Most Personal Film
Featured image: Cate Blanchett stars as Lydia Tár in director Todd Field's TÁR, a Focus Features release. Credit: Courtesy of Focus Features