Oscar-Nominated Costume Designer Bina Daigeler on Mixing History & Myth in "Mulan"
When director Niki Caro took on Disney's live-action reboot of Mulan, you knew the New Zealand-born filmmaker was going to deliver something transporting. The original "Ballad of Mulan" was first shared in China in the 6th century, and was then shared again as a Disney animated movie in 1998. In Caro's hands, the mythology of Mulan becomes a lush live-action epic, buoyant and beautiful, as our titular heroine goes from a headstrong daughter into a fearless warrior fighting to defend China, all in an effort to save her father.
Aiding Caro on her quest was costume designer Bina Daigeler, who worked with the director on her 2017 film The Zookeeper's Wife. Daigeler's job was daunting—corraling a massive team into a cohesive unit ready to more or less outfit an army, to say nothing of the intricate costumes required by the film's principal cast. Daigeler had to become something of an expert on armor, and spent countless hours researching the look of Chinese Dynasties, most crucially the Tang, while traveling through China and during long hours of research and work in Europe.
The result was 2020's most expansive, ravishing film, and an Oscar nomination for Daigeler. We spoke with the veteran costume designer about outfitting armies, how you make sure a single woman stands out in a field of soldiers, and why the hardest costumes of all are usually the quietest. This interview has been edited for length and clarity.
What were your initial conversations with Niki Caro like, knowing you were embarking on this massive project?
I've been doing this for nearly 36-years, and I was really ready to do such a big movie. Niki and I had worked together before, so we speak the same visual language. I knew what she wanted to do. Niki wanted to go big and do an epic movie, and she wanted to emphasize this female warrior. That's the special thing about Mulan, we're not doing a Disney princess movie. We've got a female hero and that made it so much fun. For me, everything came together very fast.
Walk me through your research for this project?
My first step was scrolling through all the dynasties. I took the base of my inspirations from the Tang dynasty, but I also stole things from earlier and later dynasties, too. I took what I liked and what inspired me, and that made it into my own vision and adaptation for a unique, universal audience. I wanted it to be understandable and inspiring for all ages.
Can you pinpoint parts of the wardrobe where you're departing a bit from historical fact and adding your own twist?
If you take the emperor, the yellow robe and the headpiece, each color is correct, each stone is real, and the dragons, including their body language, are copied from the Tang dynasty. There are a lot of dragons throughout Chinese history, but each dynasty has a different shape, so all of this is super correct. But then I added layers. I put another robe on top of him just to make it even bigger because I knew he'd sit on this huge throne, so I needed more volume. We also copied a belt that I saw on my trip through China, we copied all these little elements, but then we added other things to it to make it even richer.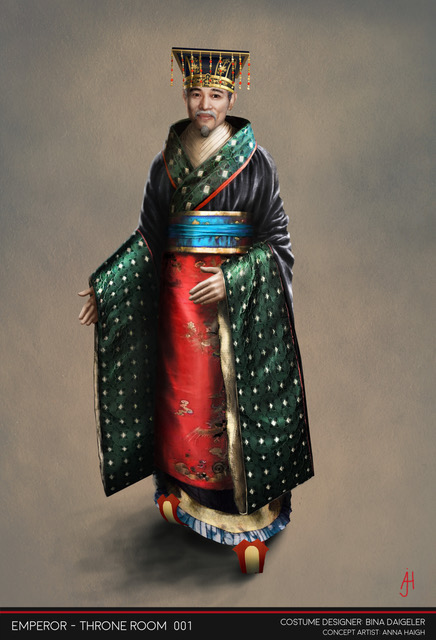 Then for Mulan, when she goes to the matchmaker and she gets wrapped into the dress, that was based on the Sui dynasty, before the Tang dynasty. I just loved the idea of using a wrap-around dress and thought it would be a fun moment for the film.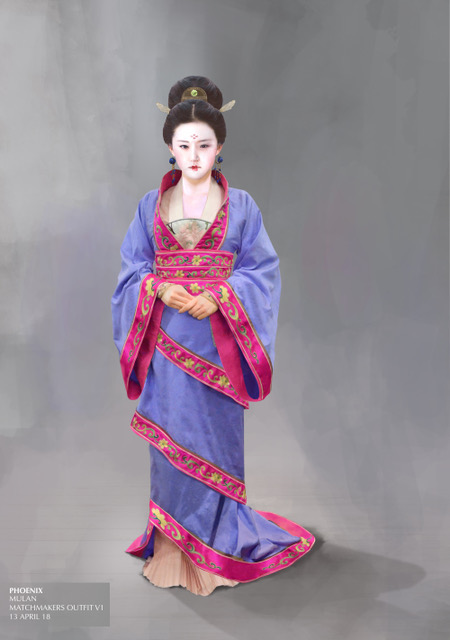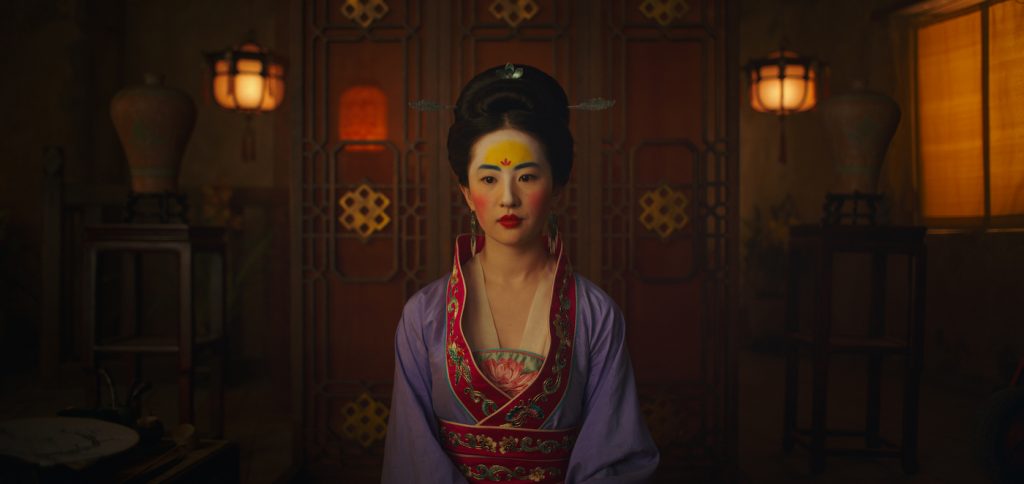 How did you go about your work on the armor?
The armor is inspired by the Tang period, but then you always make it your own. The color of the tunics was invented because I thought for Mulan, red would be the most powerful color. I also thought it was important that the camera can very easily follow Mulan in her battles. You always see her standing out. For example, in the scene where she rides off behind Böri Khan (Jason Scott Lee), all the other riders are in yellow and she's standing out with her red against the snowy mountains and the other soldiers.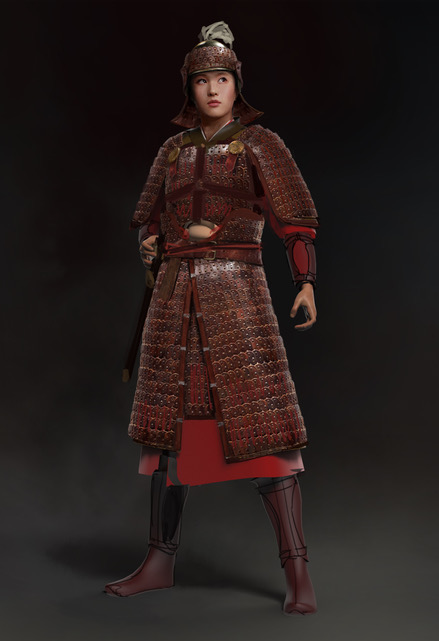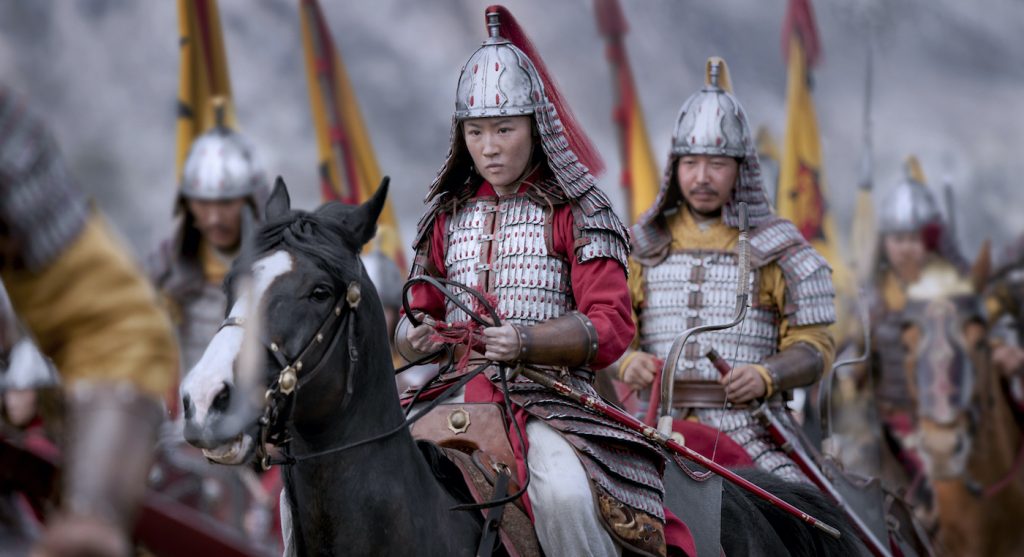 How much are you designing for flexibility or elasticity, considering the amount of stunt work and general activity?
The development of the armor was a long procedure. We really wanted to make sure that it could move with her when she jumps and does all of her beautiful Tai Chi movements. So that was a very long process. I think Mulan had at least five different types of armor for different situations.
From a sheer volume of costumes standpoint, did you have a warehouse full?
We had a huge warehouse. On one end was my work table, and I just looked out into a huge room. Often, my days were spent answering questions. In the morning I'd start my tour of all the creatives working with me—the jewelry maker, the dyer, the pattern makers, the seamstresses, the embroiderers, the milliner—and once I finished the whole tour, we were 126 people, I thought, now I have to start again because they've finished already and now they've got new questions! For the milliner alone, we made 2,000 hats, each individual, and then we had all the soldiers with their helmets, I never counted, but we had a lot of costumes.
What were the most difficult costumes for you to pull together?
One of the most difficult pieces to put together was the witch. The witch was the only one where Niki and I had completely different concepts. We developed those concepts, and then we were like, hmm, something's wrong, so we started from scratch. The only thing that remained was the long sleeves. Suddenly we realized that she needed more of a warrior costume. For me, she's a person who's imprisoned in herself. Before, the costume was much more floaty, so we changed it and made something completely different. That was the most challenging costume.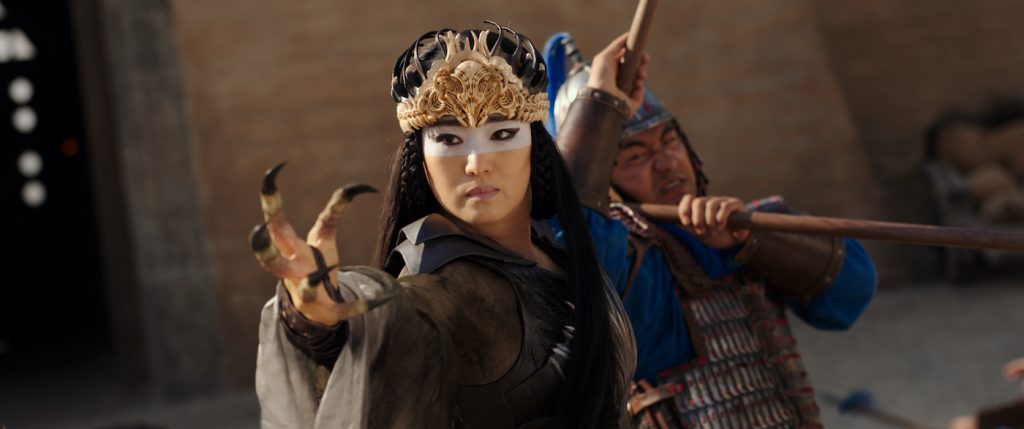 So the witch's costume evolved into something more similar to Mulan's?
It took me a couple of hours to accept that it was great that the witch and Mulan would look more similar. In the end, the costumes are so different, but they have something in common. And then Mulan manages to get rid of her armor, to open up and become a free spirit, and that's something, unfortunately, our witch could never do.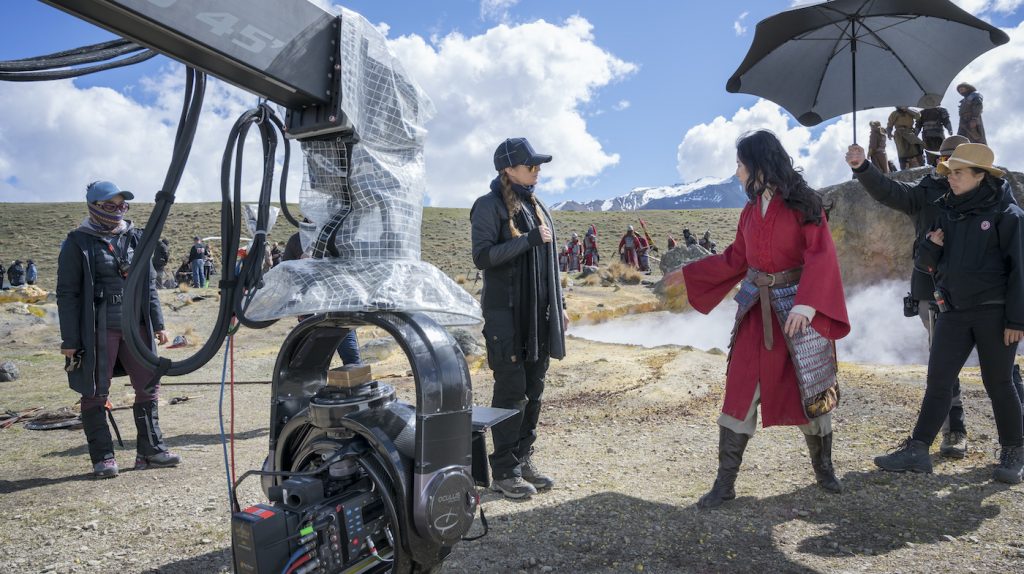 Do you have a favorite costume?
My favorite costume is something very, very simple—it's the moment when Mulan goes down the stairs and takes her father's sword, after visiting the matchmaker, and she's just wearing a dark pink cotton wrapped top with a little green, embroidered fabric on top, pants, and a little open skirt. First of all, I think it works so well with DP Mandy [Walker]'s lighting. I kept asking myself, who is she after that matchmaker scene? Because costume designing is a very psychological translation of feelings. Who is Mulan before this decision [to join the fight]? I just wanted to get it absolutely right. It became my favorite costume because it's so emotional. In costume design, it's often easier to do the big costumes because you can live out your fantasy, you can be loud, you can be crazy, but trying to make the quiet costumes right…that's difficult.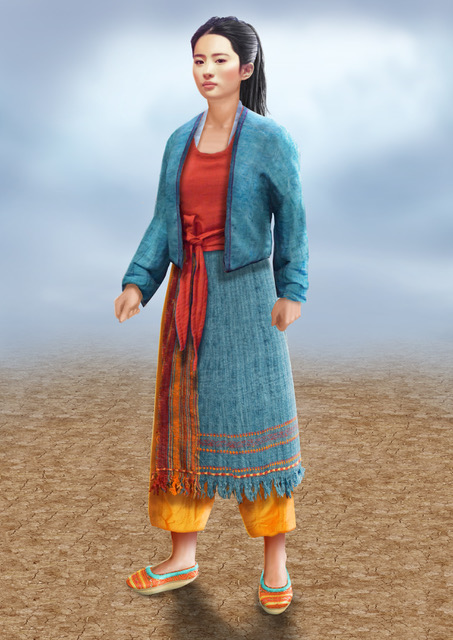 For more on Mulan, check out this interview with hair and makeup designer Denise Kim.
Featured image: Disney's MULAN..Mulan (Yifei Liu). Photo: Jasin Boland. © 2019 Disney Enterprises, Inc. All Rights Reserved.