Mixing History and Modernity in the Hair and Makeup of "Mulan"
The original "Ballad of Mulan" became popular in China around the 6th century, was transformed into a beloved animated Disney feature in 1998, and now, after several months' delay due to the coronavirus, is the studio's most hotly anticipated live-action remake yet. So, for an approximately 1400-year-old story about a rural teenage girl who disguises herself as a boy to lead China's Imperial army and save the Emperor, how do you even start designing everyone's hair and makeup? For Denise Kum, a longtime collaborator of director Niki Caro, the solution melded modernity, practical considerations, and extensive research into drawings, sculptures, and writing from the period during and around the Tang dynasty, which ruled in China for 300 years.
Take, for example, adolescent Mulan's (Yifei Liu) gymnastically disastrous tea ceremony with the village matchmaker (Pei-Pei Chang). Prior to this scene, styling in the rural setting is limited to understated updos, but the matchmaker's home is a warren of exaggerated, sculptural hair and makeup in primary colors. For the matchmaker, Kum drew from historical reference, but Mulan's look needed to play a structural role in the action beats of the scene. "I just wanted little girls to watch it and think it was hysterical," said Kum of the moment Mulan's effort to save her arachnophobic sister from a spider, without disturbing the tea ceremony, ends in a catastrophic balancing act, first aided and then failed by her hairpins and iconic long locks.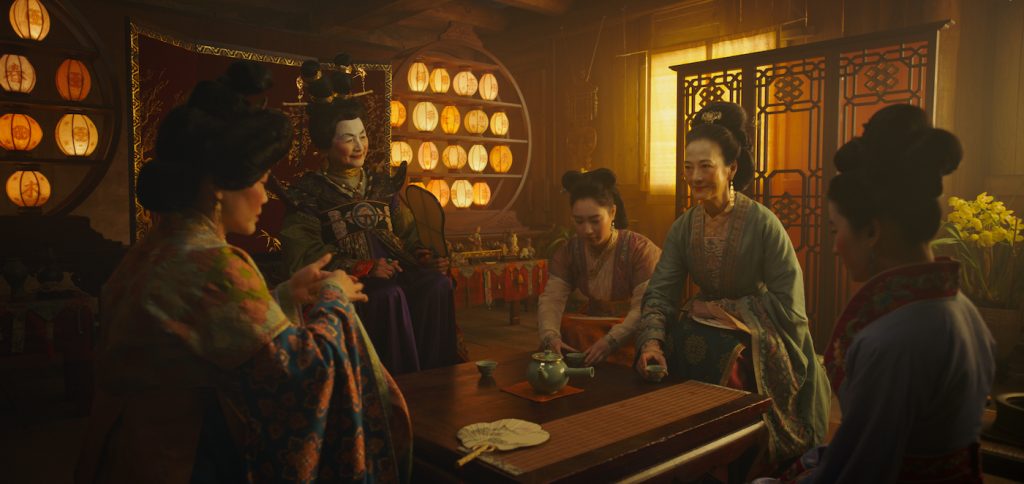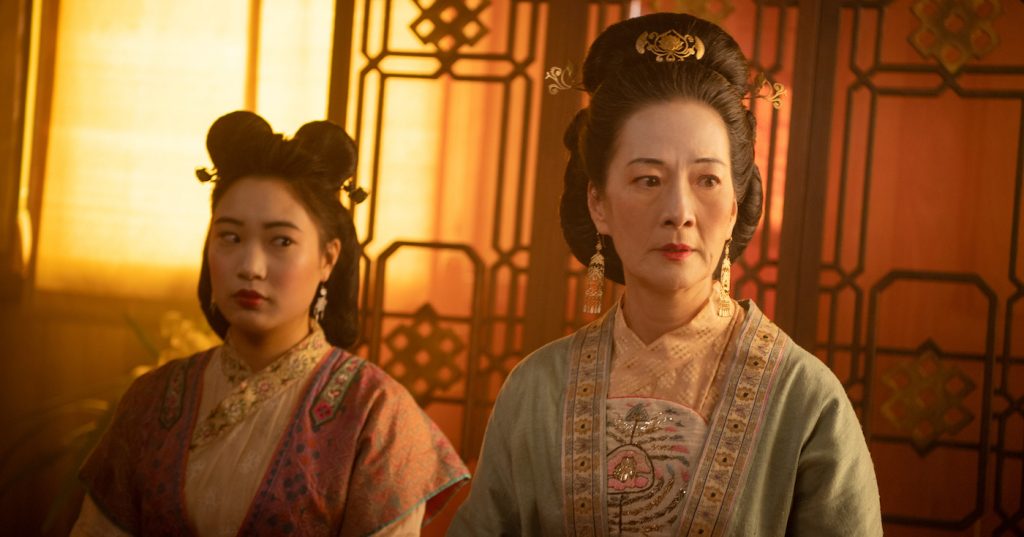 It's one of the last moments for a while where we see Mulan in a feminine setting, and after she sneaks into the army disguised as a boy, Hua Jun, Kum's work shifts to master of illusion. Kum brought out a boyishness in Liu by "not doing a lot of contouring but to flatten the face, brushing the eyebrows a certain way, taking out the bloom in the cheeks, and obviously, when she's traveling, her lips get drier. You kind of suck the color out a little bit and then you pop that light back in when you want a more feminine look."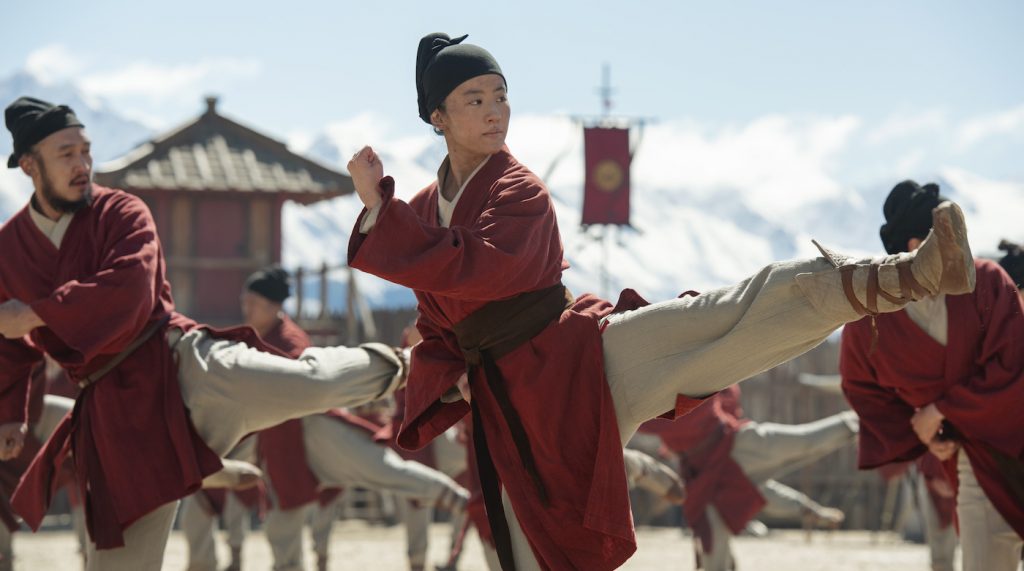 Kum also masked Liu's femininity by playing up certain features of her fellow soldiers. "I always design what I call the pendulum of it, think about who's next to whom and which way the viewer is seeing them all together," Kum said. "Some of the boys have a little bit of eyeliner or a little bit more of a defined eyebrow or a bit more contouring," while the fine, almost androgynous bone structure of Honghui (Yoson An), Mulan's closet ally, is deliberate, as is the squad's youthfully patchy facial hair. A refusal to shower and a face full of dirt round out Mulan's successful effort to hide as Hua Jun.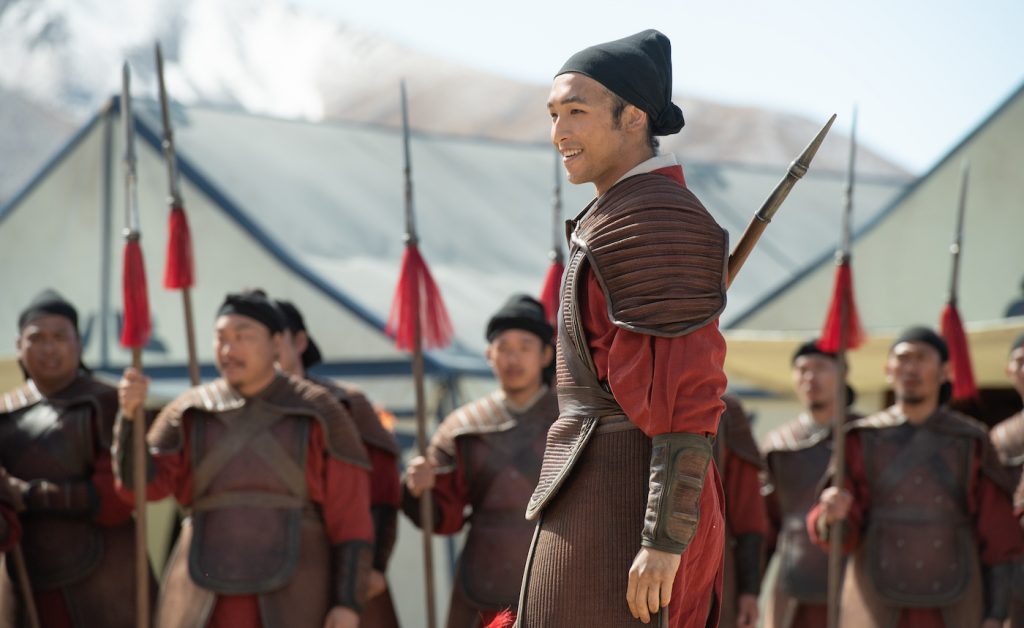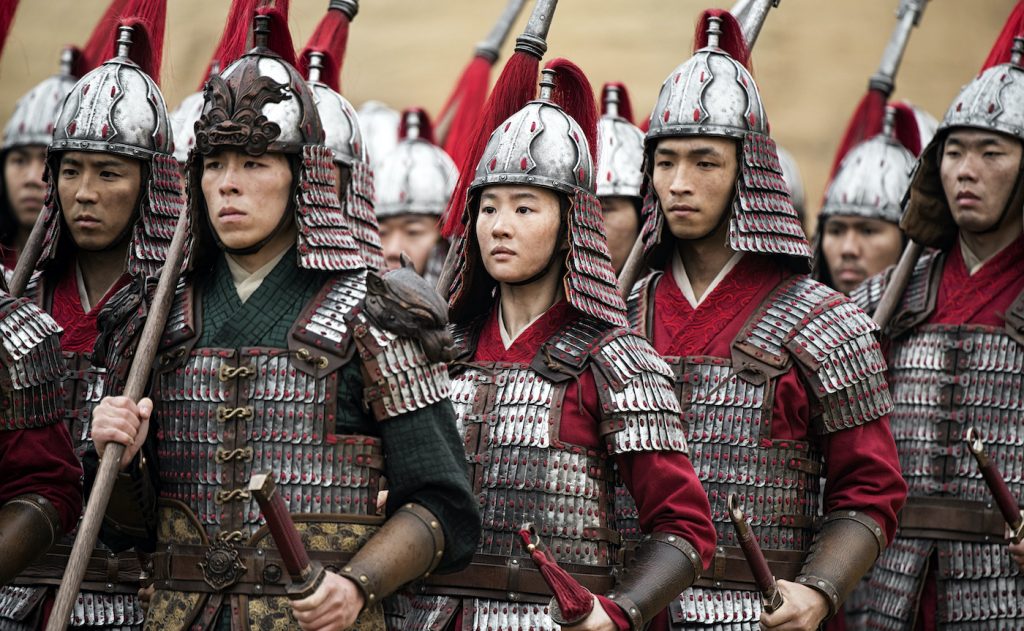 Across the battlefield, the Northern invaders couldn't be styled more differently. Led by Böri Khan (Jason Scott Lee), the Rourans are a sea of flowing locks set atop prosthetic scars and ample beards. "Nearly everyone had a wig or hair augmentation or hairpieces," said Kum, with creative undercuts that are both a nod to the men's nomadic lifestyle and their transgressions. "In a lot of ancient China, to cut your hair would be against filial piety—it was respectful to have long hair. So we started to bring in shaved sides because this was seen as being against the conventions of the time," Kum explained. "It also had to be things that they'd do while living in the tents — cut their hair with a blade, hack off their hair. They didn't go to the barber's, and they're washing when they can."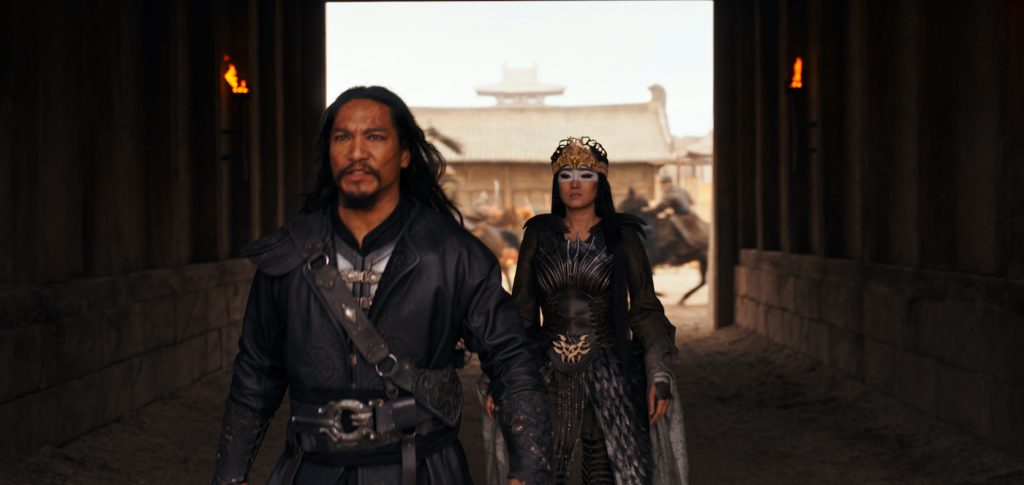 Despite the Rourans' intimidating aesthetic, Mulan's most complicated adversary is the most striking. Xianniang the witch (Li Gong) is a shapeshifter who leads Böri Khan's invasion as she's stuck under his thumb. In human form, her eyes are masked in white. "Everybody has an animal element to them, and hers very much is the hawk," said Kum, who took inspiration from older Chinese films and costume designer Bina Daigeler's intricate, layered costumes when she designed Xiannang's ethereally supernatural aesthetic, "a mix between an edgy runway look and fantasy." While the witch's mask is designed to make you unsure how it got there, viewers can be assured its white cast isn't from traditional makeup. Extensive period research in service of Mulan's hair and makeup didn't translate over to the products themselves. "They used rice flour, but they also used lead in the early days," Kum noted.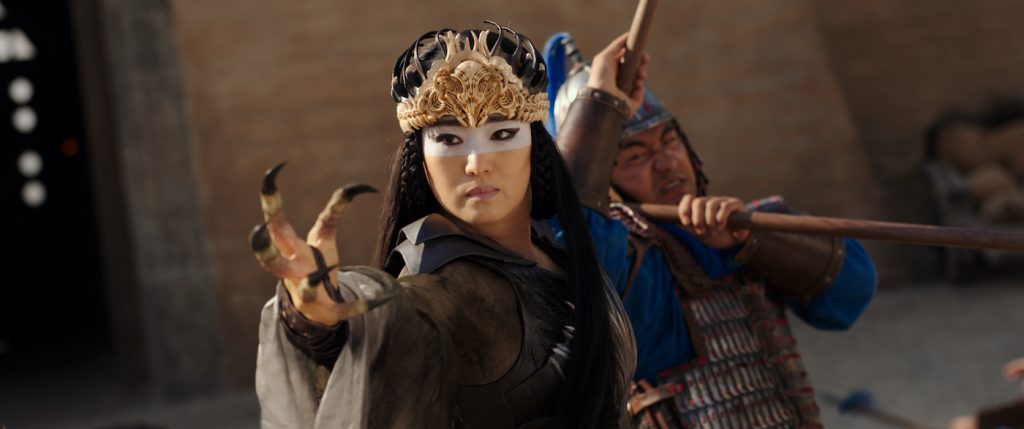 Though shooting was long wrapped before the pandemic took hold, also due to safety, of course, Mulan's release date was pushed back. For this interview, Kum was reached in Prague, where she's back at work on an unrelated project. She let us in on some of the ins and outs of all-new safe hair and makeup practices. Pointing out that "the good thing is that we are from a department that's very hygiene aware, anyway," the hair and makeup designer listed the addition of a COVID-19 office, department, and supervisor to major film sets, along with a cleaning team that comes in three times a day. Kum herself focuses on researching a country's local laws and the latest on the illness itself ("I know a lot more about COVID than I would care to," she joked), then employs three different types of sterilizers, UV wands, and machines, plus "three different kinds of goggles or shields, different masks depending on how close you are, and constant hand-washing and sterilizing." Despite these efforts, prosthetics and long makeup looks are still tricky prospects, but in general, hygiene practices "kicked it into that next gear" have allowed the show to go on.
In the meantime, Mulan opens on September 4th in a few select theaters, but in keeping with the times, in a first for Disney, the feature will be available for purchase on the studio's streaming service Disney+.
Featured image: Li Gong as Xianniang behind the scenes of Disney's MULAN. Photo credit: Jasin Boland. © 2020 Disney Enterprises, Inc. All Rights Reserved.