How "TILL" Costume Designer Marci Rodgers Captured the Racial Dynamics of 1955 America
Some of the most powerful stories are the most difficult to watch, but Mamie Till-Mobley (Danielle Deadwyler) knew there comes a time when we can't afford to look away. When her son Emmett Till (Jalyn Hall) became one of the most tender and tragic victims of racial violence in America, she bravely shaped his legacy into a catalyst for the civil rights movement. TILL revisits the facts of the crime but focuses its lens on the heroic way Mamie made a statement from her suffering. 
Costume Designer Marci Rodgers brought immense personal and professional experience to the film. She has become a time traveler stitching her way through 20th century America with projects like 1970s BlacKkKlansman and 1920s Passing. She also shares a hometown of Chicago with the Till family. Emmett's urban sensibilities proved to be a critical component in the events that led to his murder. Rodgers can understand how the cultural differences between the city and the South were so difficult and dangerous for Till to navigate. 
"I can reflect back on my experiences growing up. They would always say, 'Oh you city boys' or 'Oh, you city kids' because we just had access to different fashion," Rodgers explained. "It was a mechanism of survival. He grew up in the south side of Chicago. Little boys in Harlem dressed like that, like Emmett. It just so happened; it was unfortunate that – it shouldn't have happened to anybody's child – but it happened to Emmett."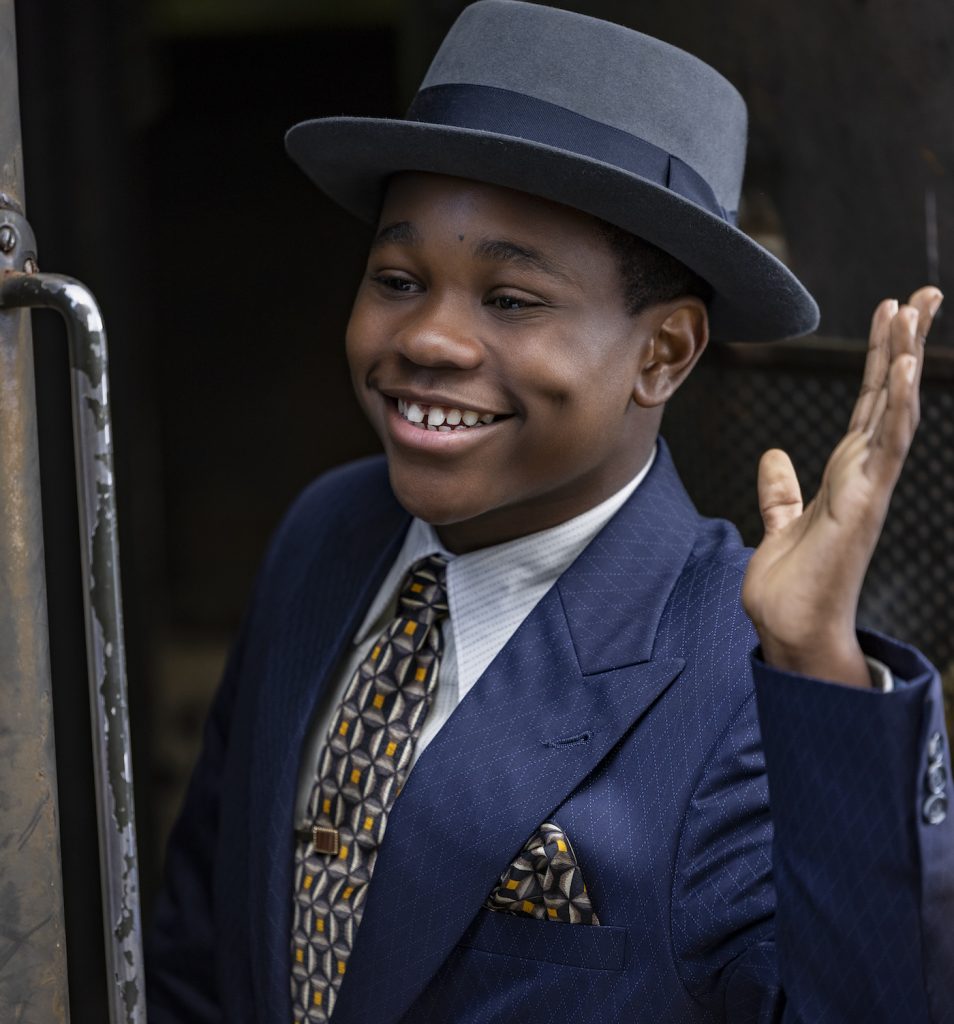 The Till family was not free from prejudice in Chicago, but they did maneuver with less fear of racial violence than their relatives living in Mississippi. Emmett was accustomed to small comforts like shopping in department stores. Bright, happy childhood memories that were more difficult to come by amidst the oppression of the south. 
"Mamie was a middle-class working woman. She had access to certain stores and certain fashion," Rodgers observed. "Obviously, Marshall Field's, which is where I grew up going to with my parents, and then we would go down there to see the lights in the window. They would have big merchandising, kind of like here at Macy's. So, she had access to that. The first scene opens up with that. Mamie is shopping with Emmett. She sees it as being equal. The security comes to her and is basically like, 'No,' but in her brain, it's freedom."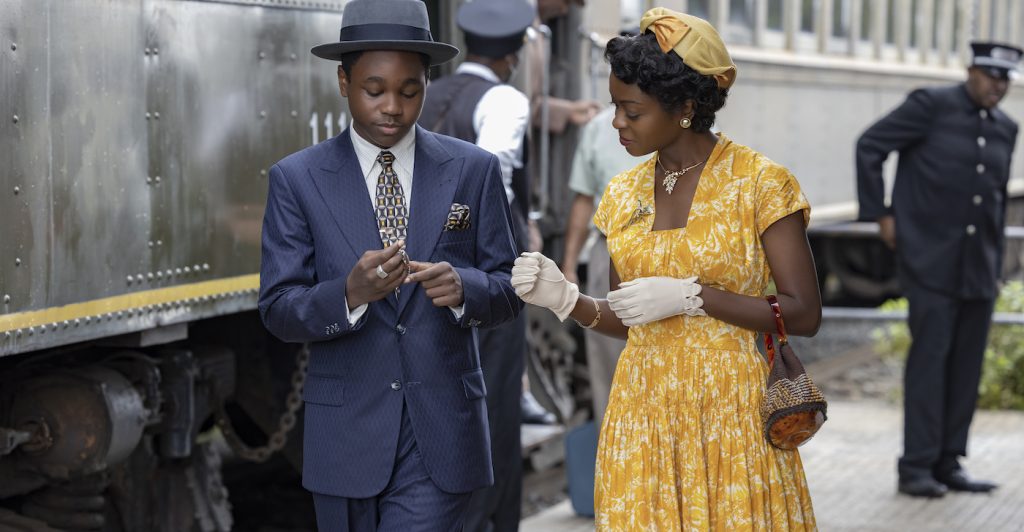 Rodgers prioritizes accuracy in all her historical projects. She scoured Sears catalogs from the era for silhouettes, textures, and fabrics and researched photos of the real-life inspirations for the characters. Like all major cities, Chicago had a personality that shaped the styles and trends of fashion. Capturing that energy was important to illustrate Emmett's worldview. 
"During that time, nobody walked out of their house without their Sunday's best. And even their Sunday's best was the best of their Sunday's best," Rodgers emphasized. "For Emmett, I wanted to make sure that he was an innocent of Chicago as a 14-year-old, but he still had the essence of Chicago."
Rodgers' designs illustrate two ways of life for African Americans in 1955 delineated by region. The costume designs establish vital visual clues that signal how the worlds of Chicago and Mississippi could coexist simultaneously but were destined to clash in devastating ways. 
"I wanted [Mamie's husband] Gene [Mobley] (Sean Patrick Thomas) to represent the masculine side of Chicago during that time, but not be in a suit," Rodgers noted. "He was a barber, so he wouldn't necessarily be in a two-piece suit. Juxtapose him to [Rayfield] Mooty (Kevin Carroll), which was Mamie's cousin. They also worked in two different sectors. Gene was in more of the polos, or I put him in a blazer and trousers. Then you fast forward to Mississippi. Really, it is what it is. You have the cotton-picking group, and then you have those who attended the trial, which wore white shirts, khakis, or some kind of white shirts with brown pants because it's hot in Mississippi. They wouldn't have anything on that's going to acquire heat."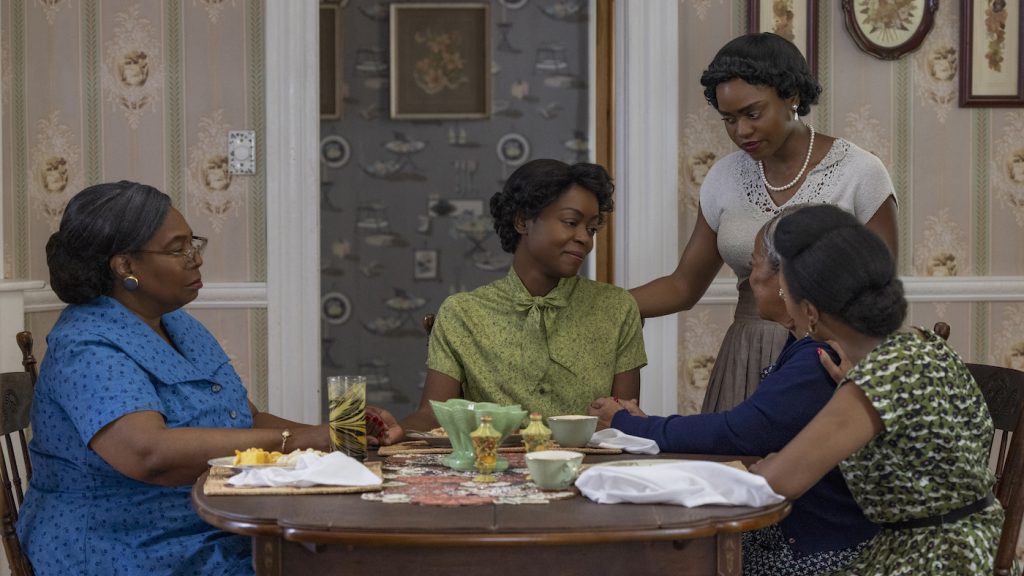 Emmett's wardrobe would not allow for easy assimilation to the South during his visit. His fashion alone marked him as an outsider. Acting like a city boy in the Jim Crow South proved deadly. Emmett's naïveté about this unfamiliar environment ultimately gave way to unthinkable brutality.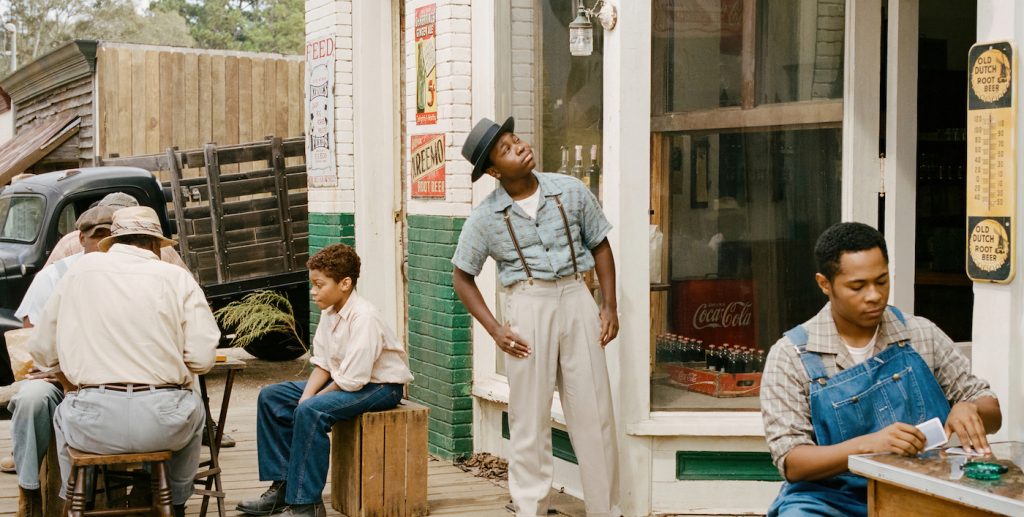 "Truthfully, my father told me a story about how he left because my father grew up in Missouri," Rodgers recalled. "He left his mother, he left his nest and moved to Chicago by way of Gary [Indiana] because he didn't want to pick cotton. My father left the south and went to Chicago and never wanted to do it again and never did it again, because he felt like it was oppression, and he couldn't wrap his mind around it. Then you see Emmett, who comes down just for a short period of time and can't wrap his mind around it either. That part for me was important."
In the wake of Emmett's murder, Mamie is suddenly plunged into mourning that becomes a public battle for the soul of the nation. Rather than succumb to the intimidation and threats of her son's killers, she stands tall in the face of racial hatred attending the trial. She was extremely aware of the impact of her public image, which, in large part, was expressed through her attire.
"There is a dynamic shift in how I presented her in dress, but then also, I just didn't want her to be in black," Rodgers explained. "Like, what represents mourning? She had so many highs and lows, but she also, I feel, may not have wanted to wear black on a daily basis in court. She was facing opposition, and she was facing Mississippi, for that matter."
Rodgers was able to call on public images and even recreated some of the iconic pieces, like Mamie's giraffe dress and Gene's outfit, in a powerful image of Gene supporting Mamie viewing her son's mutilated body. Rodgers purposefully made 80% of Emmett's clothing, including his historic pleated tie noting, "That was the least I could do." She estimates she made the same amount of Carolyn Bryant's (Haley Bennett) costumes, 90% of Mamie's, and all of Alma's (Whoopi Goldberg). Rodgers collaborated with hatmaker Patrick Rogers to be sure that they were also accurate.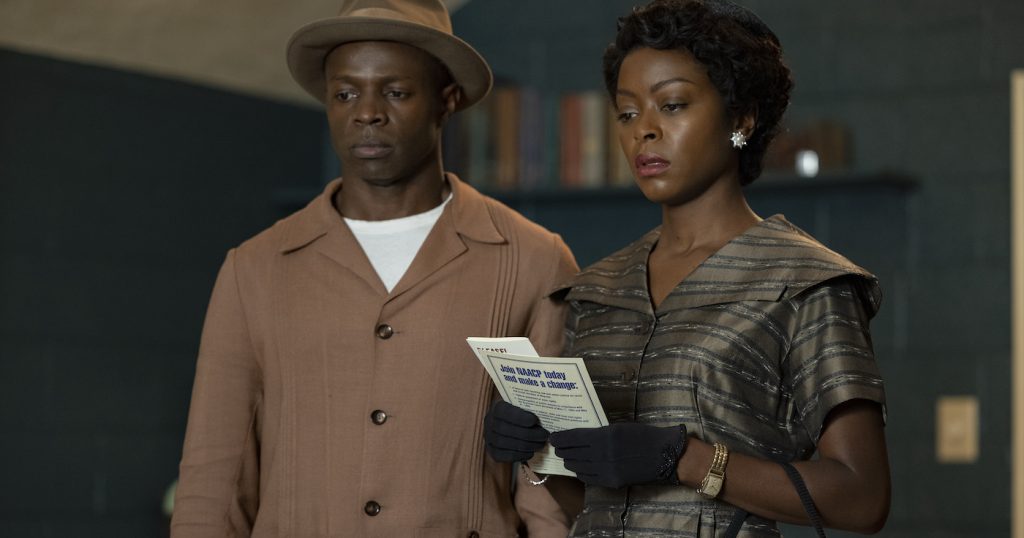 "I walk into his office and was like, 'I have to have this in like five weeks,'" she recalled. "He had three other projects that were probably bigger than mine, and he was like, 'You know what? I believe in this story, and I'm going to make it work.' And he was so meticulous, even finding the things that I couldn't find. Your eyes are only going to catch so much as you're constantly looking at it. He was amazing."
Mamie carries herself with unimaginable dignity as she uses her deepest pain to lead a nationwide awakening. Her story was bolstered by her authenticity and self-expression. Rodgers noted that Mamie always finished her outfits in rhinestones jewelry and is never seen without them.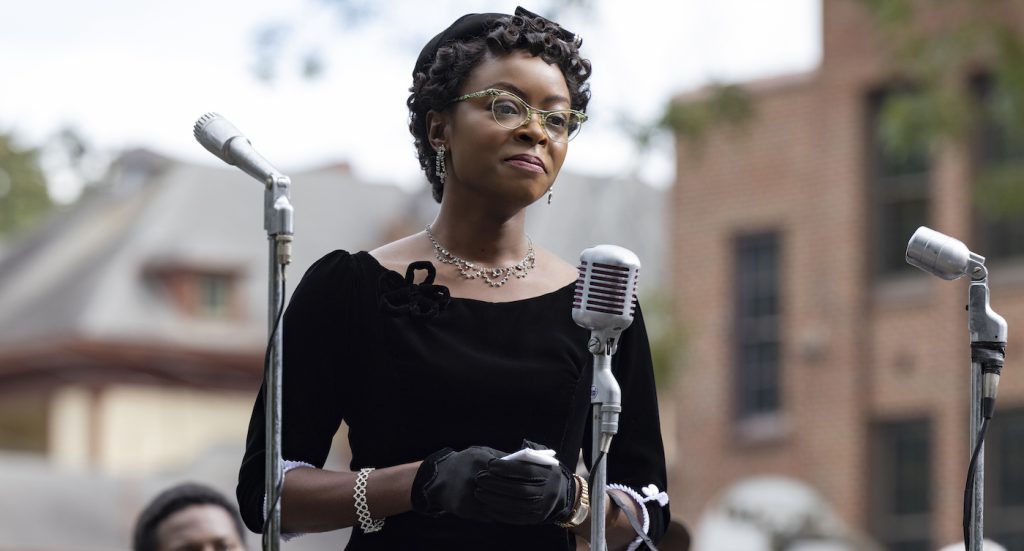 "She was very dainty. I tried my best to communicate that through her wardrobe and her earrings, even down to her shoes and her purses. Just proportionally how her purse should be against the silhouette of the costume and what I thought and specifically Miss Mamie would have worn."
Till is showing now in select cities and opens nationwide on October 28. 
Featured image: (L to R) Danielle Deadwyler as Mamie Till Mobley and Whoopi Goldberg as Alma Carthan in TILL, directed by Chinonye Chukwu, released by Orion Pictures. Credit: Lynsey Weatherspoon / Orion Pictures © 2022 ORION RELEASING LLC. All Rights Reserved.