BlacKkKlansman Costume Designer Marci Rodgers on Dressing the Year's Most Urgent Film
Costume designer Marci Rodgers was out of the country working on a movie when she got a call from Spike Lee. Rodgers and Lee worked together on his Netflix series (and adaptation from his feature film) She's Gotta Have It, yet he was calling about a new project, a feature film based on an incredible true story about a black cop in Colorado Springs infiltrating a local chapter of the Ku Klux Klan in the 1970s.
"So I read the script first, then I actually went and watched Birth of a Nation, Gone With the Wind, and Spike's Malcolm X," Rodgers says. "After I finished those three movies, I walked into this common area of the apartment building of I was living in, and the line producer was there and she saw the look on my face. I just told her what I'd watched and she was like, 'I need to stay out of your way.' I was trying to digest it all."
BlacKkKlansman focuses on Ron Stallworth (a sensational John David Washington), an African-American police officer in Colorado Springs in the 1970s who not only breaks the race barrier on the police force but also manages to infiltrate the Ku Klux Klan using nothing more than his desk phone (read here about how the film's production designer made sure Ron's workspace spoke to his place in the police department, and Colorado Springs society, as a whole). Naturally, Ron can't go undercover himself, so he recruits a white officer to play Ron Stallworth (after cajoling his superiors, who are less than thrilled with the entire idea). That officer, Flip Zimmerman (a great Adam Driver) happens to be Jewish, and their relationship, and Flip's increasingly dangerous undercover work infiltrating the Colorado Springs chapter of the Klan underpin one of Spike Lee's best films—and one of the best films of the year. Stallworth eventually reaches the upper echelons of the Klan, becoming a kind of phone buddy with a young, ambitious man by the name of David Duke (Topher Grace).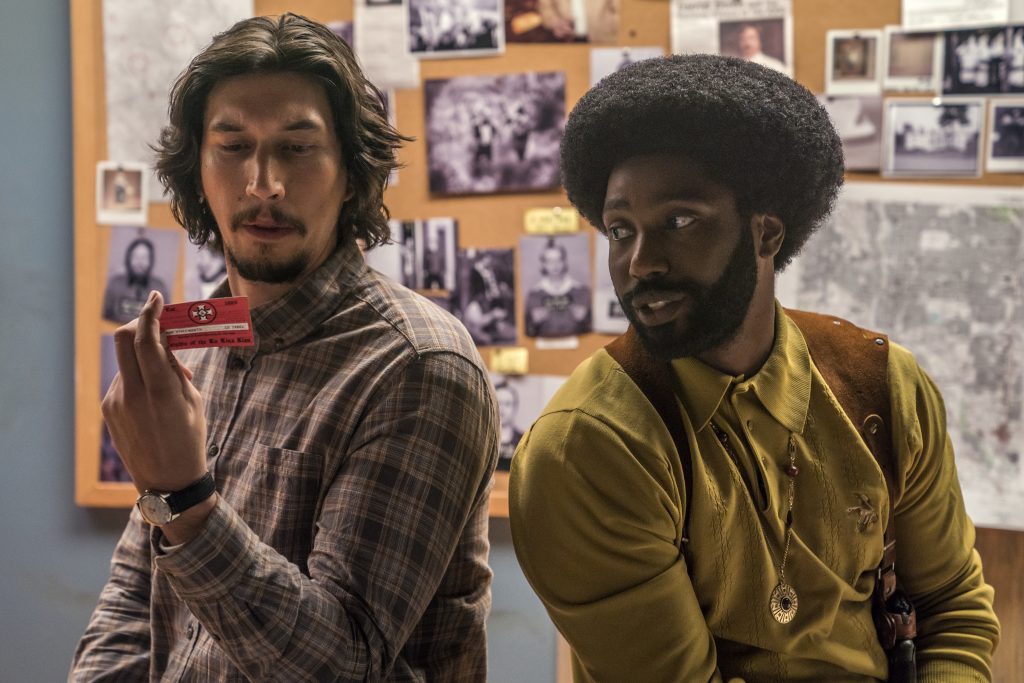 Shortly after reading and re-reading the script (an adaptation of the real Ron Stallworth's book), Rodgers was flying back to DC where she lived at the time, and she landed on August 10, 2017. The next day is now a dark chapter in American history—the "Unite the Right" rally in Charlottesville, Virginia.
"The next morning, I saw David Duke giving his little speech on TV, and I'd just re-read the script on the plane back," Rodgers says. "It was very surreal for me because I was just reading about him, doing a little preliminary research, then to see him still involved in this hateful rhetoric…"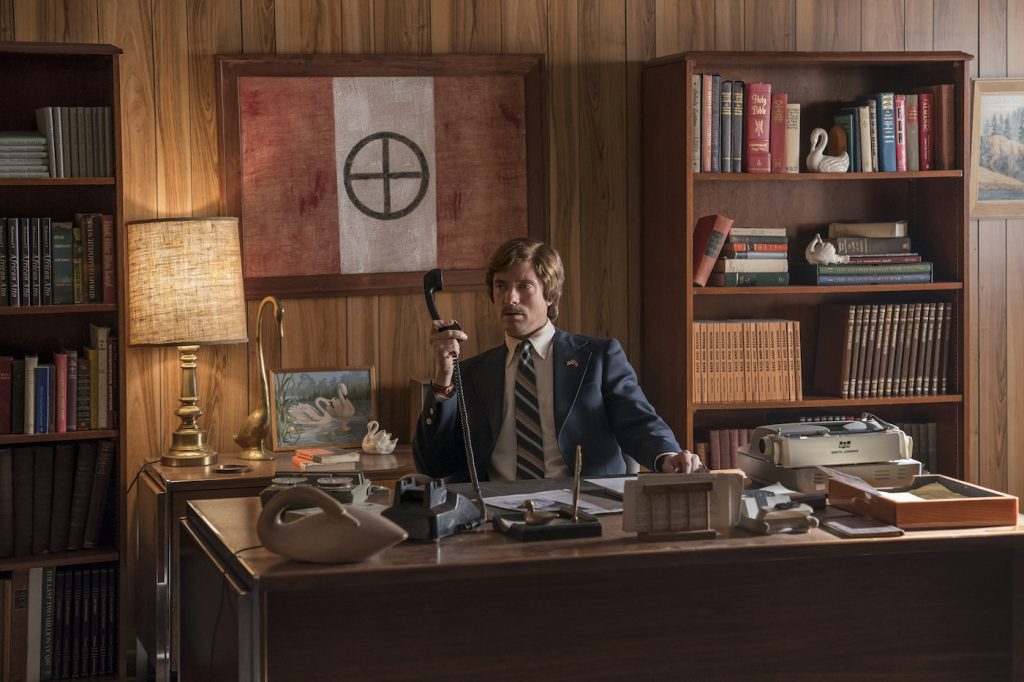 Rodger's costumes vividly capture the era, and the sartorial differences between Ron and Flip, between Ron and his fellow cops, and between Ron and the various Klan members he's tracking add another layer of subtext to the marvelous script. Rodgers captures not only the era but the stylistic choices of disparate communities co-existing uneasily in tempestuous times. Like any great costume designer, Rodgers relies on dogged research. Because BlacKkKlansman is based on a true story, by a living author, set in the 1970s and populated (in part) by real people, she had her work cut out for her. Yes, there was plenty of material for her to look at, but also, there was plenty of material for her to look at. Knowing where and how to look, and when to trust your own instincts, is all part of a costume designer's job. So, too, is bringing out the vision of the director.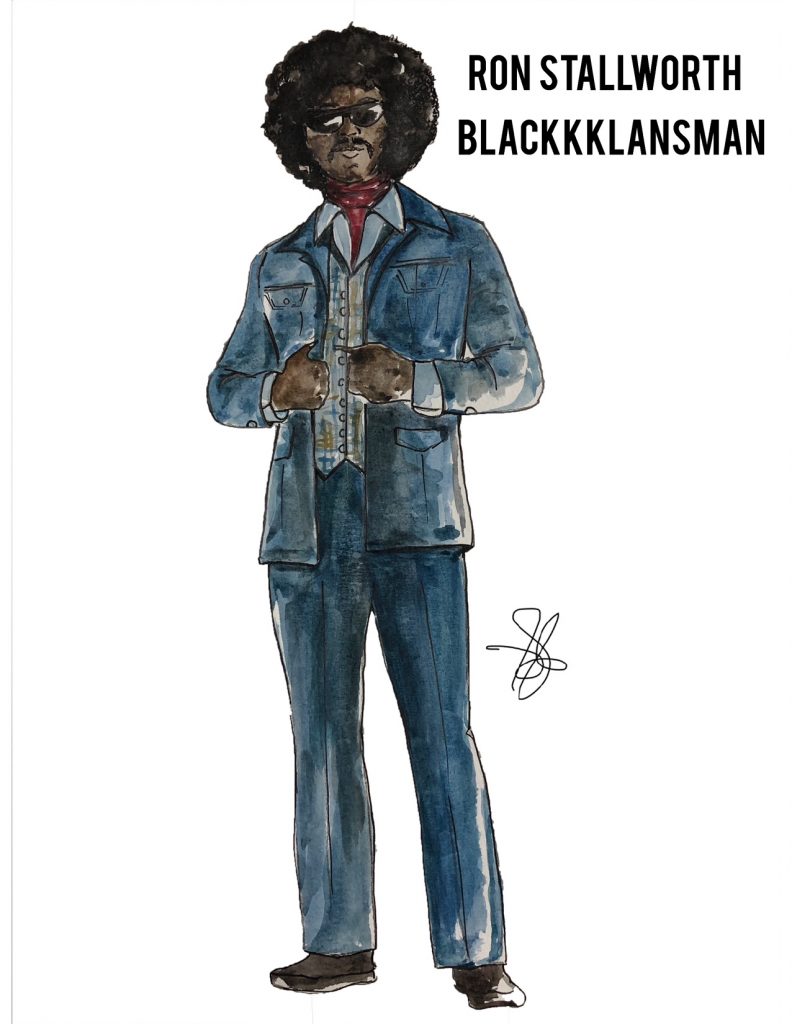 "I visited Howard University, my alma mater, and did hours of research there," Rodgers said. "I looked through Essence Magazine, I looked through Kwame Ture (formerly known as Stokely Carmichael)'s files because he was a student there. I found most of my archival research there in the 70s—photos, ads, etcetera."
This is evident during Ron's first undercover mission when he's tasked with attending a Black Power meeting in which Ture (Corey Hawkins) is the keynote speaker. This is where Ron meets student activist Patrice Dumas (a sensational Laura Harrier) and becomes intimately involved with both the movement and with Patrice, all the while working undercover trying to expose the Klan. Ron is there because David Duke is scheduled to arrive in the city, and the local police are interested in keeping Duke safe and the Black Power movement as underground as possible.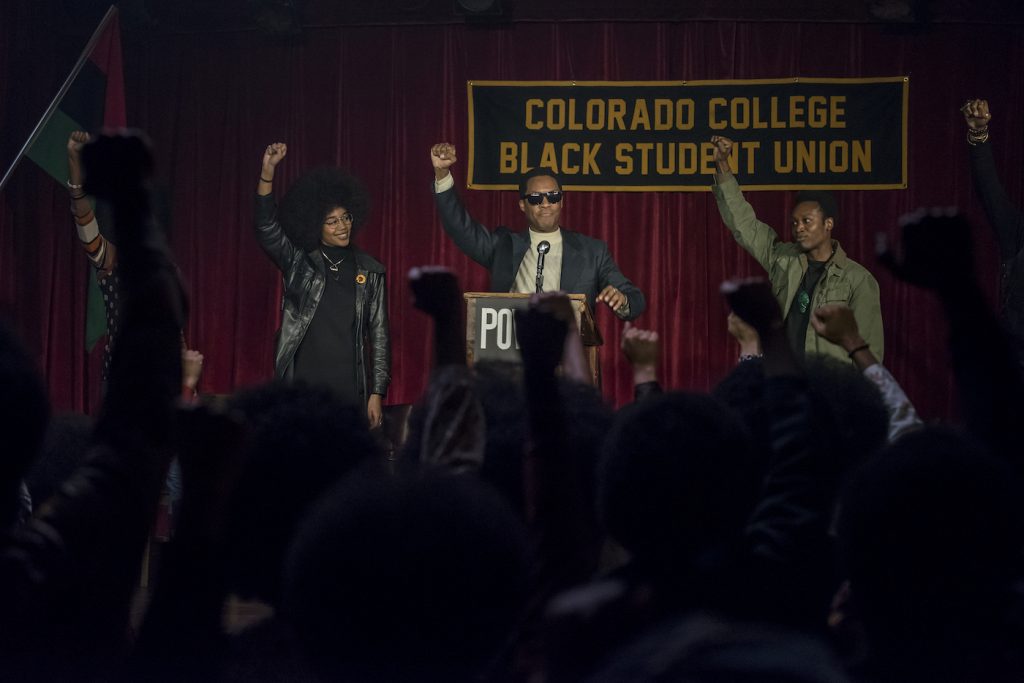 "Then I also visited the Library of Congress, where I found some research on Colorado Springs and the community there," Rodgers says. "I brought all my research back and looked through old Sears catalogs, and one wall in my office became nothing but Sears images. I presented my research book to Spike broken down by character. Then I also talked to the real Mr. Stallworth, and I asked him what I could do to depict the way he dressed at the time and what he wore that made him feel cool. He said, 'Accessories.' Ron is very accessorized in the film."
While Ron sports a variety of looks in the film that speaks to his innate coolness and love of accessorizing, his partner Flip and their Klan targets couldn't dress more differently, or drably.
"For the organization [the Klan's name for themselves], I went back to the Sears catalog," Rodgers says. "From the looks of it, they're 'normal' people, they're invisible. They don't want to be looked upon as dangerous, so that was how I decided to dress them."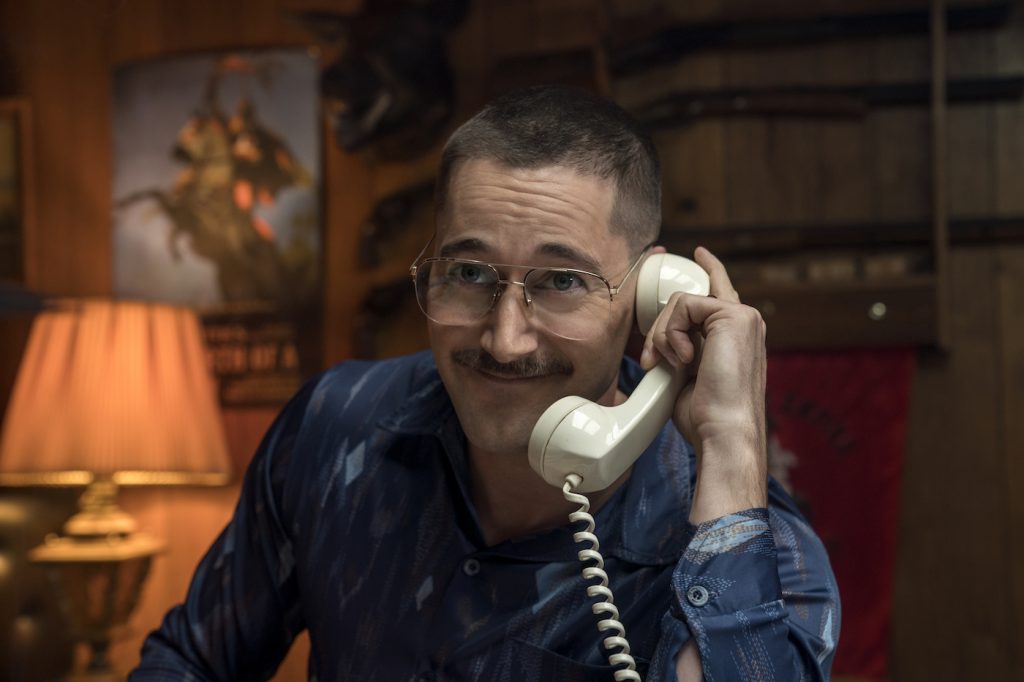 "Then the college kids, I started to dig through the Black Panther movement during that time, what they wore, for Patrice, Odetta, and Hakeem—her friend on stage—and how they dressed," Rodgers says.  "I wanted to bring those pictures to life via my color palette because a lot of those pictures were black and white. Patrice was a homage to Kathleen Cleaver and a homage to Angela Davis, she wears a lot of black, but I wanted her to have different textures layers to her black. Then, Odetta, she was the color one, Patrice's spirit animal. Odetta was the girlfriend who would definitely put you in line. So that was pretty how much I approached it."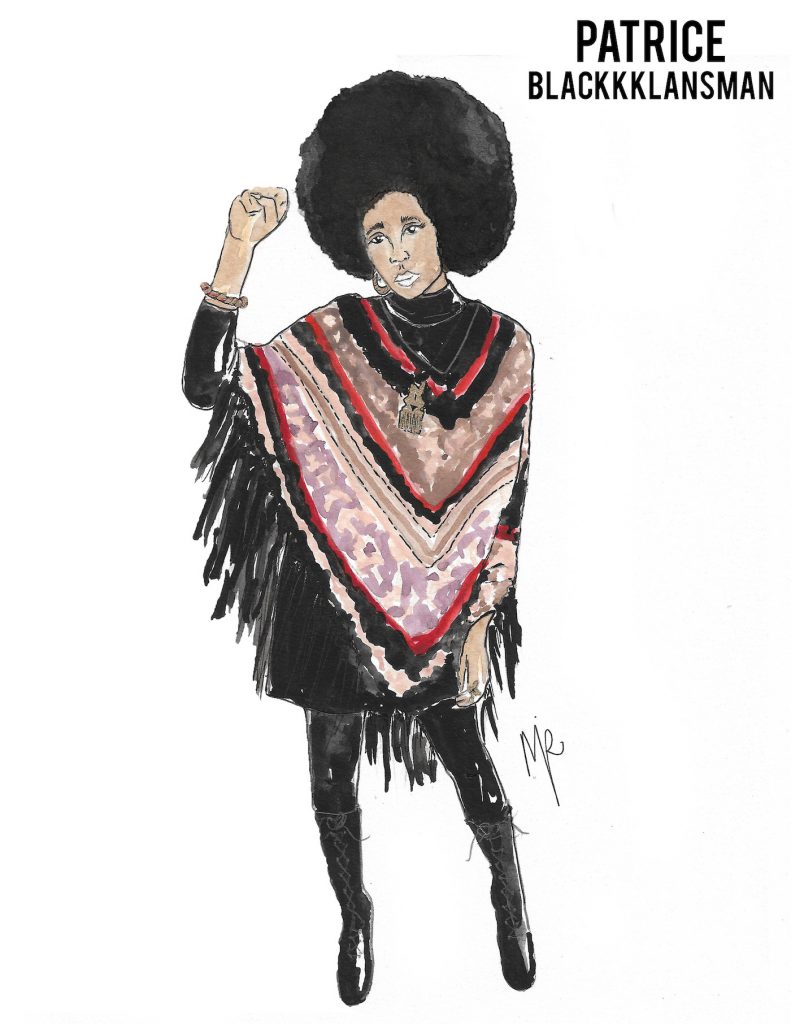 Eventually, David Duke comes to Colorado Springs and Ron Stallworth—the actual black Ron Stallworth—is tasked with protecting him while Ron Stallworth (the undercover Flip Zimmerman) is being initiated into the Klan. Rodgers found herself in the darkest part of her research; figuring out exactly what the Klan's style guide was.
"When I was watching Birth of a Nation, the Klan was born out of a scene where there are two or three young caucasian kids who run up into the mountains, and the slaves are chasing them, and they hid under a cotton bedsheet," Rodgers says. "So throughout time, those costumes were made of cotton. During my research, I found a Klan hood and robe handbook, a 25-page manuscript, which described what the robes were made of, what colors signify what, it was kind of scary. I shared it with Spike and our production designer [Curt Beech], and it was a gem for us. Besides the robes being made correctly, I definitely wanted to make sure the patches were accurate. No matter what my beliefs are, I had to make sure that this was all true."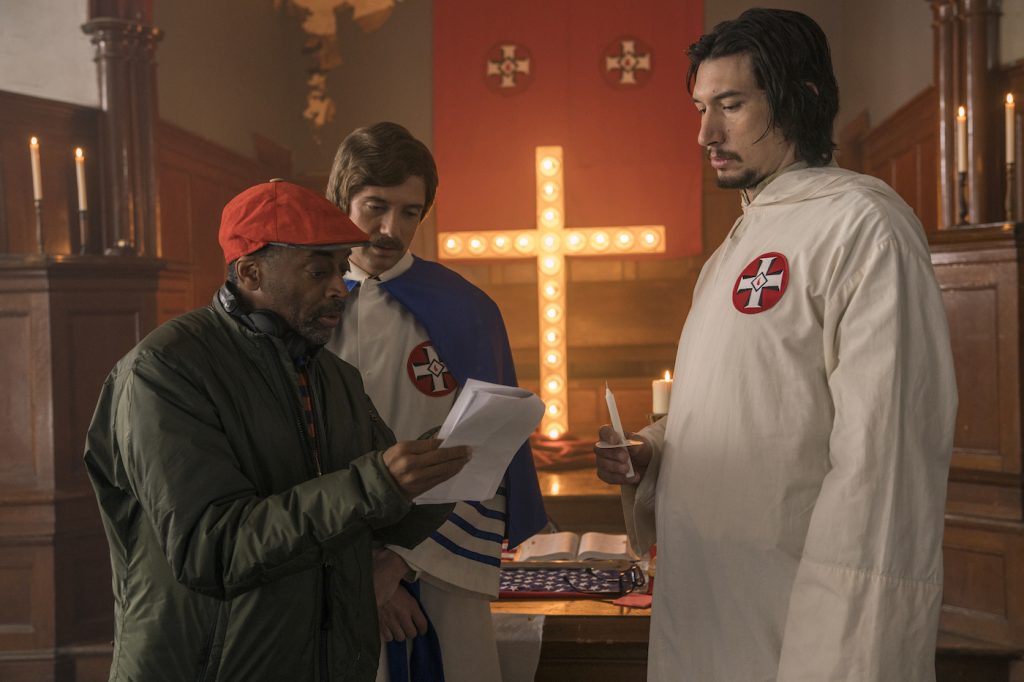 John David Washington and Laura Harrier's looks in the film couldn't be in starkest contrast to Flip's or the Klan's. Ron loves his accessories, as well as his comfortable but stylish sweaters, jackets and shoes, while Patrice makes the most of various shades of black.
"I had John David wearing a vintage Nike 1960s sweater in one of the scenes, and Spike was adamant about Ron wearing marshmallow shoes…these platform shoes that are made of a soft white sole," Rodgers says. "During the time, platforms were hard, but the marshmallow shoes were like the cousin of a sneaker and a platform. So I made a pair for John David. The approach that I take is, flexibility helps me stay true to my research when I put a character into something that, if not identical to what was being worn at the time, is as close as possible, and Spike is very big on staying true to a period. The artistry allows me to help tell the story and the actor can feel like they're in complete wardrobe. Laura Harrier has said when she put on the leather jacket and the wig,  she felt transported into the 70s. John David, some days he'd come to set wearing his favorite coat, the darker brown leather shearling jacket, and he said anytime he put that on, he'd teleport."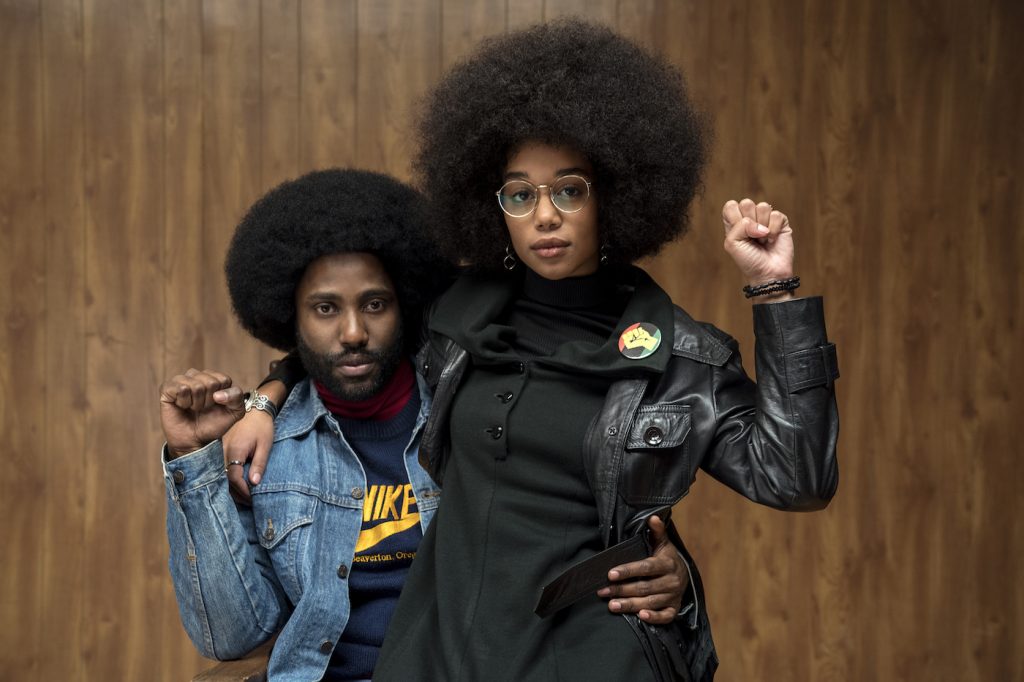 BlacKkKlansman tells an incredible story, one that has a particularly potent—and depressing—resonance to our current political moment. The film's ending is truly shocking; when I saw the film in the theater, you could hear a pin drop, and rarely have I seen an audience stunned into silence not only during a movie's ending but for minutes after as they walked out.
"I've admired Spike my whole life," Rodgers says. "He's a visionary, and particularly with this movie, it's definitely there to push the envelope. I just think it's brilliant the way he ended the movie, people see it and they're like, that just happened, and I'm living through it, so to bring all this together and circle it around, I thought it was brilliant. I'm honored he had me along for the ride."
Featured image: Laura Harrier stars as Patrice and John David Washington as Ron Stallworth in Spike Lee's BlacKkKlansman, a Focus Features release.
Credit: David Lee / Focus Features