"Guillermo del Toro's Cabinet of Curiosities" Production Designer Tamara Deverell's Twisted World
As the afternoon light waned in Toronto, production designer Tamara Deverell recently found herself sitting on the floor of an abandoned psychiatric hospital on break from the new Sofia Coppola movie she's working on. With dusk approaching, she joked, "I'm getting scared because it looks like I'm in this spooky Guillermo del Toro room right now!"
If anybody would know about spooky spaces, it's Deverell. She earned an Oscar nomination earlier this year for designing Del Toro's Nightmare Alley and recently completed work on Guillermo del Toro's Cabinet of Curiosities. The eight-episode anthology series, now streaming on Netflix, draws inspiration from shows like Alfred Hitchcock Presents and The Twilight Zone to explore a warped universe filled with creepy creatures and haunted houses.
Deverell, who started working with del Toro back in 1997 when she art directed his insect horror movie Mimic, spoke to The Credits about creating habitats for giant rats, stunted trees, and alien artifacts.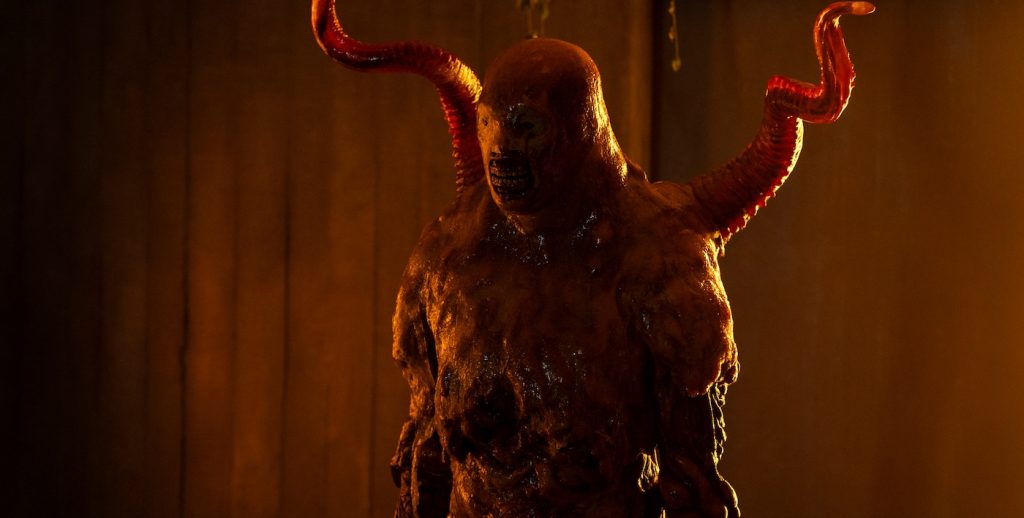 In terms of sheer logistics, it must have been daunting to design eight shows for eight different directors simultaneously. How did you organize that?
I had a head start because Guillermo asked me to be involved even before hiring the directors. I'd read some of the stories he was basing the tales on. Then I realized this would be one of the most incredibly difficult projects of my life because not only was I going to be representing Guillermo's vision — that was the easy part because I'm in synch with him — but I also had all these directors with very different personalities. To be quite honest, it was exhausting.
Breaking down your work for specific episodes, can you talk about the tunnels in Graveyard Rats?
Technically, that was probably the most challenging build. It wasn't just our department. We had to have cameras on a track custom-built to go through these tunnels. My amazing art director Brandt Gordon worked with the grips, electric people, and camera department to make that happen. And then they were building the animatronic rats in L.A. and shipping them up here, so we had to interact with that to figure out how big the tunnels had to be.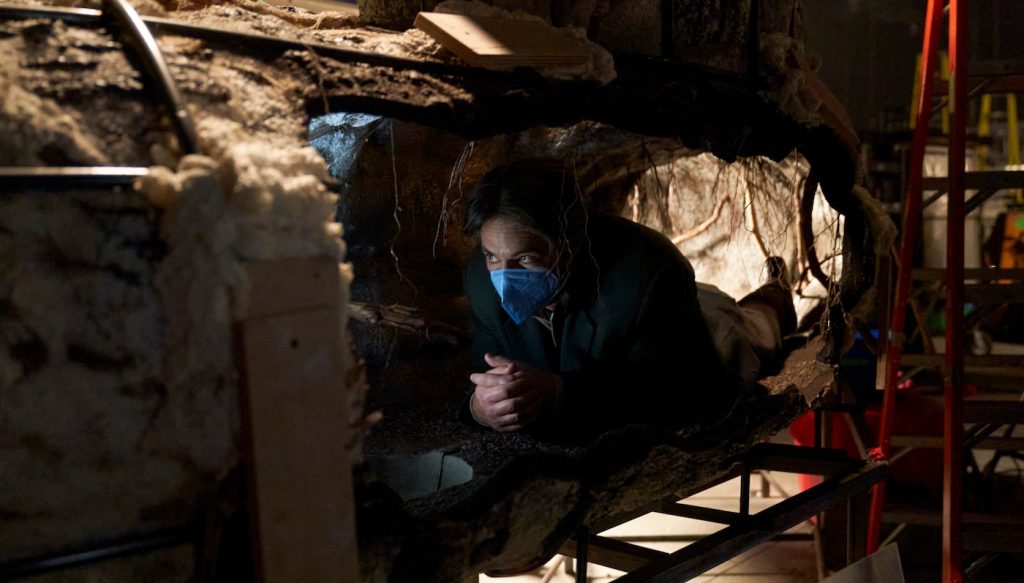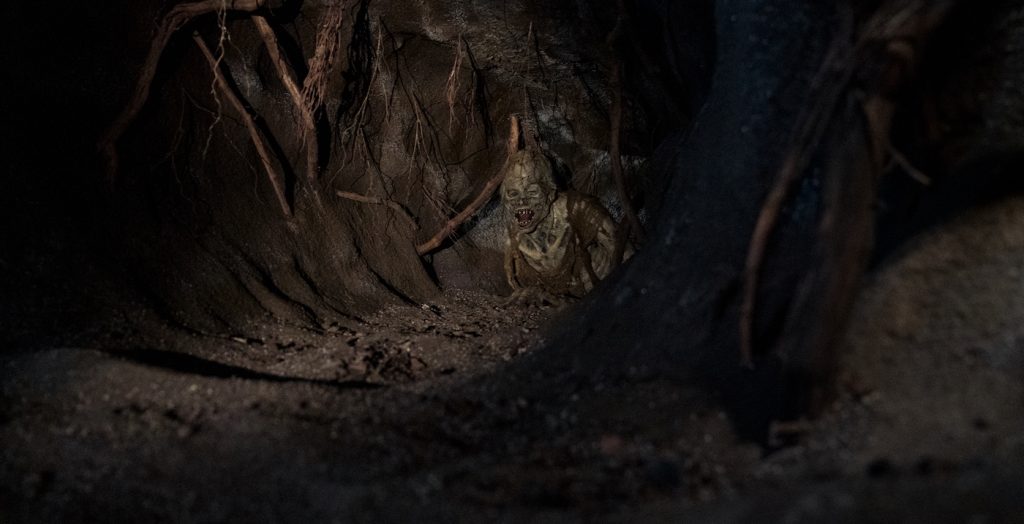 Designing a maze of rat tunnels — that would be a first for you?
Actually, my first foray into the tunnel world was building sewage tunnels for Mimic when I was still art directing for the wonderful production designer Carol Spier. And then when I worked on [TV series] The Strain, another Guillermo thing, where we did tunnels for vampires, subway tunnels, sewage tunnels. I have to say; it's fun building weird things like that. If I ever got another courtroom set or doctor's office, shoot me in the foot, like, I'd just run. I run toward the danger of doing something like Cabinet of Curiosities, which has so many different looks.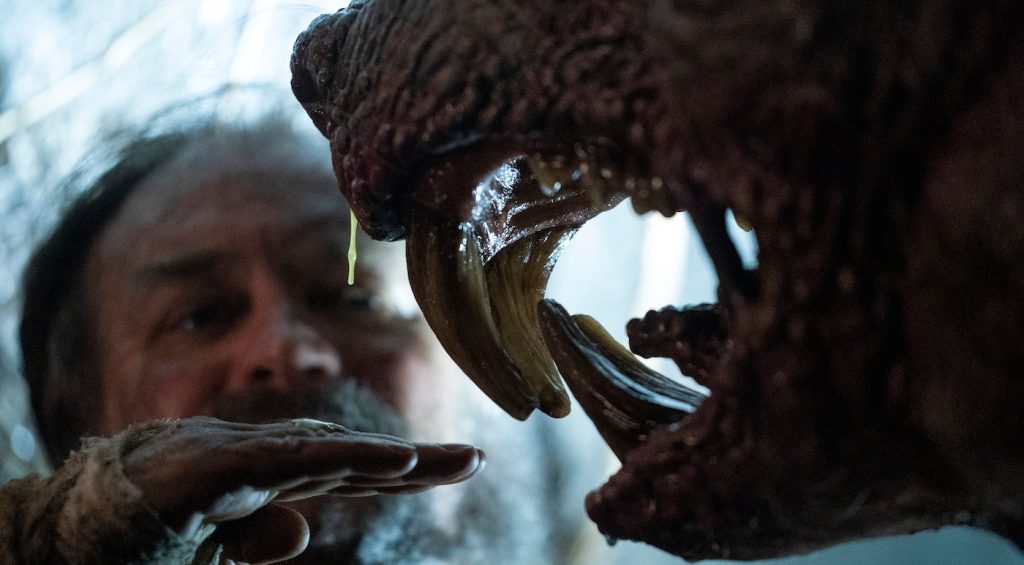 The Viewing episode, directed by Panos Cosmatos, culminates when guests invited to this eccentric man's compound try to make sense of a strange glowing object.
We called that "the artifact," the thing that came from outer space or from the middle of Panos' brain [laughing]. This wonderful guy Andy Tsang, who works in 3D modeling, modeled it up. Then we handed it over, and the whole piece was hand carved. One thing Guillermo likes to do is to use practical effects and creature effects to great advantage. His new Pinocchio speaks to that, being so tactile and reality-based.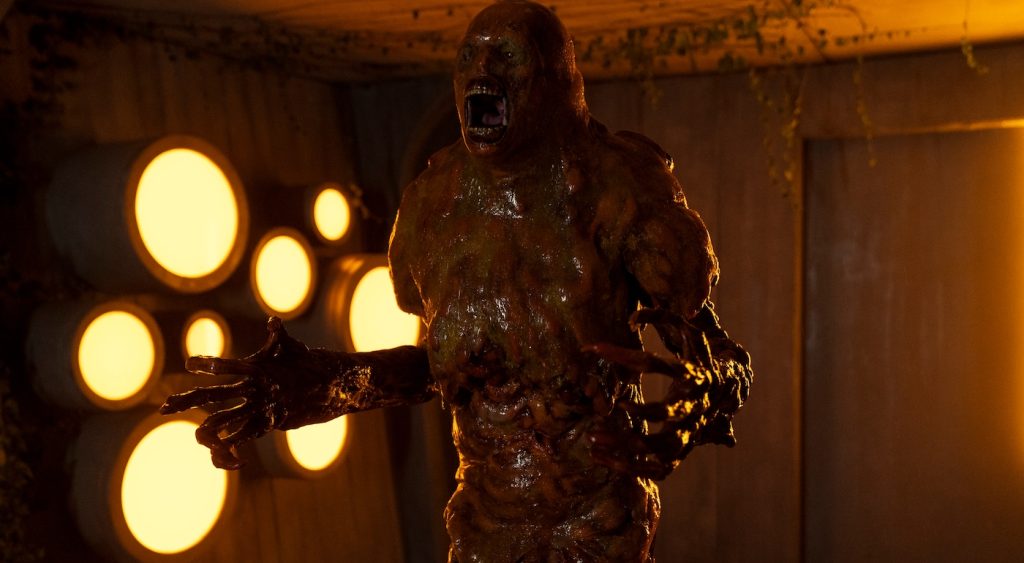 In The Murmuring, bird watchers live in this magnificent mansion by the sea. Where did you find that house, and how did you make it so spooky?
Well, we built that house.
What?
Entirely built. There was another movie, Scary Stories, which, full disclosure, I did not design, but they'd built a mansion set which they kept in a trailer. We re-assembled that, and, like any good dog, I peed in all the corners. But it had great bones, a staircase, and some paneled walls. We added the kitchen and the turret room. The director Jennifer Kent is wallpaper crazed, and so am I, so we went a little nuts with this beautiful William Morris period wallpaper. And we painted the whole house deep blue to set the mood. It's a period look within a period film because the original house is the 1930s when ghost mother and son were alive, and then [the main story takes place in] the 1950s, so everything's covered in dust. Very poetic, I thought.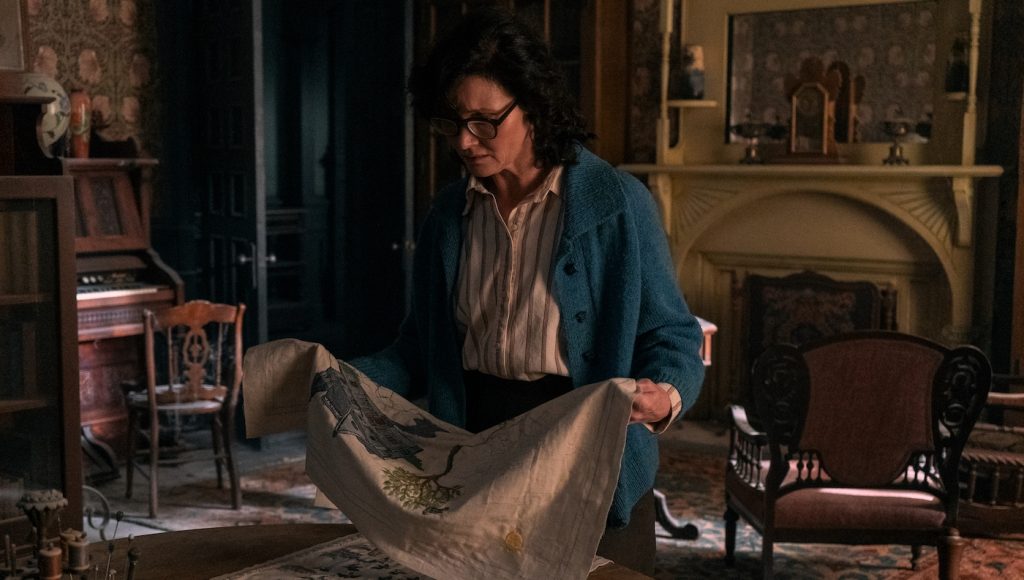 Dreams in the Witch House features this spooky forest thick with stunted trees. How did you approach that setting?
We kicked around the idea of shooting in an actual forest, but it was too difficult to do in November in Canada. The director Catherine Hardwicke made the Red Riding Hood movie, and they'd built the forest for that. We wanted this ethereal life-or-death no man's land, so we looked at all this different imagery and found these truncated trees that looked like giant tuning forks. We took actual bark from locust trees in front of the house, where we shot the childhood home at the beginning. I noticed that bark was so twisty and strange, so we cast the bark and molded it as the skin of our trees, which were made from metal armature covered in foam. Once we put the skin of the bark on, we painted that and added moss. That was our forest-in-a-studio set.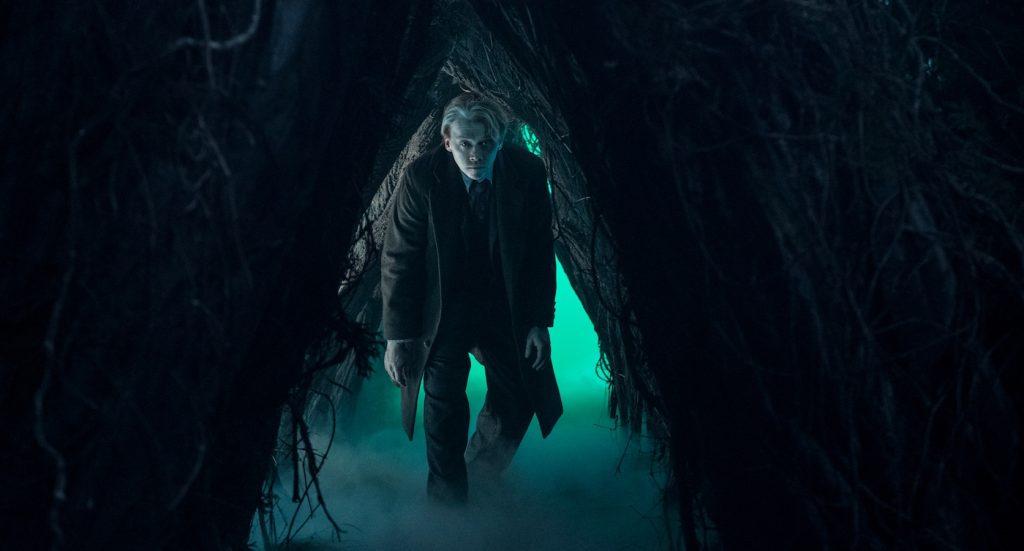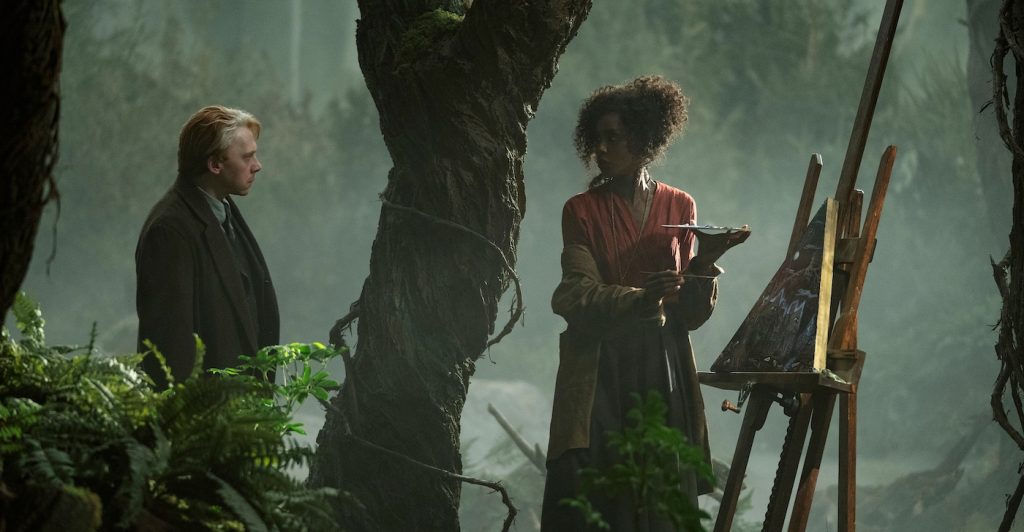 You built most of the environments on the soundstage, but did you also use real-world locations?
Yes. It was a big challenge to shoot 1920's Boston for Pickman's Model. We had just one night to shoot the cobblestone streets of Toronto's Old Distillery District. It used to be that we could control that area because nobody but us lunatics in the film industry went there. But now it's gentrified and full of restaurants. That was tough because we only had six hours to dress the streets before the crew came in. "We have to cover the security cameras!" and this and that. Shooting in a studio is easier because you have complete creative control.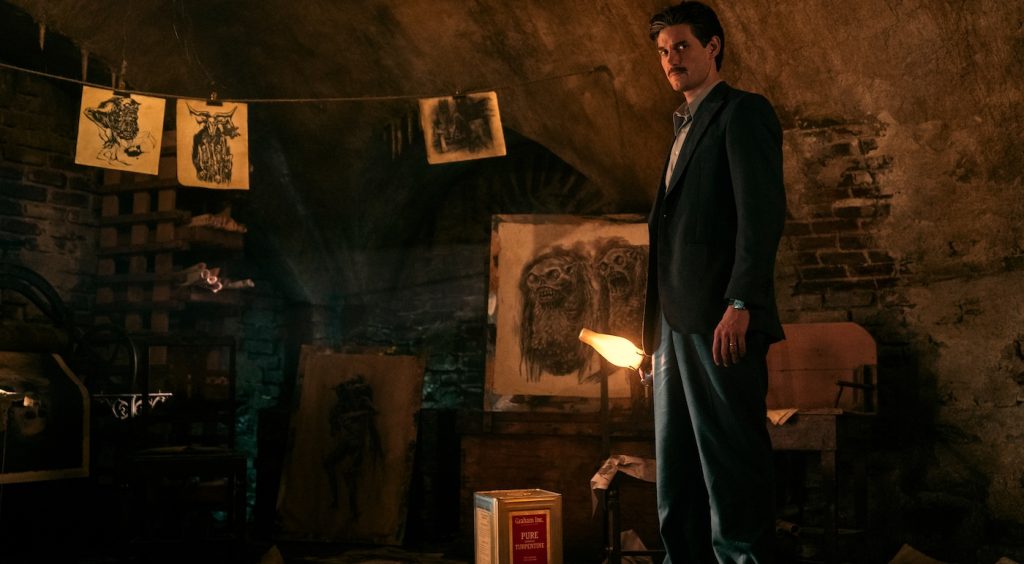 The Cabinet of Curiosities itself, featured in the introductory segments, looks like a fiendishly complicated piece of furniture.
Guy Davis, one of Guillermo's long-standing collaborators, did the initial concept sketch. I took that and did 3-D renderings. We actually built three cabinets: a shortened one, like the first tier of a wedding cake that would pop up with CGI. The second one, made from oak, was a mind-boggling build for our carpenters because it had all these secret compartments, drawers within drawers. And then a third one for different camera angles.
Each introduction includes a tiny statue of that episode's director. Did you see that coming?
I thought Guillermo had lost it when he said he wanted a little netsuke — a Japanese statuette — of each director. We drew them on paper, and two of our sculptors carved them up. For Panos, we put horns on him, and [Rat Graveyard director] Vincenzo [Natali] was surrounded by rats. We had fun with it.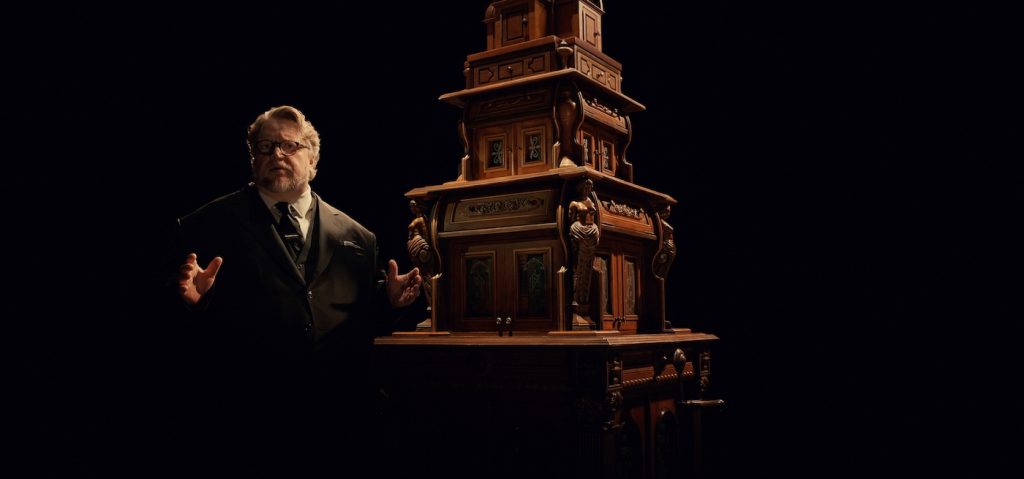 You've designed for Guillermo del Toro many times over the years. What's he like to work with?
He's very respectful, very collaborative, truly a gentleman, and he's an artist. I'm able to speak to Guillermo artist to artist, storyteller to storyteller. A lot of time, we don't talk in words. Instead, we draw together. I'll bring my iPad to set and show him something, and he'll grab my stylus and draw over my drawing.
Guillermo del Toro is known for his sketchbooks. It seems like he can probably get very specific when it comes to visual ideas.
Guillermo has such an understanding of geometry and architecture and structure. When he says, "Let's make this ceiling really low, like seven feet high," he means it. He knows what he wants, and he knows how to communicate. Just look at the way he worked with eight directors on this series and how he pulled these stories out of them! It's not like he's a puppet master but more of a collaborator in the way he gently helped us reach this high level of artistic achievement.
Anything else you like to add?
I have many stories, but I have to go because it's getting dark.
You're in an abandoned psychiatric ward. I get it.
Seriously, it's getting creepy in here.
For more on big titles on Netflix, check these out:
"Glass Onion: A Knives Out Mystery" Official Trailer Reveals a Very Dangerous Game
"The Midnight Club" Production Designer Laurin Kelsey on Creating a Haunting Hospice
"Guillermo del Toro's Pinocchio" Early Reactions: A Stop-Motion Masterpiece
 Featured image: Guillermo del Toro's Cabinet Of Curiosities. Lize Johnston as Keziah/Witch in episode "Dreams in the Witch House" of Guillermo del Toro's Cabinet Of Curiosities. Cr. Ken Woroner/Netflix © 2022