"The Midnight Club" Production Designer Laurin Kelsey on Creating a Haunting Hospice
Facing the end is not always the scariest part of a person's story. The terminally ill teenagers in The Midnight Club meet to entertain each other with spooky tales, but the stories may actually be clues to a secret cure or even a glimpse at life after death. The Victorian mansion serving as a hospice facility for young people even harbors secrets of its own. Production designer Laurin Kelsey developed the dynamic location that serves as the core of the series. 
"I think it's so great because there's something so intricate about Victorian architecture," Kelsey observed. "There's nooks and crannies and details. It gives you places to hide. It gives you this imagination, feeling of the past and it gives the kids this environment where they can get in the mood to tell their ghost stories."
Brightcliffe Hospice possesses a special power that calls to newcomer Ilonka (Iman Benson) as she battles aggressive thyroid cancer. Her visions hint that maybe there are restorative properties to the house, and she is determined to see if moving there could save her life. Not to mention, it's a dream locale. 
"It's really about the grandiosity of the house that intrigues them all to be there," Kelsey noted. "This beautiful setting where they're on this cliff next to the ocean. Massive bedrooms. They have these four poster beds, a library, an arcade, and there's so much space for them. The feeling of living in this palace for their last days is what draws them all into the space."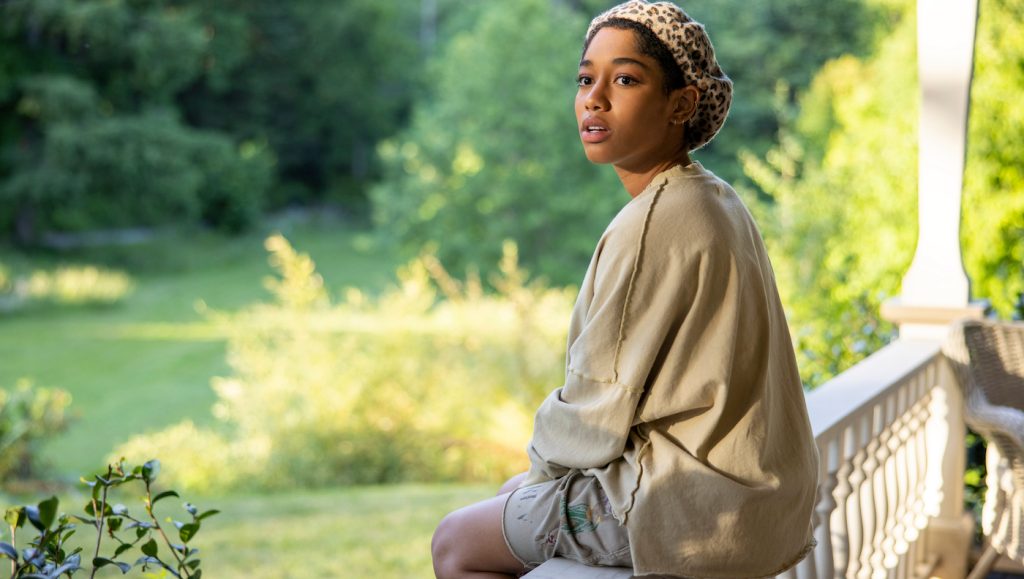 Both peaceful and imposing, the house has a duality that could conceivably be either comforting or creepy. It's picturesque enough that someone would want to spend their final moments on the grounds but can also be mysterious and dangerous. When the lights are low, anything could be lurking in the stately halls. Kelsey tailored the rooms to serve both purposes.
"I tried to use a palette that fits with the landscape, so we leaned into blues, greens, wood tones, a little bit of yellows, and a little bit of pinks depending on the character and their individual bedrooms. From there, those colors allowed, depending on the lighting, to either really warm up if we turn all the lights on or to really cool off when the lights are down. I thought that sort of palette lent us the ability to lean into either side. The warm, bright natural world that they're in, or this dark, eerie, sinister other place."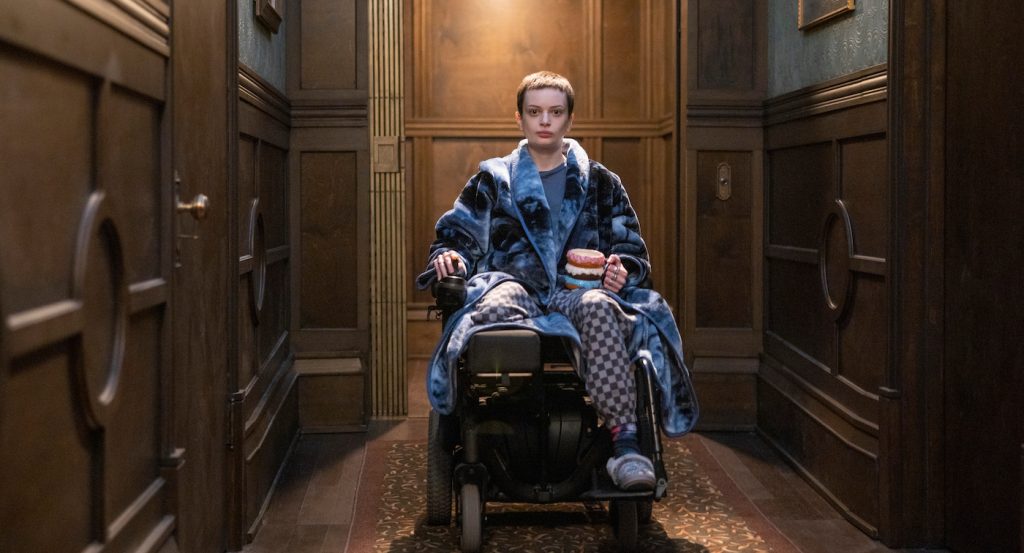 The house has a mysterious history that provokes the Club to peel back its layers. For Kelsey and her crew, that was achieved with actual layers – of wallpaper and other changes to decor. Despite the design updates, they were careful not to touch the bones of Brightcliffe.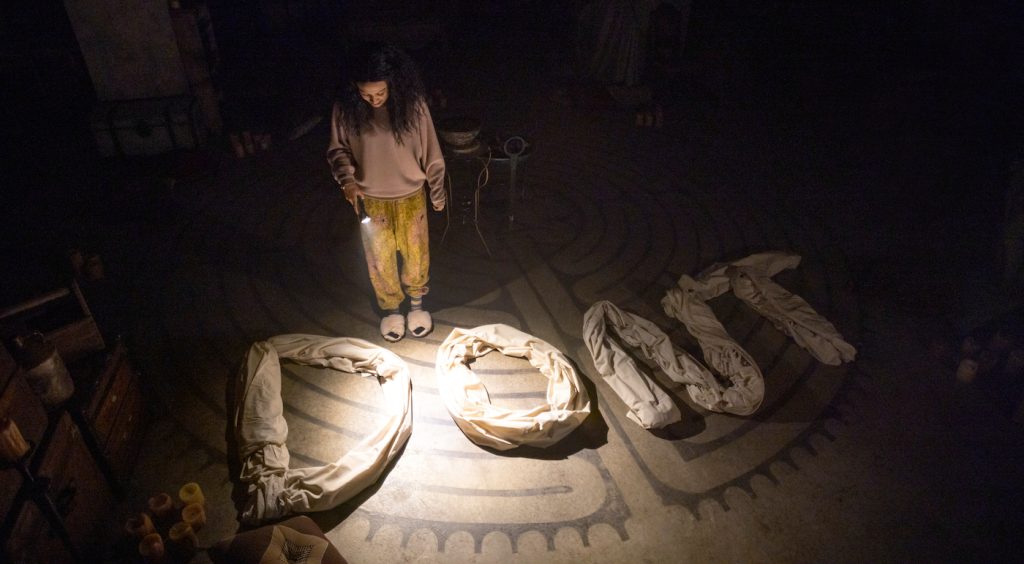 "How do we show the age of it and the layers of it, and then if we go backward, what is that previous layer, what is that previous layer," Kelsey considered. "We did it mostly with wallpaper in terms of the actual physical space. We didn't change the architecture, so you'll see the room, and then we came up with creative ways to flip paneling wallpaper in and change the rooms, and then you would change the light fixtures and some of the pieces that would be updated regularly."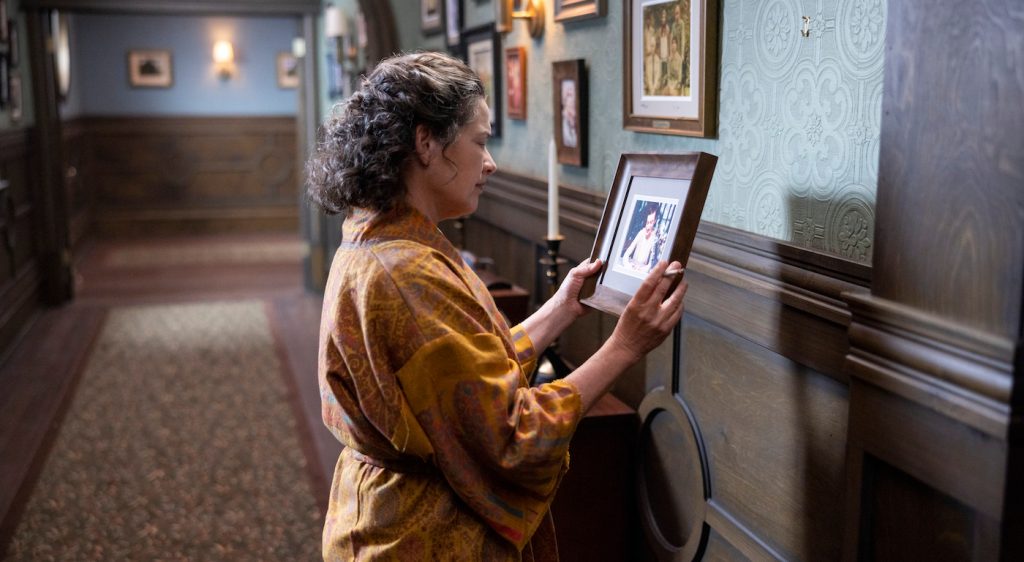 A real-life illusion is baked into Brightcliffe. The grand Victorian mansion obviously wouldn't fit on any soundstage, so Kelsey puzzled out how to cram all the locations needed for filming into a small space. Along with hacks for quickly changing a room's interior, they had to map out how to keep audiences oriented while moving through the space.
"There's a relationship because in each bedroom, you get to know who's across the hall from each other," Kelsey noted. "You do see a lot of activity in the hallway. But we didn't have space on stage to build seven bedrooms. I come from a theater background, so I have a lot of sneaky ideas about how to change things around. I built the bedrooms on wheels and basically built the whole hallway practically, all the doors. Then we had the bedrooms move to the different doors as they were needed."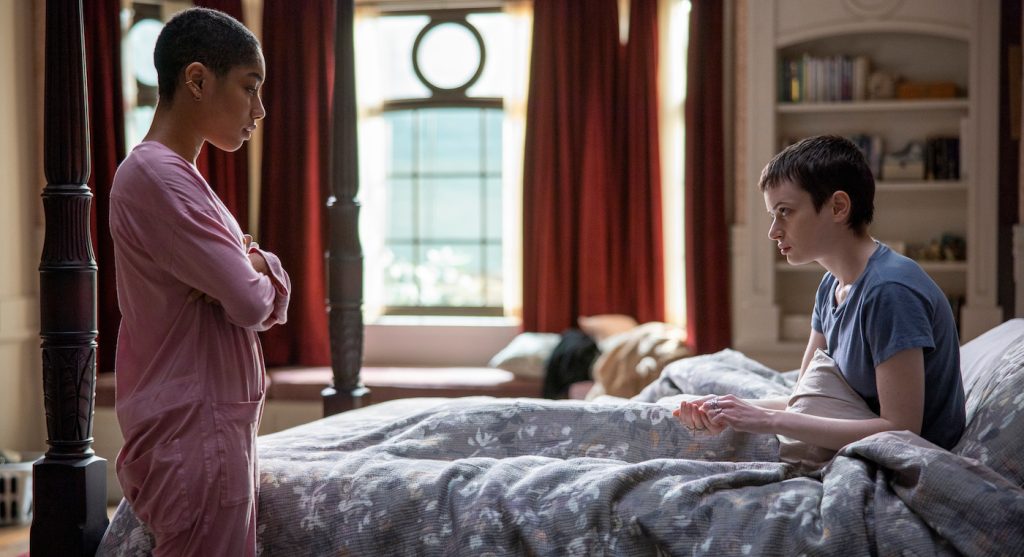 Brightcliffe was constructed on two major sound stages. One for the conservatory/dining room, the foyer, the arcade, the triage room, and Dr. Stanton's (Heather Langenkamp) office. Kelsey used the hallway as a "cut point." The other stage housed the library, the recovery wing, and the dorm wing. A third soundstage made up other locations needed for the stories the teens told. 
Time waits for no man—or film crew. Fitting scenes into a tight schedule sometimes meant making a quick jump across the decades. Kelsey had to maneuver spaces so that they were ready for their proper period but not allow a stray detail from the wrong era to wander into a shot.
"We had one day where we shot the foyer as 1962 and the hallway that you can see through the archway down the side as 1900," Kelsey explained. "If you look through this way, you saw 1960, but they shot them back-to-back. So literally boom, shooting this scene, moving the camera into the hallway, no time to change, now we're shooting this way."
Kelsey scoured the script for the essence of each member of the Midnight Club to make sure that their personality carried through their storyline. Each teen had their own color palette that you'll catch in both their Brightcliffe bedroom and their scary story. Anya's ballet tale inspired a dusty rose accented by peaches, beiges, and maroon. When Ilonka moves in, her own lilacs and purples complement her new roommate's style. The hospice environment meant everything we learned about them from their surroundings had to be economical.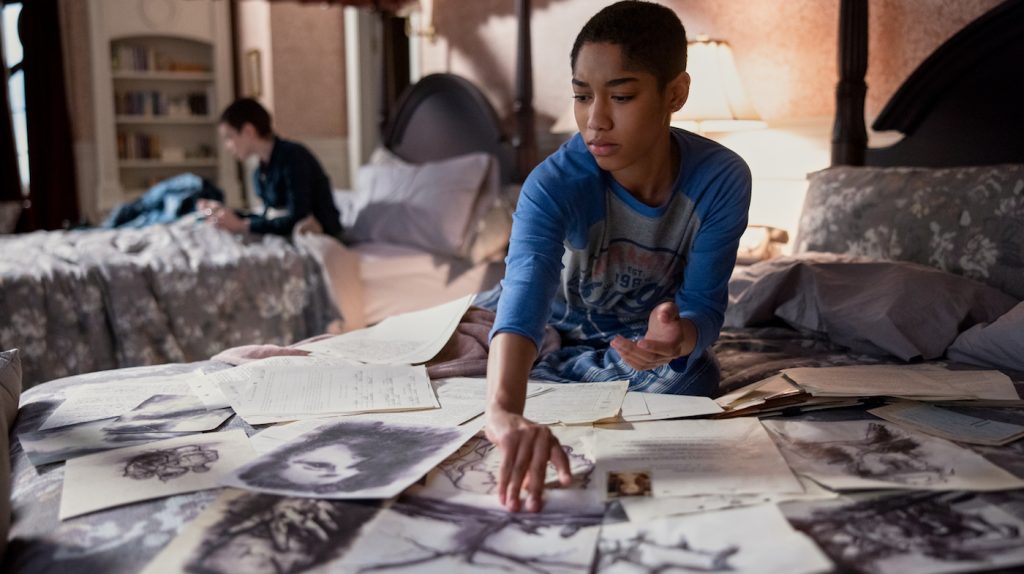 "There's a very unique thing about seeing them in the house, which is that they don't bring everything with them. It's a temporary space," Kelsey observed. "They know they're not going to be there forever. They don't know how long they're there, so how much personality do they stamp on it, and how much of it is the house on its own and part of Brightcliffe as a hospice? What do you take when you're terminally ill? You only bring the essentials."
Audiences who grew up reading Christopher Pike's books that inspired the series will delight in the detail and magnificence of the Midnight Club's meeting space – the library. The set was built practically and stretches two stories. It's a bibliophile's dream and the ideal setting for cozy fireside stories.
"There are real books in there. There's a Dewey decimal system. Every book has a unique number on it," Kelsey revealed. "It was a really big task. All of the walls are all hand painted, and all the murals were done by our amazing paint team. It's not wallpaper. It's all originally hand-painted. All the furniture we sourced was real antiques, but we had a lot of them recovered to get some of the bright colors that we wanted. We bought all of the velvets and had all of those redone so that they all matched and tied together. It's a huge set, but it's one of my favorite things about the show."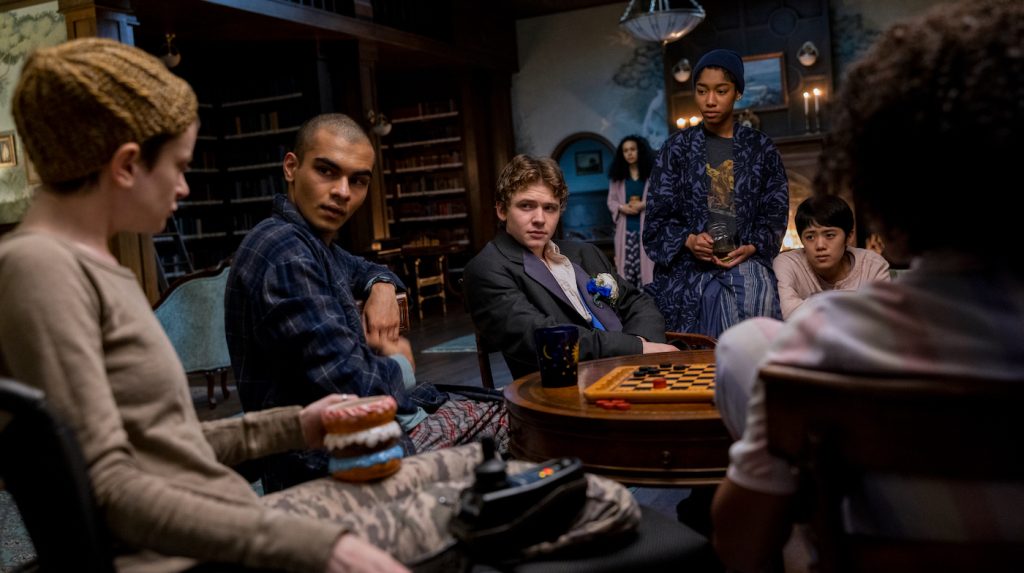 The centerpiece of the room is the grand fireplace depicted on the original book cover. It's so recognizable to fans, and Kelsey went to great lengths to make sure it was perfect in every way.
"The fireplace is funny because you have to think when it's the only light in the room, and everything else is dark, it's going to be quite an iconic shape behind them," she said. "I built a whole bunch of models of the fireplace with to-scale figures in front of it just to get the right height of the arch so that it wouldn't always cut through the back of their head."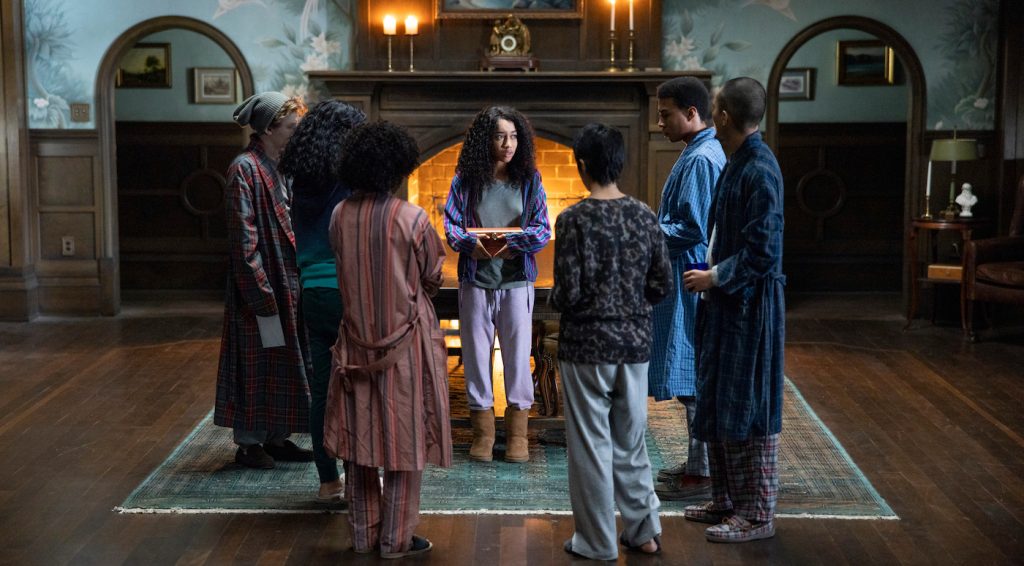 Hoping to go visit Brightcliffe in real life? You're out of luck. It's a conglomeration of Kelsey's imagination and digital design.
"I designed the house as a whole, and then visual effects painted and created the upper layer," Kelsey explained. "The way that they wanted to do it was rather than build the entire thing from scratch in vis effects, they wanted me to find a real house that they could go scan so they could use elements. So instead of building the whole thing, they were like, 'Oh great, we have the windows 3D scanned. We can just plunk the windows in.' What I found was this amazing house in Martha's Vineyard. We went and scanned that and then brought the scan back and used certain features of the house combined with my design and put it all together."
The Midnight Club is now streaming on Netflix. 
For more on big titles on Netflix, check these out:
"Guillermo del Toro's Pinocchio" Early Reactions: A Stop-Motion Masterpiece
Guillermo del Toro on Why He Set "Pinocchio" in a World of Fascism
The Official Trailer for Guillermo del Toro's "Cabinet of Curiosities" is a Creepfest
Featured image: The Midnight Club. (L to R) Igby Rigney as Kevin, Adia as Cheri, Chris Sumpter as Spencer, Aya Furukawa as Natsuki, Iman Benson as Ilonka, Ruth Codd as Anya, Annarah Cymone as Sandra in episode 104 of The Midnight Club. Cr. Eike Schroter/Netflix © 2022