David Harbour Teases Marvel's Mysterious Phase 5 Capper "Thunderbolts"
David Harbour is set to return to the Marvel Cinematic Universe as the Red Guardian, so the man knows what he's talking about when he starts dishing on one of the most mysterious upcoming MCU films.
Harbour is reprising his lovable Soviet antihero from Black Widow for Thunderbolts, the mysterious Phase 5 capper that Kevin Feige teased during San Diego Comic-Con 2022. The film will be Marvel's version of The Suicide Squad, getting a bunch of antiheroes together to save the day. When Harbour sat down with Collider to discuss his upcoming Christmas action flick Violent Nights, he gamely took a few questions about returning to the MCU. 
The first thing to know is Thunderbolts is still a ways off—Harbour said that the script isn't finished yet. But he does know what the story is about, and he promises that it's going to be something different for MCU fans. "It's not what you'd expect. It incorporates a couple of new elements, new things that we have yet to see in the universe."
Harbour expanded on the film to Collider and riffed a bit about some of co-stars. They include Julia Louis Dreyfus as Valentina Allegra de Fontaine (fresh from her role in Black Panther: Wakanda Forever), Florence Pugh returning as Yelena Belova from Black Widow, Sebastian Stan returning as Bucky Barnes from a slew of MCU movies, and Wyatt Russell returning as John Walker from The Falcon and the Winter Soldier:
"It's really cool. We introduce a thing that's super cool. It's vital. I'm psyched that Julia Louis Dreyfus' character is going to be, in a bigger way, explored. One of the things you'll probably know is that the me and Florence [Pugh] dynamic will be in there and explored in a way that's really cool. But all these guys, Sebastian's character, Wyatt's character, I just love this mercenary element in the MCU. MCU has always been sort of elevated in a certain way. Captain America, even Iron Man, although he has an ego, are always in it for the right reasons or ultimately does the right thing. And I like these guys who are a bunch of losers or a bunch of guys who can't quite get it right. And so far, what they've pitched me just feels really cool."
The above group—Harbour's Red Guardian, JLD's mysterious Valentina Allegra de Fontaine, Florence Pugh's Black Widow (the non-Scarlett version), Sebastian Stan's Winter Soldier, and John Walker's disgraced former Captain America aren't the only MCU troublemakers in the film. Olga Kurylenko returns as Taskmaster, and Hanna John-Kamen as Ghost, from Black Widow and Ant-Man and the Wasp, respectively, are also onboard. The movie might have a deeper ensemble than any other Marvel flick that doesn't have an Avengers in its title.
Thunderbolts is due to close Phase 5 when it premieres on July 26, 2024.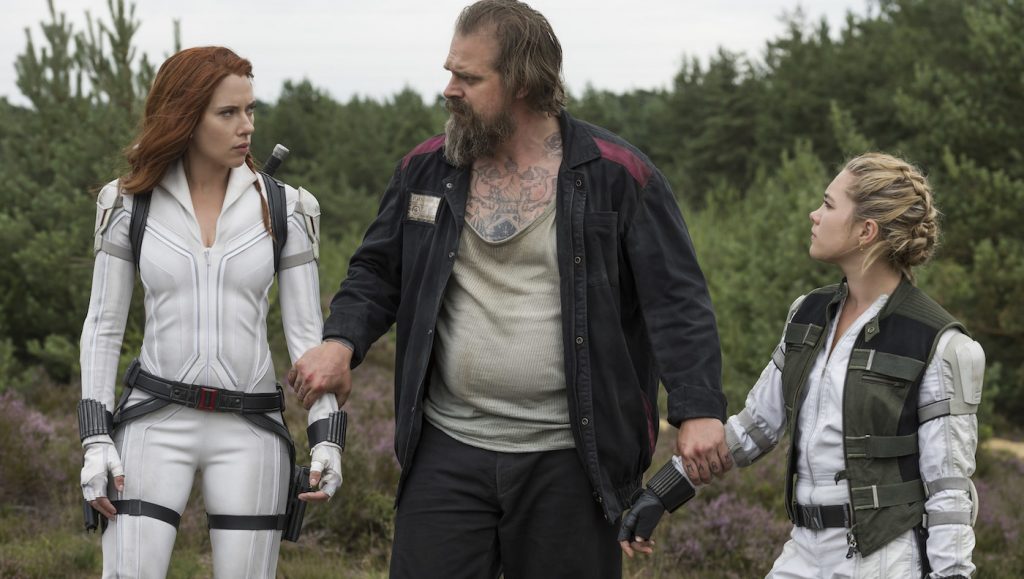 For more stories on all things Marvel, check these out:
Let's Discuss That "Black Panther: Wakanda Forever" Mid-Credits Scene
"Black Panther: Wakanda Forever" Makes Box Office History
"Deadpool 3" Director Shawn Levy in Talks to Helm a "Star Wars" Film
New "Black Panther: Wakanda Forever" Images Arrive Day Before Premiere
How Ryan Reynolds Got Hugh Jackman to Return as Wolverine for "Deadpool 3"
Featured image: Alexei (David Harbour) in Marvel Studios' BLACK WIDOW, in theaters and on Disney+ with Premier Access. Photo courtesy of Marvel Studios. ©Marvel Studios 2021. All Rights Reserved.