Let's Discuss That "Black Panther: Wakanda Forever" Mid-Credits Scene
A tremendous number of spoilers ahead—if you haven't yet seen Black Panther: Wakanda Forever, back away from this story. 
Co-writer/director Ryan Coogler's Black Panther: Wakanda Forever had a massive weekend. It conquered the box office with the biggest November opening of all time, commanding $180 million domestically and $330 million globally. There was huge interest in this franchise, of course, and for a sequel that had to find its way without Black Panther star and leader Chadwick Boseman, who died tragically in August of 2020. There was a palpable desire for fans of Boseman and the franchise to be together in a theater, and, even for an MCU film, there was a tremendous amount of curiosity about what the world of Black Panther could even be without Boseman. Rarely (if ever, frankly) has a comic book movie, let alone a blockbuster, felt so bittersweet and cathartic and personal.
Coogler and his co-writer Joe Robert Cole had to completely retool the script after Boseman's death. Originally, the Black Panther sequel was going to focus on T'Challa (Boseman) as he grew into his role as the Wakandan King and Black Panther, looking squarely at what being a leader meant to him and how he absorbed the responsibilities of the dual role of king and literal protector. After Boseman passed, Coogler and Cole had to shift the focus onto an entirely different character, had to fashion a script that doubled, in a way, as a tribute to both Boseman and T'Challa, and find a new Black Panther to contend with Namor (Tenoch Huerta), the ancient, immensely powerful ruler of the Talokan Empire.
Incredibly, Coogler and Cole pulled it off. Wakanda Forever is told primarily through Shuri (Letitia Wright)'s eyes as she buries herself in her work after the death of her big brother. Shuri blames herself for being unable to cure T'Challa of the disease that kills him—Wakanda Forever wastes not a second putting us into Shuri's wrenching situation, trying to come up with a solution in her high-tech lab in the Wakandan capital for T'Challa's disease. She's too late. T'Challa dies within a few minutes of the film's opening, and Coogler then moves us into one of the most stunning sequences in any Marvel movie to date, T'Challa's funeral procession. Here, with all Wakanda citizens dressed in white as the Dora Milaje carry T'Challa's casket through the capitol, the work of Oscar-winning costume designer Ruth E. Carter and production designer Hannah Beachler stun.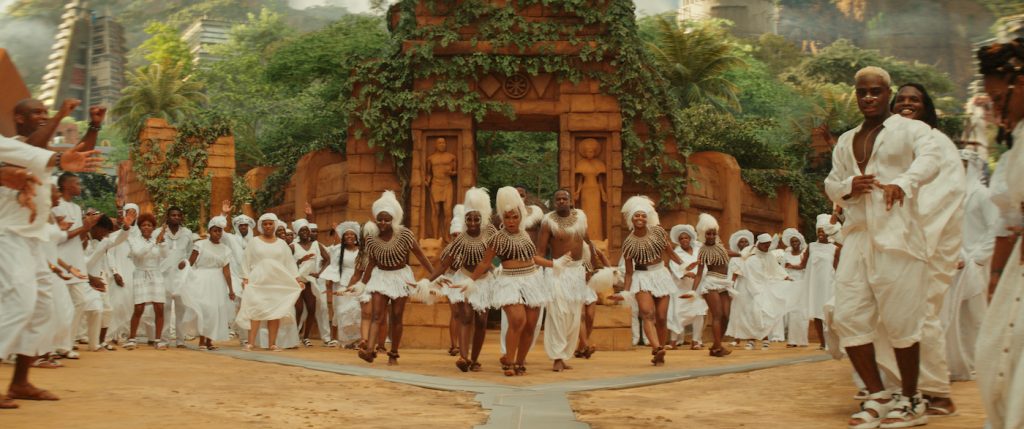 During the funeral, Shuri is thunderstruck and furious—she's not one to believe in the ancestor worship or rituals of Wakanda and would rather be in her lab. Queen Ramonda (Angela Bassett) is the iron-will force that will keep what's left of her family intact and the entire nation of Wakanda from believing they are leaderless and in danger (even if they are). In a brief scene after the funeral, when Ramonda takes Shuri out into the countryside to try to get her to re-connect with T'Challa's soul and tells her daughter of how she felt T'Challa's presence and in the wind, Shuri makes her case clear—her brother is gone, and if she thinks too much about it, all she feels is a desire to watch the world burn. Little to their knowledge, they're being watched and listened to. Enter Namor, who has breached Wakandan security forces and emerged from the water as quietly as an angel. Yet he is not here to help them mourn. He tells them that thanks to T'Challa revealing the existence of Wakanda to the world, now Namor's Talokan people are in danger as the Americans, French, and everyone else search the sea for Vibranium. (The Talokans have their own stache under the sea). Either join Talokan and go to war with the rest of the world, or Wakanda will fall. The search for a new Black Panther is now even more pressing.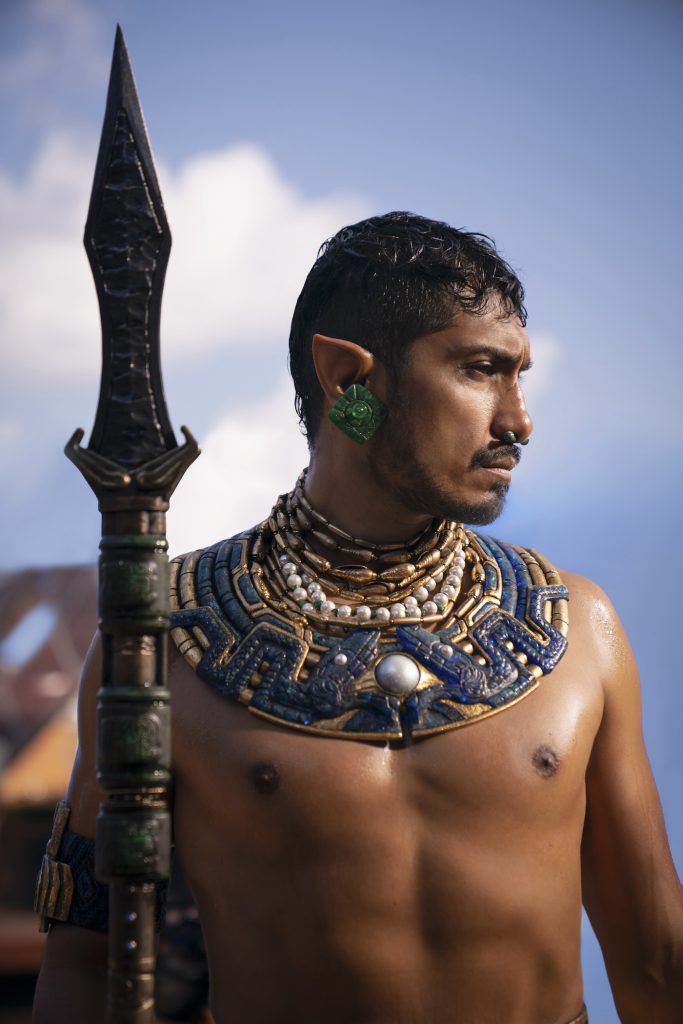 Eventually, Shuri finds a way to synthetically re-create the heart-shaped herb, the vibranium-infused native plant that has given Black Panthers their immense powers in the past and that Killmonger (Michael B. Jordan) burned in the first film. With the new herb re-created, Shuri takes up the mantle of the Black Panther herself. Yet there's a complication—when Shuri ingests the liquid form of the heart-shaped herb to get guidance on the ancestral plane from T'Challa, she's greeted, instead, by Killmonger. It's his vengeful, ferocious spirit that Shuri currently contains, and Killmonger challenges her directly, asking her if she's going to be like her father, a traitor (he had Killmonger's father killed), her brother T'Challa, too noble to be an effective protector of Wakanda, or will she be like him, strong enough to do what's necessary?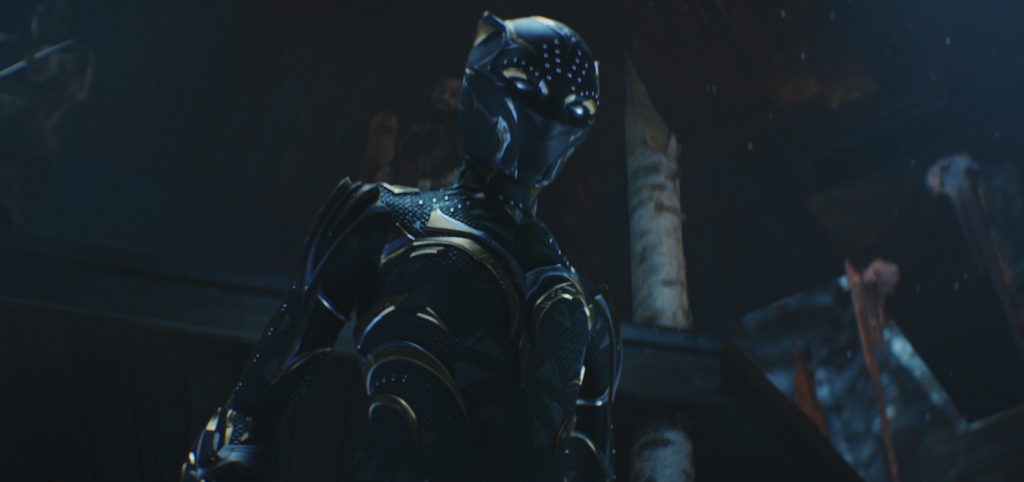 The fight against Namor and the Talokan requires more than just the Black Panther's superpowered protection. The Wakandans are massively out-numbered, and it takes new super-suits invented by Shuri, the help of the American teenager and genius inventor Riri Williams (Dominque Thorne), and, crucially, Shuri's slow burn maturation into the kind of leader her brother T'Challa could admire to save her people. After the climatic final battle between Shuri and Namor, Shuri has him where she wants him. As the new Black Panther, she could kill him. Instead, she demands he yield and force his army to stand down, and in return, Wakanda will protect the secret of the Talokan Empire. Namor agrees.
This leads us to the mid-credits scene. Black Panther: Wakanda Forever was less invested in the business of extending ongoing and upcoming MCU narrative threads than most films in the franchise, considering its focus was so squarely on honoring Boseman, positioning a new Black Panther, and introducing a gorgeously rendered new world in Talokan. So it's fitting that the mid-credits scene was not in service of connecting Wakanda Forever to some upcoming Phase 5 film but rather in deepening the film's study of its characters and the future of Wakanda. Shuri travels to Haiti to visit Nakia (Lupita Nyong'o) to do what Ramonda had wanted her to do out in the country before they knew Namor existed—burn her funeral clothes and move on to a new phase of mourning T'Challa.
Shuri sits on that Haitian beach alone, watching her white funeral robes burn and thinking of T'Challa. It's the first time in the entire film, since the opening credits when the Marvel logo's superhero lineup is made up entirely of T'Challa, that we see images of Boseman from the first film. Shuri openly weeps, only now, her tears feel cathartic, almost replenishing, sourced by an undercurrent of gratitude that she'd had all those years to be T'Challa's little sister. Then we see Nakia approach, holding a little boy's hand. This is Nakia's son, Toussaint (his namesake is Toussaint Louverture, a former slave who led the Haitian Revolution in the late 18th century), and Shuri is once again thunderstruck. Only now, it's with awe and wonder—Nakia had kept Toussaint's existence a secret, and it explains why Nakia herself has been absent from Wakanda for all the years. Only Ramonda knew. Then, Toussaint tells Shuri his Wakandan name—he shares it with his late father—T'Challa.
This is how Wakanda Forever ends, giving us a living illustration of its title. Shuri will carry on the mantle of Black Panther, while Toussaint/T'Challa will eventually carry on the name and character of T'Challa for the MCU. It's a quiet, devastating scene (Letitia Wright's performance, here and throughout, is wondrous), equal parts heartache and hope. Heartache that Boseman is gone and hope in a future that's as bright as we're willing to make it. Wakanda Forever managed to be both a mega-blockbuster in the massive, sprawling, ever-expanding colossus that is the MCU and an aching portrait of grief, fury, and hope. It's a marvel.  
For more on Black Panther: Wakanda Forever, check out these stories:
A Final "Black Panther: Wakanda Forever" Teaser Unleashes Longest Look at New Black Panther
New "Black Panther: Wakanda Forever" Images Arrive Day Before Premiere
"Black Panther: Wakanda Forever" Reviews Call Ryan Coogler's Sequel a Soulful, Rousing Epic
Featured image: Letitia Wright as Shuri in Marvel Studios' BLACK PANTHER: WAKANDA FOREVER. Photo by Annette Brown. © 2022 MARVEL.