New "Black Panther: Wakanda Forever" Images Reveal Villain Namor & More
Today has given us a bounty of Black Panther: Wakanda Forever news. First, the official trailer dropped, revealing a Wakanda mourning the loss of T'Challa (Chadwick Boseman) after the star's tragic passing in August of 2020. The trailer not only showed us how Wakanda grieves a fallen hero and king but also the new faces that will be both welcome in Wakanda, like Dominque Thorne's Riri Williams, aka Ironheart, and unwelcome, which is certainly the case with Tenoch Huerta's villain Namor. And then, at the trailer's end, we got a glimpse of a new Black Panther, clearly a woman, but her identity will remain a mystery until the film hits theaters.
Now, Marvel Studios has released a crop of new images that give us a closer look at the battle to come. As a bonus, they also released a new poster, which evocatively lays out the coming trouble. On the top half of the poster, you've got the surviving heroes of Wakanda. Note their position—Shuri (Letitia Wright) is front and center, undoubtedly adding to speculation that she might be the new Black Panter. On Shuri's right are Nakia (Lupita Nyong'o) and M'Baku (Winston Duke), and to her left are her mother Ramonda (Angela Bassett)and Okoye (Danai Gurira). On the bottom half of the poster, representing the underwater kingdom of Atlantis, are Namor and two of his captains; to his left is Attuma (Alex Livinalli) and to his right is Namora (Mabel Cadena).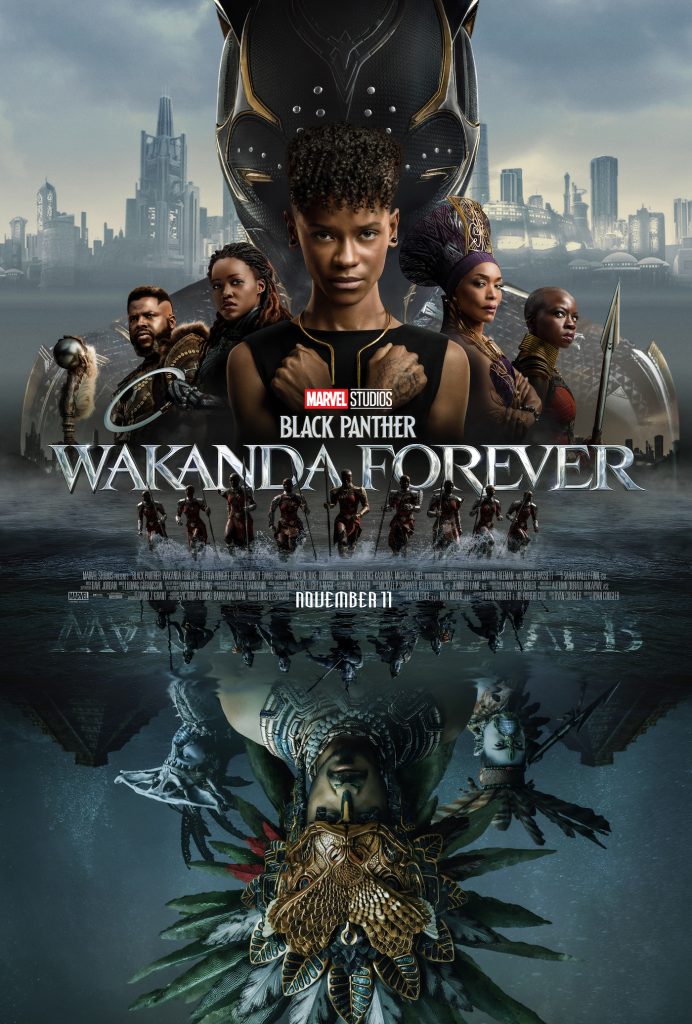 With T'Challa gone and Wakanda appearing vulnerable, Namor and his warriors will become a potentially existential threat to Wakanda. The trailer gave us a few moments of Ramonda rallying her people to show Namor and the Atlanteans who the Wakandans really were and how they fight. We also got a peek at Riri Williams in full Ironheart gear and that mysterious new Black Panther. It will take all of them to defeat Namor, whose powers make even Erik Killmonger (Michael B. Jordan) from the original Black Panther seem manageable.
The new images show Okoye showing why she's the leader of the Dora Milaje, Shuri in a burning throne room, Namor in all his underwater glory, and what the mourning ceremony in Wakanda looks like.
Check out the new images below. Black Panther: Wakanda Forever hits theaters on November 11.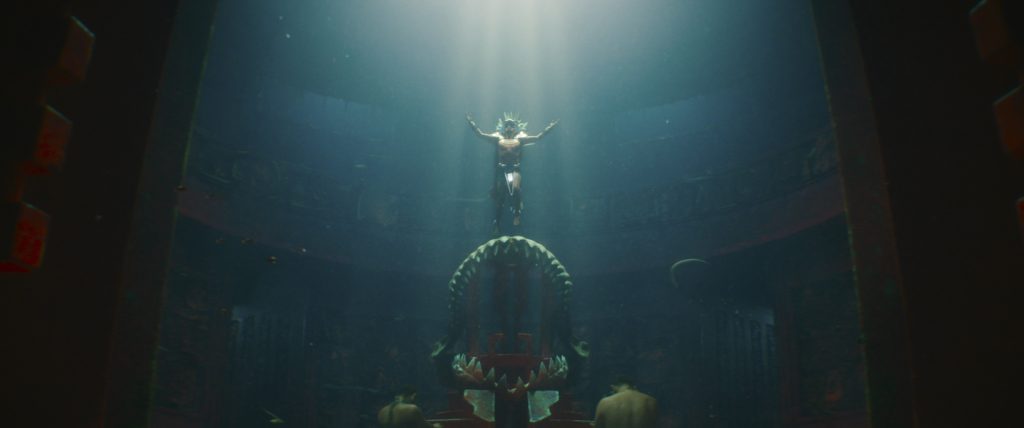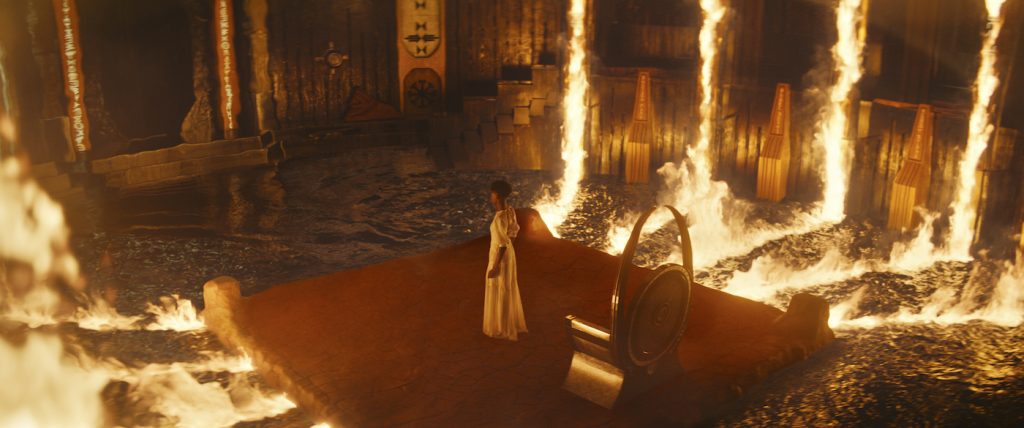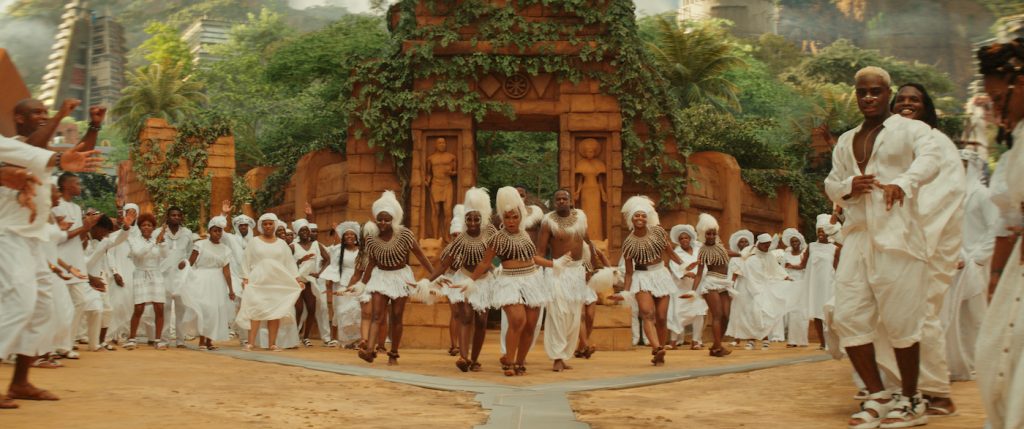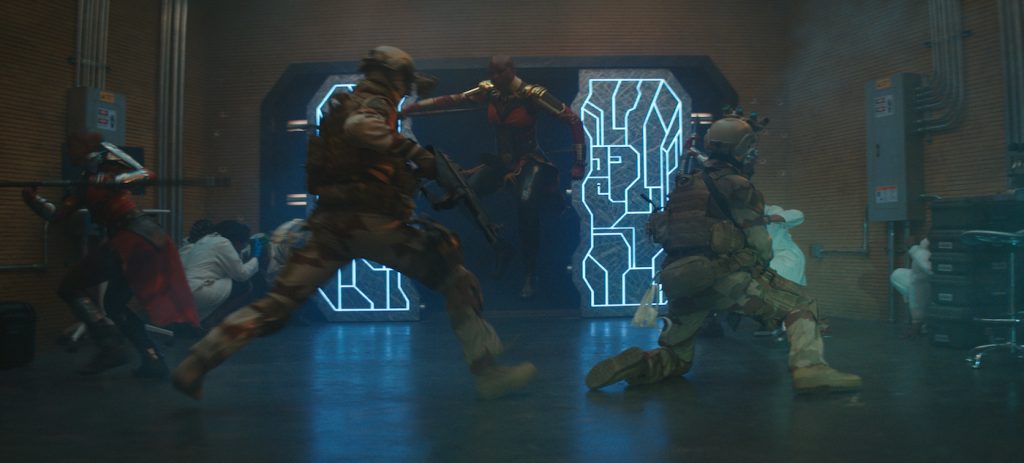 For more on Black Panther: Wakanda Forever, check out these stories:
"Black Panther: Wakanda Forever" Official Trailer Reveals a new Black Panther
"Black Panther: Wakanda Forever" Will Be One of the MCU's Longest Films
Marvel's Kevin Feige on Why They Didn't Recast T'Challa for "Black Panther: Wakanda Forever"
"Black Panther: Wakanda Forever" Reveals New Poster & New Image of the Atlanteans
"Black Panther: Wakanda Forever" Stars Winston Duke & Tenoch Huerta on the Emotional Sequel
Featured image: