Inside "The House of the Dragon" Episode 8: Farewell to the King
You knew that King Viserys wouldn't likely survive another time jump in House of the Dragon, so when we learned at the beginning of episode 8 that we'd leaped ahead another 6 years, it was bad news for the ruler of the realm. And sure enough, after seeing that Princess Rhaenyra and Queen Alicent's children are now more or less adults, we also got a look at the King. The poor man is in a dreadful state, yet the affairs of House Targaryen, and the realm, run on without his input, thanks to his dutiful Hand, Otto Hightower, and his newly pious Queen, his dear Alicent. That is, until Princess Rhaenrya, Prince Daemon, and their children arrive for some important business—you know how family reunions go with these people.
"As the years have gone by post-Alicent's outburst, Alicent's found religion as a way to redeem herself," says season one showrunner/executive producer/director Miguel Sapochnik in this week's "Inside the Episode" video. In episode 8, we learn that Alicent has begun taking seriously the new religion of the Seven Gods, which is not the Targaryen custom. It spooks Rhaenyra and Daemon to return to King's Landing, there to deal with the issue of who will take up the throne at Driftmark in the absence of Lord Corlys Velayron, aka the Sea Snake, who is missing and presumed dead. Lord Corlys' brother, Vaemond Velayron, believes he is the rightful heir to the Driftmark throne, his blood true Velaryon blood. Princess Rhaenyra believes the throne belongs to her son Lucerys. Upon arrival for this weighty business, they find their former home has been renovated with images and architecture based on the Queen's new religion.
"In the scene where Rhaenyra and Daemon return to King's Landing for the first time, they see a difference," says episode eight director Geeta Vasant Patel. "The difference is the giant seven-pointed star that's hanging in the main hallway," says Emma D'Arcy, who plays Rhaenyra. "Gaudy, if you ask me."
Gaudy and creepy. The bursts of light and Targaryen-infused erotica that were evident in the early episodes in King's Landing have been replaced with a somber palette, more befitting a monastery, as co-showrunner/producer/writer Ryan Condal says, and one that functions like a hospice in episode 8. That's because King Viserys is at the end of the line, delirious on the milk of the poppy when he's not writhing in pain, too far gone to help run the realm. Or so Queen Alicent Otto Hightower would have Rhaenyra and Daemon believe.
Because episode 8 deals with the question of who will rule Driftmark now, the decision would usually be made by the King, but in his absence or inability to decide, it would be handled by his Hand and the Queen. This means Rhaenyra must ask her enemies (unsworn but well-known) to recognize her son as the rightful heir to Driftmark. As Condal puts it in the video, this is a farce. Rhaenyra knows it, Alicent knows it, and everyone in the room knows it. Whenever Rhaenyra and Alicent are together, you almost wait for some King's Landing flutist to play a cover of Kendrick Lamar and Taylor Swift's "Bad Blood."
But as the petition gets under way, the episode's first big twist arrives. King Viserys hobbles into the throne room on his cane, barely enough strength to make it across the room. His brother Daemon has to help him to the throne (and pick up his fallen crown, no less.) This heroic effort comes the day after Rhaenyra visited him by his bedside to ask him if Aegon's vision he told her about when she was a child, the reason he said she would rule, was real or just a dream. The King didn't seem to understand Rhaenyra at the moment, but although hobbled, he's clearer than he's been in weeks (maybe months or years) in the Throne Room. King Viserys doesn't understand why there's even a petition being heard when his grandson Lucerys is, by law and custom, the heir to the Driftmark throne. When Vaemond Velayron explodes in anger, insulting Rhaenyra and calling her a whore, Prince Daemon cuts his head in half (it's the season's goriest shot by far).
The episode draws to a close with a tense dinner that the King arranges and attends—for as long as he can. He uses the last of his strength to beg his family to stop their quibbling and quarreling, if for no other reason than out of respect for an old man who loves them very dearly. For a little while, his heartfelt plea seems to work. Princess Rhaenyra raises a toast to Queen Alicent, and Alicent does so in return. There seems to be a legitimate thaw in their years-long feud. Their children aren't nearly as thoughtful, however, and soon the King needs to be carried back to his room.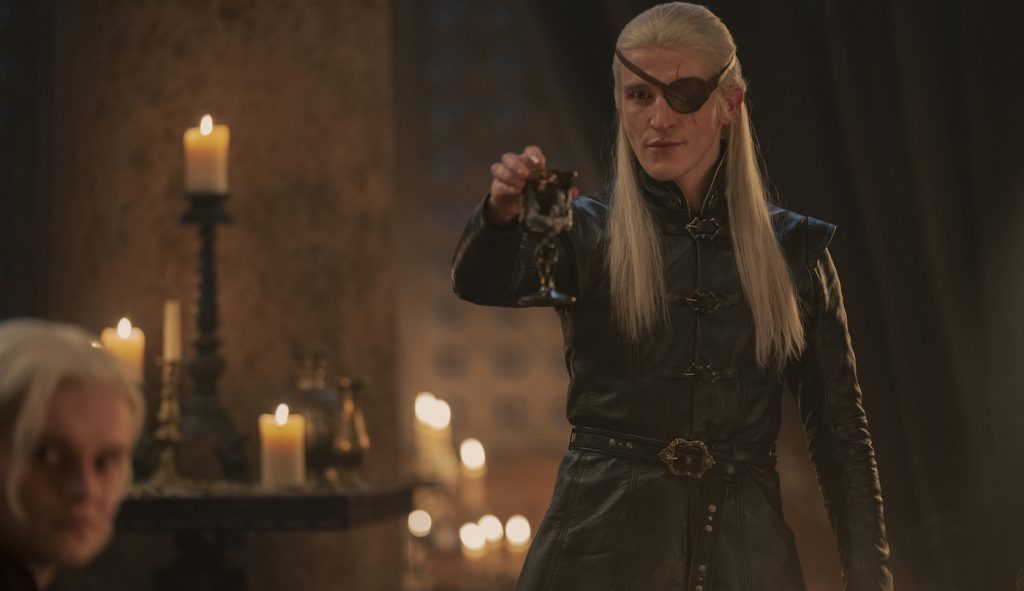 The King's time is up. As he's dying, he tells Alicent (who he clearly thinks is his daughter Rhaenyra) that, yes, Aegon had a real vision about a "prince that was promised" to save the realm from darkness. Only now he realizes the prince is "you," a princess, his daughter. Alicent was confused for a bit but, by the end, seemed to have made some sense of her dying husband's words. Has she realized Princess Rhaenyra crept into their bed chamber late at night before the King surprised everyone and showed up at the petition? Only time will tell, and in House of the Dragon, time is a fluid thing indeed, with years slipping by in mere days. It seems safe to say that in the future, the Queen and the Princess will resume their battle.
Check out the "Inside the Episode" video here:
For more on House of the Dragon, check out these stories:
An Eye For an Eye: Inside "House of the Dragon" Episode 7
Inside "House of the Dragon" Episode 6
"House of the Dragon" Episode 6 Trailer Introduces Older Princess Rhaenyra & Queen Alicent
Inside the Cursed Wedding in "House of the Dragon" Episode 5
Featured image: Paddy Considine in "House of the Dragon." Photograph by Ollie Upton / HBO