"House of the Dragon" Costume Designer Jany Temime's Deadly Elegance
French costume designer Jany Temime has outfitted plenty of iconic characters, including Harry Potter (Harry Potter and the Half-Blood Prince), James Bond (Spectre), and Marvel's Black Widow. But in terms of sheer scale, none of those feature-length films can match the ten-hour introduction to House of the Dragon, which just had its season finale on HBO Max. In this Game of Thrones prequel, a huge ensemble cast dramatizes a decades-long power struggle among three murderous, spectacularly dressed clans. 
Temime, who worked on the project for nearly a year and a half, says, "I started designing the series thinking: 'Okay, it's about a bunch of houses. They hate each other. They're powerful people who want to be the biggest, the strongest, and they'll kill each other to get that.' House of the Dragon happened many centuries ago, but if you think about it, this could happen now. If it weren't dragons, it would be something else."
Speaking from Italy, where she's working on a new series from director Alfonso Cuarón, Temime reveals the colors, cuts, and symbology behind the magisterial clothes worn by House of the Dragon's noble schemers.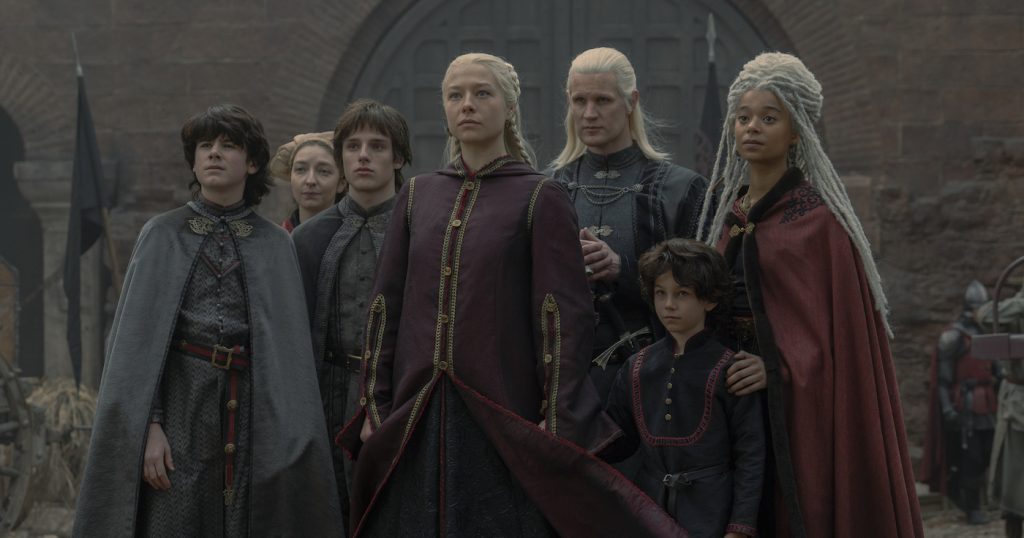 How did you wrap your head around the epic size of this project? 
You will be laughing, but I was pretty much on my own in the south of France in my house during the confinement when I designed the show. I'd work during the daytime, send this artist in L.A. my sketches, and the next day I'd look at his renderings, make my corrections and send them back. I had Zoom meetings with [showrunners] Ryan [Condal] and Miguel [Sapochnik] every week or two just to show them what I was doing. I also had the [Fire & Blood] book [by George R.R. Martin], which helped me a lot because I knew the direction I was going in.
It must have been exciting to design for the Queen, Alicent Hightower, and the princess, Rhaenyra Targaryen.
I thought those two women were absolutely wonderful. I mean, horrible and wonderful, always making kids to get more and more people who could take the power. Their instinct to survive is on such a high level—it was fascinating for me to design the evolution of those characters.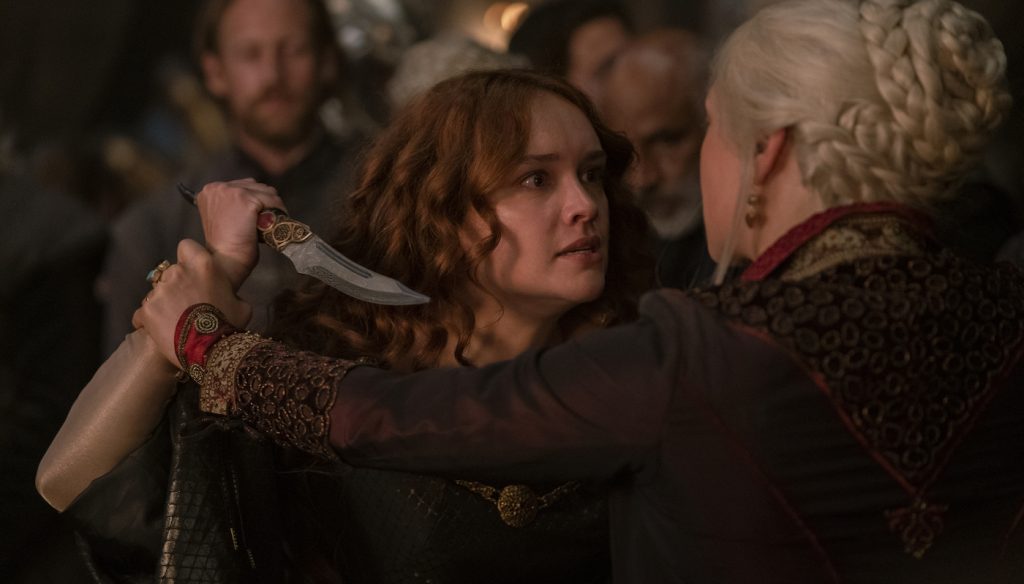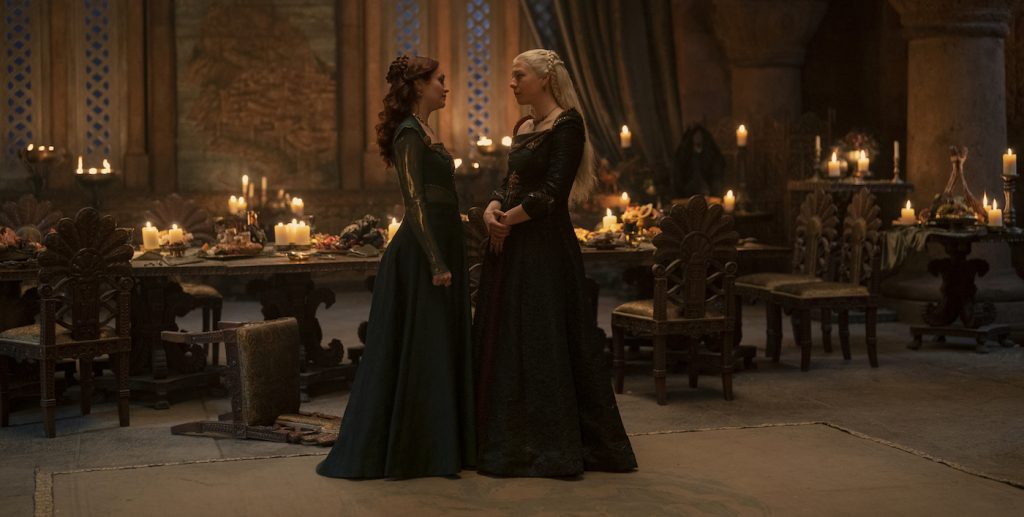 Because of time jumps, two actresses— Milly Alcock and Emma D'Arcy —portrayed Rhaenyra. Did that help or hinder you?
The change of cast was very helpful because I design from stature. Starting Rhaenyra with Milly, she has a tiny body and moves really well, and has a funny innocence, so I designed for that. Her Rhaenyra at the beginning is all fresh and cute and young.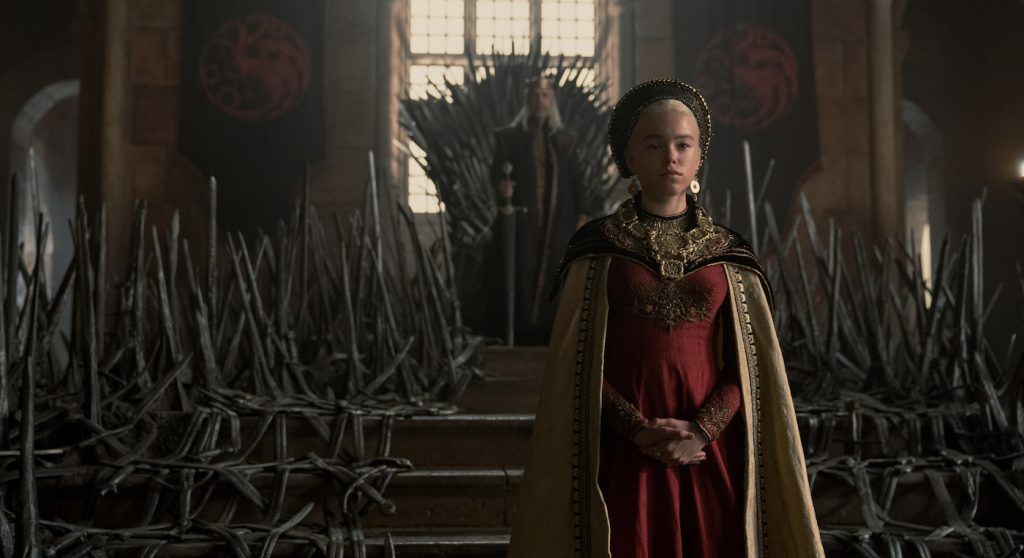 Suddenly I have Emma D'arcy, a completely different personality, much more powerful and serious. And her body is different. She's not a girl, she's a woman. From the moment Rheyneras started having kids, I put the waist higher and put a pleat in the front because she's always either pregnant or she's just had a baby.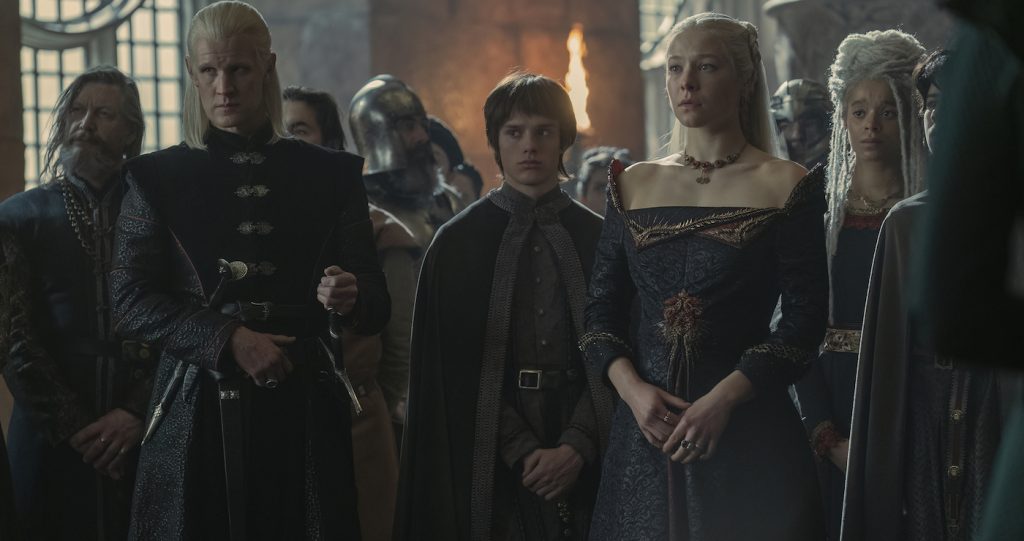 Rhaenyra's childhood friend-turned-adversary also changes her look over time, going from Young Alicent Hightower (Emily Carey) to Mature Alicent (Olivia Cooke), Queen of House Targaryen, whose colors are black and red. How did you express her journey through the costumes?
In the beginning, Alicent Hightower is a good girl, so she's going to wear the dress of her mom. The color of House Hightower is green, so her dress is green. She's always trying to please people, so when she marries the king, she wears red and black dresses.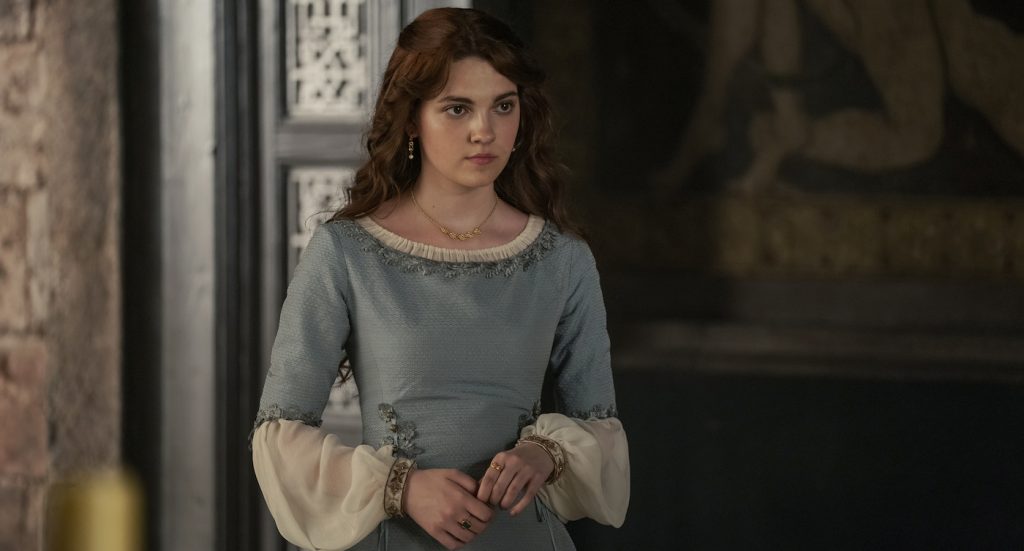 But eventually, she says, "You know what? F*ck it. I don't want to be this little queen who says yes to everybody." When Alicent really becomes herself, she appears in this green dress. I wanted it to look magnificent when she walks in, so I gave her this train made of chiffon to give her movement power and a certain sexiness.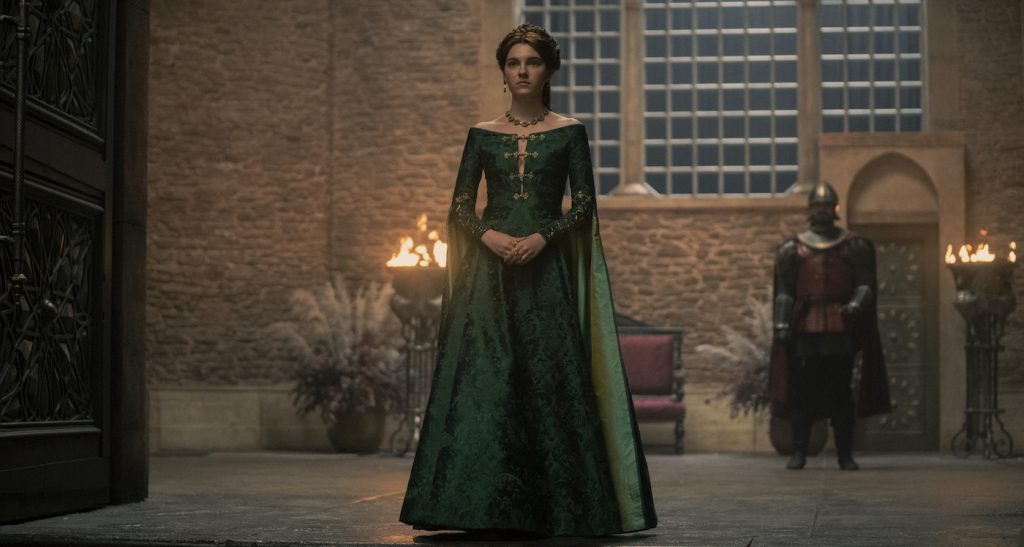 How did you modify Alicent's look as she grows more powerful and politically savvy?
Alicent becomes more covered up so that by the end, it's a high neck. She also becomes a woman of the church, whatever that church is, so you see the seven-pointed star. But I always use silk and brocade. I love silk. First, it's shiny, and I knew the cinematography would be quite dark, so we'd have more chances for her dresses to be seen if they were shiny silk.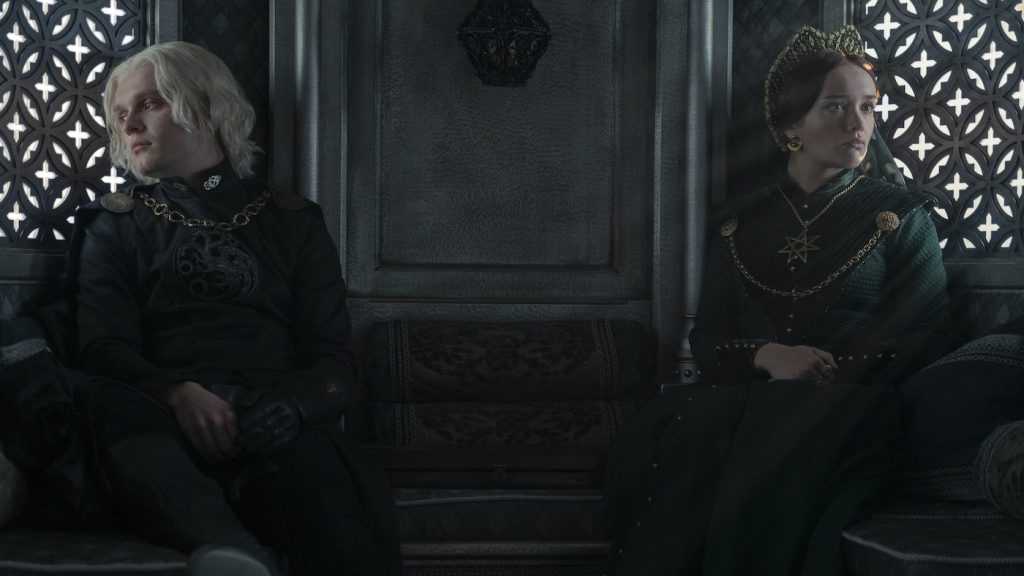 For all these characters, the richness of the fabric sells the idea that these are wealthy, powerful people who really know how to dress.
Well, I know how to dress, but they don't. [laughter]. I must say all the actors loved their costumes.
Paddy Considine, as King Viserys Targaryen, experiences the most extreme physical change through the course of the season. How did you visualize his disintegration? 
Well, he was slowing down. When I started working on it, I designed the king's first costume and his last costume. I said to Paddy, "We start here, and we finish there, and now we have to find the in-between." And he loved that.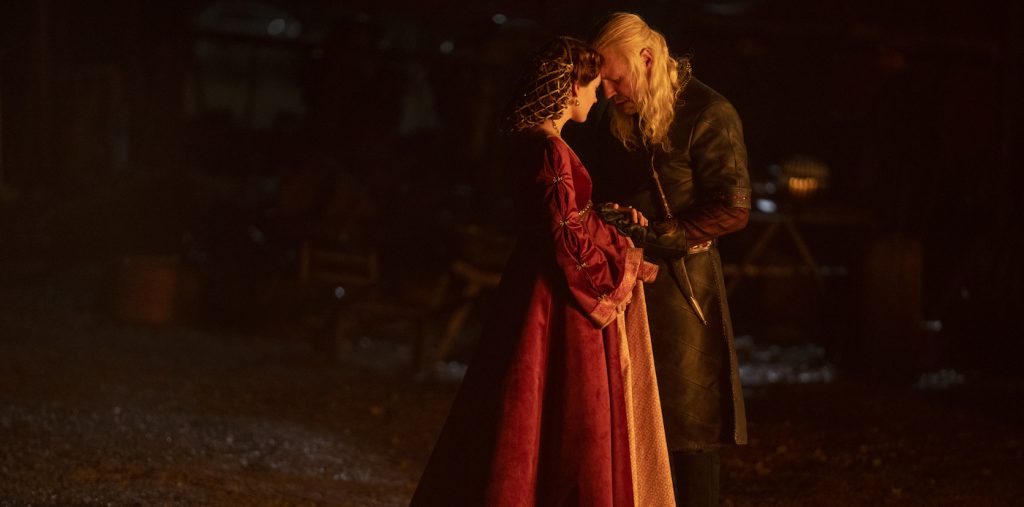 What was your starting point for "young" King Viserys?
For his first costume, I had a shape in my mind, which was a short dress, a tunic to the knee, and on top of that, a sleeveless long coat. Later I gave sleeves to the long coat to cover his arm, which he's losing. When you're the king, and you lose one arm, you're not going to walk around with a false arm. As he gets ages, I gave Viserys a little padding to round the back and more pleat in the tunic, so it has more volume. Little by little, you see the body of an older man.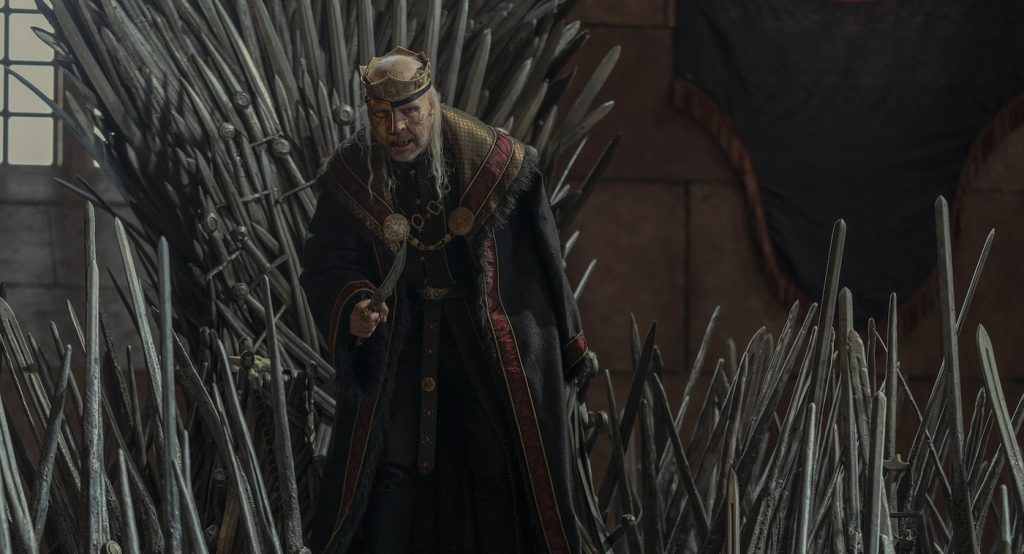 In his final scenes, the dying king looks both eerie and magnificent in a devastating kind of way. How did that phase of his life come together?
Well, Paddy's an amazing actor. He changes the way he walks. And he's wearing that mask to cover the decay because his face is gone. I had in my mind this film The Death of Louis XIV, starring Jean-Pierre Leaud. It's about Louis XIV getting old and decrepit so they keep putting on more makeup, more rouge, more gold. I showed that film to Paddy. I wanted him to look almost like a statue at the end.
Daemon, the King's brother, played by Matt Smith, cuts such a dashing figure.
Matt Smith said to me, "I want to have pockets." I said, "No you won't have pockets. They didn't even have pockets." He says, "What will I do with my hands?" I say, "You put your hand on your sword; that's what you do!" Matt goes, "Please give me pockets." I said, "No, if you start walking around with your hands in your pockets, then we are no longer in the 12th century or 10th century or wherever century. You will look like a guy sitting in a pub." Daemon's my favorite, so elegant, and Matt Smith wears his costume brilliantly.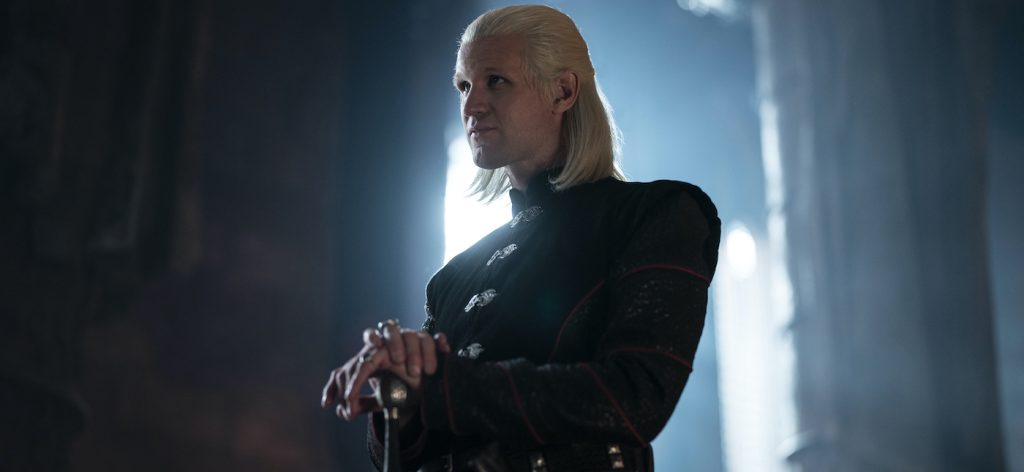 The colors for House Tageryan are black and red. House Hightower is green. So House Velaryon of Driftmark must have their own color palette?
They are sea people, so the colors of Corlys Velaryon's [Steve Toussaint] house are grey and grey-blue. His wife, Rhaenys Targaryen [Eve Best], wears the grey and blue colors of her husband most of the time, but when she goes to family things, she's a Targaryen [wearing] red and black.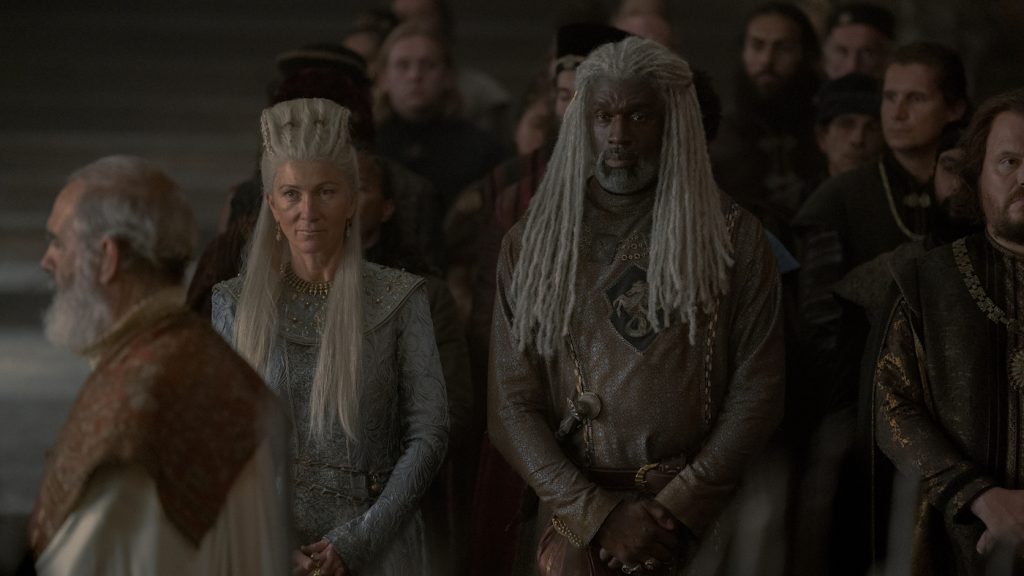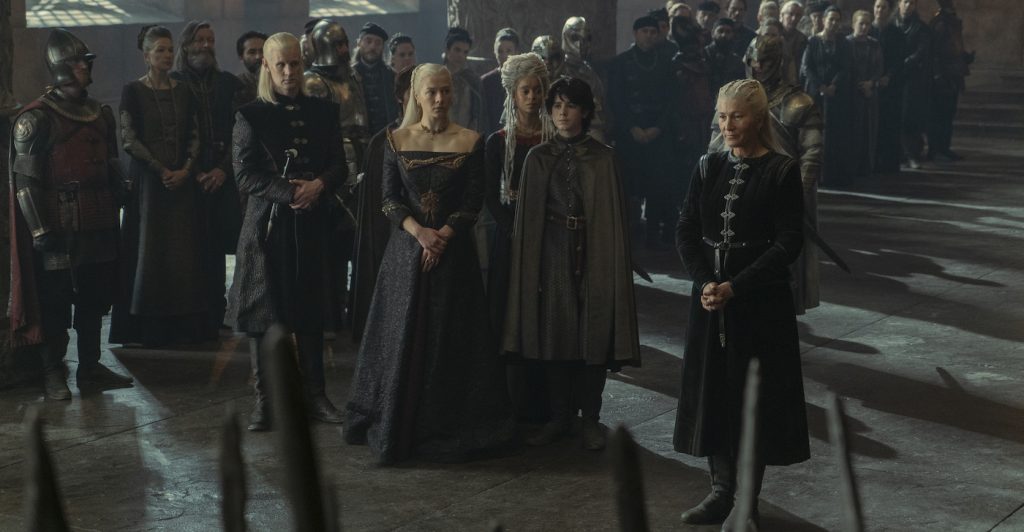 Your costumes incorporate a lot of subtle details. You must have enjoyed embedding House Targaryen clothing with dragon symbols. 
There should be a game, "Look for the dragons," because there isn't a single [Targaryen] costume where you won't find a dragon somewhere in the weaving or the jewelry or the buttons. They want to show dragons because this is their power. The little hooks on Rhaenyra's dragon-riding outfit are actually dragon legs. If you look closely at the embroidery on Visery's coat, it's full of dragons made by this artist I work with who really gets in the zone. It took her six months, but in the end, you get an incredible result.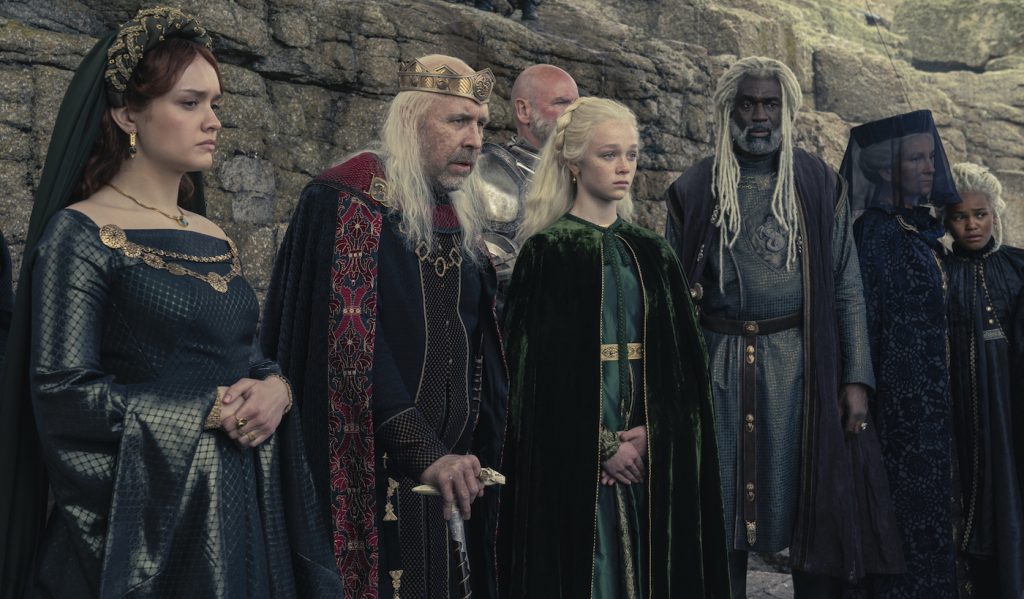 You designed the costumes by yourself, but how big was the team that brought these outfits to life?
We were, at maximum, about 150. I had three cutters; 25 people for the armor, because that's handwork; then I had a department of 20 people breaking down, aging, and printing; 15 people sewing; three people embroidering; two or three leather makers, two fabric buyers, three assistants, and tailors and all the people fitting the costumes on set. But the core team was quite tight. If things get too complicated, I start to lose a little bit of concentration, you know what I mean? 
You're in Italy now working on a new show, so no more House of the Dragon for you? 
I'm not doing the second year because I'm working with Alfonso Cuarón now, but I really did want to define the looks that become the style for House of the Dragon. The trick I used is that I didn't design the costumes [in linear order] one, two, three, four. I designed a journey. All of these characters had journeys, and I had to define what that was for each of them.
For more on House of the Dragon, check out these stories:
Inside "The House of the Dragon" Episode 8: Farewell to the King
An Eye For an Eye: Inside "House of the Dragon" Episode 7
Inside "House of the Dragon" Episode 6
Featured image: Matt Smith and Emma D'Arcy. Photograph by Ollie Upton / HBO