"Black Panther: Wakanda Forever": A Closer Look at the New Black Panther
At the end of the official trailer for co-writer/director Ryan Coogler's Black Panther: Wakanda Forever, there's a jaw-dropping moment when a new Black Panther arrives on the scene. While her identity remains a mystery, it is clear that this new person in a uniquely stylized Black Panther super-suit is a woman, and now, thanks to the character's reveal, one of the pressing questions going into a film with a bunch of them will be, "who is she?"
Marvel Studios has given us this much closer glimpse, pictured above, of the mysterious protector in question. A closer look at the super-suit reveals a richly detailed, updated take on both the iconic suit worn by T'Challa (the late Chadwick Boseman) and the gold-inlaid version worn by his nemesis, Erik Killmonger (Michael B. Jordan) in the original Black Panther  Let's do a little side-by-side-by-side comparison, shall we?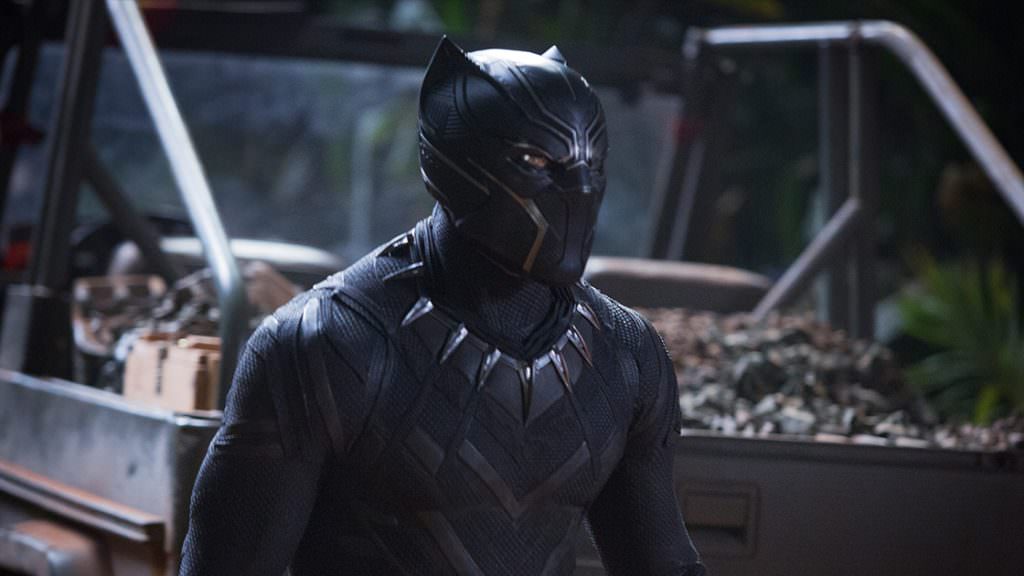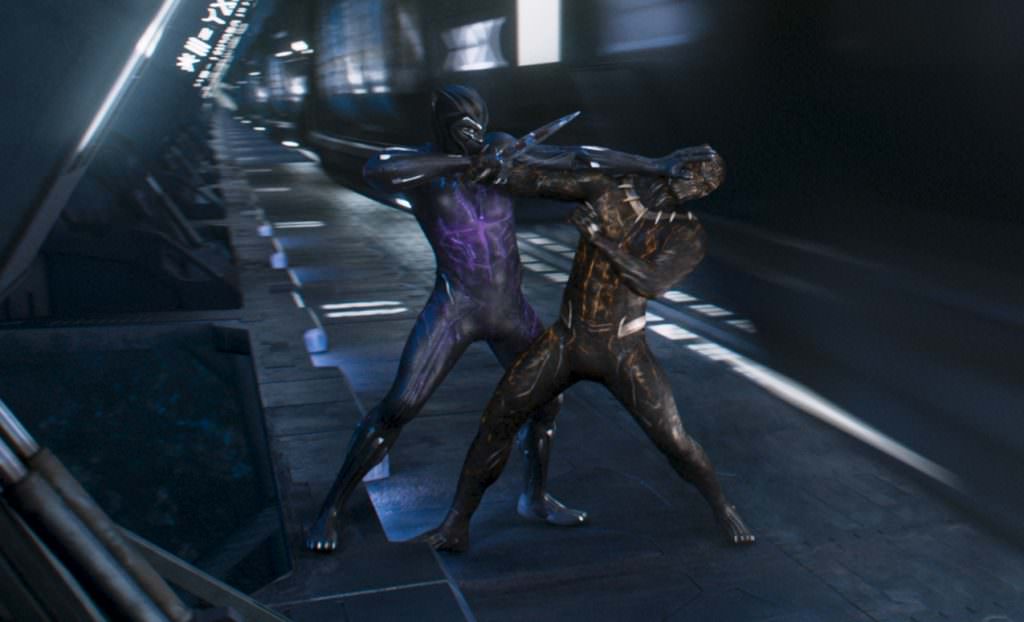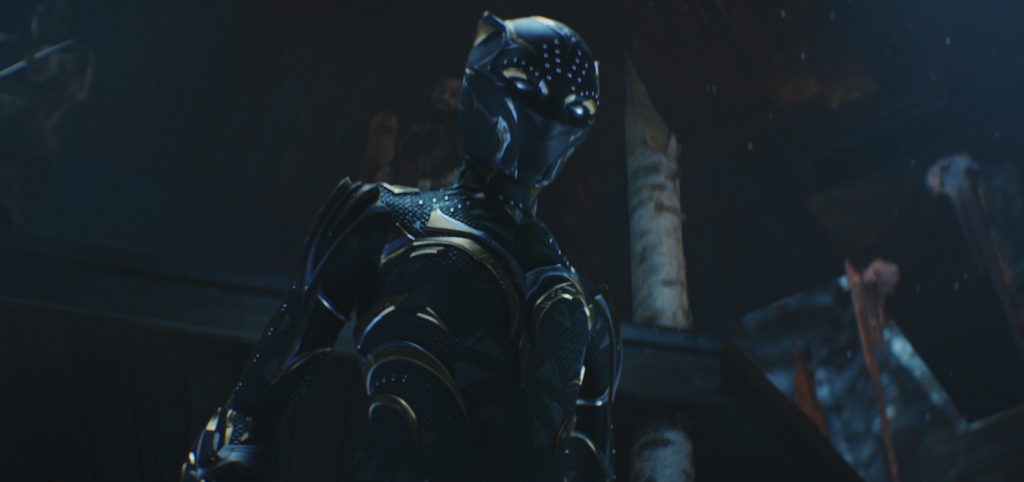 There are a few striking departures in the new Black Panther super-suit for Wakanda Forever. The most notable are the more pronounced patterns on the mask (especially the beading on the forehead), the plating on the chest and along the ribcage, and the raised plating on the shoulders. Then there's the color scheme, with our new mysterious Black Panther appearing to adopt both T'Challa (Boseman)'s blue undertones and some of Killmonger's gold inlay. The new suit is, in fact, stunning, and we're guessing it has some seriously upgraded technology considering it's been a few years, and the creator of the original suit, T'Challa's sister Shuri (Letitia Wright), has only grown more determined to make the suit even more powerful.
Is Shuri the new Black Panther? After her central positioning on the new poster Marvel revealed, it feels like Marvel might want us to think so. And considering her abundant gifts in the science and technology realms, it would make a tremendous amount of sense. The two other most obvious choices would be Lupita Nyong'o's Nakia, a gifted spy and fighter, and Danai Gurira's Okoye, the leader of the Dora Milaje and arguably the best fighter in Wakanda next to the fallen T'Challa. There's also the possibility the wearer of the suit changes, or that there are more than one suit and more than one Black Panther. It's the type of solution a gifted filmmaker like Coogler might find appealing—the notion that all of Wakanda is, in essence, Black Panther.
Whoever the new Black Panther is, Wakanda needs her. Namor (Tenoch Huerta) will be a formidable foe, an almost god-like superhero with tremendous powers, including flight, the ability to breathe underwater (and speak to aquatic life), and colossal strength. As the ruler of Atlantis and the leader of a ferocious army, Namor will present a huge challenge to a nation in mourning over the loss of their king.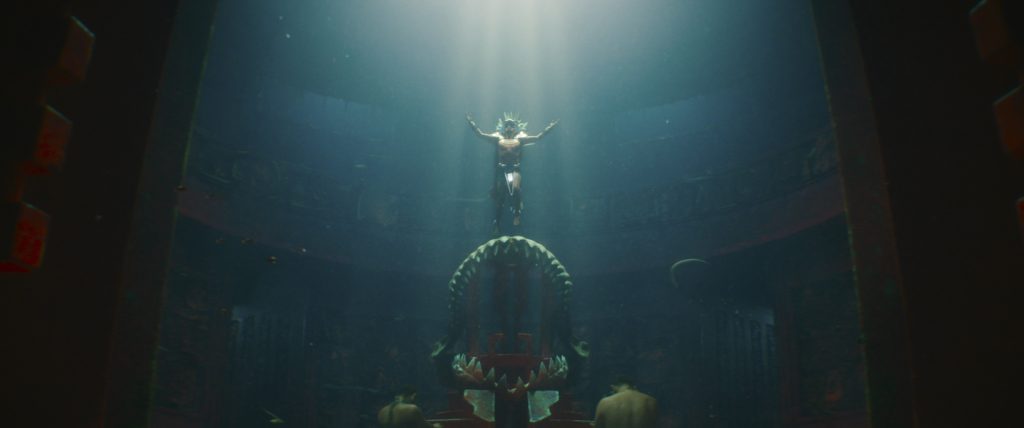 Yet Namor is not your typical villain. He doesn't appear to seek to ruin Wakanda for territorial gain or a sadistic, Thanos-like desire to make the world submit to his notions of justice. He's been a villain, hero, and anti-hero in the comics, one who has both fought with and against T'Challa. He's steeped in specific traditions and history (based largely on Mayan culture) and is a King of his own people. And the man who plays Namor, Tenoch Huerta, has hinted in the past that he's not the real villain of Wakanda Forever.
Add all of this to the fact that Wakanda Forever will be a film that looks squarely at loss after the death of Chadwick Boseman in 2020 and how loss shapes individuals, people, and a nation. Namor says in the new trailer, "Only the most broken people can be great leaders," a message that Ramonda (Angela Bassett) must take to heart, considering she's just lost her son.
With a mysterious woman—or women—taking on the Black Panther mantle, a supposed villain in Namor who is a more complex, richer character with a deep history in both Marvel comics and in the way he was conceived by Coogler, his co-writer Joe Cole, and the Wakanda Forever creative team, and a story taking place in the shadow of the tragic loss of Boseman, it's safe to say this won't be quite like any MCU film before it. What it will be, without question, is one of the biggest films of the year.
Black Panther: Wakanda Forever hits theaters on November 11.
For more on Black Panther: Wakanda Forever, check out these stories:
"Black Panther: Wakanda Forever" Official Trailer Reveals a new Black Panther
New "Black Panther: Wakanda Forever" Images Reveal Villain Namor & More
"Black Panther: Wakanda Forever" Will Be One of the MCU's Longest Films
Marvel's Kevin Feige on Why They Didn't Recast T'Challa for "Black Panther: Wakanda Forever"
Featured image: A scene from Marvel Studios' Black Panther: Wakanda Forever. Photo courtesy of Marvel Studios. © 2022 MARVEL.