"Captain America: New World Order" Reveals Cast at Disney's D23
There were Marvel Cinematic Universe announcements aplenty at Disney's D23 this past weekend, and one of the most significant was the reveal of some of the headliners in Captain America: New World Order, the first feature film to star Anthony Mackie as the new Cap.
Joining Mackie is Tim Blake Nelson, returning to the MCU after he appeared in 2008's Incredible Hulk, now playing The Leader. Carl Lumbly returns as the original super soldier Isaiah Bradley after his emotional, series-shifting turn in The Falcon and the Winder Soldier, the series that showed Mackie's Sam Wilson at first rejecting, and finally accepting, the mantle of Captain America. Danny Ramirez will also reprise his The Falcon and the Winter Soldier role as Joaquin Torres, while Shira Haas marks her debut as the Israeli hero Sabra.
The road for Mackie from being Captain America's right-hand man to Captain America himself has been a long one. It began nearly a decade ago when Mackie began filming his scenes as Sam Wilson in Captain America: The Winter Soldier (2014), revealing his flying superhero alter ego, The Falcon. Sam/The Falcon became a huge part of Cap's life and the larger MCU, featuring prominently in Captain America: Civil War (2016), Avengers: Infinity War (2018), and Avengers: Endgame (2019). It was during the bittersweet finale of Endgame that the world learned that Steve Rogers was retiring as Captain America and handing the shield over to his friend and trusted ally, Sam Wilson. Yet before Mackie would appear in his own stand-alone feature as Cap, he had his trial-by-fire in The Falcon and the Winter Soldier, Marvel's most action-packed, feature-sized series yet.
During the run of The Falcon and the Winter Soldier, we spoke to series creator Malcolm Spellman about creating Sam's long journey to accepting the shield. Spellman teased the bigger things ahead in the feature film he was then writing with co-writer Dalan Musson. Now, that script is done, and the film is one step closer to reality, with Julius Onah on board as director, the cast coming together, and a release date of May 3, 2024.
Needless to say, we're excited about the Anthony Mackie era of Captain America.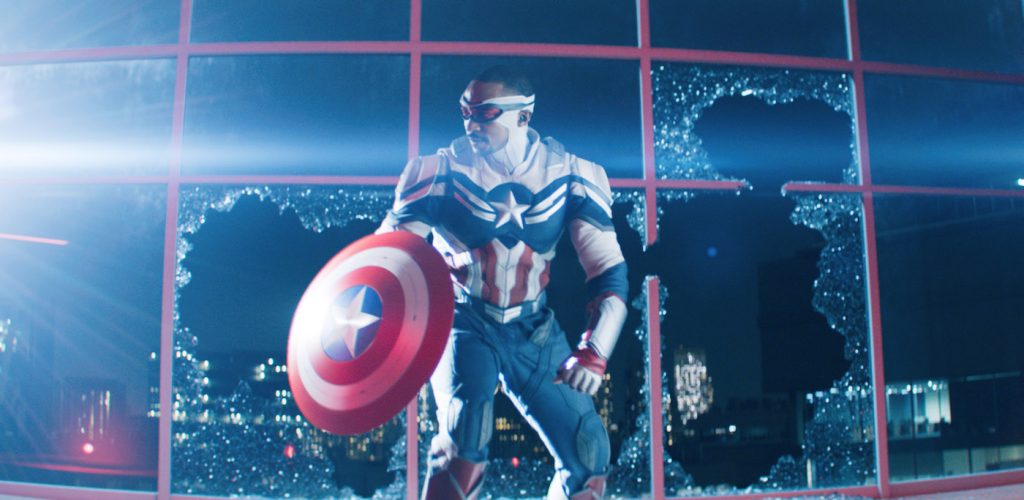 For more stories on all things Marvel Studios, check these out:
Marvel Reveals "Secret Invasion" Trailer Led by Samuel L. Jackson's Nick Fury
"Thor: Love and Thunder " Costume Designer Mayes C. Rubeo on Dressing Gods & Goddesses
"Thor: Love and Thunder" Casting Director Sarah Finn on Picking Stars for the Marvel Cinematic Universe
"She-Hulk: Attorney At Law" Early Reactions Call Tatiana Maslany a Super Addition to the MCU
Watch "She-Hulk: Attorney at Law" Star Jameela Jamil Become Supervillain Titania
New "Black Panther: Wakanda Forever" Images + Synopsis Reveal Villain Namor
Featured image: Falcon/Sam Wilson (Anthony Mackie) in Marvel Studios' THE FALCON AND THE WINTER SOLDIER exclusively on Disney+. Photo by Chuck Zlotnick. ©Marvel Studios 2021. All Rights Reserved.