Best of Summer: "Thor: Love and Thunder " Costume Designer Mayes C. Rubeo on Dressing Gods & Goddesses
As we've done for the past few summers, we've compiled a few of our favorite interviews to highlight in this last week of August. This is by no means a comprehensive list, but a little taste of some of the great conversations we've had during these hot summer months. Bring on sweater season. 
Thor: Love and Thunder has scored the biggest Thor opening yet, proving MCU fans are loving writer/director Taika Waititi's romantic comedy space adventure. The film reunites Thor (Chris Hemsworth) and his ex-girlfriend Jane Foster (Natalie Portman), who has become the Mighty Thor. They fight to stop Gorr the God Butcher (Christian Bale) from killing all the gods and goddesses of the universe. 
Essential to capturing the essence of Waititi's aesthetic is the bright explosion of color represented in every aspect of the project, and that extends to the costumes created by designer Mayes C. Rubeo. An Emmy winner for her costume designs on WandaVision and well-versed in the world of Thor from her work on Ragnarok, Rubeo is no stranger to the Marvel Universe. She is also a frequent collaborator with Waititi, garnering an Oscar nom for her inspired costumes in his Jojo Rabbit. For Thor: Love and Thunder, Rubeo found inspiration from Waititi's endless energy and joyful approach to filmmaking, finding ways of creating looks lesser artists would find impossible. We spoke to Rubeo about some of the more challenging costumes audiences see in Love and Thunder, and how she sees herself as a facilitator in collaborating with the actors to help them build their characters. 
Chris Hemsworth has 25 costumes in Love and Thunder. The 80s biker look is especially wonderful and full of color. 
That 80s costume was based on Big Trouble in Little China, which is a movie that we all loved. There's no better person on the planet to rock that kind of look than Chris. He worked so much on his physique to really be the strongest, the biggest Thor ever. That demanded an incredible amount of discipline, but he's a wonderful artist and takes all aspects of his job seriously. Taika is a person of color, and he loves his life to be full of color.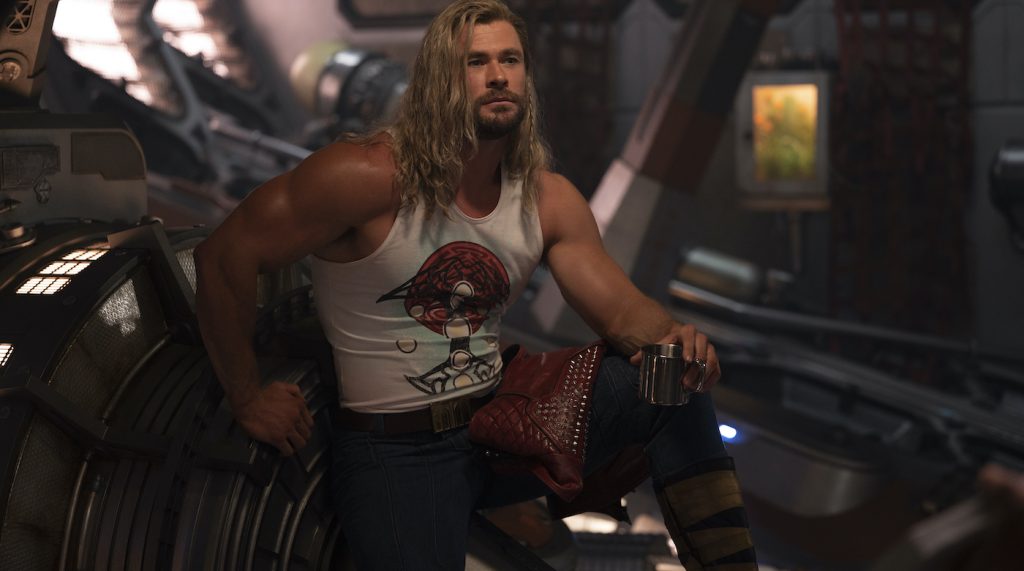 All those costumes have to be inspiring in terms of getting into character. 
Yes, but a costume designer is only an accessory to help actors find their character. We are just like a lantern on the way for them to help find their complete character. It's complex and it is an integral collaboration. 
Speaking of collaboration, the Mighty Thor costume looks so powerful, it seems like it would give Jane strength. How did you work with Natalie Portman, and what were some of the considerations for that costume?
If you notice, every time that Jane is the Mighty Thor, even her muscles are bigger, and she stands taller and has a different posture and is stronger. That is Natalie's work as an actor, and also that wonderful costume. In Marvel visual development there is a group of fantastic artists that is led by visual development supervisor Andy Park, a wonderful illustrator. There were very smart lines that I had to follow in order to build this costume. That was great, because in reality Natalie is very slight and is not a tall woman, and she has a stuntwoman also working in the action scenes. To do her superhero costume we needed 10 sets because we had all the principal costumes and then those for the stuntwoman, who was much bigger than her, for the long shots. It had to not only look good but also be good for the action, including wire work or being catapulted or fighting, that's all the technical issues that have to be considered.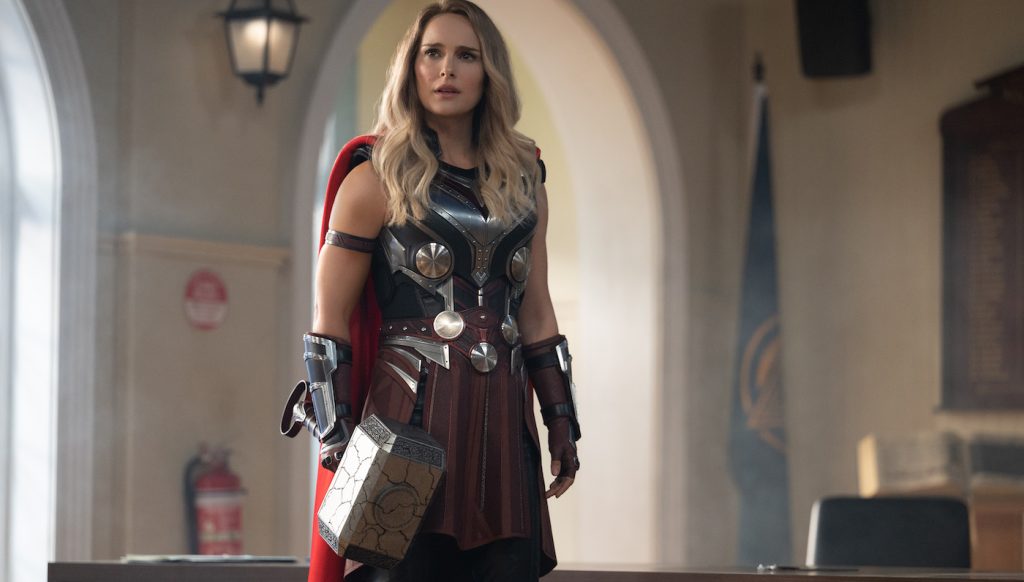 All her costumes were vegan, as well, right?
That was very important, but not a problem. There are so many articles that you can find in vegan material. She is vegan and good for her, but there are also so many other people in the world that are, so there are more and more textiles and brands available. There is leather that comes from cactus. Imagine that! It's from agave, and it's amazing because it looks just like leather. It was also good and challenging for me to exercise that, to get to know so many sources for vegan clothing and textiles.
The draping on Christian Bale's costume as Gorr the God Butcher is modeled after statues and is actually quite complicated as a design. It's white, which is a color used in mourning in ancient times. It also looks like a funeral shroud, which is powerful symbol around his lack of joy and his bleak hopelessness. 
There were many conversations about Gorr, especially with me and Taika. We did so many sketches, but also Taika decided he wanted him in white. He wanted to portray Gorr in an archaic and ancient way, and how ancient people mourned. He had lost his daughter, so all the color had gone out of his life. This is a metamorphosis that happens to many people who are in great pain in their lives, a sort of in-between place where none of the colors of life exists. Christian embraced it all.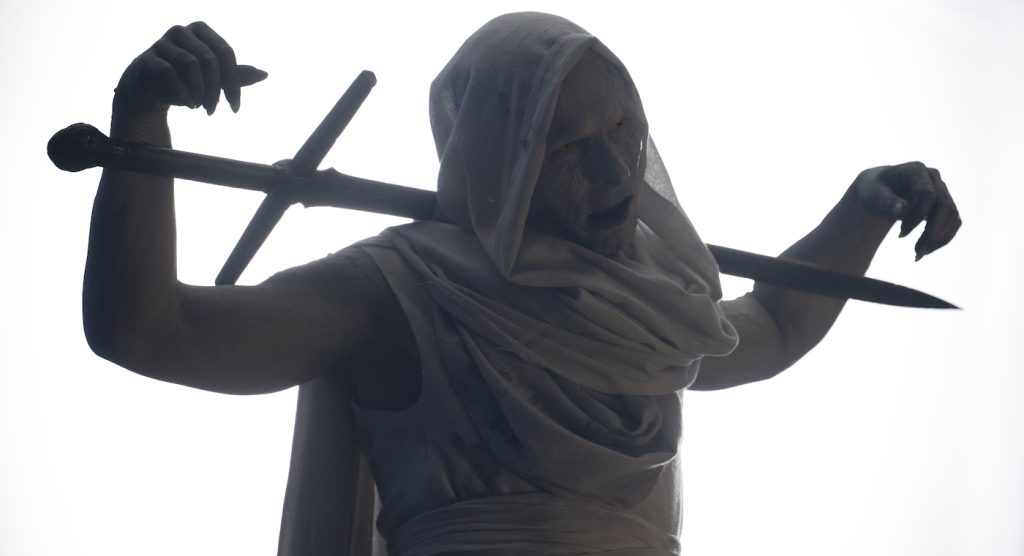 The costumes in Omnipotence City are so extravagant and opulent and just an orgy of color. They must have been a huge challenge. 
I love to talk about Omnipotence City! I gave Taika some ideas about what gods could be there. My pitch was 'why don't we represent every god by how it is represented in every religion?' You may have an alabaster or terra cotta god, or an Aztec warrior made of turquoise inlay. We had a Mayan god, and got the smallest man in Australia and created a costume that was made all of clay like it was a Mayan idol, but then Taika extrapolated that and made him a giant. I also made sure everything was balanced in this world, with an equal number of male and female gods. Anytime I can, I'll do that, put things in balance. We had a Lady of Elche, which is an anthropological find in the Iberian Peninsula, and we made an orange costume with wheels at the ears. So many very original costumes and even some that didn't make the cut, and we made them all.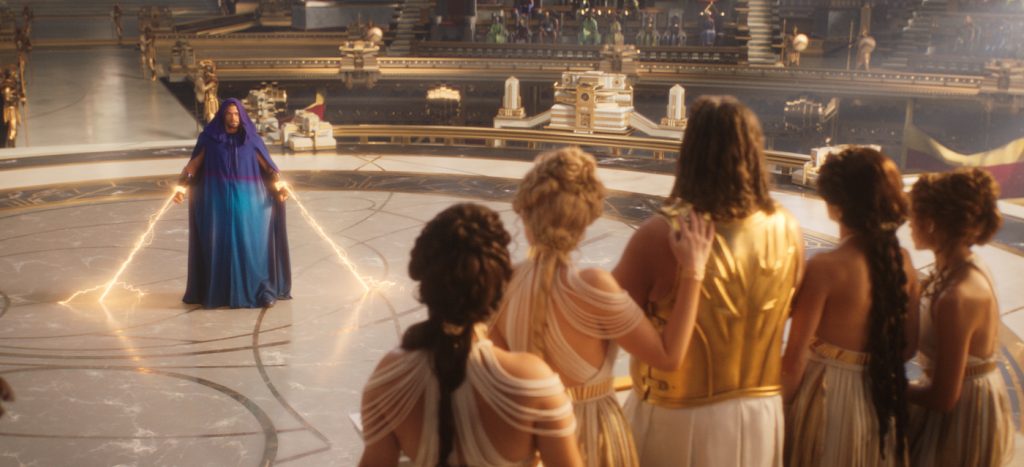 What is one challenging costume you're very proud of that viewers can seek out in the film? 
For the Omnipotence City scene, I did a god costume that had to be all in turquoise, in broken pieces like a mosaic. We actually made a digital print of the inlaid turquoise, with all the nuances in colors, and made a body suit for this actor, and then the makeup artists matched it for his face. His headpiece was a 3D piece with elements to look like solid gold, and then I personally put all the feathers in that. It is seen onscreen for about 2 seconds, but I was very proud of it. It was challenging, but I just loved it. Everything about this project was fun. 
 Thor: Love and Thunder is in theaters now.
For more on Thor: Love and Thunder, check out these stories:
"Thor: Love and Thunder" Hammers Out Franchise-Best Opening Weekend
The Simple Solution to Making Natalie Portman 6 Feet Tall in "Thor: Love and Thunder"
Critics Call "Thor: Love and Thunder" a Heartfelt Epic With a Marvelous Villain
 Featured image: Chris Hemsworth as Thor in Marvel Studios' THOR: LOVE AND THUNDER. Photo courtesy of Marvel Studios. ©Marvel Studios 2022. All Rights Reserved.