Critics Call "Thor: Love and Thunder" a Heartfelt Epic With a Marvelous Villain
Epic guitar riffs from Guns N Roses? Check. Even more insanity than Thor: Ragnarok? Check again. A full-throated cosmic adventure that pivots from gleeful lunacy to heartfelt emotions? Check and check. One of the best villains in any recent Marvel film? A final check. Co-writer and director Taika Waititi has been roundly praised for breathing new life into the Thor franchise in his first go-round with Ragnarok back in 2017, and now, with Love and Thunder, he went bigger, bolder, and with more heart. And for the most part, critics are enamored with the results.
A quick explainer on the plot for Love and Thunder before we move onto the reviews. Thor (Chris Hemsworth, naturally) has grown a bit tired of the superhero life, and as Love and Thunder begins, he's on a vision quest of sorts to find some inner peace. This plan will, of course, get thrown way off track when a new supervillain named Gorr the God Butcher (a having-the-time-of-his-life Christian Bale) shows up intent on taking out all the gods and goddesses in the universe. That will include the God of Thunder, who turns to some trusted friends to help him beat the new big bad. Those friends include Valkryie (Tessa Thompson), Korg (Waititi), the Guardians of the Galaxy, and the most important "new" addition—Jane Foster (Natalie Portman.) We had to put "new" in quotes because as you Thor scholars know, Portman's Jane Foster was in the first two films in the franchise as Thor's love interest. Now she's back, only she's a changed woman. Meet Mighty Thor, capable of wielding the magical hammer Mjolnir and nobody's shrinking violet.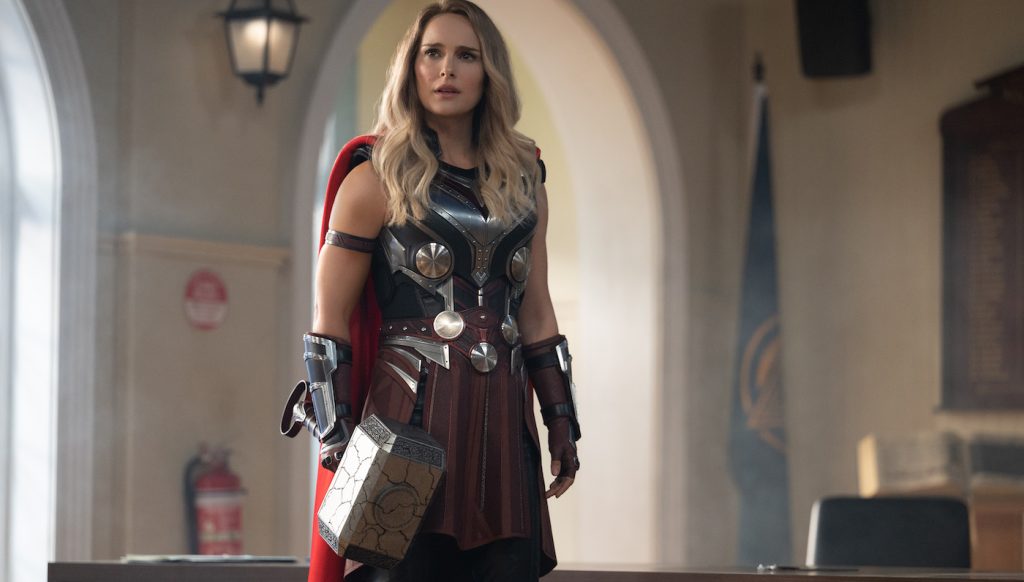 Now that you're up to speed on the bare-bones plot outline, let's have a stroll through those reviews, shall we?
Brian Truitt of the USA Today writes that the film is "a superhero romantic comedy with plenty of rippling biceps, an unshakable love for 1980s action movies and heavy metal, and most importantly, a big goofy heart."
Thor: Love and Thunder is a super-fun superhero romantic comedy with magic, music, muscle and surprising depth. (I dug it.) https://t.co/OfTTahC9t8

— Brian Truitt (@briantruitt) July 5, 2022
The Daily Telegraph's Robbie Collin zeroes in on Bale's performance, and the chemistry between him and Hemsworth: "Bale gives the series its best villain in years. He and Hemsworth make surprisingly natural screen partners, while Portman embraces the soap-operatics of her role…"
I've said it before (ᵉˣᵉᵐᵖᵗⁱᵒⁿˢ ᵃᵖᵖˡʸ) and I'll say it again: hooray for Taika Waititi! https://t.co/QH4P3smU0Z

— Robbie Collin (@robbiereviews) July 5, 2022
The New Post's Johnny Oleksinski seconds those thoughts on Bale's performance. "The Marvel Cinematic Universe's best shot at Oscar glory has arrived in the form of Christian Bale's ferocious Gorr the God Butcher."
Empire Magazine's Ben Travis writes "Weirder than Ragnarok, but incredibly sincere in its outlook, Taika's Thor-quel is a big, beautiful blast. You'll love it, and probably thunder it too. What a classic Thor adventure!"
Thrilled to have reviewed Taika Waititi's best movie since Hunt For The Wilderpeople 👇🏻 https://t.co/Q3LpA9WT1E

— Ben Travis (@BenSTravis) July 5, 2022
No one would ever say that Variety's Owen Gleiberman is a major Marvel fan, yet Love and Thunder worked for him.
#ThorLoveAndThunder builds on the skewed effrontery of #ThorRagnarok. It's not perfect, but it's a brashly unpredictable, emotionally alive sequel. https://t.co/KFe1zVEcJW

— Owen Gleiberman (@OwenGleiberman) July 5, 2022
YouTube's Perri Nemiroff writes that Love and Thunder is a "high-energy romp that highlights Taika Waititi's exceptional handle on blending humor and heart."
The Irish Times' Donald Clarke says "For much of the time, the Love and Thunder audience will extract as much fun as the cast seem to be having (if that is possible)."
Many critics have noted how Waititi didn't just go for the belly laughs here, but also wanted to create an emotional epic. As KiMi Robinson of the Arizona Republic writes, "Love and Thunder doesn't take itself seriously, employing soap-opera-like acting and gags throughout. The more dramatic scenes are set apart in their tone and coloring, which has striking results.
For more on Thor: Love and Thunder, check out these stories:
"Thor: Love and Thunder" Teaser Reveals Fresh Footage of Christian Bale's Lunatic Gorr
"Thor: Love and Thunder" Video Tracks Chris Hemsworth's Thor Legacy
"Thor: Love and Thunder" First Reactions: A Vibrant, Hilarious, Surprisingly Moving Epic
New "Thor: Love and Thunder" Images Tease Natalie Portman's Mighty Thor, Gorr, & Guardians
Featured image: (L-R): Natalie Portman as Mighty Thor and Chris Hemsworth as Thor in Marvel Studios' THOR: LOVE AND THUNDER. Photo by Jasin Boland. ©Marvel Studios 2022. All Rights Reserved.