How "Bullet Train" Editor Elísabet Ronaldsdóttir Shaped a Thrill Ride
Bullet Train has already punched through $100 million worldwide at the box office and isn't slowing down. The thrill ride from director David Leitch roars with laughter and delivers a bounty of ass-kicking action sequences that may have you consider taking classes at your local dojo.
The Brad Pitt vehicle has him playing Ladybug, a down-on-his-luck assassin struggling to retrieve a suitcase on a Kyoto-bound train while trying to avoid a gritty group of killers with their own motives. Navigating the story in the cutting room, which was adapted from a novel by Kōtarō Isaka via screenwriter Zak Olkewicz, was Elísabet Ronaldsdóttir. The film marks her fourth project with the director, and the two are about to start their fifth – a feature version of the beloved 1980s television series The Fall Guy.
"What David has taught me in the past nine years working with him is to allow the audience to enjoy the action, especially when you have a comedy. You need to allow the people to laugh," the Iceland-born editor tells The Credits.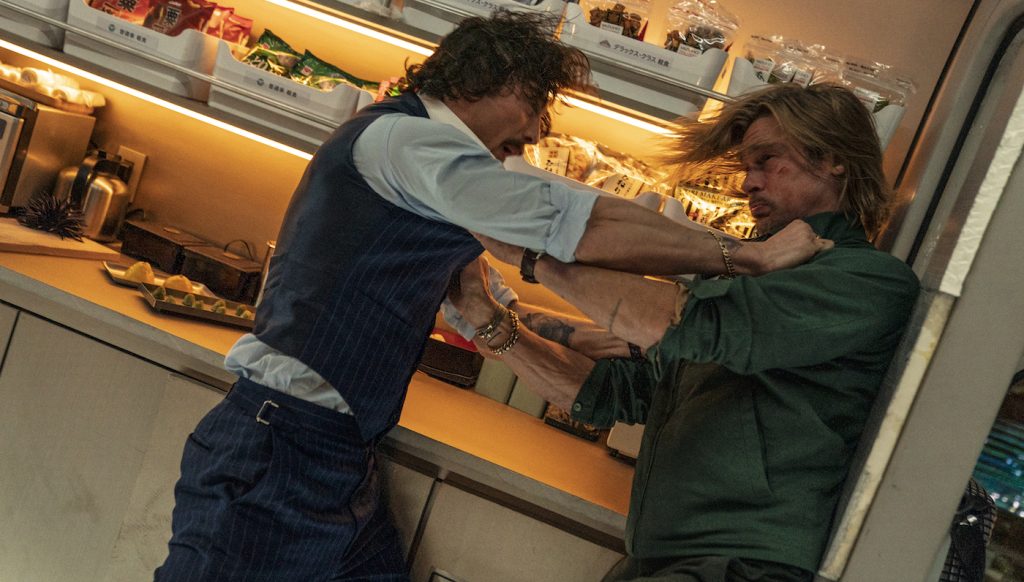 Her approach to action scenes is to "respect the choreography and images." "I watch the footage again and again and again and try to figure out all the hooks and punches," she says. "I watch it to find the inner rhythm of the scene but also to time it with the pace of the rest of the movie."
In one of those action sequences, Ladybug comes face to face with another assassin, Lemon (Brian Tyree Henry), where it turns into fisticuffs in the "Quiet Car." The hook Ronaldsdóttir had to navigate was the hysterical juxtaposition of two grown men trying to quietly kill each other.  "When you're working with it [the footage] initially, it's a dance. So you work with the movement and choreography and try to make it as streamlined as you possibly can," she notes. "If you have great choreography and if it's shot beautifully and dynamically, it's a delight to work with. And it doesn't get violent until we put in the visual effects and bone-crushing sound."
Aiding in the cut was the fight-vis that Leitch and his stunt team planned prior to shooting. The previs process allows the cast and crew to understand the scope of the scene. "The team will go through the whole choreography of the action. They know it's on a train, so they make it in a confined space, and they'll put music and sound effects to it. It's an entire production," says Ronaldsdóttir. "Then it's shot on location with the actors, and things can change on the fly once you get to the location or the set. Then it lands on my table."
Another scene that landed on her table was between Pitt and The Wolf (played by musical artist Bad Bunny). It's a flash of unbridled revenge rolled into mistaken identity. To pull it off, the editor went over the top with it. "You're telling people to just have fun with it. The tricky thing with The Wolf is you have to fall in love with him," Ronaldsdóttir says. "But Bad Bunny is such an energetic person. He has raw appeal and is very used to being in front of the camera, and even though that's not usually as an actor, he did it so well. I think it's so smooth and beautiful, and he looks so cool. We needed people to like this character when he met Ladybug."
Outside the fight scenes, plotting the backstories of the ensemble cast was its own hurdle. Ronaldsdóttir cleverly managed screen time for each of the seven assassins while keeping an eye on the central story between The Elder (Hiroyuki Sanada) and his son Kimura (Andrew Koji).  Not to mention the antagonist of it all, White Death (Michael Shannon). "It's a bit like carving wood. You have to do it slowly," she says. "All of the backstories were shot much longer, and we just had to find the correct pace for them. All of them went through renditions, and we found a pace that was much tighter."
A favorite backstory of the editor's was The Wolf, which plays out like a tragic fairy-tale novella (and could easily become its own prequel film in a franchise). "His whole life was exceptionally written. I love that we could tell his story and never lose sight of the bigger picture," Ronaldsdóttir says. Without giving too much away, the scene flashes back to Wolf's wedding day. And let's just say it gives the "Red Wedding" episode of Game of Thrones a run for its money.
 Bullet Train is in theaters now. 
For more on Bullet Train, check out these stories:
"Bullet Train" Director David Leitch on His Breathless Brad Pitt-Led Action-Comedy
New "Bullet Train" Clip & First Reactions Hype Hilarious, Hardcore Action-Comedy Led by Brad Pitt
Official "Bullet Train" Trailer Takes Brad Pitt on a Wild Ride
Featured image: Brad Pitt and Bad Bunny star in Bullet Train. Courtesy Sony Pictures.