"Day Shift" Director J.J. Perry on His Lean, Mean Jamie Foxx-led Feature Debut
Director J.J. Perry is one the most seasoned action directors in the business, despite Day Shift (streaming August 12) representing his feature debut. Perry has directed some of the most thrilling sequences over the past two decades, working as a second unit director and stunt coordinator (sometimes both in the same film) on the first two John Wick films, Skyscraper and F9. With Day Shift, Perry marshaled his talent for practical stunts and effects, his knowledge of helming highly complex action sequences, and years of research and development into the latest filmmaking technology into a fun, funny, and ferociously paced vampire romp.
Jamie Foxx plays Bud Jablonski, a doting father working his butt off in San Fernando Valley as a pool cleaner. Yet Bud's job scraping the grime out of gutters is a front—he's actually a vampire hunter, a former member of an international Union of vampire hunters who needs some quick cash to keep his ex-wife Jocelyn (Meagan Good) from leaving southern California with their daughter. Day Shift also stars a very game Dave Franco and a perfectly cast Snoop Dogg and is the perfect late summer film, a lean, mean feast for the eyes.
We spoke to Perry about finding his way to his first feature, working with contortionists to create a brand new kind of action sequence, and why he wanted Calvin Broadus (Snoop's given name) in the role of vampire hunter Big John.
I watched Day Shift while I had Covid and I felt like it was the turning point where I started to feel better.
Doctor J.J. is here to fix everything, brother!
Day Shift includes a lot of wonderfully bonkers action sequences, which is your bread and butter. Tell me about how you pulled them off.
I got the script a few years ago. I've wanted to direct, and I've gotten a bunch of scripts before that because I direct second unit. In my opinion, it's harder to direct second unit and handle a big car chase than it is to direct a couple of guys in a room. Unless you don't have good actors, and I don't know what that's like yet. I was in the army, and I was getting all these scripts like, "A sniper with PTSD!" Or, "Let's do a John Wick thing!" And I was like, well, I kind of already did that, and I don't want to do any dark material. If you look at the news right now, it's like World War III with a double feature of Covid, monkeypox, and almost war with China. It's dark out there, dog. I wanted to do something that was fun.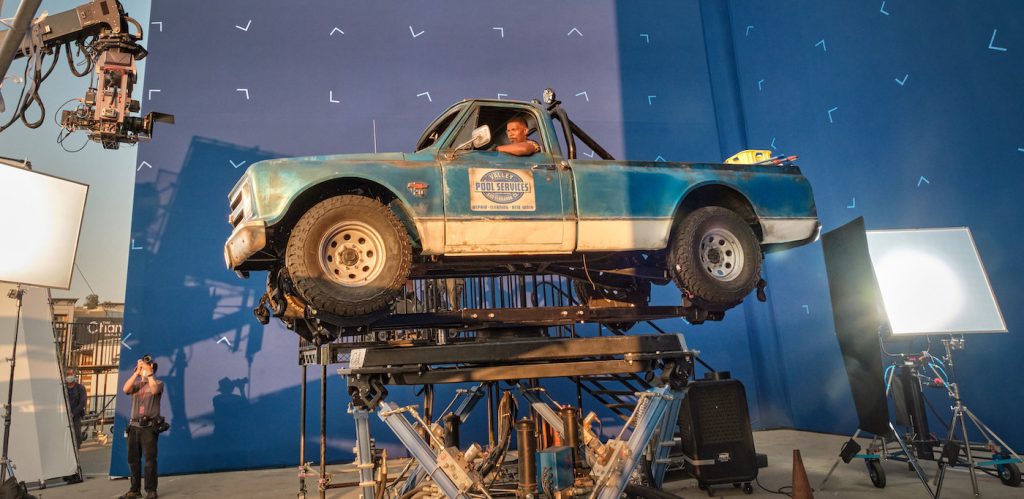 Day Shift is definitely fun. Did you have any cinematic reference points for this? 
What really resonated with me from the 80s, because I'm 54, was Big Trouble in Little China and Lost Boys and Fright Night and Evil Dead, action/comedy/horror. So as director, you have the upper hand on your audience at all times. You can hit 'em with the action, you can hit 'em with the comedy, and then you can hit 'em with the horror. You keep them moving. 
This is your first feature, and you managed to get a hell of a cast. Tell me about working with Jamie Foxx.
Coming out of the army, I thought, I'll probably be a stunt man for a while and probably f**k it up, and I just got really lucky. Getting this movie was a big win, but getting Jamie Foxx was like winning the lottery. I've worked with him before, I was super stoked. He's from Texas, I'm from Texas, we're about a month apart in age, so we grew up in the same time and the same neck of the woods, drinking the same water and listening to the same music, and I'm just a big fan of his in general.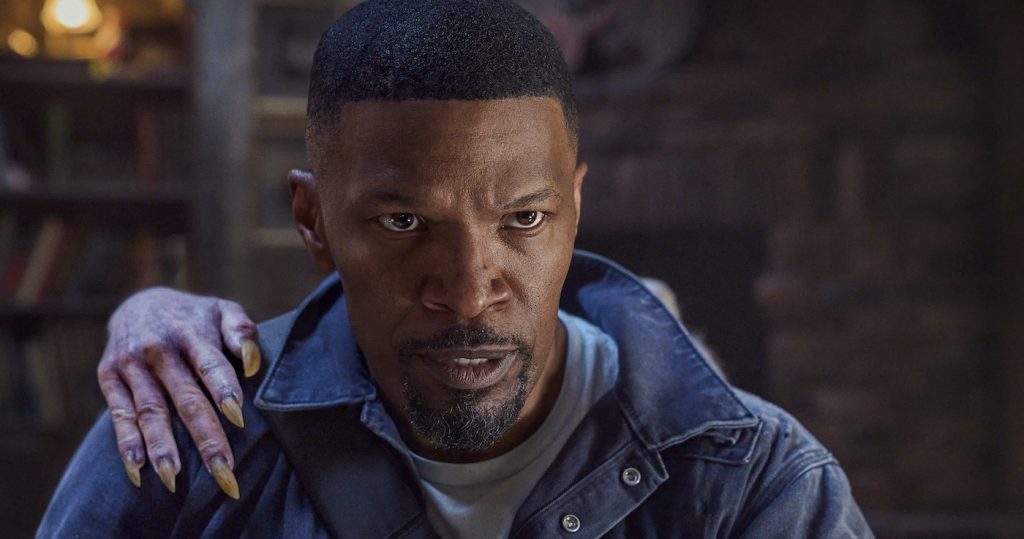 In the very first scene, Jamie Foxx's "pool cleaner" Bud deals with a very flexible vampire—you shot that scene with a contortionist?
People had seen people walking on their hands, but nobody has weaponized contortionists like this before. So what I did was, I found some very flexible people, we did some test shoots, we shot it in reverse, and it looked great. I used that because it's shocking when you see a woman getting wadded up in that way and then correcting herself; it's almost like if you did MMA and couldn't submit someone, you were just fighting an octopus. That's the feeling I wanted to give it. I'd also been R&D'ing this drone technology, using drones in vehicle chases. This is stuff that's been in my bag of tricks for years as a second unit director; having worked on a lot of big films, you're always looking for what's the next gag.
It's so wild it almost seems like it might be a visual effect. 
So the truth is I learned how to do this in the 90s before VFX was out there. So we had to figure it out in-camera; you couldn't fix it in post. Every movie I'm on now, it's like, "Oh, fix it in post." I want to fancy myself being a really good action filmmaker, which I think is a dying art. For second unit, a lot of the movies that you watch, especially the big ones, for the most part, the directors don't direct the action; second unit directors direct the action. Us Gen X folks who learned how to do it in-camera, VFX was painting out wire work, we augmented scenes with VFX, but it was never driving the train. If we couldn't figure it out in-camera, we weren't doing it. I want it to feel real, with gravity and consequences.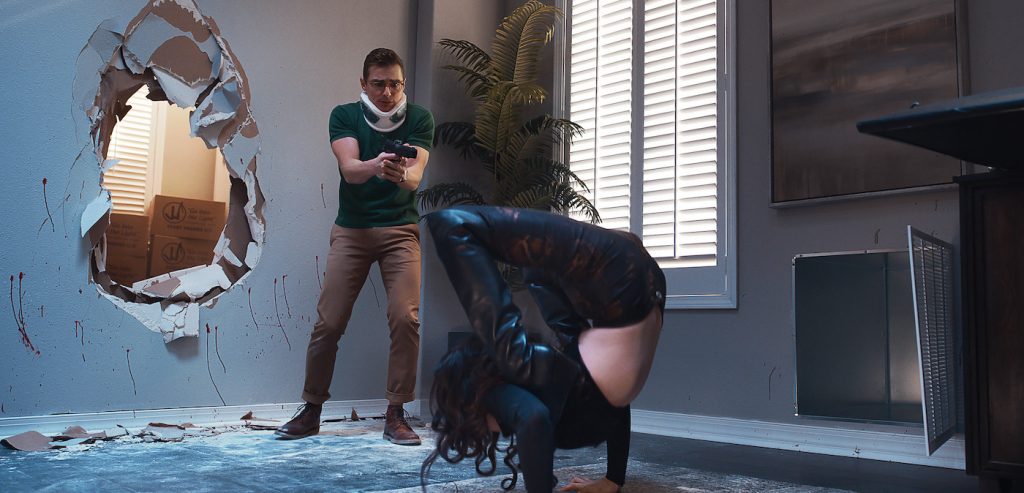 The wildest action sequence in the film, for my money, is when Bud and Seth team up with the Nazarian brothers to take out a vampire nest. How did you conceive of that insane scene?
I've worked with Scott Adkins, one of the Nazarian brothers, on Undisputed 2, The Wolverine, The Shepherd—we go way back to really low-budget movies in Bulgaria. I wanted to show the difference between two pairs of vampire hunters. One vampire hunter who is protecting a rookie [Bud and Seth, the rookie played by Dave Franco], and two badass, top of the food chain vampire hunters [the Nazarian brothers, played by Scott Adkins and Steve Howey], and see the difference in how they work. For instance, if Big John (Snoop Dogg) and Bud had teamed up on that, they'd have wiped out the place without any help. But then you see the fumble-y, bumble-y version with Seth and Bud trying to save Seth, and then these two Armenian brothers using all their tchotchkes—the nun chucks, the sword stick, the boot trick, the chewing the gum spit in the eye gag—and that makes it a lot of fun. Fast and furious, not slow and curious.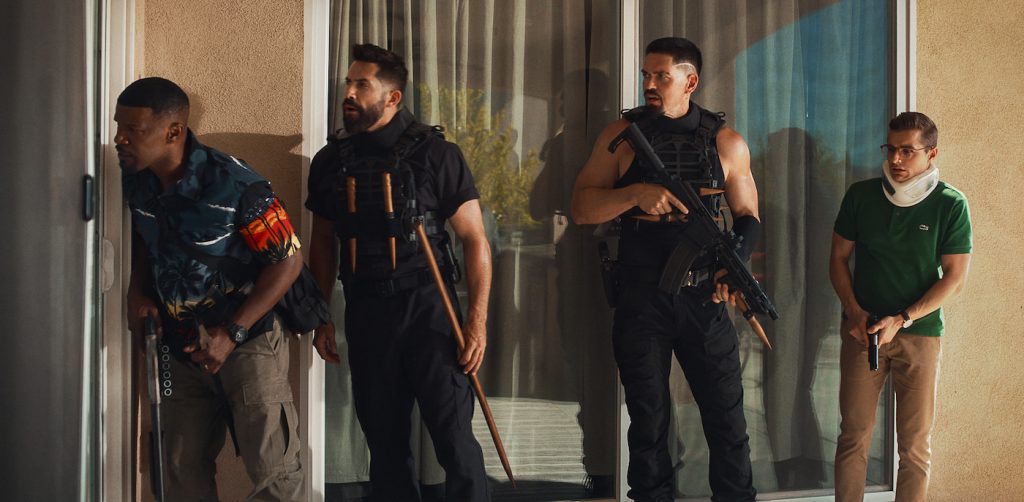 Casting Snoop in the role of sage vampire hunter Big John was genius. You're making a movie set in L.A., and Snoop is the L.A. guy.
In the beginning, I always thought of Big John as Snoop. I had a sergeant in the army who looked just like Snoop, I mean Snoop's better looking, but he had the same swagger. His name was Sergeant Cobb, I don't know if he's still with us now, Rest In Peace. But he was a guy who was a big influence on me when I was in the army, he was a mentor, a friend, a big bro, but sometimes he was very hard on us. So I always admired him. When Jamie signed on, I immediately told him about Snoop, and we really landed on casting him. And the trick was, I wasn't really hiring Snoop, I was hiring Calvin Broadus. I wanted him to have a different swagger, and that's how I pitched it to Snoop. I told him I wanted him to be Calvin Broadus, and then he told me his father was in the military as well, so we had this common thread. I told him, "I want you to talk to your father and research that," and I said, "Maybe you're playing your father in a way." And also, selfishly, Snoop is a massive star. When I think of L.A., I think of palm trees and Snoop Dogg. He was a total pro and an asset and I'd love to work with him again.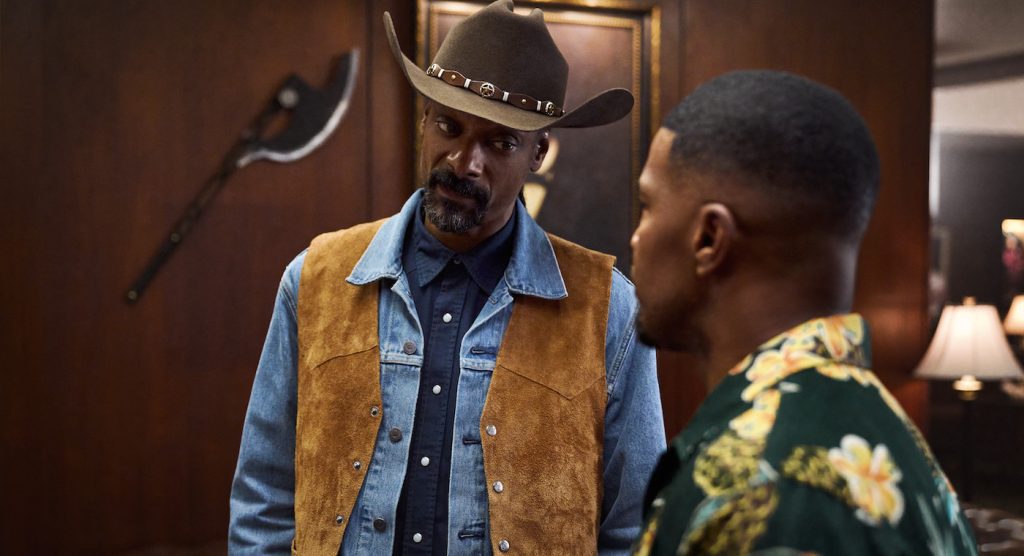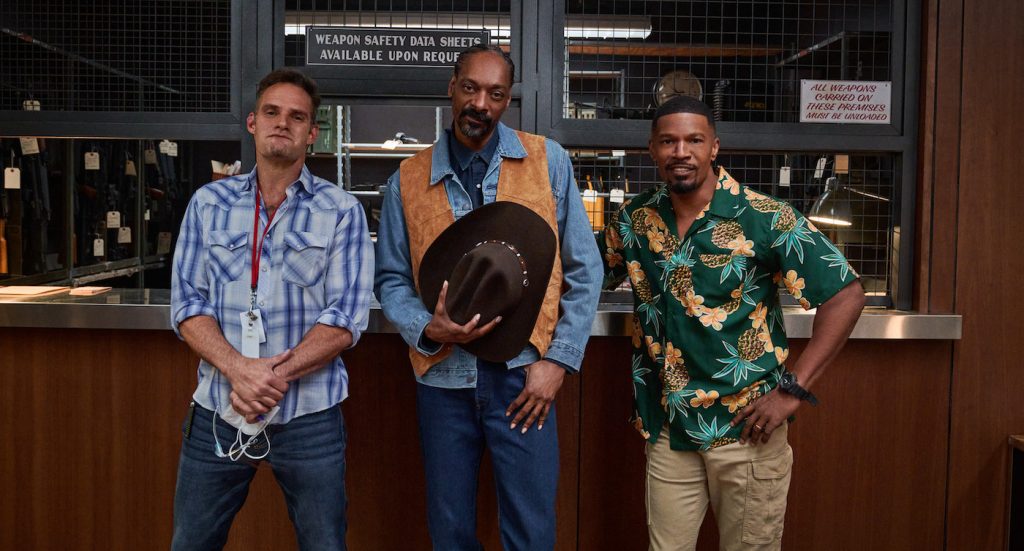 Day Shift is streaming now on Netflix.
For more on big titles on Netflix, check these out:
Michelle Yeoh & Stanley Tucci Join The Russo Brothers' "The Electric State"
"The Sea Beast" Writer/Director/Producer Chris Williams on His High Seas Animated Adventure
Guillermo del Toro's "Pinocchio" Reveals Official Trailer
Featured image: DAY SHIFT. (L-R) Jamie Foxx as Bud and Snoop Dogg as Big John in Day Shift. Cr. Andrew Cooper/Netflix © 2022.