"Elvis" Sound Guru Wayne Pashley on the Sonic Glue Holding Baz Luhrmann's Biopic Together
Bursting through in the golden age of television, Elvis Presley had stunning good looks and taboo-shattering dance moves that instantly attracted legions of female fans, but his legacy rests in that sound. His voice was inimitable with the pain and power he had to share to survive.
Wayne Pashley, the re-recording mixer, sound designer, and supervising sound editor of Baz Luhrmann's epic biopic Elvis bravely took up the mantle of resurrecting one of the most famous voices ever recorded. "Really, the sound brief that Baz gave us was simply, 'Protect Elvis as we go forward, and make this a audio-visual wonder.'"
Presley's career spanned 24 years and produced as many albums. He lived a life of immense public pressure and scrutiny, much of which was well documented. The creative team had to be judicious to compress the saga into two and a half hours. They invoked a method of montages and medleys that Luhrmann termed "poetic glue."
"It was taking imagery that had been shot, the performances, and telling the narrative through this 'poetic glue' style," Pashley explained. "Which, of course, then led to 'sonic glue.' So, over to us. We had to then take the sonic architecture of Elvis Presley's life, which if you start breaking it down, what is Elvis Presley in a sonic sense? Well, it's clearly the music number one. Number two it's the crowds. Now, the crowds were everything. That's where he found life."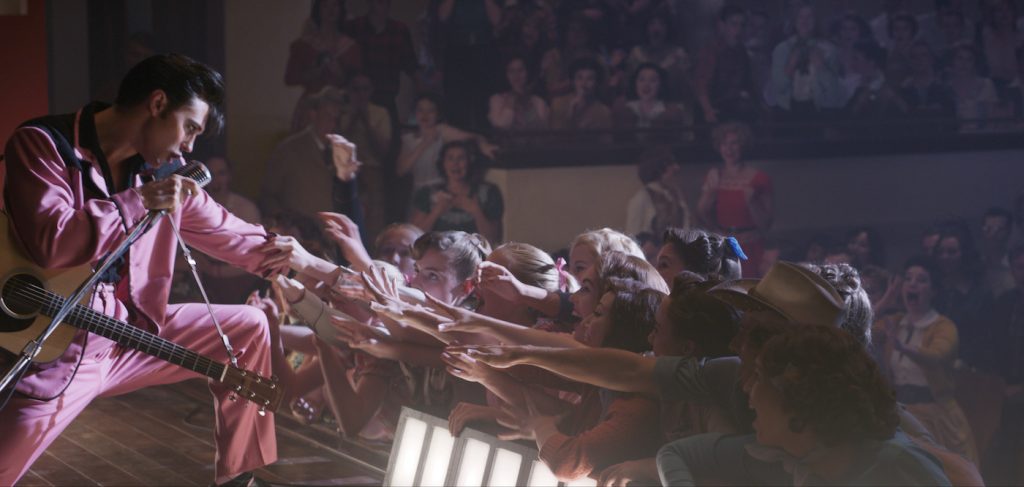 The audience was Presley's driving force and motivation throughout his career. Fans gathered in unprecedented numbers with unmatched enthusiasm. "We didn't want it to sound retro. We wanted it to sound real," Pashley said. "The danger of the crowds was they could easily become overwhelming. What Baz called, 'Be careful of crowd fatigue.' Because if you've got two and a half hours of screaming and carrying on, it's very easy to be worn down by it. Even though they're there – they might be 10,000 strong in a stadium – they're muted and away in order to create isolation and drama and emotion."
Presley's rise and fall has contemporary and timeless story elements. To fit the length of a feature film, the creative team focused on one pivotal relationship in his life. "In order to take the icon himself into a modern stage, you had to do something very different," Pashley noted. "You had to allow the younger audience to fit in with a modern take without it just being a period piece. So, the approach was, Baz was going to make the great American tragic opera. It was going to be Shakespearean told through the eyes of the unreliable narrator, which was Colonel Tom Parker (Tom Hanks), who some say ultimately caused Elvis' (Austin Butler) demise, even though he loved Elvis."
They were an explosive pair with magnificent and destructive results. "What's this really about? Well, it's about Elvis the show and The Colonel the biz. He created, probably without precedent, the most famous man on the planet."
"There are some who'd make me out to be the villain of this here story," Colonel Parker narrates. Presley was the talent and the personality, but Parker was arguably the brains behind transforming Elvis from a singer into a superstar.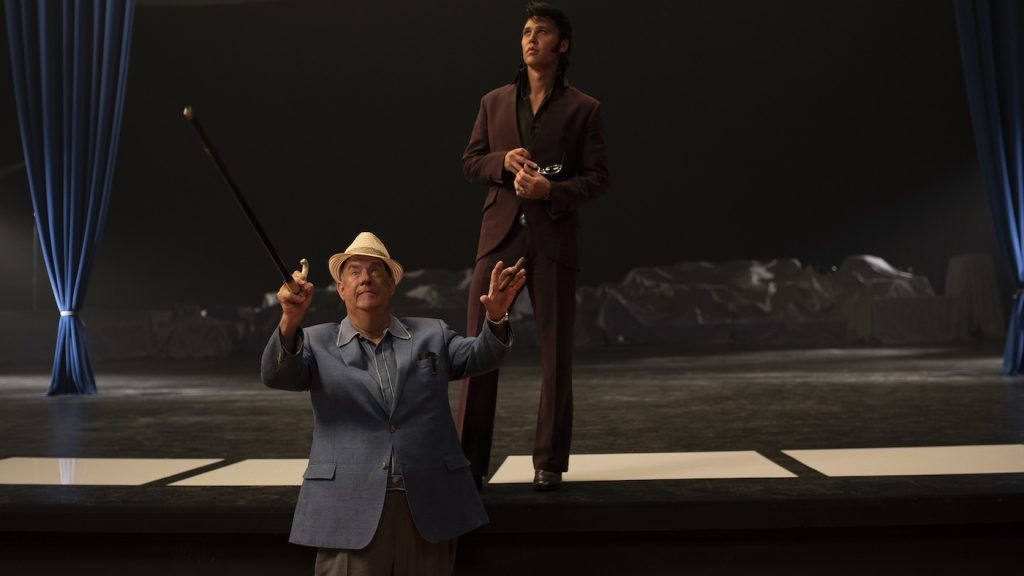 Parker was a man of mystery and manipulation. With experience in deceptive carnival practices and the veil of an unrecognizable Dutch and country accent, he was often underestimated. "What people don't realize is that The Colonel himself used his wily ways and his accent to distract in dealmaking," Pashley reflected. "People thought that he was a little bit stupid or something because he was making these deals with this chaotic weird accent. They basically would sign the deal going, 'Yeah, yeah, yeah.' Thinking that he would just go away. He started merchandizing. He was a genius in his own right."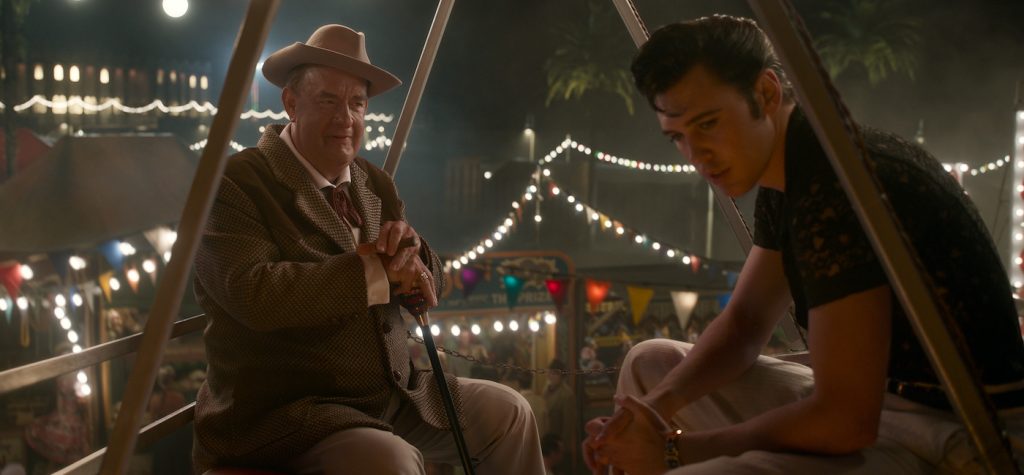 Despite potential critiques of Parker's motives, Pashley says they avoided demonizing him through the sound design. "I guess that would lend itself to character villainous design, but we did try to treat him fairly to give The Colonel due respect. At the end of the day as The Colonel said many times, there would be no Elvis Presley without him and there would be no him without Elvis Presley."
Nearly half a century has passed since Presley's tragic death. A lifetime in terms of audio equipment. The film is presented in Dolby Atmos, a technology that didn't exist when Elvis performed. Pashley resisted taking Elvis out of time while bridging modern audience sensibilities through painstaking research and restoration. "We had a musical props team who bought, built, fixed amplifiers, guitars, double basses, all the musical instruments," Pashley revealed. "As well as that, we got all the vintage microphones restored. Whatever the real microphones were on the day had all gone through a restoration process. Live performances that Austin did during the shoot or prerecorded and mimed were all happening using the real microphones of the era."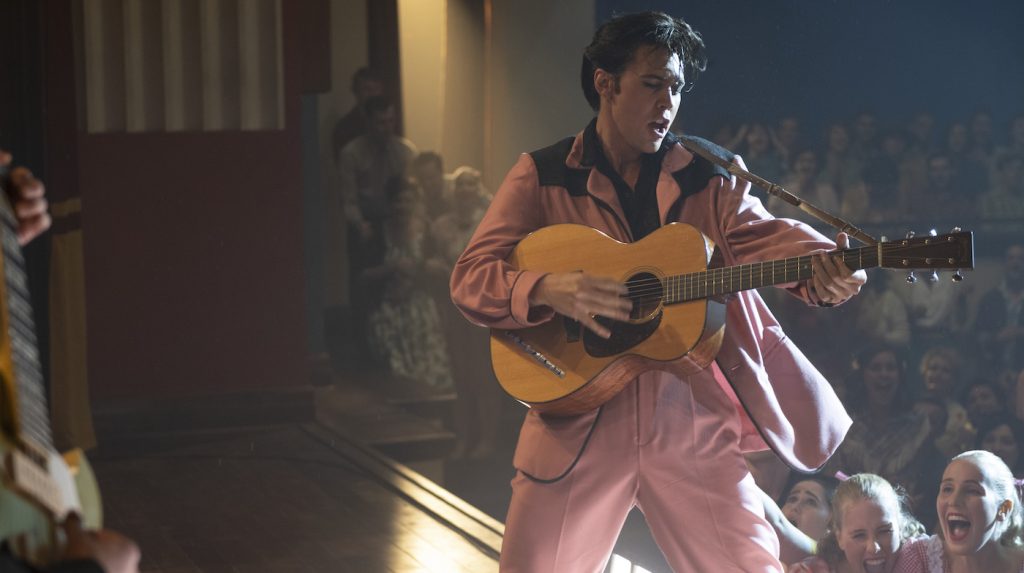 Yes, Austin Butler is really singing, although he splits vocal duty with The King on later tracks. The quality of Presley's recordings from the early 1950s were too poor to salvage leaving Butler on his own. Pashley's team was able to make use of masters from Presley's '68 Comeback Special and 1970s Las Vegas shows. "We were joining the dialogue on stage to the singing to match Austin to Elvis. We took the microphones into postproduction when we were doing ADR voice replacement as well," Pashley said. "We had 32 channels of recording in our test work with the camera. We're checking our sync for the music department feed and then recording live dialogue. On that test day, we took from playback of a track and then we let [Austin] go live."
Pashley clearly remembers the magic that emerged. "That day, it was about five in the afternoon, and it was the first day I met Austin. I walked away and I actually thought I'd witnessed Elvis Presley live. It was unbelievable and I knew we were on a winner." 
Presley was a famously avid car enthusiast. Pashley's team made on-set recordings of all the authentic vehicles of Presley's era used in the film. They're remnants of a tumultuous time and major cultural shifts in American history. Audio from real news broadcasts with Walter Cronkite was used. A speech from former President Jimmy Carter announcing Presley's death that was written but never recorded was performed by a voice actor. "All of the voices are real quotes, real headlines from real people that were all re-recorded. Famous quotes," Pashley revealed. "Now, you don't necessarily hear every single line, but that merging of the time and the attitude of the press, of the people who knew Elvis commenting on the parts of his life as the story went forward, it's all happening within the surrounding immersive sonic glue."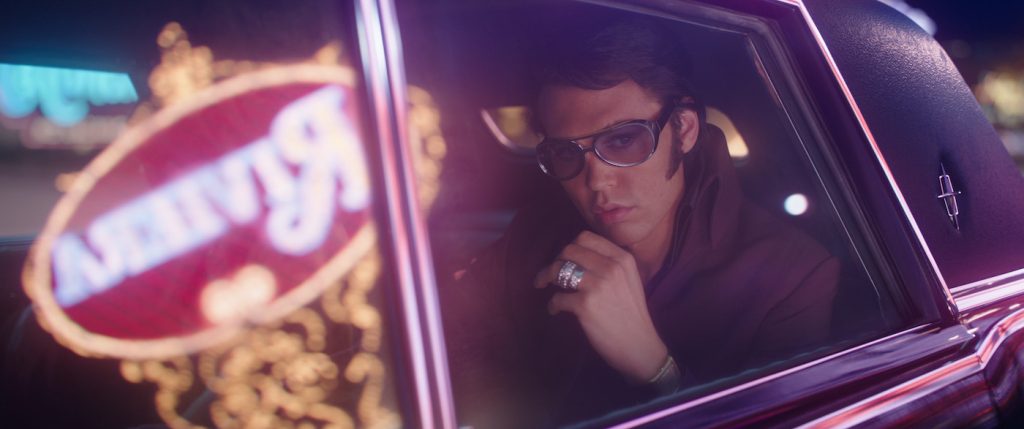 Having worked with Baz Luhrmann since Strictly Ballroom 30 years ago through Australia, The Great Gatsby, and more, Pashley anticipated the mammoth scale of Elvis. "I knew that Baz would bring the razzle-dazzle because that's what he does. He's the consummate showman. He's a visionary. He's a maximalist. His passion and innovation I find extraordinary."
The controversial filmmaker memorializing the controversial pop culture figure got people talking once again. In his lifetime, Elvis Presley produced 18 no. 1 hits, and now, The King has secured the top spot again. Elvis ruled the box office this weekend, nosing past mega-blockbuster Top Gun: Maverick. Long live The King.
Elvis is playing in theaters now.
For more on Elvis, check out these stories:
"Elvis" Composer Elliot Wheeler on The King's Music & That Doja Cat Collab
First "Elvis" Trailer Reveals Baz Luhrmann's Ode to the King
First "Elvis" Teaser Gives Us a Glimpse of Austin Butler as the King
Featured image: Caption: AUSTIN BUTLER as Elvis in Warner Bros. Pictures' drama "ELVIS," a Warner Bros. Pictures release. Photo Credit: Hugh Stewart