"Elvis" Composer Elliott Wheeler on The King's Music & That Doja Cat Collab
The dazzling visuals of director Baz Luhrmann's spine-tingling biopic of Elvis, which were beautifully shot by cinematographer Mandy Walker, undoubtedly hold your attention. But it's the rhythmic melodies of the soundscape that flutters the soul. Elvis is made to be seen (and heard) in the theater.
The journey explores the relationship between the legendary artist and his manager, a former carny named Colonel Tom Parker (Tom Hanks), who sees the potential profit in Elvis's musical gift. Luhrmann cast Austin Butler to fill the voice (and costumes) of Elvis and does so to a tee down to the iconic dance moves and sultry stare.
Overseeing the musical efforts was Elliott Wheeler, the composer and musical executive producer on the film. Wheeler's relationship with Luhrmann dates back to The Great Gatsby, and more recently, the Netflix series The Get Down, which Wheeler notes served as a jumping-off point in terms of the storytelling process and department collaboration for Elvis.
Wheeler and the entire music team, including longtime Luhrmann collaborator Anton Monsted, put together a dynamic aural soundtrack with over thirty plus hits that include contemporary versions from Doja Cat (Vegas) and Eminem with CeeLo Green (The King and I). It's hard to not want to move in your seat.
The composer spoke with The Credits to share all the harmonies, notes, and processes that went into creating the euphonious aural landscape.
How did being the composer and executive music producer allow you to explore things creatively?
It meant as early as 2017, Jamieson Shaw [supervising music editor / music producer], who was my right hand in this from the very beginning, was able to sit down with Baz and go through playlists trying to understand the catalog of music. There are over 800 songs Elvis recorded. Wading through them we were able to make shortlists about which songs will be in the film and find undiscovered gems. From that process, we met with the scriptwriters to help create the story through the telling of music.
So the music had an influence on the storytelling from the jump?
Yes, the way Baz tells a story is so much through music. We were able to make the performances part of the emotional story beats. We need to also be able to get to an emotional point. It meant we didn't have to compartmentalize the story too much. It meant that we could sort of be a free-flowing Elvis opera and take the music where we needed to go. 
There are several musical themes that connect to the storytelling. How did they come about?
Early on, once the story started to take shape, we were able to look at various themes for our characters and different relationships. As a composer, you normally have to work out your own themes, but with this, it was an absolute gift to be able to look at the themes already being performed by Elvis and then augment them with an orchestra or band or other artists to get to that extra storytelling point. We ended up with sort of six main themes throughout the film.
For Elvis's relationship with his mother Gladys Presley [Helen Thompson], the song Heartbreak Hotel seemed like a great theme. Are You Lonesome Tonight? became a theme for Elvis and Colonel Parker. Another theme we had was the Battle Hymn of the Republic which comes up in [the album] "An American Trilogy." That becomes Elvis's relationship with the audience. Then with Priscilla [Olivia DeJonge] we had Can't Help Falling In Love.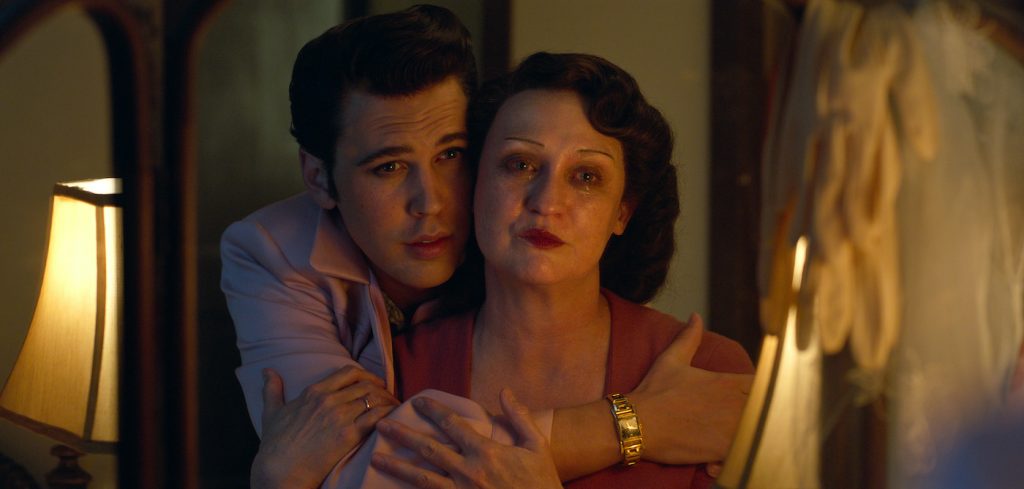 Since you mentioned the Elvis-Priscilla relationship, how did you want the music to evolve with their tumbling relationship?
Once we started the scoring process, we settled on the notion that Can't Help Falling in Love should be their theme. Kasey Musgraves [American country singer] recorded an absolutely stunning performance of just vocals and piano and that sort of plays the first time they kiss. Then by the end of the film, the theme becomes an extremely poignant and extremely moving minor version of it. We had a beautiful performance of the song by the orchestra out of AIR Studios in London, recorded and mixed by Geoff Foster. A good example of how within that one theme, you can take one well-known melody and do an incredible amount of storytelling with it.
You brought up the idea of "undiscovered gems" in Elvis's music catalog. What did you find and how did you want to use them in the storytelling?
One example was a fairly obscure piece of Elvis music called Cotton Candy Land. Part of the lyrics are the "Sandman's comin', yes he's comin'." With Colonel Parker, he often talks about how "All showmen are snowmen." [The idea being Col. Parker is pulling the wool over someone's eyes.] So, "Sandman" became "Snowman" and we used it as this motif for when Parker is about to snow someone.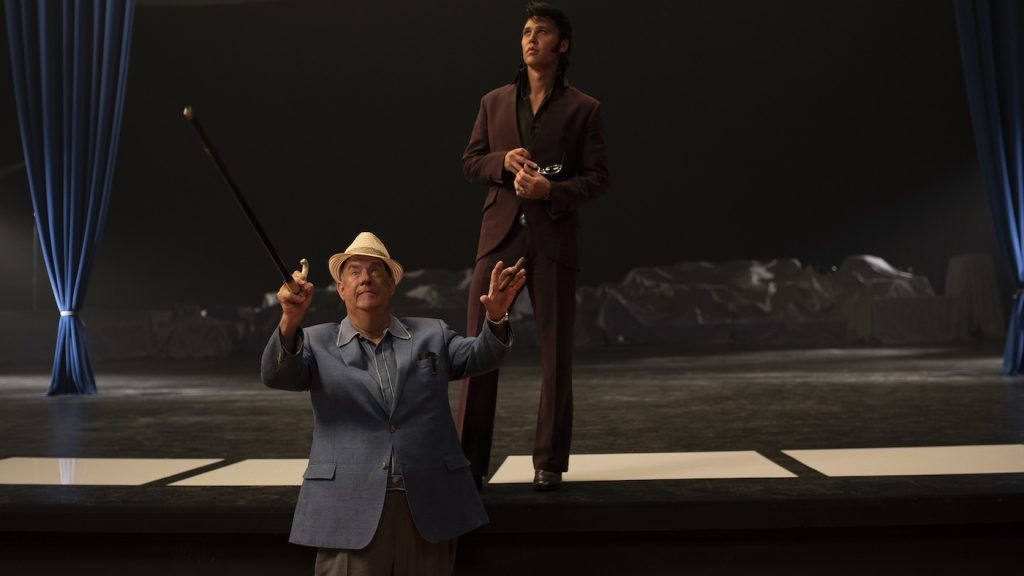 That's clever. It also sounded like you mixed multiple Elvis songs together, no?
Yes. One of the things we were doing a lot was to pull in different Elvis songs.  We called it making up DNAs. For example, we'd take the string line from Edge of Reality, then the baseline from I Got A Feelin' in My Body and the melody of Summer Kisses, Winter Tears and combine all those elements into a new song entirely made up of Elvis tracks. Our music editor, Jamieson Shaw, has an incredible ear for picking out the smallest fragments of pieces and working them into a new creation.
Austin's performance as Elvis is dazzling. How was it working with him to create this legend?
We were extremely blessed with Austin's voice. I remember at the audition he was already fantastic without any training at all. His dedication and the practice he put in were just insane. There's not an Elvis song, movie, performance, or interview that Austin hasn't seen and studied. We had this great vocal coach in Irene Bartlet, but it was also Austin and I sitting and going over every line of Elvis to get the voice and the breathing down. The detail Austin went to was microscopic and he had to cover such a wide vocal range.
Vocal range meaning how Elvis's singing changed over the years?
Yes. Elvis has at least four quite distinct vocal characteristics in different points in his career. At the beginning, he is very high up in his head, but then by the time of Unchained Melody, near the end, it's operatic. Austin had to learn his voice and his body in all those different ways. We were lucky in that we could isolate the original Elvis vocal tracks and really focus on what was happening.
Makes sense why Austin nails the role. Curious though, there are songs in the film where it is Elvis's actual vocals. How was the performance and singing treated on set?
With Austin, our approach was to use Elvis's voice when we could but it wasn't until the 1968 Comeback Special where we felt like we had the fidelity in the original recordings to be able to translate it to the cinema. And even with the '68 Special, we ended up re-tracking the entire backing. So the entire first half of Elvis' career is Austin performing all the vocals.
That said, even when we got to the point where we were using Elvis's vocal stem and Austin was on stage performing back, Austin was still singing absolutely every note and we recorded everything live. What that allowed us to do, for example, was if Austin was breathing on set or if there was a slight difference between the original, we could put Austin's voice in and manipulate it to when Elvis took off or vice versa.
That's awesome.
We had an amazing team on the ground here with Wade Keighran [on set music playback operator] who was doing the playback and live recordings for us. Our on-set music supervisor Camera Bruce was there and the props department was looking after all the instruments for us. Every single microphone that we used was an exact working replica of what Elvis would be using on the day which allowed us to move between the original and set recordings.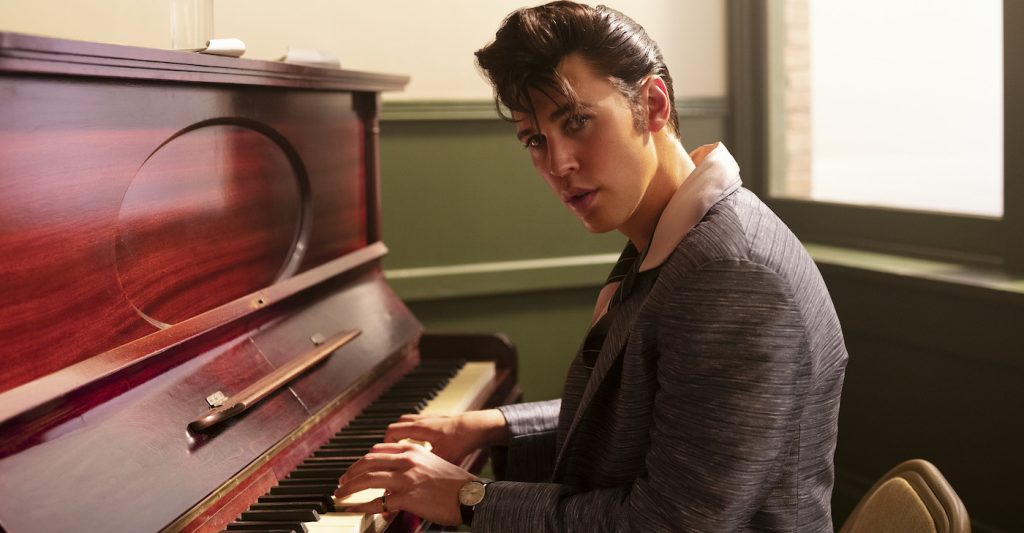 Speaking of original recordings. You have to share how the incredibly moving gospel scene came together. The Pentecostal revival sequence.
We hooked up with Dave Cobb [music producer] over in Nashville who works out of the same RCA Studios where Elvis recorded a large amount of his material. Dave pulled together an all-star group of gospel singers and took us to this tiny church two hours outside of Nashville that was built in the 1700s. The musicians were just incredible – led by Shannon Sanders, we had the McCrary Sisters, Odessa Settles and Settles Connection, the Randolph family, Shonka Dukuereh, Jordan Holland, and many others. It was like being in a service and we were able to take all these themes we wanted to work within the film and get these amazing gospel performances. Baz would describe the scene and give some context and the music just came to life.
Astonishing.
That day was one of the most special days I ever had making music. Austin was there and everyone had tears flowing. Going there and unlocking that with Dave gave us the confidence that we were going to be able to pull off that sound and get to that level of excitement.
You brought up a good point. A "level of excitement." With Elvis's early music, a lot of it was mono-track recordings which don't always translate to a cinema experience. How did you want to treat those early songs?
That was something we worked on with Dave early in the process. With Elvis being so ubiquitous, there's a short circuit in the brain that says, 'Oh that's Elvis.' So we had to find a way of recreating some of the early recordings, which were mono or adjusted three-track, and have control over them. A lot of the band tracks we recorded with Dave over in Nashville and we did some in Australia as well. We wanted to be faithful to the production style of the 50s and 60's era and the Elvis sound, but make it sound new and fresh to an audience in a way that you'll want to hear in the cinema.
Before we go, it would be remiss to not ask about the Doja Cat song Vegas and how it came about.
Baz asked if we were on Beale Street now who would you be listening to. And that's Doja Cat. She did such a fantastic job with that song. We were able to record a version of Hound Dog with Shonka Dukureh [who plays Willie Mae "Big Mama" Thornton] over here in Australia and send it to Doja where she was able to make a track out of it. Everything worked out pretty seamlessly. Our music supervisor, Anton Monsted, and Baz have a long relationship going back over twenty years, and their ability to bring in external artists that connect to the story and bring currency is one of the very special parts of the experience.
Sounds like the entire process was inspiring.
When you're working with Baz, you're given this creative license to play and you get to work with this hugely collaborative team. It's a hallmark of his production where he enables that kind of dialogue to happen. It's fun.
For more on Elvis, check out these stories:
The Final "Elvis" Trailer Teases Baz Luhrmann's Rollicking Biopic
First "Elvis" Trailer Reveals Baz Luhrmann's Ode to the King
Featured image: Caption: AUSTIN BUTLER as Elvis in Warner Bros. Pictures' drama "ELVIS," a Warner Bros. Pictures release. Photo Credit: Courtesy of Warner Bros. Pictures