"Top Gun: Maverick" Gets Five-Minute Standing Ovation at Cannes
Before the crowd at the Cannes was even strapped in for a second of Top Gun: Maverick, they were cheering. This was because Tom Cruise received a surprise Palme d'Or, which he accepted with what appeared to be genuine surprise. Cruise and his co-stars, including Jennifer Connelly, Jon Hamm, and Miles Teller, had already enjoyed an epic entrance when eight fighter jets leaving red, white, and blue contrails streaked overhead as they stood on the red carpet. Red, white, and blue works for both the American and the French flags—Cruise and his fellow cast members had already won the crowd over before a single minute of the movie played.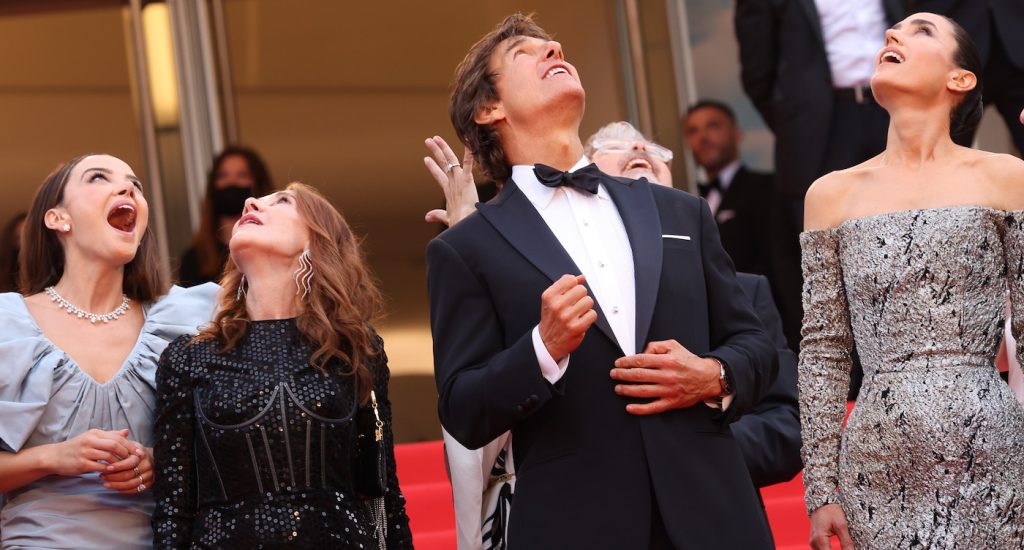 "This is an incredible evening and an incredible time … just to see everyone's faces," Cruise said from the stage of the Palais, where the film played. "It's been 36 years since the first Top Gun and we've had to hold it years for the pandemic. This movie was a dream. We talked about it when filming. I just want to see everyone's faces. There are no masks and we're in a movie theater. I'm going to take this all in and I feel very grateful. We're here for you. I make all these movies for all of you and I'm very blessed to do what I do. Enjoy this evening. You all have made my life."
Then it was time for the movie to begin, and the crowd's enthusiasm and excitement never abated. The stunts, the thrill of seeing Cruise back as Pete "Maverick" Mitchell, and then an outpouring of love when Val Kilmer, reprising his role as Iceman (only now, he's Admiral Kazansky), came on the screen for a scene with Cruise. When the film was over, the crowd was up on their feet for a five-minute standing ovation.
It was a wonderful end to a fantastic couple of weeks for Cruise, the film, and the talented cast and crew. Top Gun: Maverick has now wowed crowds in Las Vegas, San Diego, and Cannes, and has earned rapturous reviews from critics. It's more or less a guaranteed blockbuster. When it arrives in theaters on May 27, it'll be the culmination of a long, pandemic-delayed effort, 36-years after the original.
Here's the official synopsis for Top Gun: Maverick:
After more than thirty years of service as one of the Navy's top aviators, Pete "Maverick" Mitchell (Tom Cruise) is where he belongs, pushing the envelope as a courageous test pilot and dodging the advancement in rank that would ground him. When he finds himself training a detachment of Top Gun graduates for a specialized mission the likes of which no living pilot has ever seen, Maverick encounters Lt. Bradley Bradshaw (Miles Teller), call sign: "Rooster," the son of Maverick's late friend and Radar Intercept Officer Lt. Nick Bradshaw, aka "Goose."
Facing an uncertain future and confronting the ghosts of his past, Maverick is drawn into a confrontation with his own deepest fears, culminating in a mission that demands the ultimate sacrifice from those who will be chosen to fly it.
For more on Top Gun: Maverick, check out these stories:
"Top Gun: Maverick" Soars as Critics Hail Riveting Sequel
How "Top Gun: Maverick" Goosed San Diego's Economy
Tom Cruise Landed a Helicopter on a Aircraft Carrier for "Top Gun: Maverick" World Premiere
Listen to Lady Gaga's "Top Gun: Maverick" Song "Hold My Hand"