"Doctor Strange in the Multiverse of Madness" Costume Designer Graham Churchyard Makes Marvel Magic
Directed by Sam Raimi, Doctor Strange (Benedict Cumberbatch) is back in Doctor Strange in the Multiverse of Madness, and he and Supreme Sorcerer Wong (Benedict Wong) speedily land an unexpected assignment — protect America Chavez (Xochitl Gomez), a teenage multiverse-traveler who can't control her world-hopping powers. To keep his charge safe, Stephen turns to Wanda Maximoff (Elizabeth Olsen), who turns out to be living not in an apple orchard, busily mothering her twin boys, but in a barren land, population: 1, the Scarlet Witch. For Wanda, the only way back to Billy and Tommy, the boys she created in Westview, is to another universe where they still exist — but traveling between worlds is a talent she needs to take from America, first. 
The action takes off across the multiverse, with America and her helpers and pursuer alike landing in alternate worlds where they contend with challenges ranging from the mundane (red means go, pizza comes in ball form) to the existential, up to and including death. And poor Strange can't seem to land his love, Christine (Rachel McAdams) in any world, with the additional bad luck of encountering different versions of his personal enemies who remain embittered with the doctor across universes. 
In terms of costumes, Strange is fairly consistent, even across several different worlds' worth of Stephens. His enchanted cloak is back, of course. America, we are reminded by both her consistent teenager appearance and love of pizza, is but an adolescent, even if she holds one of the rarest powers in the multiverse. We see the most variety from the multitude of Wandas, who swing wildly from an athleisure-clad suburban mom to the slick and sinister-gowned Scarlett Witch. For costume designer Graham Churchyard, Doctor Strange in the Multiverse of Madness was both a continuation of a world in which he's spent many years — this is his sixth Marvel film — and a totally new assignment. "I've been quite happy for years being the guy in the workshop making all these supersuits, and then just kind of put my neck forward," he said of his extensive resume prior to signing on with Multiverse of Madness as the film's costume designer (he credits producer Eric Carroll for putting his name forward and his wife for pushing him to do it). We got to speak with him about landing the job, bringing the film's repeat characters into new versions of their various worlds, and marrying physical costumes with their VFX counterparts. 
So this was a very new experience. 
Kevin Feige and Lou D'Esposito [both producers] had tried to promote me before, about six years ago, and that didn't work out. I was a bit crestfallen, but I thought okay, I'll go back to my job on Justice League, or whatever I was doing next. But it's been absolutely amazing. Victoria [Alonso], Lou [D'Esposito], and Kevin [Feige] are just such amazing people to work for. And the visual department, they're set up in such a way that I'm not saying it makes it easy, but they have a system. And because they've known me for so long, they trusted me to get on with stuff.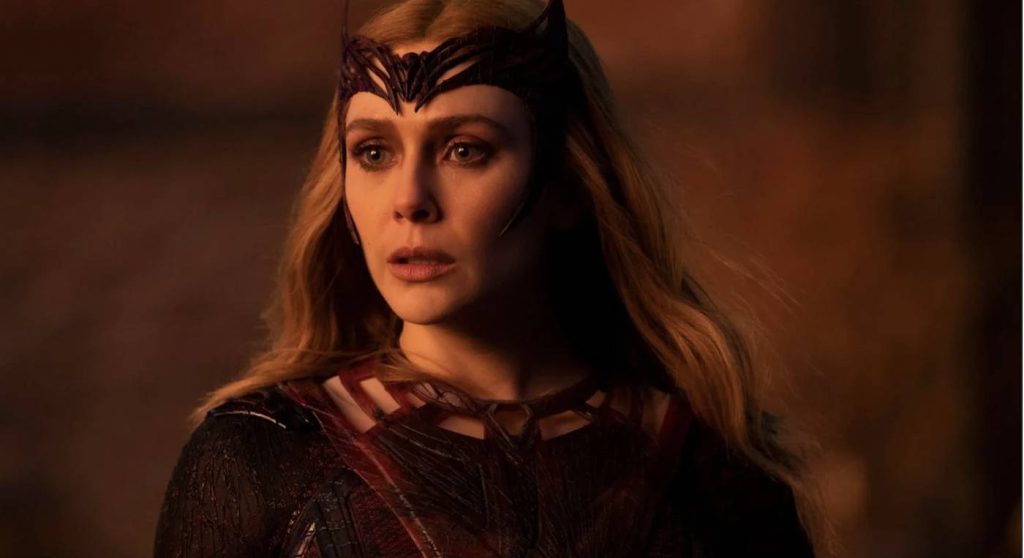 How did you approach a character like Wanda, aka the Scarlet Witch, whose looks vary so much and whom we've seen elsewhere recently?
After WandaVision, part of the story is that she's now gotten the Darkhold, is creating these hexes, and her character is moving on, as it were. So they wanted to get away from the last frames you saw of WandaVision, of something that looked more superhero and more like the comics, into another version that was a little more sinister. So I made some changes there in the crown. The tiara has this undefinable material. You're not quite sure if it's a jewel-like precious stone or something unknown, but it has this kind of deterioration on it. And the whole of her costume has this deteriorated effect. I was really happy with the way that worked out because we took the WandaVision costume but we cast it in clear tinted material. So when she's flying around, backlit, and in the seance, you actually really see that the material of her costume has a jewel-like and translucent quality, which changes depending on the angle. And then I gave her sleeves, wanting to move away from the cold shoulder look. It gave her more of a unified look in a silhouette.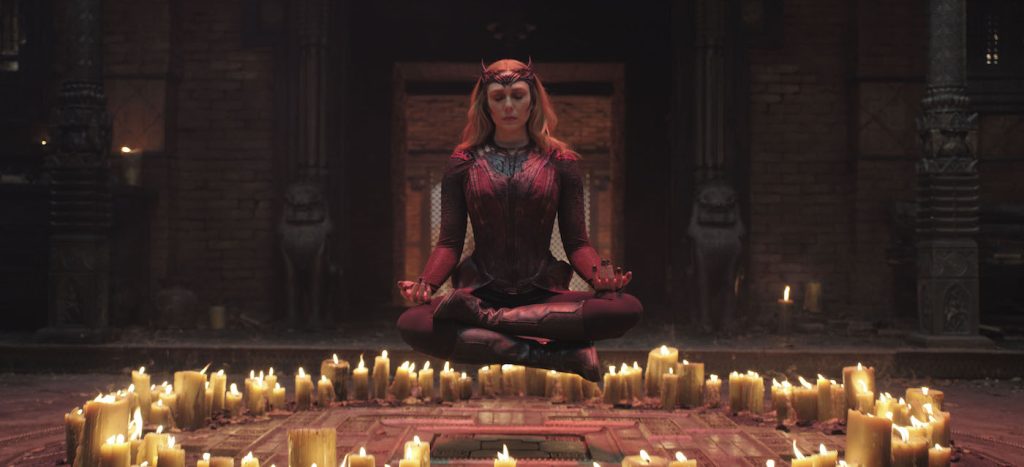 How did you develop what America should be wearing? Her costume winds up having to do a lot of work.
Now I can't remember whether the jean jacket with the star on the back was actually scripted. I probably did about 40 illustrations for that, all with different back designs which were part of Mexican folklore, just to keep her heritage within Mexican culture. But in fact, there's a bit of a mix-up, there are some Portuguese witchcraft symbols in there, too. The denim jacket is an idea that's been around in fashion for a long time and then some emo kids, if you like, will write some poetry on it, or a slogan, or just personalize their own jacket. In one of the scripts, she was an orphan in an orphanage, and it felt like she'd be in her bedroom decorating this coat just to get out some of the angst at the way she'd had to survive for the last 14 years, being hustled around different universes. So that expressive poetry on there came out of her background. It's all in Spanish and it all means something. If you saw it in close detail, people would recognize a lot of expressions there. I tried many things. I tried a camouflage that was red, white, and blue but mashed up, keeping America from the comics and the American flag, and blending that with Mexican folk art was where we got to.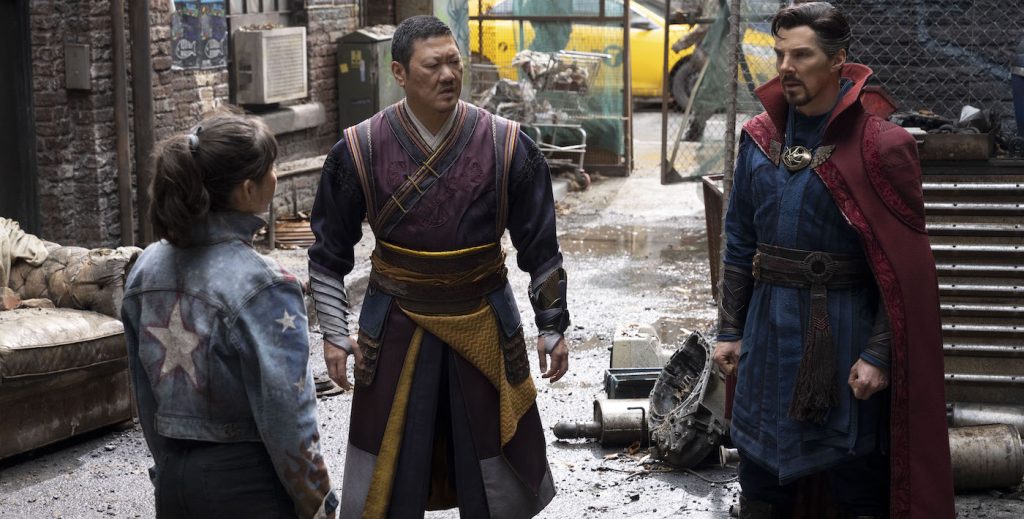 How did you arrive at her final look?
I think, in the end, the denim jacket was more youthful, with the black jeans and high-top sneakers. It was just a better launch for her into the multiverse, at age 14, rather than some of the comic images. We didn't particularly want to introduce anything that was too adult. We wanted to keep her in that early teens look. But it was also a very functional garment. There were many designs on the back and there were many discussions about how she would create these star portals when she had no control over them. So the star on the back became more significant. When she's running down the street, at the opening when she first meets Strange, you just see this white star running down the street, so you don't lose her in the crowd.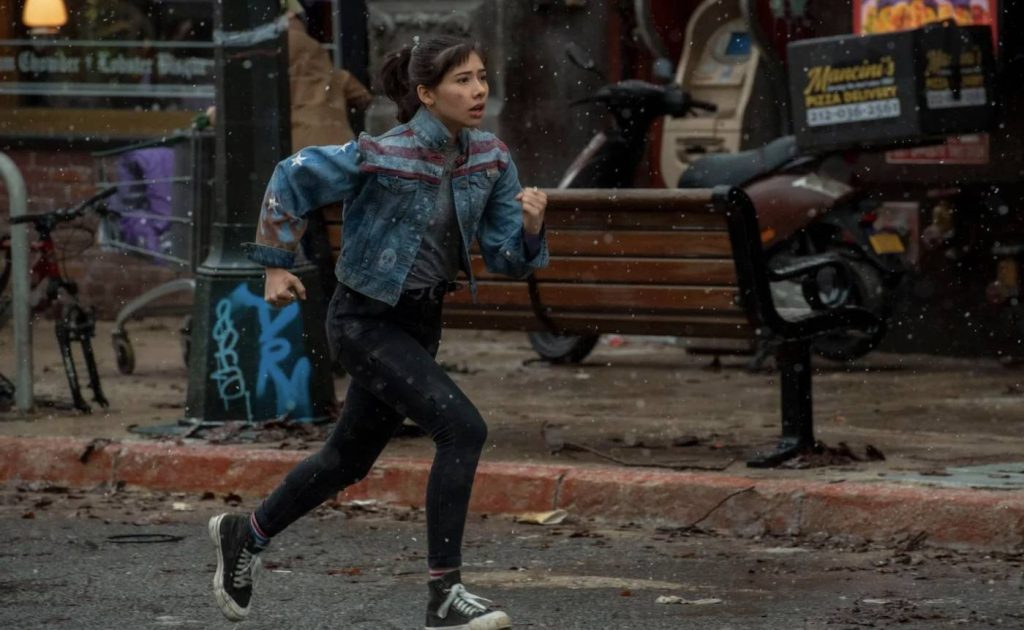 What kind of research do you do going in, particularly related to the dojo-type setting and Wong's character?
I certainly looked at what other people had done. Everything from samurai movies to any kind of Eastern culture. The vibe was set up in the first film. It was sportswear mixed with kimono styles. So just taking that one stage further — they wanted to upgrade Wong. I know he's in almost every Marvel production made now, but they wanted to move him on. Because this film was a bit more fight- and battle-oriented, when Wong first arrives in the street, he has elements of kendo armor on his legs, and he's wearing a very elaborate and embroidered garment, but the essence of it was to keep it a practical battle look. So his costume goes back to Imperial China, but still keeping the signature Wong colors that were set up in the first film, the purples and indigos. It was Sam's idea to introduce the gold color. It worked. The deeper you look into that costume, the leather belt he wears is remarkably detailed, hand-tooled leather designed with serpents and dragons. We designed the rope dart which he uses several times. I wanted it to almost be like a Marvel comic relic, like Wong's staff. In the first film, in the sanctum, they had these relics, which include the Cloak of Levitation. I just like to think that the rope dart that I designed was sort of a magical relic. It's like a sort of physical taser, like an arrowhead on a ribbon, and it's used in martial arts. It can be thrown and retrieved and hit enemies, and then rather than just staying out there like an arrowhead, you can retrieve it. It goes back to Chinese martial arts weaponry.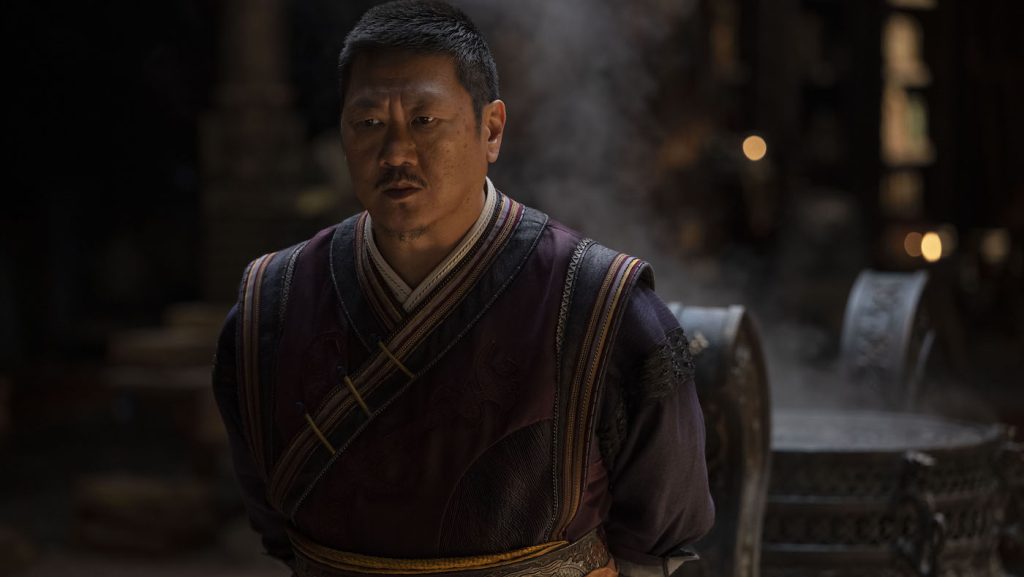 Starting with Strange's cloak, is there a close collaboration between your department and the VFX team? 
Doctor Strange's cloak is quite often more physical than you realize. Because VFX is sort of on a budget, they like to leave it in as long as possible before it needs to take on some sort of personality. We have a shortie version which he wears when there are fights going on and then the rest of it is CG after that. Quite a lot of the time it's really there as a physical thing. It was made on the first Doctor Strange, and then on this, we made ten more. He's had six physical appearances in this costume, so we needed to not only upgrade his costume from a disciple to a master's costume but we remade the cloaks. They were one of the most complicated things I've ever made. The design was worked out by Alexandra Byrne on the first movie with the director, and they arrived at that asymmetric, amazing piece of costume. But I'm used to working in my own capacity very closely with visual effects because you have to do all kinds of trick costumes to make them work for the stunts, special effects, and visual effects. So when the audience thinks, for example, on Avengers: Age of Ultron, there might be one or two Black Widow costumes, one or two Captain Americas, we made 20 repeats of each of those, and they are phenomenally complicated and usually take about a week [each]. The hours are just enormous. So Janek Sirrs, the remarkable visual effects producer, we had a lot of shortcuts. The visual effects results in this film are quite remarkable. And to John Mathieson [cinematographer] and Janek, I'd just like to say thank you for making me look so good. John's lighting is remarkable and the intermeshing of all the visual effects just makes it look like everything is real, all the time. It's very important to get that balance, in that relationship with the cinematographer and visual effects.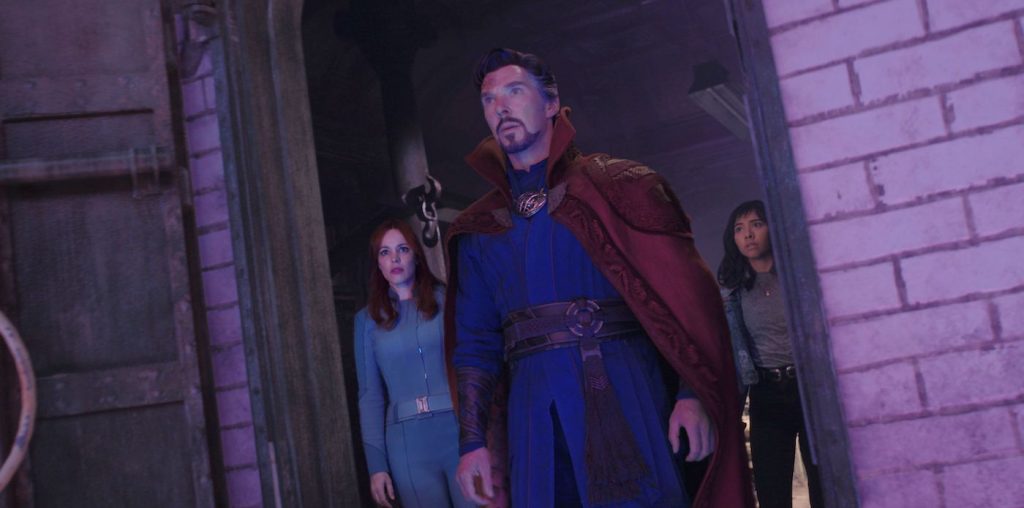 Doctor Strange in the Multiverse of Madness is in theaters now.
For more on Doctor Strange in the Multiverse of Madness, check out these stories:
"Doctor Strange in the Multiverse of Madness" Has Marvel-ous Opening Weekend
Doctor Strange Would Like to Stop Apologizing For his Spider-Man Spell Mishap
"Doctor Strange in the Multiverse of Madness" First Reactions Rejoice at Sam Raimi Bringing Weirdness & Horror to the MCU
Featured image: (L-R): Benedict Cumberbatch as Dr. Stephen Strange and Benedict Wong as Wong in Marvel Studios' DOCTOR STRANGE IN THE MULTIVERSE OF MADNESS. Photo courtesy of Marvel Studios. ©Marvel Studios 2022. All Rights Reserved.