"1883" Costume Designer Janie Bryant on Elsa's Epic Journey
The farther west her family's pioneer caravan travels, the heavier a burden customs become, narrates Elsa (Isabel May), the heroine of 1883 on Paramount+. Observant and headstrong, she is the missing link from the series Yellowstone, a presence felt but not seen. Over the course of this ten-episode prequel, we follow her family's journey leading to their stewardship of Montana's biggest ranch and to Elsa's ignominious fate. 
The Dutton's arduous move from Tennessee begins thanks to Elsa's father, James (Tim McGraw), who joins Civil War captain Shea (Sam Elliott) as an ersatz third hand, helping him and Thomas (LaMonica Garrett) lead a combined immigrant wagon train and cattle herd to Oregon. James's wife, Margaret (Faith Hill) is reluctant but stoic, in turn horrified by and resigned to the trail's effect on her daughter. The story is as much a coming-of-age tale for 18-year-old Elsa as it is a Western adventure, with her evolution from a resentfully buttoned-up young lady to daring, lusty cowgirl told not just through her reflective voice-overs but through her clothing. "I had to design costumes for her that could make a transformation into her new life," says Janie Bryant (Mad Men, It, Deadwood), the series' costume designer. She put Elsa in four primary looks, building them to be able to metamorphose piece by piece through the different stages of the character's journey.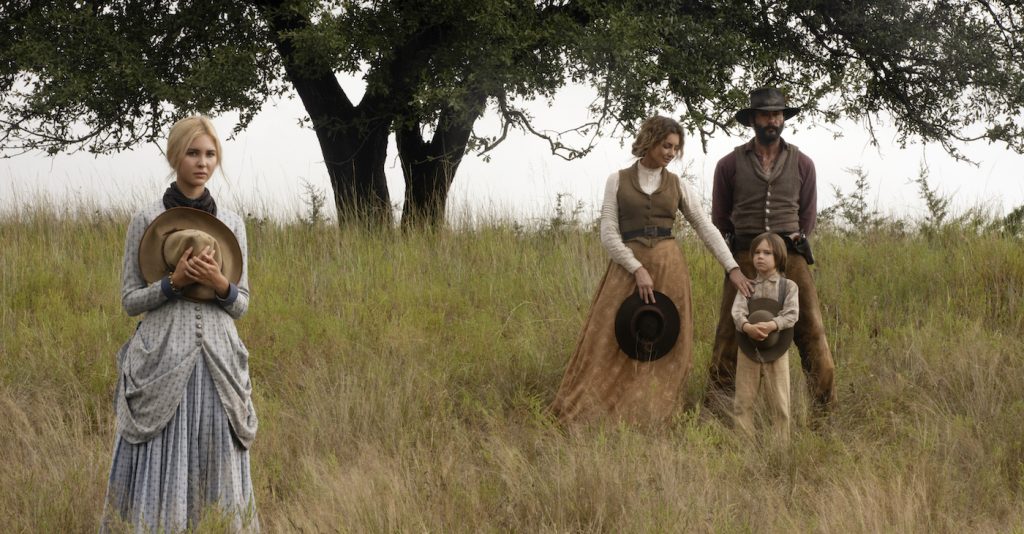 We meet Elsa in a state of absolute distress. Out on the plains, somewhere, a wagon is on fire, she's been shot through with an arrow, and inexplicably, she's in a high-necked, full-bustled white floral dress which would be curiously pristine but for her mortal injury. Shifting back to the events leading to this nightmarish scene, she's on a train from Tennessee, in a somewhat more practical slim blue dress with a long jacket known as a polonaise. "This was more of a Baroque-style garment, but the Victorians were inspired by the Baroque period, so the polonaise made a comeback in the 1880s," says Bryant, who designed the jacket to use its length to signal Elsa's adjustment to her drastically changing surroundings. "The polonaise could be cut off with each episode, depending on what her action was, to have her transformation happen." Disappearing bit by bit, by the time she loses the formal jacket all together, the bodice of Elsa's dress is basically an early iteration of a t-shirt and she's traded a gold charm off her bracelet for a pair of pants.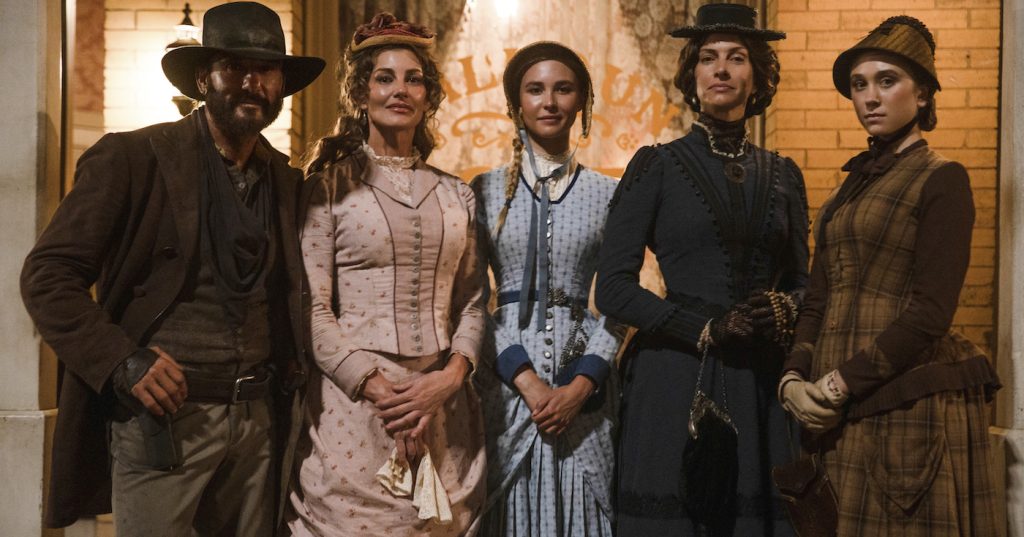 This is the outfit we associate with her first love, cowboy Ennis (Eric Nelsen). By the time she's left by her second paramour, Sam (Martin Sensmeier), she's lost all vestiges of her pre-trip self. "It was written that Sam gives her a Comanche vest. The design I created and each part of the vest has a significant meaning, like with the beaded birds, the horsehair, and the elk teeth. And then with the leggings, those are indicative of the Comanche style during that period, with the long fringe on the side," says Bryant. The costume designer worked with consultants from the Comanche and Lakota (whom the Duttons encounter next along their journey) to get Elsa's adopted Comanche look and that of the other character's period correct.
While Elsa shrugs off the day's customs and mores, she's surrounded by recent immigrants with more limited means to transform along the trail. The caravan is populated by small groups from Prussia, Romania, Germany, and Russia, mostly just trying to ford rivers and hang on to their food supplies. From the men's trousers to their diverse headgear and the varied cuts of women's blouses, "I researched each group and what was happening in the clothing at that time," says Bryant. But at the heart of a huge undertaking of building, aging, and dying, it was Elsa and her mother, Margaret, whose look grows grimmer every mile she travels, at the core of Bryant's design process. "Where I started would be with Margaret and Elsa, and I expanded from there. It's just like a puzzle you put together."
For more films and series from Paramount and Paramount+, check out these stories:
"Top Gun: Maverick" Gets Five-Minute Standing Ovation at Cannes
"Top Gun: Maverick" Soars as Critics Hail Riveting Sequel
How "Top Gun: Maverick" Goosed San Diego's Economy
"The Offer" Makeup Department Head Katy Fray Couldn't Refuse
Featured image: Pictured: Isabel May as Elsa of the Paramount+ original series 1883. Photo Cr: Emerson Miller/Paramount+ © 2021 MTV Entertainment Studios. All Rights Reserved.