"The Offer" Makeup Department Head Katy Fray Couldn't Refuse
The limited series The Offer, now streaming on Paramount+, tells the deliciously dramatic story of how one of the greatest films ever made, The Godfather, almost never came to the screen. It is based on the memories of the film's Oscar-winning producer Al Ruddy, here played by Miles Teller, and spans from the release of Mario Puzo's bestseller in 1969, through the film's production to its release in 1972. What makes the show so compelling is the spot-on portrayal of real-life figures important to the creation of Francis Ford Coppola's deathless film to life. Matthew Goode plays Paramount Studios executive Robert Evans, Dan Fogler brings auteur Francis Ford Coppola to life, and Patrick Gallo is remarkable as Mario Puzo. Actors Juno Temple and Nora Arnezeder embody two powerful women that had a significant impact on the story, with Temple playing secretary-turned-agent Bettye McCart, and Arnezeder as Ruddy's partner Françoise Glazer, who owned Chateau Marmont. Giovanni Ribisi is larger than life and more than a little terrifying as mob boss Joe Columbo, who made a concerted effort to stop the film from being made. For fans of The Godfather, The Offer will be impossible to refuse.
Having formerly worked on blockbuster franchises Harry Potter and The Hobbit, Makeup Department Head Katy Fray came to The Offer with lots of experience with prosthetics, which she'd need to deploy in her work here. The Credits spoke to Fray about the inspiration she got from makeup genius Dick Smith, how she recreated the styles of the late 1960s and early 1970s, and how she captured the iconic looks of the famous and infamous of the time, from icons like Robert Redford, Ali McGraw, and, of course, Marlon Brando.
Can you talk about some of the signature elements of the real people that you incorporated into the makeup of the actors portraying them? 
Well, for Al Ruddy, Miles Teller was amazing in collaborating for his look, and Al Ruddy himself was involved in the movie as well and he was really excited about Miles playing the character, so we took the essence of these extra sideburns and extra hair, but he was always clean cut on his face, perfectly shaven every day, like he shows up for work every day looking smart, but he's also very much a man-about-town. He had to have that charisma. We kept his makeup very clean every day.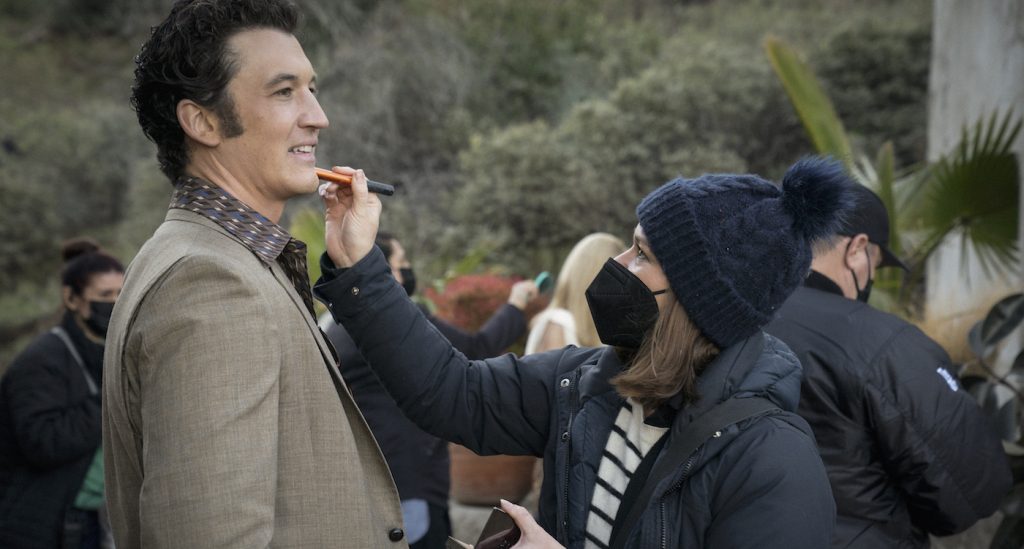 How about Bettye McCart?
Juno Temple was amazing as Bettye McCart. We kept her very fresh-looking. As a character, she was always presentable, but she was constantly running around doing stuff, so she isn't meant to look perfect. She's trying to do a job. We started there, but we also used a lot of references from Look and Playboy and every other popular magazine of the 70s to hone in on how to create her character, and a lot of others as well.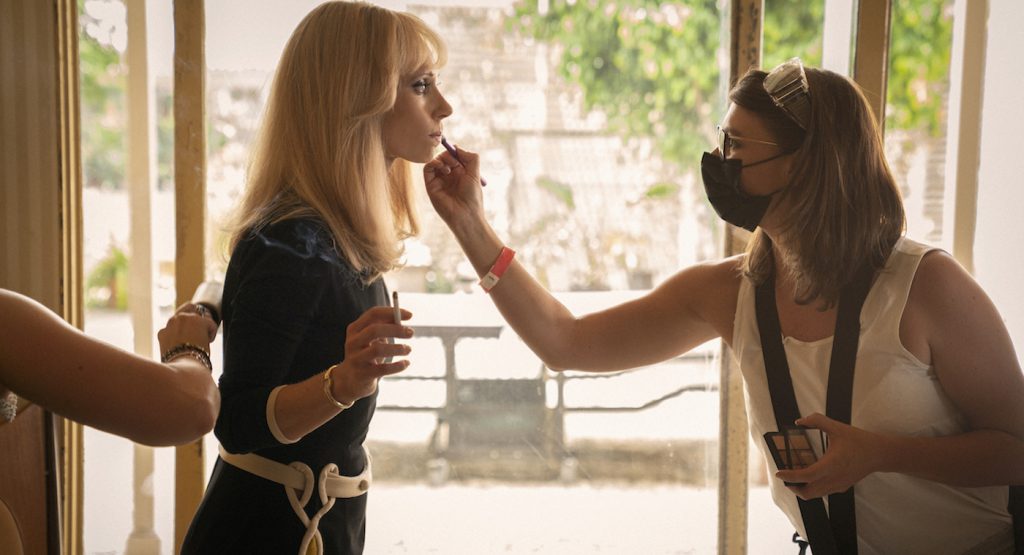 You really made Françoise Glazer glamorous. 
Nora Arnezeder as Françoise Glazer obviously had to have a look with a lot more French influence. She stood out from the rest of the women in the series, which was a choice we made in collaboration with the costume department. We all worked together with Nora, and I think we sold her as being different because the French and the European influence was huge, as we saw from French fashion magazines of that era. We also used a lot of reference photos of Françoise, a lot of gorgeous pictures of her from that time, and her look changed later, so we were lucky to have those images. 
Giovanni Ribisi looks very different as mob boss Joe Columbo—how did you transform him so thoroughly?
Giovanni was just a delight. Every day he came in so committed, like 'I want to look like this man. I want to be this man. If you need to cut my hair or whatever you need, whatever you want, just do it.' He is so method, and he just knew the character so well and had done an enormous amount of research himself. We shaved the top of his head and kept a little tiny piece in the front, and he was happy to walk around like that for 6 months. We added a little hairpiece on top, applying it every day. There was very minimal makeup, just a little bit of eyebrow, but the hair was the main thing, to give him that receding hairline. We buffed his nails every day to make sure he looked like he was manicured.  
Dan Fogler already looks a bit like Francis Ford Coppola. What was the secret to pushing his look? 
The key was his beard. It's hard when actors are doing interviews and such, but I told him, 'no trimming!' We filled in his beard to start with until it grew through. Dan already had a strong likeness, so we just had to lean into it. The nice thing was that he and Patrick Gallo, who played Mario Puzo, lived together for a month in the beginning, so they got close, and we were able to fine-tune them into these iconic people so many know. With Patrick, we covered up his tattoos every day, sometimes at the last minute if there was a costume change. Patrick was lucky because he could grow his hair fast. He started growing his sideburns at the beginning and they just got bushier and bushier.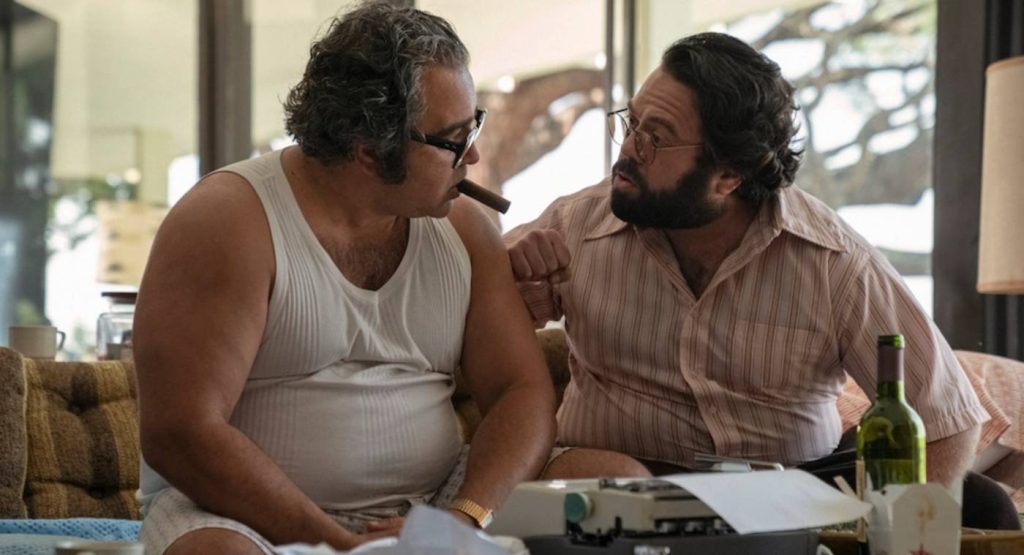 You had to recreate the iconic looks of famous actors like Robert Redford, Elizabeth Taylor, Al Pacino, Ali McGraw, and Ann Margret. How did you approach that? 
Everything happened really quickly, which was good because we didn't have time to overanalyze things. It was a dream to be able to try to recreate those people. We'd just line up a ton of photos and try our best to capture their essence, getting the facial hair and skin tone and finding and using the exact colors. We had a great stock of hair and so we could add it wherever we needed it, which is great because the 70s is so all about hair. It was getting these fine details to make these actors look as close as we could to those they were portraying.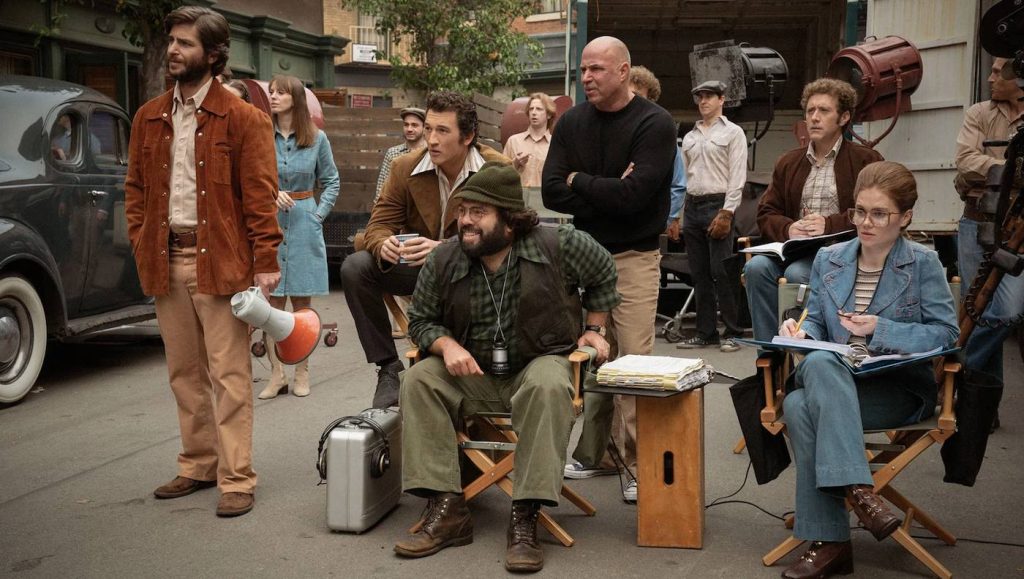 No doubt Dick Smith, who did makeup on the original Godfather, was an inspiration for your work on The Offer. What kind of research did you do on his work with Marlon Brando, and what did you take from it that helped with the designs for Justin Chambers? 
That was probably the scariest moment of my career because I've researched and studied Dick Smith's work from the very beginning of my career. I had references of every photo we could find of what Dick did in the movie. I had a picture of him doing makeup on Marlon Brando that I looked at every day and it was a great inspiration. We looked at a lot of his techniques, and luckily Dick was very open about his experience and what he did. He was always very kind in trying to teach younger people, so we learned a lot about his techniques. We then got Justin's mouth impressions done, and we were able to replicate the dental plumpers that Dick used to make Marlon's jaw look like it was hanging down lower. We sculpted and structured the mouth to look more like The Don, and Justin was so happy to have that because it added an extra layer to the character. We used Dick Smith's techniques, but I used more modern appliances and pieces because technology has advanced a lot since then. We made some silicone transfers to go on his face to turn Justin into Marlon Brando but also into The Don, with The Godfather makeup. The whole thing was scary and fun at the same time.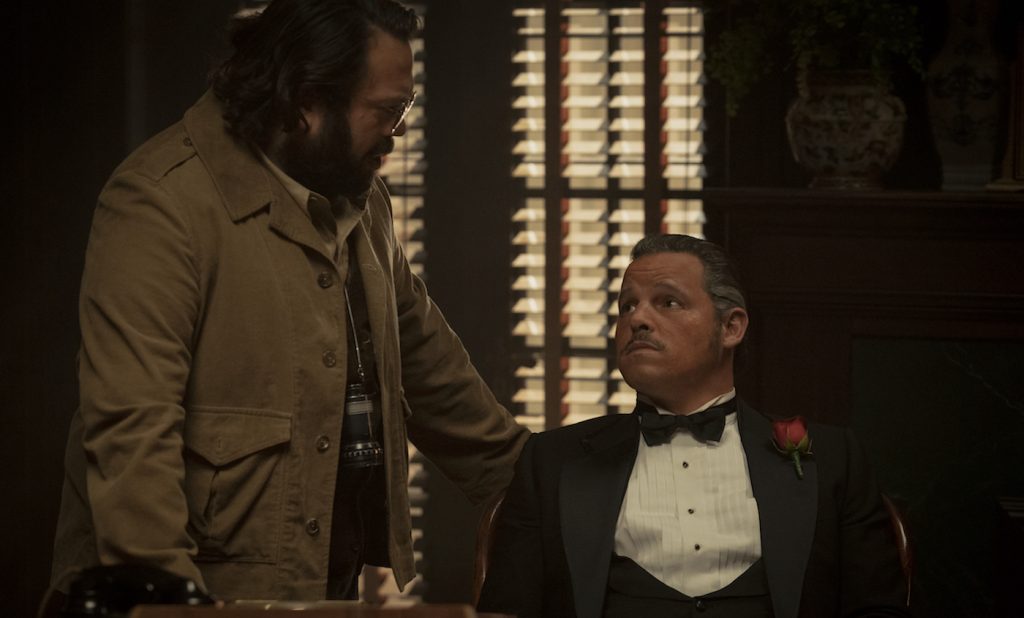 The Offer is streaming now on Paramount+.      
For more from Paramount, check out these stories:
Tom Cruise Landed a Helicopter on an Aircraft Carrier for "Top Gun: Maverick" World Premiere
Listen to Lady Gaga's "Top Gun: Maverick" Song "Hold My Hand"
Paramount Reveals "A Quiet Place" Spinoff Movie's Title & Plot Details at CinemaCon
Featured image: Pictured: Justin Chambers as Marlon Brando of the Paramount+ original series THE OFFER. Photo Cr: Nicole Wilder/Paramount+ ©2022 Paramount Pictures. All Rights Reserved.