"The Survivor" Director Barry Levinson on His Astonishing Gut-Punch of a Film
Barry Levinson's The Survivor is the type of film you fear you won't be watching as much as enduring, as it's centered on an unflinchingly brutal true story of a Holocaust survivor. A riveting Ben Foster plays Harry Haft, a Polish Jew who gets sent to Auschwitz in 1943. This, of course, was a death sentence, yet Harry manages to survive by inadvertently presenting himself as an intriguing source of entertainment for a pseudo-intellectual Nazi guard.
In Auschwitz, Barry becomes a boxer, and it's his boxing that keeps him alive. He's made to spar with other prisoners for the amusement of their Nazi guards and executioners. Harry is turned into what's essentially a brawling Sonderkommandos [these were the work units made up of Jewish prisoners who extended their lease on life by disposing of the bodies of gas chamber victims], only he's asked to dispose of his fellow prisoners in the boxing ring.
And yet, The Survivor, as a viewing experience, ends up being less an endurance trial and more of a revelation. Levinson has marshaled some astonishing performances and a variety of tones into a single, cohesive, often devastating whole. It's a character study, going deep inside Harry's battered psyche and soul, it's a Holocaust drama, depicting the barbaric cruelty and senseless obliteration of life on a mass scale, and it's a boxing movie, about a ferociously tough but unschooled brawler trying to become a professional champion once the war's over and he's relocated to America. And throughout it all, there's Harry, nearly shattered but not quite undone, a man portrayed with nuance and heartache by Foster.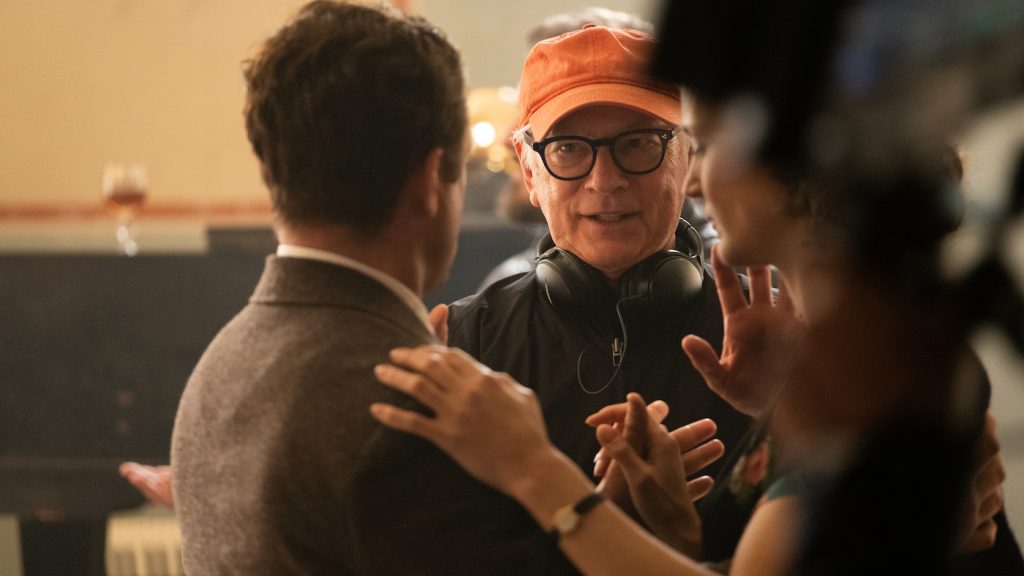 The Survivor is set in two primary locations—one half, shot in black and white, is set in Auschwitz. Levinson and his team, which included cinematographer George Steel and production designer Miljen Kreka Kljakovic, capture the haunting hellscape from Harry's survive-at-all-costs perspective. Yet Harry doesn't gin up the ploy of boxing other prisoners himself. In fact, he puts his own life on the line defending a fellow prisoner from abuse and reveals that he can throw, and take, a punch, by a young Nazi officer named Schneider (Billy Magnussen) who sees potential in Harry. Foster and Magnussen are electric together, with the latter playing the kind of Nazi who styles himself an intellectual, someone capable of seeing Jews more as a valuable scapegoat in the greater glory of building the Thousand Year Reich, rather than mere animals. Yet this doesn't stop Schneider from toying with Harry like he's his pet.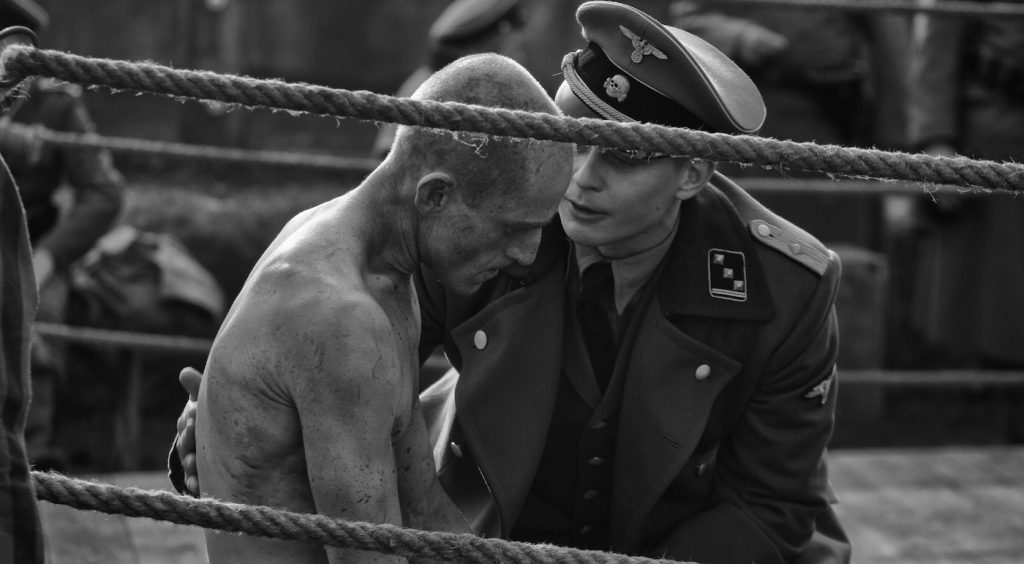 "One thing in terms of getting the performances," Levinson says, "is having the actors who are up to it. Certainly Ben Foster is capable of it, I think he's one of the finest actors we have today. Billy, who I didn't know until I ended up meeting him for the role, exhibited what was I thought was necessary — an intelligent person with a point of view you don't necessarily share, and how they justify it so, in a sense, it's their justification that scares you the most. So I thought he was able to handle that extremely well."
The boxing scenes in Auschwitz are brutal, and Levinson and his team managed to capture them with a no-frills intensity that is appropriate to the material. Harry is a capable fighter, but he's not actually a proper boxer, and Levinson says this was key to his approach to filming the boxing scenes both in the camp and later on in America.
"This isn't a boxing movie," Levinson says, "As Danny DeVito's character [playing Rocky Marciano's boxing trainer Charlie Goldman] says, 'you were taught all wrong.' That's part of it. He's not a refined fighter at all, he doesn't have that kind of training. So almost all the fights he has is as a man who doesn't have that finesse that's necessary to be a top fighter. He basically exists because of his spirit to survive from fight to fight, as opposed to learning the craft. That's why the boxing scenes are messier than normal. So it's rawer in a certain way because it's awkward."
Some of the toughest moments in the film are watching the horror and anguish of other Jewish prisoners watching one prisoner beat another to death. Levinson says the camera's focus on their faces came from a flexible approach to filming.
"I've always been open to seeing what else is going on when I'm shooting," he says. "When you put talented actors together, other things start to happen in a very positive way, and sometimes you have to take advantage of that and you run with it. That's the way that I work. You find things that you can add to the piece and hopefully it enhances it. There are sections throughout the movie, especially something as rich as these prisoner reactions, that reveal how we think, how we behave, and a sense of guilt. That's part of the process."
The film's second setting is Brighton Beach, New York, beginning in 1949, where Harry resettles after the war. Harry does what he does best, he becomes a prizefighter. Yet he's haunted by his experiences during the Holocaust, an experience he'd like to keep quiet until a reporter named Emory Anderson (Peter Sarsgaard) uncovers his past. Harry goes from being introduced in the ring as "the pride of Poland, the survivor of Auschwitz" into a local pariah for having "collaborated" with the Nazis.
Adding to the layers of heartbreak in Justine Juel Gillmer's script is the fact that before World War II, Harry had a budding relationship with the woman he loved, Leah (Dar Zuzovsky), who he loses when she's taken away to the camps. Harry cannot shake the conviction that she survived and that he can find her, and he concocts a way to make that happen—fight the best boxer alive, Rocky Marciano, get his name in the papers, and thus send out a signal to Leah that he survived, too.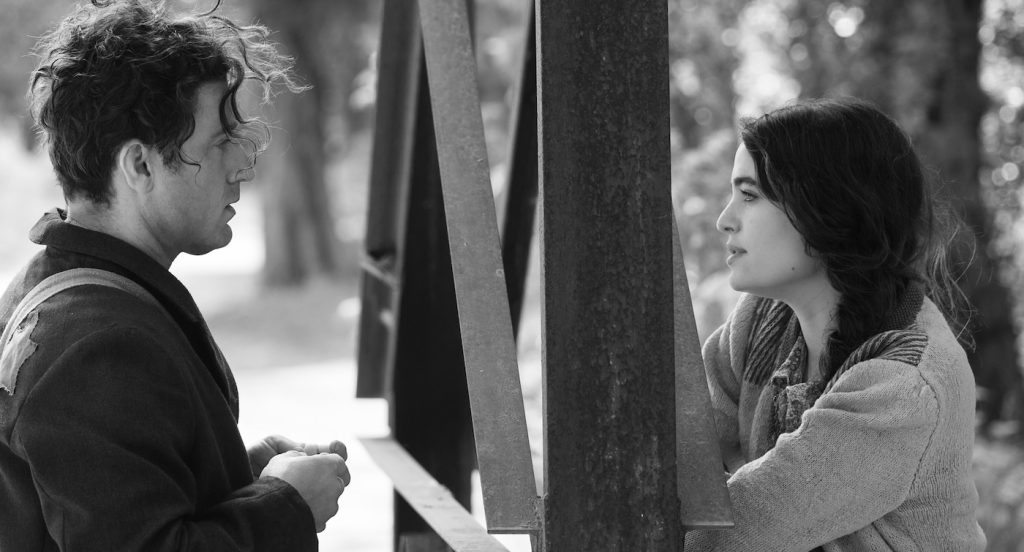 Harry Haft manages to get his fight with Rocky Marciano. [You can Google it, it really happened.] Incredibly, Harry lasted three rounds. Yet this match isn't the film's big finish, but rather another fascinating, partly devastating stop on the long, winding road of Harry's journey.
"Well, I guess you could make the Marciano fight the focus, but it's just one of the stepping stones of the piece," Levinson says of the match. "That's a structural issue, in terms of how we built the film. So much has to take place after Harry fights Marciano, but that fight is the step that leads to a connection to the woman, Miriam [Vicky Krieps] he ultimately marries. The quest is not to win the fight and that's where the movie is supposed to end, but rather lead to him finding himself through Miriam, and ultimately being able to take those next steps to become a person who is not going to be plagued constantly by the past. It's a long journey, and even though Harry doesn't understand it all at the moment, it's okay. Most of us don't know the hell where we're going."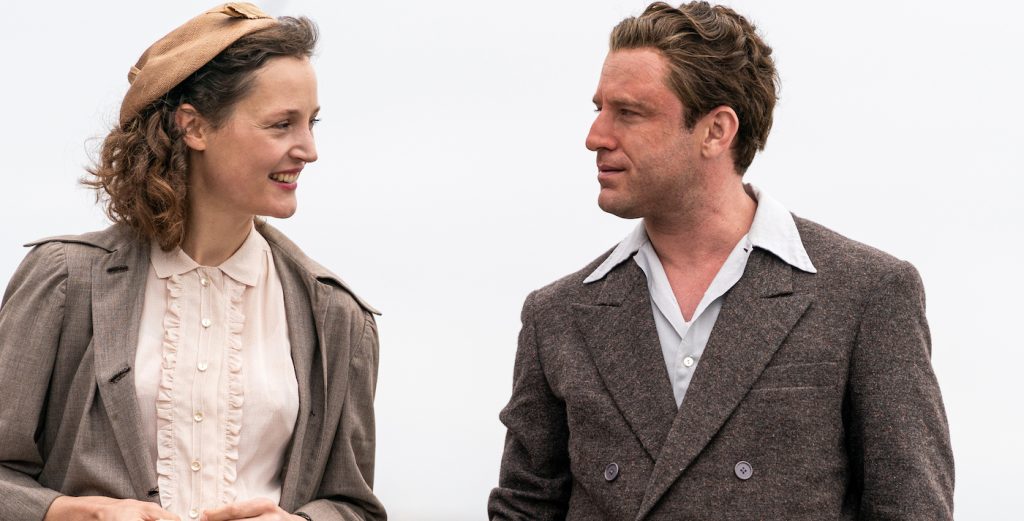 The Survivor is available now on HBO.
For more on Warner Bros., HBO, and HBO Max, check out these stories:
WarnerBros. Unveils New Footage of Michael Keaton as Batman in "The Flash" & More
Margot Robbie's "Barbie" Reveals First Photo, Release Date at CinemaCon
"The Batman" Sequel is Officially Happening With Robert Pattinson & Matt Reeves Returning
Featured image: Ben Foster in "The Survivor." Photograph by Leo Pinter/HBO