WarnerBros. Unveils New Footage of Michael Keaton as Batman in "The Flash" & More
WarnerBros. had a very big presentation at CinemaCon in Las Vegas that included the news that The Batman 2 is happening, the first look at Margot Robbie and Greta Gerwig's Barbie, and, at long last, more footage of Michael Keaton as that other Batman in The Flash.
Keaton drew big cheers from the crowd at CinemaCon when he appeared on screen in a new look at director Andy Muschietti's The Flash, which stars Ezra Miller as the titular speedy superhero who races through the multiverse and runs right into Keaton's version of the Caped Crusader. The fresh footage offered a lot of action (and a young Superman), but the main draw was seeing Keaton in the cape and cowl that he first donned way back in Tim Burton's iconic, 1989 film Batman. Miller's Flash asks Keaton's Bruce Wayne, wearing his Batsuit (yet no mask in this scene), and now with graying hair, "Are you in?" Batman's reply, a callback to one of his most famous lines from Burton's film, was delivered in deadpan: "You wanna get nuts? Let's get nuts."
Keaton's reprisal of the role that made him famous is just one of the exciting things Warner Bros. unveiled at this year's Con, which has been a bigger, brighter celebration than last year's more muted affair. Fresh looks at Dwayne Johnson's hotly-anticipated Black Adam were provided, with Johnson on hand to promise the crowd, right before a new clip was shown, that "Black Adam is one of the things in my life that gets me out of bed. I think the hierarchy of the DC universe is about to change."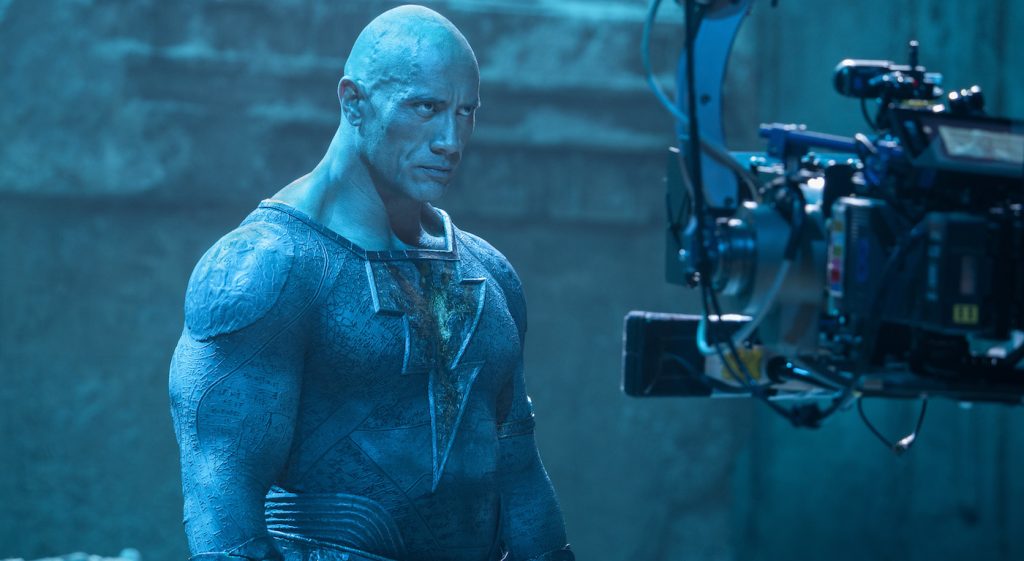 Warner Bros. revealed new looks at a lot more, including Elvis, Wonka, Shazam! Fury of the Gods, Aquaman and the Lost Kingdom, Salem's Lot, and Don't Worry Darling. Stars studded the stage, including Olivia Wilde (directing Don't Worry Darling), Shazam!'s Zachary Levi, and The Batman co-writer/director Matt Reeves.
Also on hand were director Baz Luhrmann and Austin Butler, who stars as Elvis Presley alongside Tom Hanks in Luhrmann's Elvis. While Luhrmann's film will track Elvis's rise to superstardom from the 1950s to the 1970s,  the film is told through the perspective of Colonel Tom Parker (Hanks), a wily, ruthless figure who saw early on what Elvis could be and took advantage of it. Luhrmann had a point to make about working with Hanks: "He's a bit nervy and stuff, I had to coach him a lot to get him out of his shell," Luhrmann joked. "I have worked with everyone, all sorts of icons and my god, Tom Hanks ­— the Rolls Royce of actors."
For more on Warner Bros., HBO, and HBO Max, check out these stories:
Margot Robbie's "Barbie" Reveals First Photo, Release Date at CinemaCon
"The Batman" Sequel is Officially Happening With Robert Pattinson & Matt Reeves Returning
Expect CinemaCon to Bring New Looks at "Top Gun: Maverick," "Avatar 2," "Black Adam" & More
Watch "The Batman" Chase Scene – The Greatest Batmobile Chase of All Time
Featured image: Featured image: Michael Keaton attends the premiere of Columbia Pictures' "Spider-Man: Homecoming" at TCL Chinese Theatre on June 28, 2017 in Hollywood, California. Photo by Alberto E. Rodriguez/Getty Images)