Margot Robbie's "Barbie" Reveals First Photo, Release Date at CinemaCon
Margot Robbie is getting into her pink convertible and zooming into theaters as Barbie on July 21, 2023.
The release date and the very first image from the hotly-anticipated film were part of Warner Bros. CinemaCon presentation on Monday night in Las Vegas. Robbie's live-action film about one of the world's most iconic dolls boasts the superstar at the center and a star-studded supporting cast. That cast includes Ryan Gosling, Alexandra Shipp, Kate McKinnon, America Ferrera, Simu Liu, Will Ferrell, and Hari Nef. What's more, the film is being directed by Greta Gerwig, from a script Gerwig wrote with her partner Noah Baumbach.
Barbie is currently in production in London, and this first image gives us a glimpse at how Gerwig, Robbie, and their team are taking America's beloved (if problematic) doll and making her into a real girl. Back in 2021, Robbie told British Vogue that taking on the iconic doll "comes with a lot of baggage … and a lot of nostalgic connections. But with that comes a lot of exciting ways to attack it. People generally hear 'Barbie' and think, 'I know what that movie is going to be,' and then they hear that Greta Gerwig is writing and directing it, and they're like, 'Oh, well, maybe I don't.'"
The aforementioned photo shows Robbie as Barbie behind the wheel of her candy pink convertible wearing a polka dot headband, delivering a million-dollar smile. With Robbie leading the film's cast, and the incredibly talented Gerwig co-writing and directing, Barbie will very likely deliver in ways we won't see coming—even if that delivery happens via pink convertible.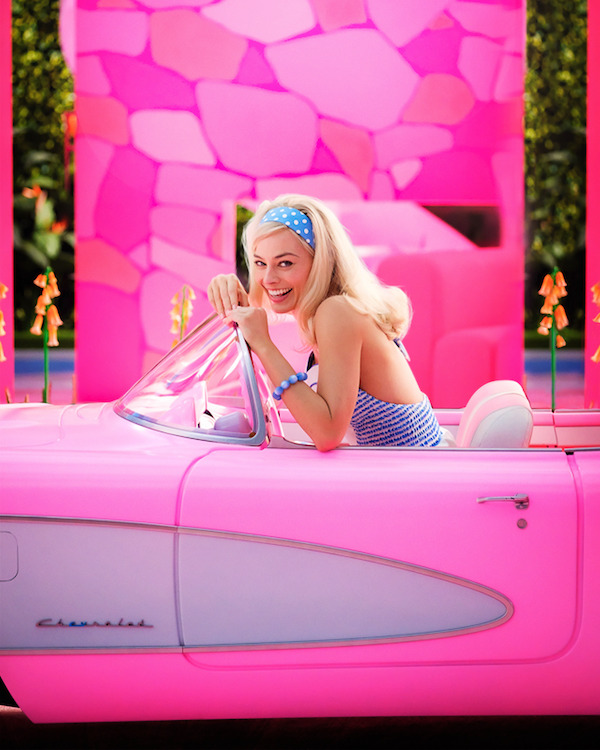 For more on Warner Bros., HBO, and HBO Max, check out these stories:
"The Batman" Sequel is Officially Happening With Robert Pattinson & Matt Reeves Returning
Expect CinemaCon to Bring New Looks at "Top Gun: Maverick," "Avatar 2," "Black Adam" & More
Watch "The Batman" Chase Scene – The Greatest Batmobile Chase of All Time
Nicole Kassell on Producing & Directing HBO's Devilish New Comedy/Horror "The Baby"
Featured image: Caption: MARGOT ROBBIE as Barbie in Warner Bros. Pictures' "BARBIE," a Warner Bros. Pictures release. Photo Credit: Jaap Buitendijk