Nicole Kassell on Producing & Directing HBO's Devilish New Comedy/Horror "The Baby"
Shooting a television series under any circumstance is arduous at best. But when your title character is too young to even walk, it certainly increases the degree of difficulty. Producer/director Nicole Kassell discovered this fact quickly on her latest project, The Baby, a sly horror/comedy created by Siân Robins-Grace and Lucy Gaymer. 
"Even with everything I've already done before, I think this might have been the hardest shoot I've ever done," says Kassell during a recent Zoom interview. "Whereas you usually schedule a whole day around what's most efficient for lighting, you have to throw that out and really focus on what works around the baby."
The Baby revolves around Natasha (Michelle de Swarte), a 38-year-old single woman whose life implodes when a baby literally falls out of the sky and into her arms. Not a fan of motherhood, her initial instinct is to turn her find over to the authorities. But much to her dismay, the baby has other plans. Devilishly manipulative, the newborn does everything in his power to make Natasha his "latest" mother. And when he doesn't get his way, bad things happen. The body count grows and Natasha finds her life turning into a living nightmare.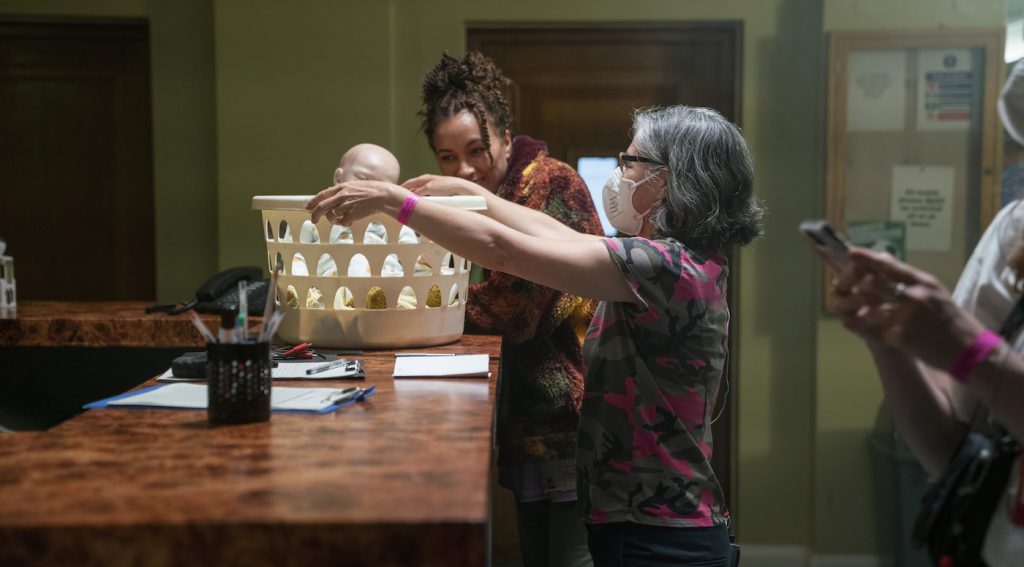 Kassell directed the pilot episode and served as executive producer for the eight-episode series, which debuts on April 24 on HBO. Despite an extensive resume that includes directing episodes of Watchmen, Westworld, and The Americans, and writing and directing the 2003 feature The Woodsman, she admits adding an infant to the mix changes everything. Because of strict regulations, children this young are only permitted to spend four hours each day on a shoot. That must include an hour break. And the baby can only be on set for 20 minutes at a time.
Not that Kassell regrets the assignment. Just the opposite, she relished the opportunity to focus her creative juices on this devilishly satirical take on motherhood. "It was very, very, very hard – but also a good hard," she adds. You know, an exciting challenge and just a fact of the shoot."
Describing The Baby as Raising Arizona meets The Shining meets Rosemary's Baby — with a splash of Get Out, Kassell confesses she has trouble resisting projects out of the ordinary. After reading the pilot script and seeing in the outline how the story would unfold, she wanted in.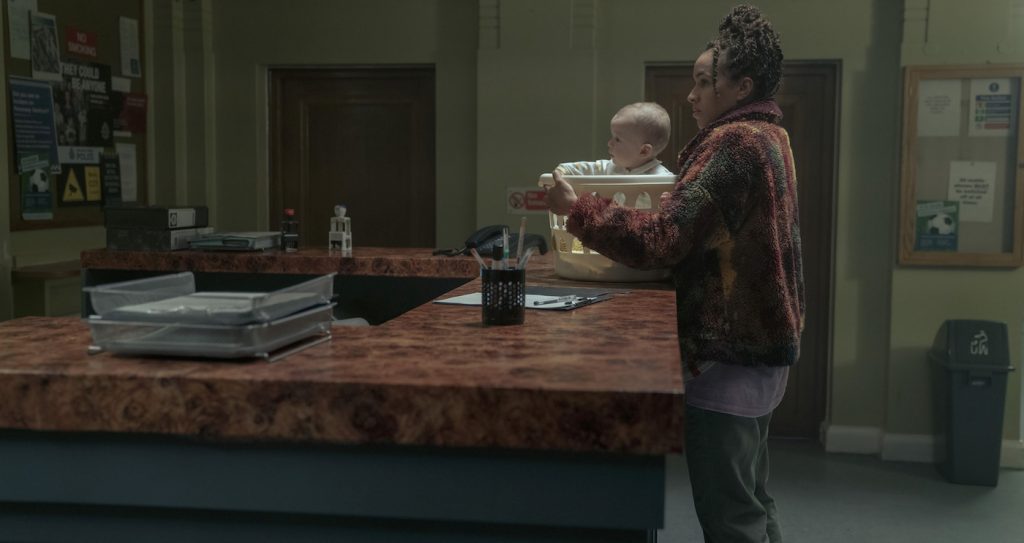 "It was definitely one of the most original things I've ever read. I respond to the unusual. I loved that it was truly unique, yet tackling very real issues," Kassell explains. "I felt like it was a cinematic feast and would be so much fun and to do things I haven't done before — to  play in genres I haven't gotten to do before."
As The Baby shot in England over the course of the pandemic, the New York-based Kassell opted to only direct the pilot. Because of COVID travel restrictions, she couldn't easily fly back and forth during production. As each episode required a two-month commitment, she didn't want to be away from her own two children for this long. 
Instead, she put on her executive producer hat to stay creatively involved throughout the entire process. "In pre-production, I would read outlines or scripts of other drafts coming in until I got super consumed with directing the pilot," she continues. "When the other directors started to prep their episodes, I would keep an eye on what they were doing in casting and costumes. If asked for an opinion, I would give it. If I felt the need, I'd share an opinion. All the way through post-production, I was giving notes on edits and visual effects."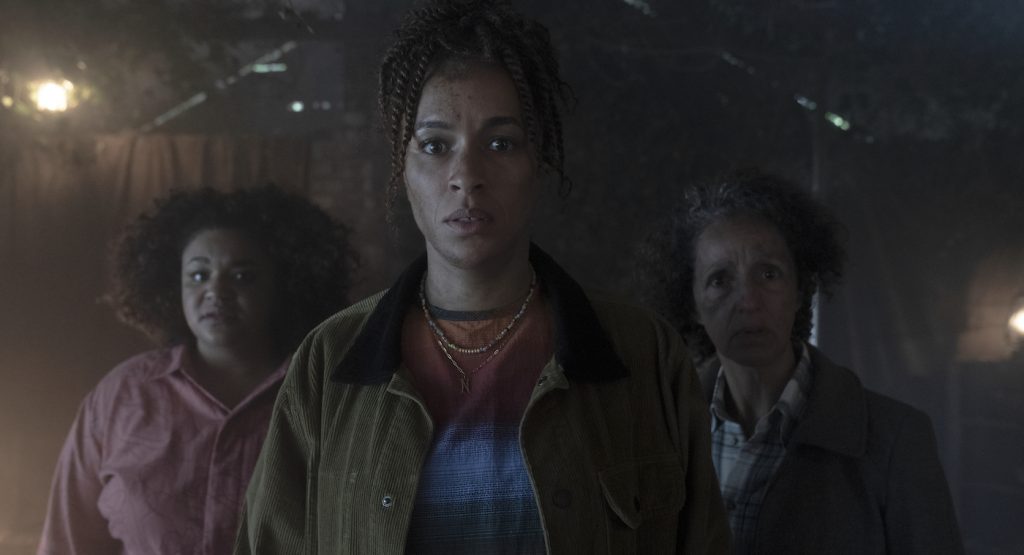 Kassell also had a hand in one of the most important decisions of the series — casting the title character. The Baby is actually played by twins — nine-month-old Albie and Arthur Hills. As Kassell explains, the needs were exact. The baby needed to be able to crawl but couldn't be old enough to walk. A walking toddler would be too hard to control. Even more important, he needed that certain look that was at times engaging, but also one that could send chills down a spine as the mayhem unfolded. The Hills twins fit the bill perfectly
"I mean that's the magic of casting," says Kassell. "It's always hard to put a finger on what it was. They were adorable. They were well-tempered. They suited the vision of what we had in mind."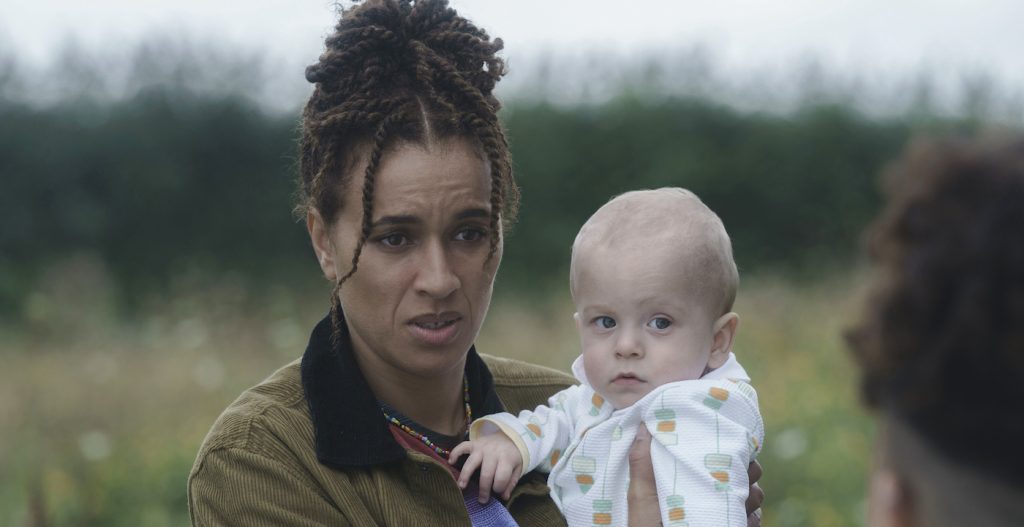 Equally as important was making sure the parents were up to the task. "When you work with children, you're casting the parents as much as you are the child," observes Kassell. They have to be a part of the team and really be comfortable and supportive of this process. Ash (Hills) and Izzy (O'Connor) — Arthur and Albie's parents — were extraordinary."
One of the adult Hills was required to be present whenever the twins were shooting. The Baby also had not one, but two stand-ins when needed. In addition to the doubles, a life-size doll and/or a replica made of jelly was used for the trickier logistical and visual effects shots. 
Kassell also gives a shout-out to first assistant director Kas Braganza and her team. "I can't stress enough how brilliant the AD department was," she says. "It wasn't just us scheduling the babies. They had to get constant permission from a government board."
But perhaps the most important person on team tot is the one Kassell describes as "The Baby Whisperer." 
"She would help us get the performance," explains Kassell. "If we needed the baby sitting and the baby couldn't sit, she would hold it and kind of angle herself out of the way so we could digitally remove the hands. She'd have a toy handy at all times. Keep them happy. Keep the set calm. She makes judgment calls. Albie's in a mood. Let's get Arthur." 
Kassell had a blast directing her episode. She found it great fun to create a world that didn't exist from scratch. She specifically mentions the pivotal scene where Natasha and the Baby meet. It features a remote seaside shack that fronts a towering cliff with a steep ledge — perfectly crafted to have a baby crawl off it. The initial scenes of their journey are so unique, Kassell likens it to filming a series of short films. Each builds on the dread surrounding this mysterious youngstar as it teases the havoc to come.
But one of Kassell's favorite scenes occurs earlier when Natasha meets her two best friends for a night of fun. At first, the evening is disrupted by the constant distractions from her friend Mags' (Shvorne Marks) infant. Natasha's mood is completely destroyed when her other friend, Rita (Isy Suttie), announces she is pregnant, leaving Natasha to feel she is out of step.
"I felt like I knew what each one was feeling. In the process of deciding to have children or not, you go through what Natasha's going through. And then having a new baby, I'm in Mags' shoes. And Rita being ready, just brand new pregnant," says Kassell. "What I love about this show is that it's honestly depicting and asking the questions that I feel people don't talk about and are often taboo. I saw so much truth in the material. And I just love seeing it brought into the open for conversation."
For more on Warner Bros., HBO, and HBO Max, check out these stories:
Watch "The Batman" Gotham Subway Fight
Jason Momoa Will Star in "Minecraft" Movie for Warner Bros.
"The Batman" Arrives on HBO Max After Crossing Major Box Office Milestone
"Batgirl" Star Leslie Grace on the Moment Michael Keaton Returned as Batman & More
Featured image: Michelle de Swarte in The Baby. Photograph by Rekha Garton/HBO