"The Dropout" Composer Anne Nikitin Takes a Synthetic Approach to Elizabeth Holmes's Treachery
Hulu's limited biographical series The Dropout, which stars Amanda Seyfried as Theranos founder Elizabeth Holmes, has been getting rave reviews for both Seyfried's performance and for its sharp take on the shocking real-life story of corporate and personal hubris. The show follows Holmes from her beginnings as an ambitious college student with Steve Jobs as her role model, through her attempts to develop healthcare technology, and then to her astonishingly fast rise to fame and fortune as CEO of a billion-dollar company. If you know anything about the Holmes story, you know she's a modern Icarus, and her story, at least for now, ends in disgrace and indictments after putting millions of patients at risk with faulty medical tests. 
When showrunner Elizabeth Meriwether chose Anne Nikitin to score The Dropout, the composer set out to create a musical counterpart to the almost mythic rise and fall of Holmes, determined to capture the ex-CEO's energy and ambition, as well as the varied perspectives of those in her inner and outer circles. Nikitin chose to create her first entirely inorganic, all-electronic score and found the challenge exciting as an artist.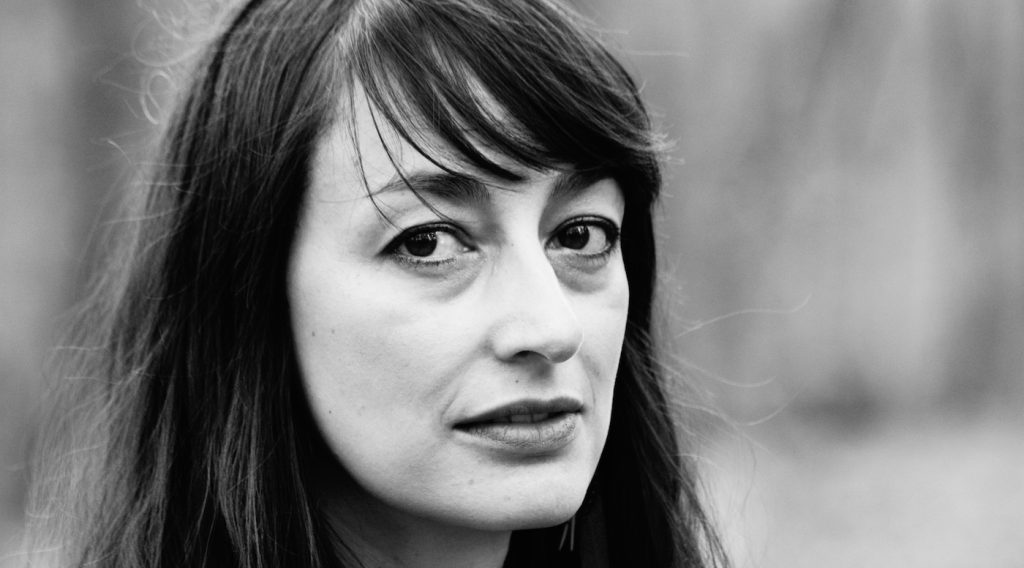 The Credits spoke to Nikitin about her process, and how she took inspiration from Holmes and the real-world cautionary tale of how ambition and optimism led to the downfall of a billion-dollar company. 
This is your first all synth score. What, apart from it being the first, was your biggest challenge?
The biggest challenge, I suppose, was coming up with the sound of the show. It didn't start off being a synth score. I just had some time to mess around, and the first idea was to have strings and organic instruments for part of the score and some of the themes, and then use synth sounds whenever Elizabeth is in the lab or doing her thing duping people. But luckily I had quite a lot of time at the beginning of the series to play around with ideas, and I came up with one track that was just purely synth-based, called "Beijing," and I thought, 'Oh, this is a bit weird. It's a bit kooky and quirky, but I'm going to throw it at them.' Liz, the showrunner said, 'This is it. This is the one.' So that's how it came about, but it was sort of getting to that point that was probably the biggest challenge, and then after that, it seemed to go quite smoothly.
You knew as much about Elizabeth Holmes and Theranos as the rest of us when you started. What did you learn in the course of the project that impacted or influenced the direction of the score? 
I did quite a bit of research on her, and I realized she was just living this lie. I think she'd got herself into a little bit of a muddle and couldn't get out of it. It just exploded like we've never seen before. It was insane. When we decided that synths were working for her, it all sort of made sense. None of the organic music was working for her. It just seemed that her life was synthetic, and the music should reflect that as well.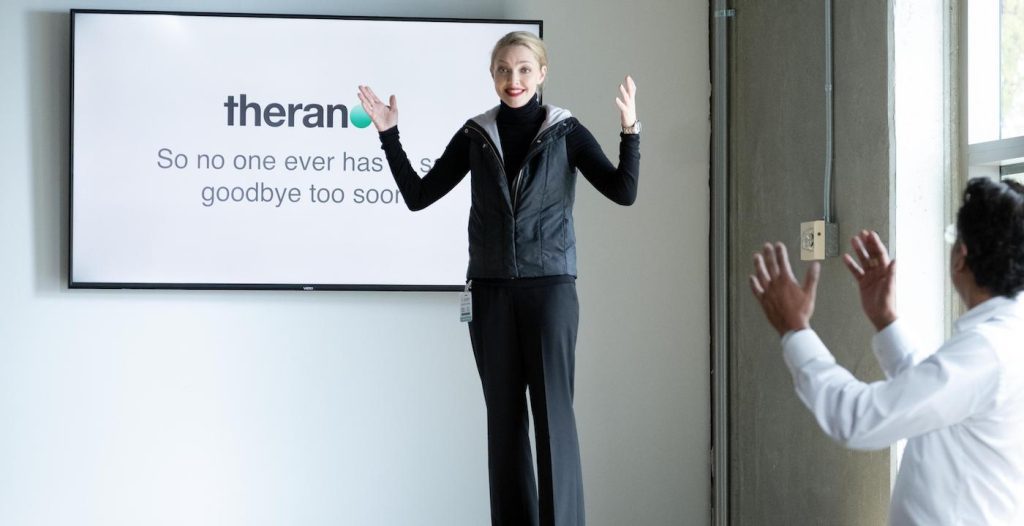 What was the advantage you felt not being a synth-head in creating the score?
I was intimidated a little bit by the idea that I wasn't going to be clutching onto a sound that I'm used to, which is the organic instruments, but I think the advantage was that I didn't have a lot of knowledge and baggage. I just decided that I would let go of everything, not care what anybody thinks or says, not have this analog-digital war going in my head, and just play around with sounds. I had the luxury of time at the beginning of the show to just find the sounds and synths that really worked for me. Some of the sounds were pure digital sounds, and other sounds were made trying to find the digital versions of the organic sounds. For example, a cowbell, snare drum, or woodblock, having the synth versions of them so they don't sound real. And that was, again, trying to just make the score represent Elizabeth Holmes, that nothing is real, although it may appear to be so.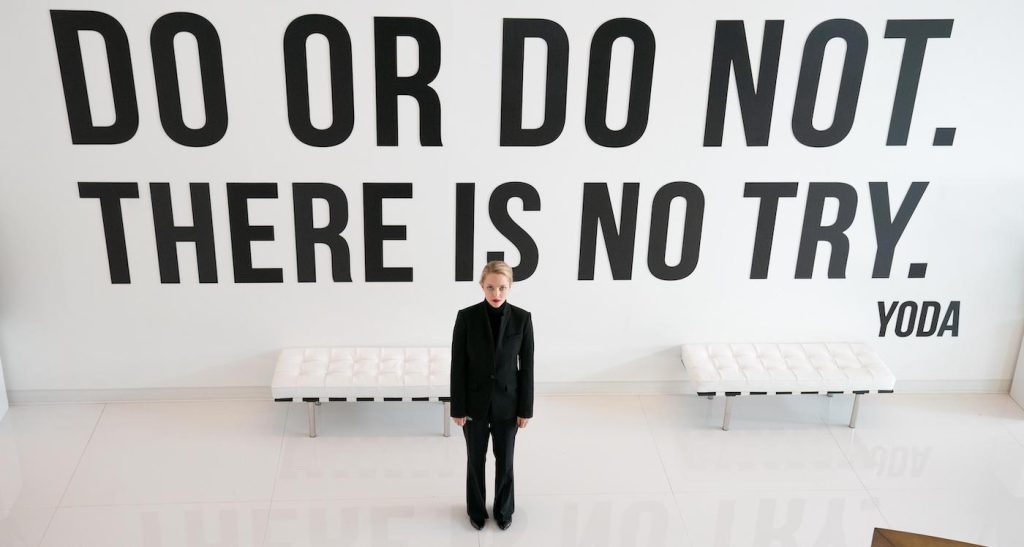 Holmes goes through quite an arc in the show, and there are several moments of really high intensity or joy, and a lot of darkness, too. Your score weaves through an emotional quality and a sort of sterility. What were the conversations around some of those cues? 
Those were long conversations with Liz. She didn't want to play the emotional component too much. We mustn't feel sorry for this woman for more than we need to, but we also have to realize that she is human. I think she had dreams and aspirations as well as insane ambition, but I think she was really passionate about science, and the first time she enters this lab, a proper working lab, it's like a future is coming before her eyes. My cue for that is called "The Lab." I tried to create a sort of magical fantasy cue with that, just to show how passionate she really was, but then creating a whole sterile world and masking the emotion and pulling the viewer out of that to remind them that actually, we can't feel sorry for this driven woman. She knew what she was doing. 
What were the discussions around each episode having a character of its own, in terms of how you structured the music accordingly?
We had conversations before every cut I was sent about what each episode was representing, and where the music should lean. For example, there's one episode with the Walgreens men, and we decided we wanted something that harkened back to 70s music. I used a drum kit there, manipulated, but there's a sort of beat there to represent them. I tried to come up with distinctive characters for each episode.
There's another one with the whistleblower in Episode 6 where there's real darkness. I tried to give her a theme that starts off light and bright. She's bright-eyed and bushy-tailed when she enters Theranos, then she discovers what's happening. I tried to give her some sort of quirky instruments to highlight how excited she is, then those quirky instruments start to just become really weird as she understands that nothing is what it seems.
What cue in The Dropout would you say best expresses your aesthetic as a composer?
I've always loved percussion, and love writing unusual rhythms, and having that in all of my scores, so I tried to do that with the synths, and that's quite easy. Synths pulse. That's what they do a lot of the time, so it was natural to have that pulsing sensation all the time. Actually, this has really opened my eyes to the versatility of using only an all synth score, because before, I thought for emotion you needed to have strings, or you needed to have a piano, or have loads of reverb. With synths, I actually had limitations, which I love. I love limitations. Being forced to work with just one palette was really fun, and it actually made me realize how versatile synths can be.
The Dropout is currently streaming on Hulu. The series finale is now streaming.
For more stories on Hulu series, check these out:
Cinematographer Jon Furmanski Reunites With Amy Schumer in "Life & Beth"
"Pam & Tommy" Makeup Effects Designer Jason Collins on Transforming Lily James & Sebastian Stan
How The "Dopesick" Creative Team is Shining a Light on the Opioid Crisis
Featured image: The Dropout — "Flower of Life" – Episode 105 — With the Walgreens deadline looming, Elizabeth and Sunny scramble to find solutions to their technological failures. Ian is drawn into Elizabeth's lawsuit against Richard. Elizabeth Holmes (Amanda Seyfried), shown. (Photo by: Beth Dubber/Hulu)