"Pam & Tommy" Makeup Effects Designer Jason Collins on Transforming Lily James & Sebastian Stan
Pam & Tommy makeup effects designer Jason Collins had his work cut out for him when he boarded creator Robert Siegel's Hulu series. Collins was tasked with taking on two of the most iconic people of the 1990s and capturing them before, during, and after they were the most famous, and infamous, couple in the world.
"My first thought was sheer fear," Collins says from the set of Creed III in Atlanta, where he's currently hard at work on Michael B. Jordan's directorial debut. "Whenever you do a biopic in general, but especially someone who is still alive and in the public mind…you get a little fear going into a project like that."
Pamela Anderson remains one of the most recognizable women in the world, and in 1995, when the majority of Pam & Tommy is set, she was arguably the most recognizable woman in the world. With Pam & Tommy, we follow the Baywatch star (played by Lily James) as she gets swept up in a whirlwind 96-hour romance with Mötley Crüe's drummer Tommy Lee (Sebastian Stan) that ended in marriage. Then came, of course, the sex tape, filmed on a boat and never intended for public consumption. Yet the cassette (and the other contents of a massive safe) were stolen in a fit of pique by Tommy Lee's frustrated home carpenter Rand Gauthier (Seth Rogen). Gauthier, an early adopter of the internet and its gross potential for profit, then leaked the tape online. The rest is internet and pop culture history.
"When they told me who'd they cast, I pulled up a bunch of photos of Lily and Pam to see what they had in common and what they didn't," Collins says. "I brought their images into Photoshop to see what we could get away with. I like to begin with both the most minimal approach and the most extreme approach. You want to try and get the essence of the person you're trying to emulate while also keeping the essence of the actress who is playing her, and then find the middle ground."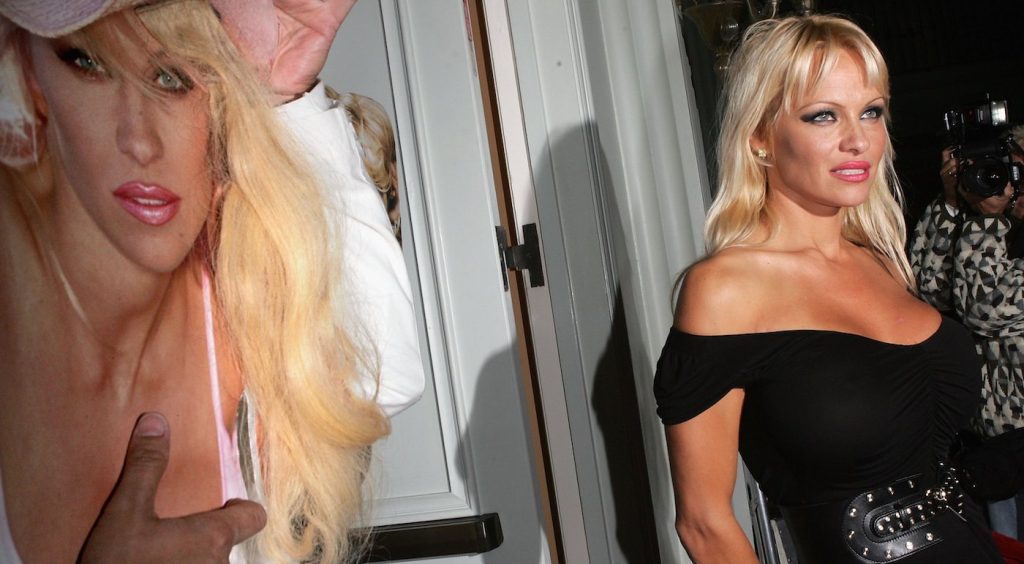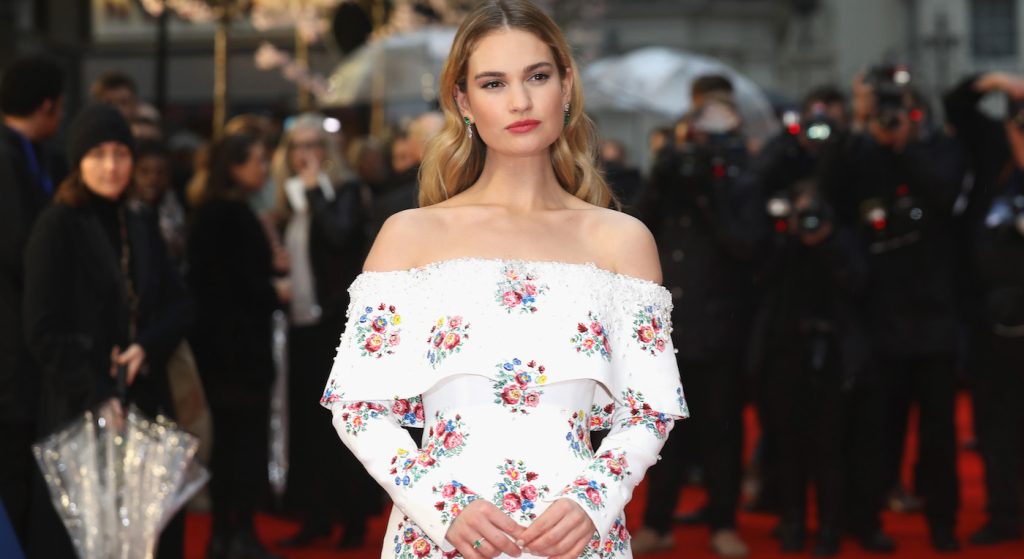 Lily James and Pamela Anderson's faces differ in very specific and impossible to ignore ways, yet Collins was able to find a way to augment James's face just enough that the talented British actress becomes the iconic Canadian right before our eyes.
"I thought I'd have to do a lot more than I ended up doing," Collins says. "What we still did was pretty substantial. We bridged the gap between their differences. Lilly's hairline is much closer to her eye-line than Pam's, so we realized we could open up that difference and narrow the corner of her eyes a little bit. If you look at the nose bridge of the two actresses, you'll see we were able to put a little bit of meat on Lily's and widen the nose bridge a tad. This also widened the forehead and gave us everything we needed. If you're slightly off, you'll really bring the audience out of it."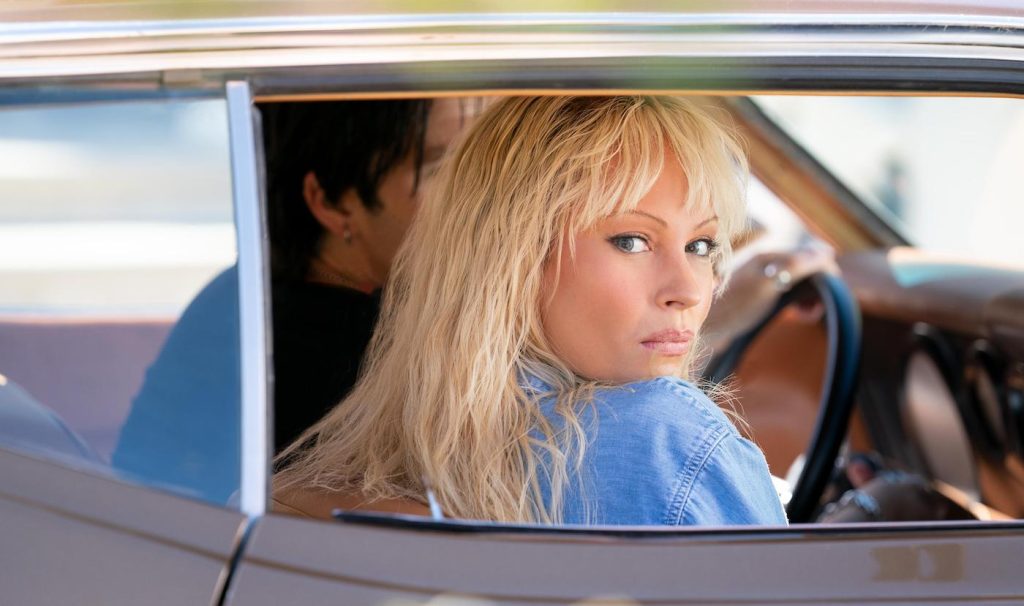 Then something unexpected happened while Collins and the Pam & Tommy team were creating their series—the paparazzi snapped images of James as Anderson and, in a twist worthy of the series itself, ended up taking a lot of pressure off everyone.
"When those paparazzi images came out and you gauge the internet's reaction, you think, 'Okay, this is sort of validating our work,'" Collins says. "But when you first start out, you're like, 'Oh man, how am I going to get there?' The makeup is only part of it, Lily's mannerisms, her diction and her speech, her smile…she was incredible and she used all of those assets to become Pam. That was the fascinating thing. Sometimes you'll do makeup on an actor and the makeup will wear them, but Lily really, really transformed herself."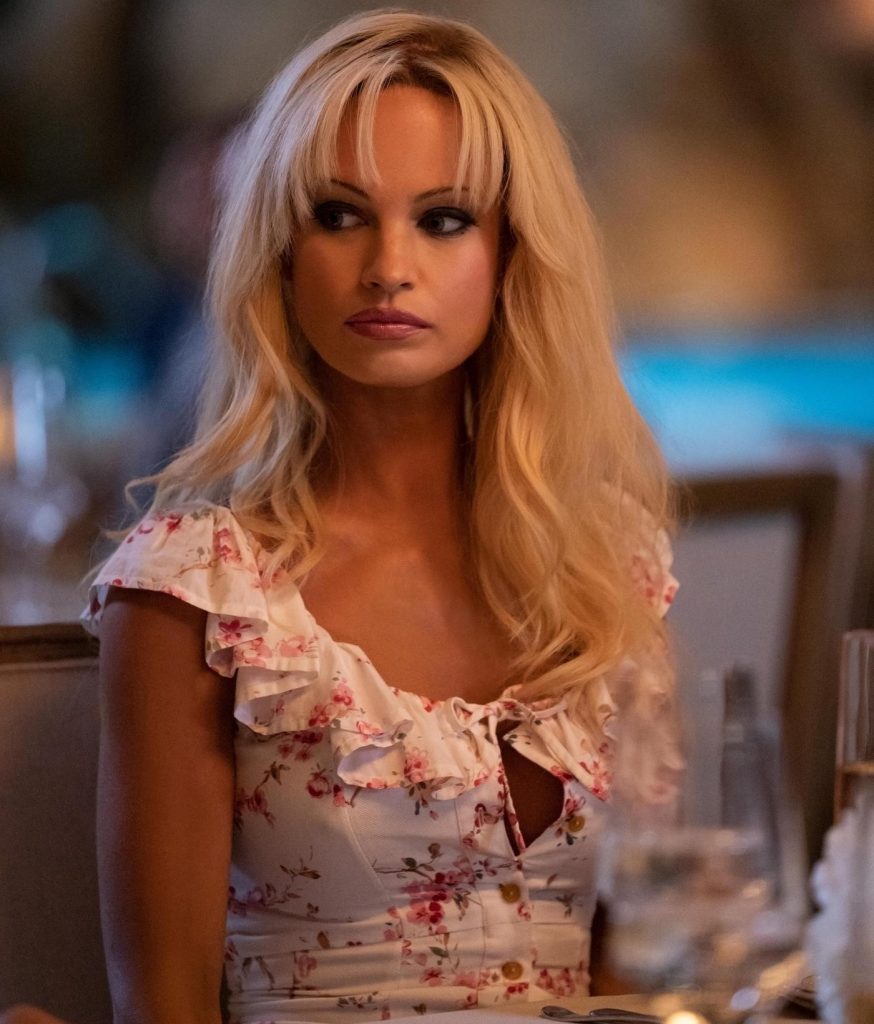 For the lips, Collins decided against doing full-on lip appliances, which would require constant maintenance and would go against his belief that a makeup effects designer shouldn't be in a performer's face all day. Instead, he chose dentures that pushed James's lips out a bit and made them more voluptuous and full. "The trick with the dentures is you have to make them thin enough so they can speak without an impediment, but thick enough so it does the work," Collins says. "Then, we had to work on the breasts."
Recreating Pamela Anderson's breast augmentation on the slight James was a process, one that took a few tries to get right.
"A big part of what we remember about Pam is her breasts," Collins says. "It was tricky because their torsos are a little different, Lily's is a little longer. You have to think about this as you're creating breast appliances because you can't emulate what was on one person and stick it on someone else. Proportionally, you need to find something that's tasteful and works with Lily's body."
Collins and his team took impressions of James's chest and then used that to mold and sculpt a silicone appliance that would fit comfortably. Getting the skin tone right is also a challenge.
"Skin's not one solid color, it's got all sorts of colors in it, so the silicone allows you to mimic skin and how it absorbs light," Collins says. "This allows you to create something that has life to it, and it actually moves like skin. It's plasticized, and we can add more oil to make it more flesh-like. It's really helpful for the actors, too, because they feel like [the appliance] has weight and it moves like skin. Lily was saying she didn't even feel like the appliance was there, which is exactly what you want."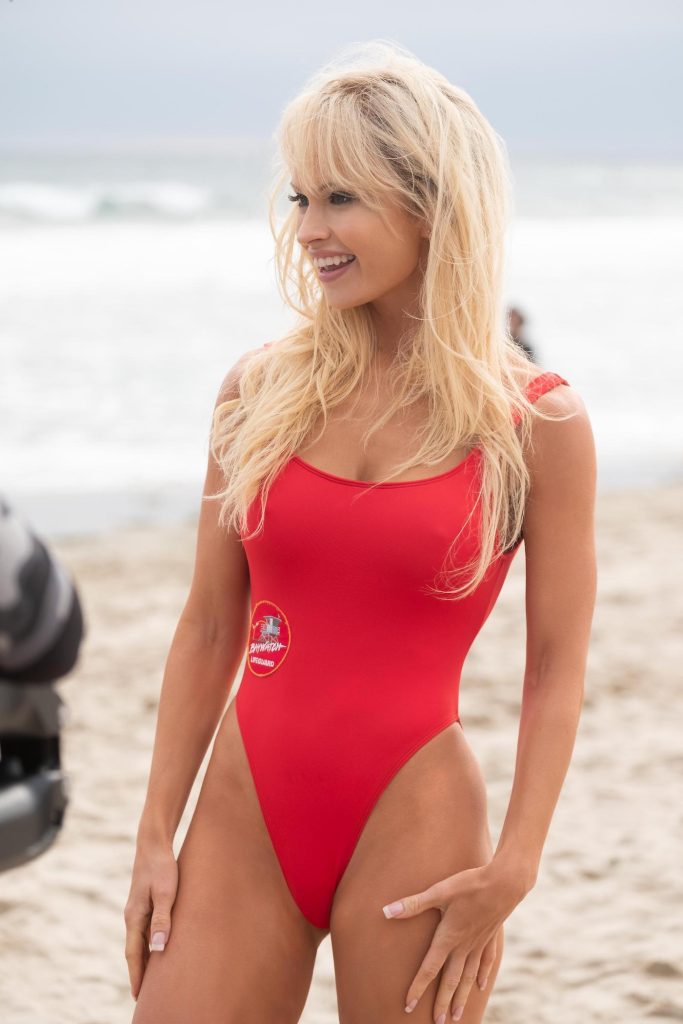 On Collins's first attempt, he sculpted the breasts to appear more natural but found it didn't quite work. He went to work re-sculpting the appliances at least four more times and tested them. "We were going to feign seeing a lot of nudity in the tape, and we wanted to make sure the appliances looked and moved right," he says. Collins says that James and the entire Pam & Tommy team were patient with this crucial work. "That's what leads to success, is having people behind you, knowing how important this was going to be."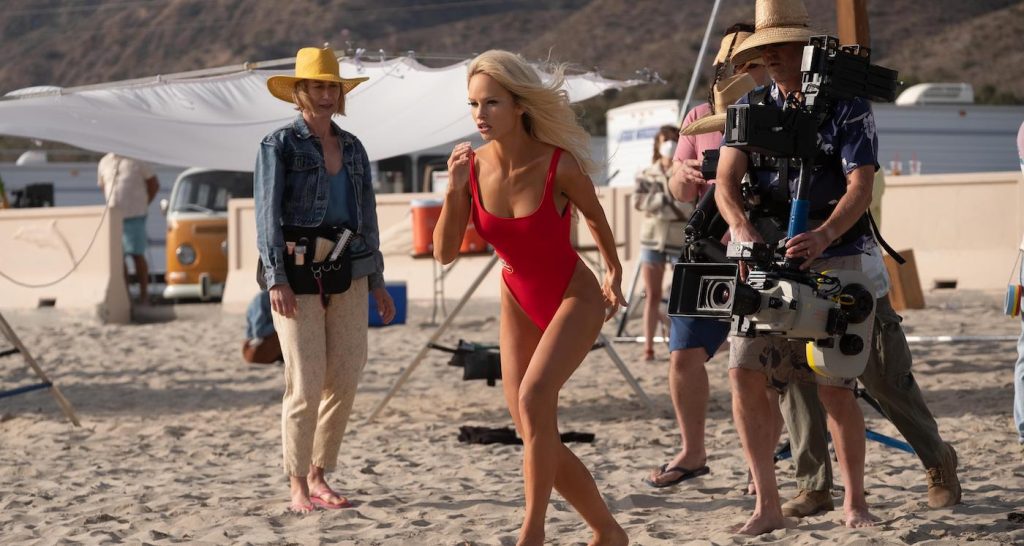 For Tommy Lee, Collins's task was no less daunting. First, there are all of Tommy's tattoos, which number more than 30. Then, of course, there is his penis, which factors not only into the sex tape scene but is a character in its own right.
"We did all the tattoos, the nipple piercings, and obviously all the penis work," Collins says. "There's a variety of penises in the show, like the talking penis sequence. That was one of those things that when you first read it you're like, 'Okay? Did I read that right? Is his penis talking to him?' They told me early on they wanted to do that as a mechanical puppet, something practical on set to have the actor interact with." The talking penis was glued to Stan, with two puppeteers behind him controlling it. "One of the puppeteers learned the lines of dialogue. The puppeteers were able to do a lot of improv between the penis and the actor."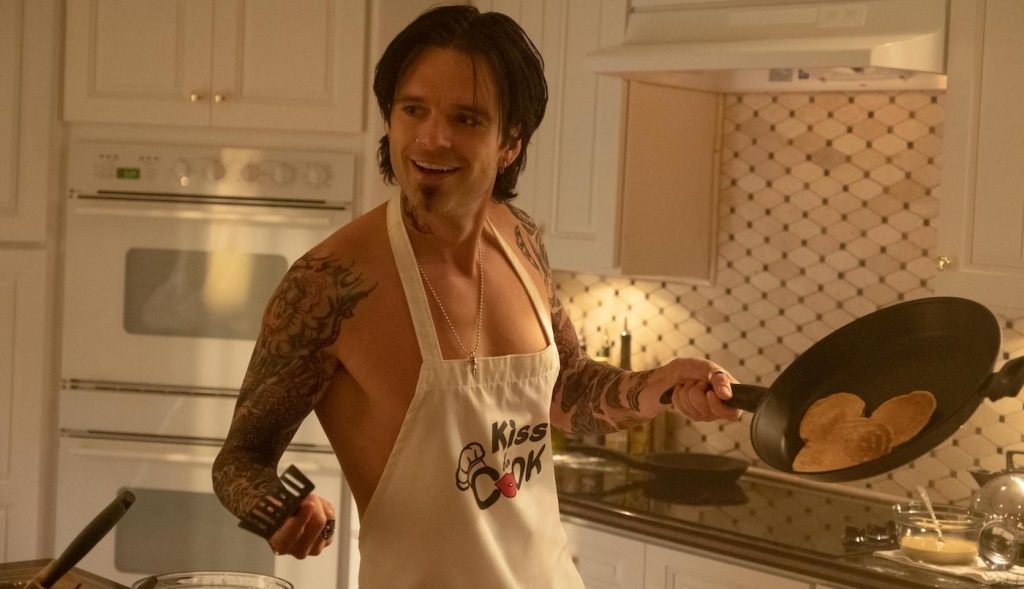 Collins created Tommy Lee's penis with the same silicone material he used for Pamela's breasts. "The only difference was we had to punch in every single hair into the penis," he says. "You can't reuse the same appliance, you have to use a new appliance every day. It's a considerable amount of work, behind the scenes, to get to that point. We also had to apply every one of the 30 to 35 tattoos, depending upon how many clothes he was wearing."
The tattoo work was yet another Herculean effort, requiring Collins to recreate every one of them in Photoshop, then apply them individually, every day, one by one. "That was a very important character trait for Tommy Lee, and something you don't want to get wrong. If you don't get the orientation or color or feeling of the tats right, you're going to get a lot of slack for that."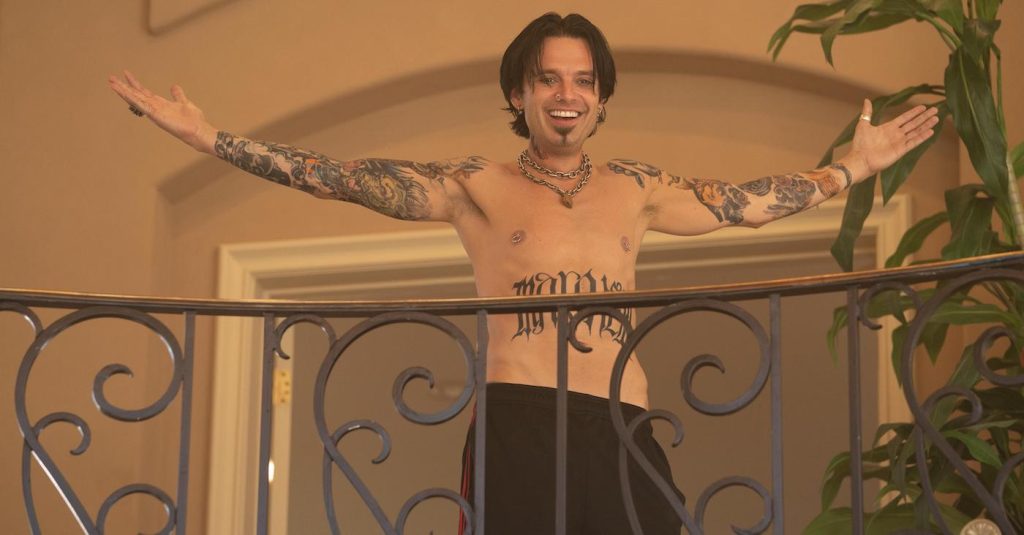 As for recreating the infamous sex tape, Collins says the goal for everyone involved was to make sure James and Stan felt comfortable. The appliances he created were a big part of the equation, paradoxically offering them some cover while they filmed the scene.
"The actors were incredible, and, at the same time, what was helpful was knowing there would be some level of modesty," Collins says. "While it looks risqué, everyone is covered and has that modesty, and on a set with 30 people, there's something to be said for that. I think that was good for everybody, it puts some minds at ease."
Collins looks at his work on the series, and the series itself, as a way to offer a different vantage point of an iconic and infamous moment in American pop culture.
"You can get away with a lot in a show like this, but Pam is the heart of the story, what this moment did to her, how unfair it was," Collins says. "It's interesting to look at that time period through the lens of today. I think I was 18 or 19 when the video came out and I definitely didn't think about the people on the other end of it, the people that it affected. We were in a different place as a society then. If people watch the whole series they'll see we're offering a different perspective."
Pam & Tommy airs on Hulu on Wednesdays. The series finale will premiere on March 9.
Featured image: "The Master Beta" – Episode 104 — Pam and Tommy resort to increasingly desperate measures to get their property back. Tommy (Sebastian Stan) and Pam (Lily James), shown. (Photo by: Erin Simkin/Hulu)