"The Adam Project" Screenwriter Jonathan Tropper on Teaming With Ryan Reynolds & Shawn Levy
The development of The Adam Project has its own time-traveling origin story, one that dates back roughly ten years. Screenwriter Jonathan Tropper says the production took flight, in part, because of Jumanji: Welcome to the Jungle (2017) which stars Kevin Hart, Jack Black, Karen Gillan, and Dwayne Johnson in a reboot of the beloved Robin Williams' film that sucks them into a video game in an adventurous fight for survival. 
"Before Jumanji came out, what I was hearing at that time was family movies were essentially the Marvel films and people weren't making the Amblin style family adventures anymore. The success of Jumanji convinced the studios that family-friendly movies were possible," Tropper tells The Credits. 
The Adam Project very much captures the spirit of Spielberg's E.T. and Robert Zemeckis's Back to the Future films of the '80s and '90s that are rife with entertainment, but also, beneath the surface, their characters express a tapestry of genuine emotions. Grief is the resonating tenor of The Adam Project which is set against a time-traveling story where Ryan Reynolds plays Adam, a pilot who goes back in time to meet his younger self (Walker Scobell), who then team up to save the future. Along the way, they come to terms with the loss of their father, an ambitious scientist obsessed with work played by Mark Ruffalo. 
Tropper, known for the hit television series Banshee and Warrior (season three starts production in July) as well as being the showrunner for Apple TV's See (season three to air end of summer) was first introduced to the project after receiving a call from director David Yates. "David and Tom Cruise were attached then and he was looking for a writer to get into some of the family dynamics of the script," he notes. 
The initial screenplay was penned by T.S. Nowlin, Jennifer Flackett, and Mark Levin, however, when Tropper came aboard, he dove into a page one rewrite. "The basic premise of the original script is the same but what I wanted to do was make it about Adam at his two different ages needing to find his dead father. The father hadn't been a character in the original script and I just felt that if you got this time machine you have to make the story about making peace with dad. That became the creative impetus for me to jump on and then I started reforming the story to make it more about that."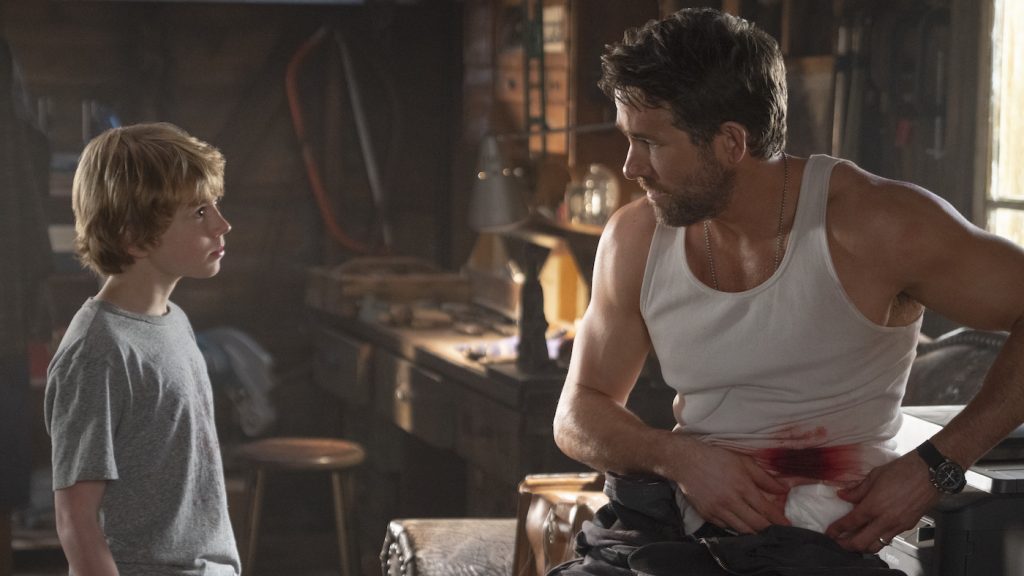 After spending several years developing it with Yates, the project stalled as the Harry Potter director got involved with the Fantastic Beasts prequels and the success of Mission Impossible exploded for Tom Cruise. Tropper kept working with producers over at Skydance Media to keep it alive. The success of Jumanji introduced a new round of rewrites and a few years later he read the company was making a movie with Ryan Reynolds. "I called them and said, 'How about I do another rewrite aiming for Ryan Reynolds' voice and you share it with him.'" His persistence paid off as Reynolds, who was making a movie with Shawn Levy at the time, both jumped on board – a process about eight years in the making for Tropper. 
Coincidentally, the writer has worked with Levy on previous projects, including the father-son road trip film Kodachrome with Ed Harris and Jason Sudekis. The rapport allowed them to further deepen the story. "Once Shawn and Ryan got involved you had three men, all roughly the same age, with all sorts of complicated daddy issues," says Tropper. "We spent a lot of time talking about our relationships with our fathers. It was almost like group therapy, and through our personal experiences, we were able to inform the story from very specific emotional moments that the three of us had."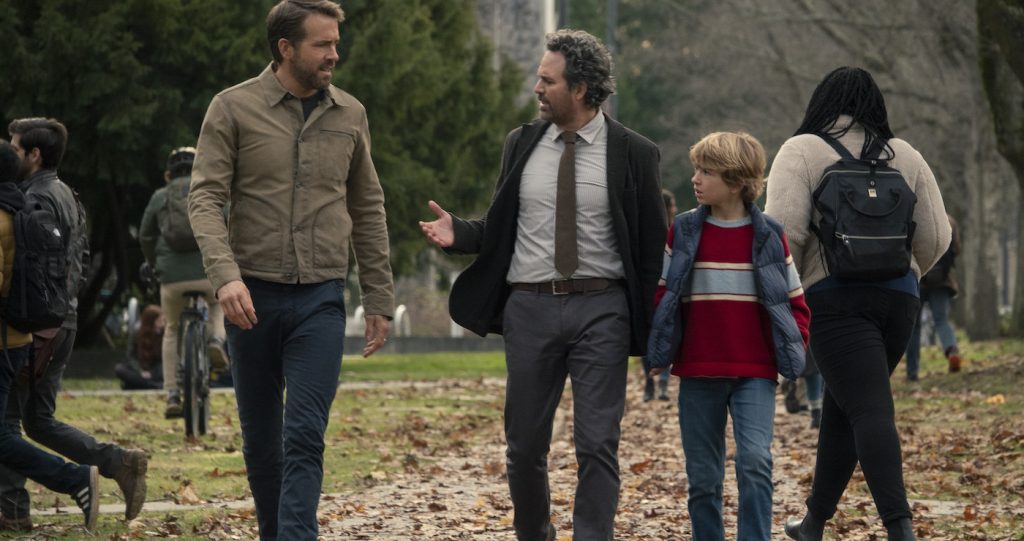 Part of the journey was showing the dichotomy of feelings young and old Adam experience through the loss of their father. "You have these two characters who are supposed to be the same person but have such different points of view about themselves and about their father," says Tropper. "The challenge was finding what would make 40-something Adam really angry with his father while 12-year-old Adam, who had the same experience, is not. Ultimately what it had to be was something within themselves. The boy is still young and feeling the fresh loss and is missing his father. Older Adam has had 30 years to build up a defense mechanism of getting angry at his father to avoid grieving him."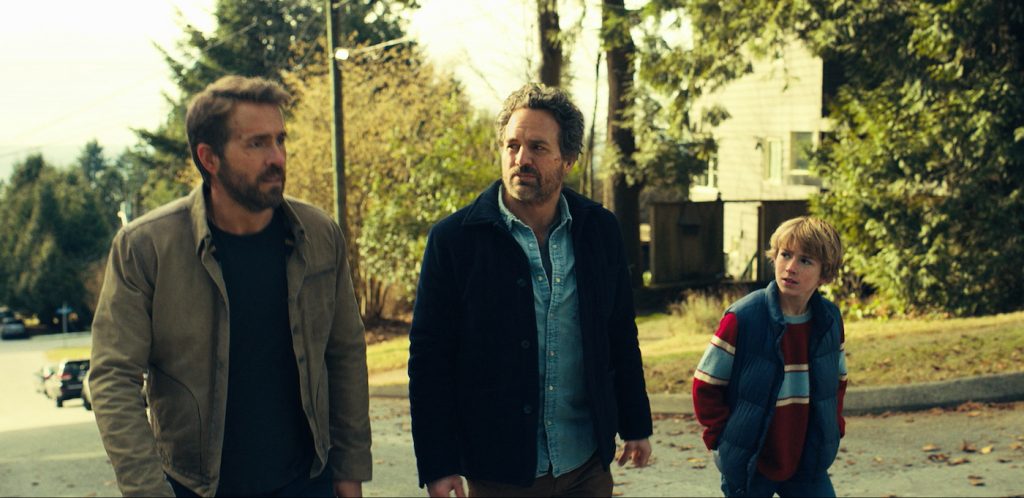 What resonates in watching the movie is the number of scenes that allow us to experience the characters' emotions. In a moment early on, a young Adam is being picked up by his mother Ellie (Jennifer Garner) after being suspended because of a fight at school. It's not the first time and we hear her say, "It's barely been a year since we lost his father," as Adam's eyes gaze a look of loneliness. In another, older Adam sits across from Ellie at a bar unsure of who he is. He asks, "Aren't you grieving too? "Yes." But she keeps it from her son. "You should tell him. You think you're being strong for him and the problem with acting like you have it all together is he believes it. Maybe he needs to know that you don't." Hearing Adam say those things plays as a moment of healing for Ellie.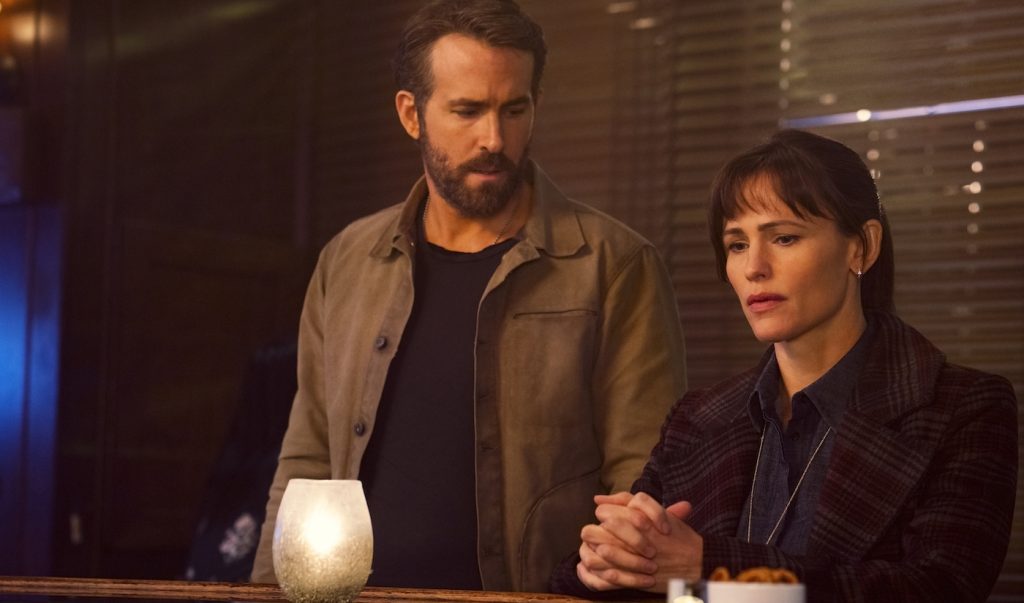 Another happens —spoiler alert— when the father unexpectedly saves older Adam during the climactic finale – a favorite of Tropper's. "He's choosing to be a father rather than a scientist, maybe for the first time," he says. "After all the resentment you feel from older Adam that his father was always too caught up in his work, at that moment, the father is saying regardless of the science [behind the dangers of time travel] I am going to be a father now." 
"For me, it was a big adventure movie but also about making peace with grief. With the Adam characters, you are experiencing the primary grief of them losing their father, and then you have Ellie who has lost her husband. What it takes to come to terms with your grief was the heart of the script." 
The Adam Project is now streaming on Netflix.
For more on big titles on Netflix, check these out:
"Bridgerton: Season 2" Trailer Teases the Steamy Conflict Coming to Court
"Inventing Anna" Costume Designer Lyn Paolo on Dressing a Cunning Chameleon
"Stranger Things" to End With Season 5, Massive Season 4 Coming This May
Featured image: THE ADAM PROJECT – (L to R) Walker Scobell as Young Adam and Ryan Reynolds as Big Adam. Cr. Doane Gregory/Netflix © 2022