"Shining Vale" Cinematographer Nicole Hirsch Whitaker Blends Creepy With Comedy
Courteney Cox is seeing spirits in the new Starz series Shining Vale. Her success in both the top-rated sitcom Friends and blockbuster horror series Scream meet at a sublime suburban crossroads. The pilot's cinematographer, Nicole Hirsch Whitaker, laughingly admits that the show wasn't such an obvious fit for her at first. 
"I don't get asked to shoot comedy," Whitaker said. "I am the antithesis of someone who gets asked to shoot comedy because my work is a little bit dark."
'A little bit dark' is just what Shining Vale calls for in both atmosphere and humor. Cox plays Pat Phelps, a writer and mother struggling to excel at either role. The Phelps family isolates themselves from recent tumult by moving to a small town where Pat secludes herself in the attic to reignite her once successful writing career. 
The attic space was built on a stage to allow the crew to move about safely, but the rest of the Phelps' fixer-upper was a real location in Pasadena, California scouted by production designer Jeff Schoen for the pilot. The spooky spot is truly the ideal haunted house. Of course, her peaceful retreat proves to be harboring some frightful surprises.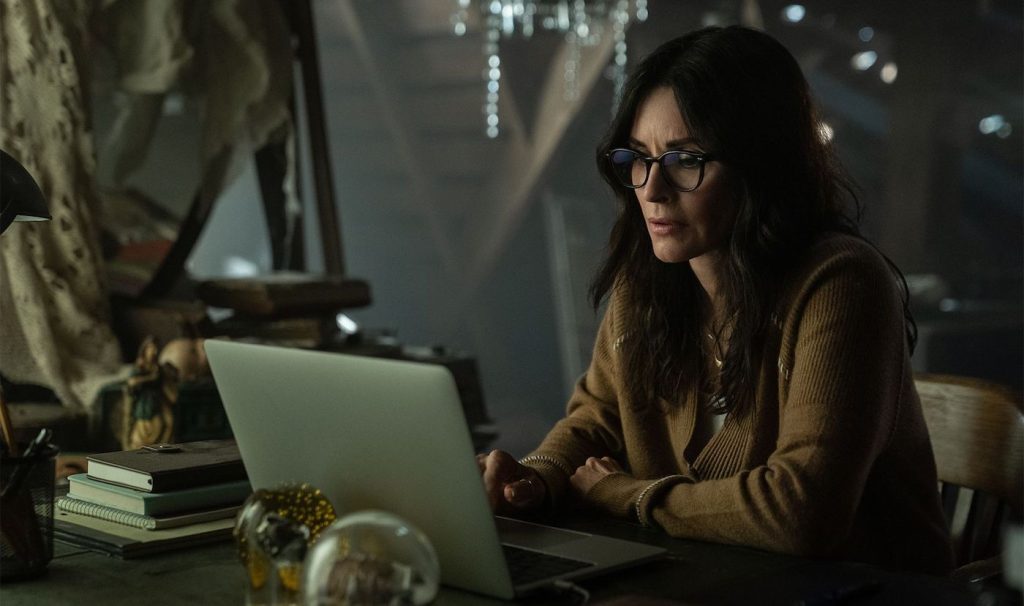 "We had a lot of fun poking holes and putting lights through," Whitaker recalled. "It was finding that happy medium of making it dramatic, but not making it so dramatic that you felt like you weren't actually in the attic with her. Or that this would not be a place that you would actually go to. If it was too creepy, why in the hell would you go upstairs when you have all this house downstairs? We had to figure that out and make it accessible."
Shining Vale is an addictive blend of comedic and creepy. Whitaker collaborated with episode director Dearbhla Walsh and series creators Jeff Astrof and Sharon Horgan to develop a vision for balancing the two genres that don't often intersect.
"We were proposing for them to do big wide shots and more Kubrick-ian cinematography," Whitaker said. "It was really fun to explore that. They were super open to it because Dearbhla and I had come from that world. Basically, they hired us because we don't normally do that. They knew we wouldn't fall into the trap of traditional comedy."
Whitaker noted the pilot episode drew subtle inspiration from two horror classics that influenced her camera work – The Shining and Rosemary's Baby. "Just embracing that genre of letting things happen in the wide shot and not always punching in to see something in a closeup," Whitaker explained. "A lot of times in those movies, wide shots develop into tighter shots or tighter shots develop into wider shots."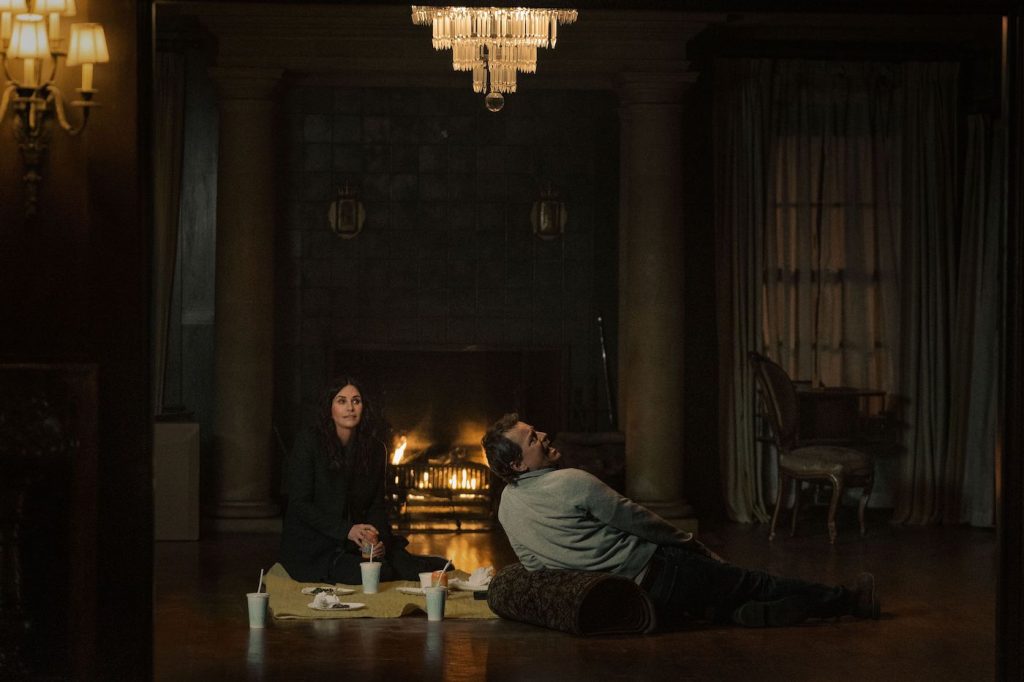 Of course, every suitable haunted house needs an uninvited resident. For the Phelps family, there is the vengeful Rosemary played by Mira Sorvino. It is said that you only get one chance at making a first impression and Rosemary doesn't waste her opportunity. 
"Mira was amazing because she was super collaborative and talked about how she wanted to present herself," Whitaker said. "She wanted to be a beautiful woman who has been wronged. We planned on lighting her one way, then on the night when we saw her, because she looked so amazing in her wardrobe and her hair and they worked so hard on her wig, we decided to actually view her as a 1950s housewife. It was different than we thought."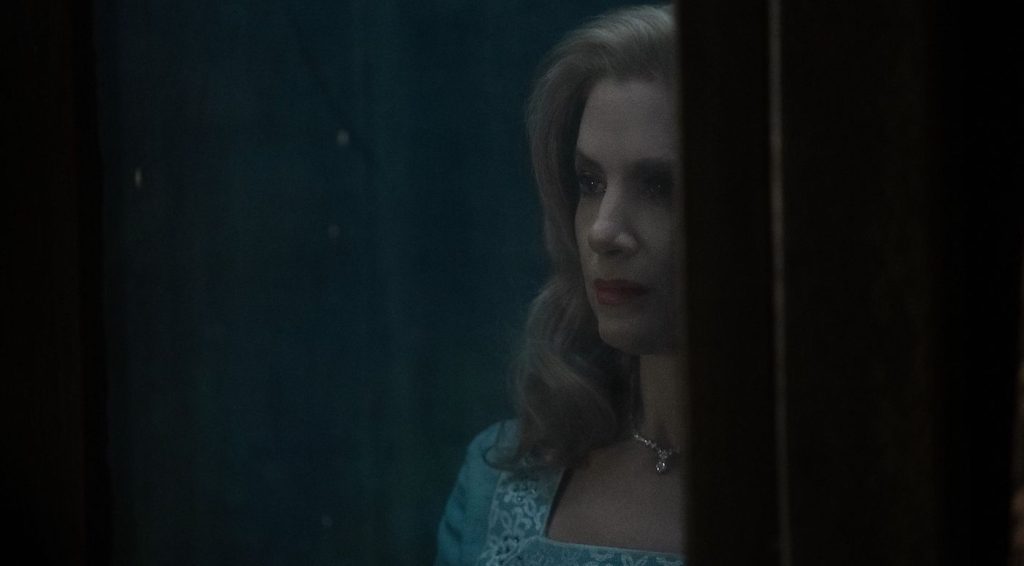 Rather than an anonymous, featureless entity whose sole purpose is to frighten, viewers are given the opportunity to take in visual clues about the character immediately. Hairstyle, clothing, and even a little bit of personality all give us small indicators about the undead woman sharing the Phelps family house. "For her character moving forward, she is a beautiful woman who is a ghost, but she's not a creepy ghost. It worked out for the best, but originally, we thought we were going to make her super creepy. I'm glad we didn't."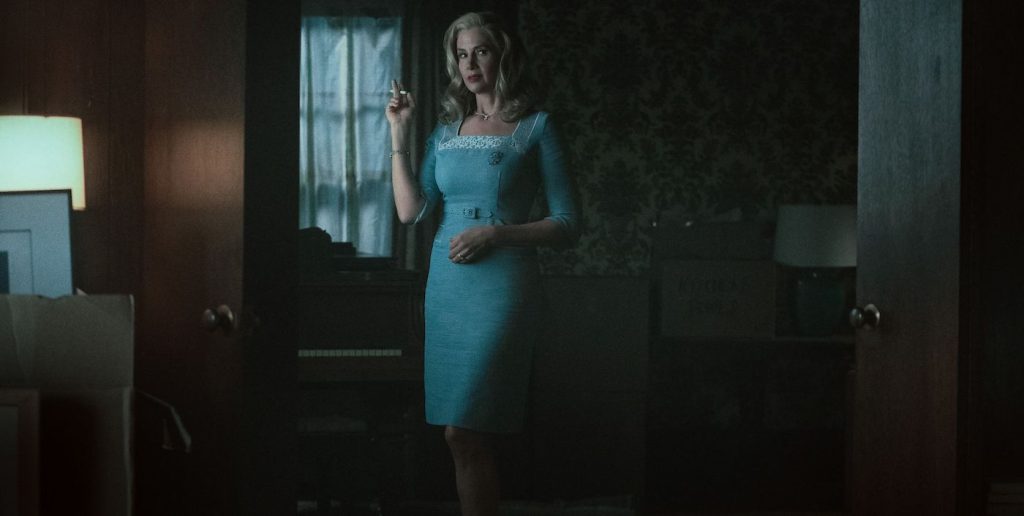 That isn't to say that Rosemary's sudden appearance isn't surprising. Her introduction is still bound to set the audience on edge. 
"Yeah, I mean she scares the crap out of Patricia," Whitaker acknowledged. "We had to also make sure that she was scary, but I think the fact that she just looked different and she all of a sudden popped up inside of this dark room. We thought we were going to do all these different things to her to make her more creepy, but at the end of the day, we realized that just her being there was creepy enough. You didn't have to go to these extreme lengths of like slasher movies and super-duper horror films to make Patricia feel uncomfortable and totally freaked out."
With notably dramatic projects on her resume including Jupiter's Legacy, Truth Be Told, and an Emmy nomination for her work on Girl Rising, Whitaker didn't always feel comfortable in setting the tone for a comedy, but her venture into the genre was a success. Shining Vale feels balanced and confident juggling between horror and humor. 
"We kept falling back on the fact that sometimes when you get asked to do something that's outside your wheelhouse, that's when you get to create something completely different. The fact that we were probably the absolute wrong people to get hired to do this show, we ended up being like a perfect meeting of the minds and kismet for everybody across the board. That's what was really fun and I think why it worked."
Whitaker is turning next to a live-action adaptation of the popular manga One Piece by Eiichiro Oda. "It's a monster. It's huge. It's crazy, crazy, crazy," she described.
Pushing into genres and tackling untested ideas seems destined to become Whitaker's trademark. "This is my new calling in life, to shoot stuff for people that makes them happy. I was saying to my kids, I want to shoot things that make people happy and make people laugh. That's a huge thing. Entertainment. We want to entertain people."
Shining Vale is available, for your entertainment, on the Starz App.