How Oscar Isaac Figured Out How to Play His "Moon Knight" Character
Oscar Isaac didn't leap at the chance to join the MCU. Not that Isaac was against finding a home in the most successful interconnected film and TV universe ever created out of hand, but he'd just completed a slew of major productions. First, he wrapped Star Wars: The Rise of Skywalker in 2018. Then, despite wanting to take a break, he couldn't resist joining Denis Villeneuve's Dune to play Duke Leo Atreides in January 2019. That led to the beginning of 2020 when he felt compelled to get on board Paul Schrader's The Card Counter. It was after all that when the opportunity to join the MCU appeared in the fall of 2020 to play Steven Grant in Moon Knight. 
"I had so much hesitation. So much," Isaac told The Hollywood Reporter during a press junket for Moon Knight. "I was like, 'I just finally got out of a long time of being a part of the Star Wars universe,' which I loved doing, but it definitely took up a lot of my time. So I was excited to get back to more character studies and smaller films."
Yet Isaac was intrigued by Steven Grant, a very unique kind of Marvel superhero. Steven thinks of himself merely as a museum gift shop salesman leading a boring life, yet soon he discovers he's got Dissociative Identity Disorder and actually shares a body with a mercenary named Marc Spector. Marc Spector is also Moon Knight, a superhero who takes his commands from Khonshu, the Egyptian god of the moon and vengeance. This meant Isaac would get a chance to play two characters in one, an irresistible challenge.
How did he manage the many scenes in Moon Knight when Steven and March have to contend with each other? He called a trusted source, his younger brother Michael Hernandez, an actor.
"So he came out, and he would play whichever character I wasn't playing in the moment," Isaac tells THR. "Without giving too much away, as it goes on, [Marc and Steven] share the screen with themselves. So, sometimes, I'd have to arrive on set and decide which character I wanted to play first. And I'd rehearse it as that character, and then I'd play the other character and give notes to my brother. And then I'd figure out the blocking, the energy, all of that stuff, and make those decisions before cameras rolled, which is tough. Usually, as an actor, the thing that you really look forward to is the unexpected. An actor across from you does something different, and you react. That's how you find spontaneity. So that was one of the big technical challenges of the show."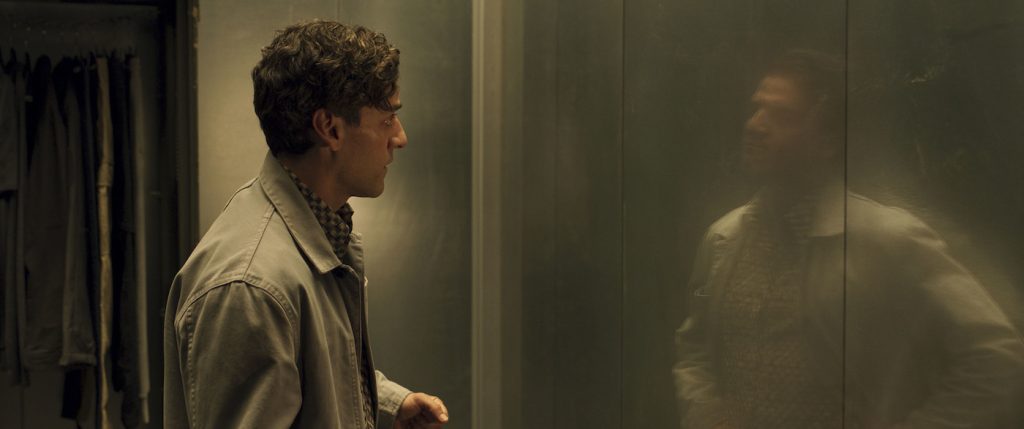 The technical challenges proved worth the effort and gave Isaac a way into an intriguing character that found him at an unexpected time. And Isaac is hardly alone as a newbie to the MCU—he's joined by F. Murray Abraham as Khonshu, Ethan Hawke, as the villain Arthur Harrow, and rising star May Calamawy as Layla El-Faouly. Moon Knight is directed by Mohamed Diab, Justin Benson, and Aaron Moorhead, and comes from head writer Jeremy Slater.
Moon Knight arrives on Disney+ on March 30.
For more on Moon Knight, check out these stories:
New "Moon Knight" Clip Reveals Ethan Hawke's Villain Arthur Harrow
New "Moon Knight" Video Reveals Marvel's Most Twisted New Superhero
"Moon Knight" Reveals Mind-Bending First Clip
Featured image: Oscar Isaac as Mr. Knight in Marvel Studios' MOON KNIGHT, exclusively on Disney+. Photo courtesy of Marvel Studios. ©Marvel Studios 2022. All Rights Reserved.