"Death on the Nile" Costume Designer Paco Delgado on Killer Cruise Wear
Costume designer Paco Delgado grew up on a tiny island off the coast of West Africa, where he cultivated a vivid eye for color, shape, and texture. That aesthetic, developed at Institut del Teatre of Barcelona, has served him well. In 2011 he collaborated with the famously meticulous director Pedro Almodóvar on BAFTA Award-winning The Skin I Live In. Delgado then earned Oscar nominations for Les Miserable and The Danish Girl. More recently, he dressed up mainstream Hollywood entertainments like Jungle Cruise, for which he fashioned Dwayne Johnson's instantly memorable riverboat captain outfit.
None of those projects exceed the breadth and depth of sartorial splendor showcased in Death on the Nile (in theaters Friday, Feb. 11). Based on Agatha Christie's 1937 mystery, director-star Kenneth Branagh's second time around as Belgian detective Hercule Poirot takes place on luxury cruiser S.S. Karnak, where impeccably dressed passengers come under suspicion for having murdered one of their own. The cast, headed by Gal Gadot as newly married heiress Linnet Ridgeway Doyle, includes Sex Education star Emma Mackey, Letitia Wright of Black Panther fame, four-time Academy Award nominee Annette Bening as "the Mother" and comedian Russell Brand, in a rare dramatic turn.
Delgado and his team spent a year researching, designing, dyeing, cutting, and fabricating some 150 outfits for delivery in the fall of 2019 when filmmakers shot Death on the Nile in England's Longcross Studios and in Morocco. Speaking from his home in Madrid, Delgado compares Gadot to 1930's movie star Carole Lombard and reveals himself to be something of a Method designer: great-looking clothes mean nothing unless they reflect the character's motivation.
All your Death on the Nile characters are literally in the same boat — everybody's wealthy and on vacation — but you find subtle ways to distinguish one personality from the next. Can you break down some of the key looks?
In the case of Gal Gadot, if you met her character Linnet in real life, you'd think she'd be self-assured because the world has treated her in an amazing way, it's like she has everything. But in fact, I felt the opposite was true. I always like to work with opposite thinking, so here I felt like Linett is actually very fragile. Yes, she has money, she's always had money, but Linnet's surrounded by people who envy her and don't necessarily like her. She's criticized constantly by everyone, so I felt that maybe that [fragility] could be reflected in the costumes. I used transparent fabrics where you can see the skin, which makes her more vulnerable. These silks and chiffons are really nice to the body but Linnet doesn't have the armor to fight against this dangerous world. And Jacqueline for example…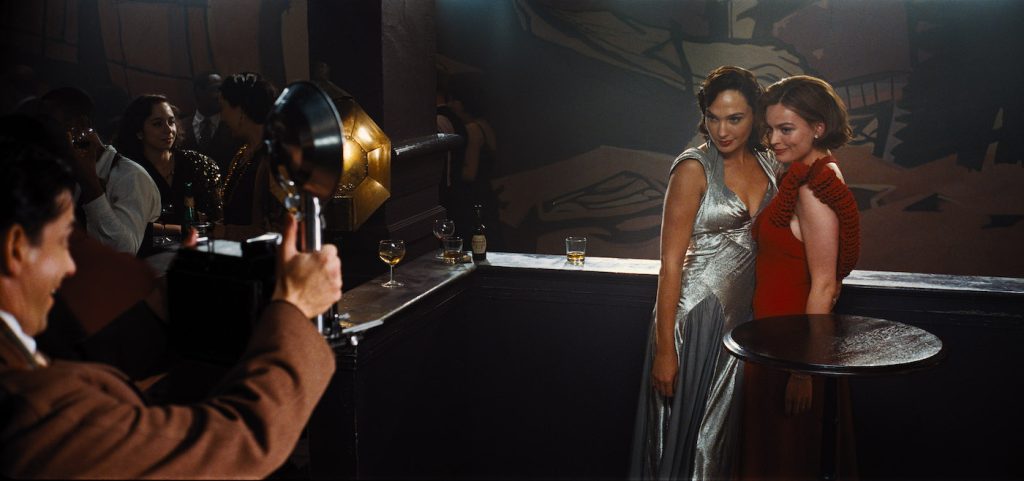 Wait, I'm sorry to interrupt, but for Gal, did you have a specific inspiration for her luxurious evening gowns? I wonder if you looked at movie stars from that period or . . .
Yeah. I felt the direction with Gal's character has to be Hollywood. Not Katherine Hepburn because she's so strong, but Marlene Dietrich movies where it's all about glamour. And I thought about [blonde 1930's screwball comedy star] Carole Lombard a lot. Gal's very warm, like a next-door gal, and she has an amazing sense of humor. I told her when we met, "Obviously you are not blonde but I have this feeling that you have to be a little bit like Carole Lombard as a style for your character" and she said "That's really funny because I was talking once to [Francis Ford] Coppola. and he told me I reminded him of Carole Lombard." Bingo! I thought If Coppola said that, who am I to doubt it?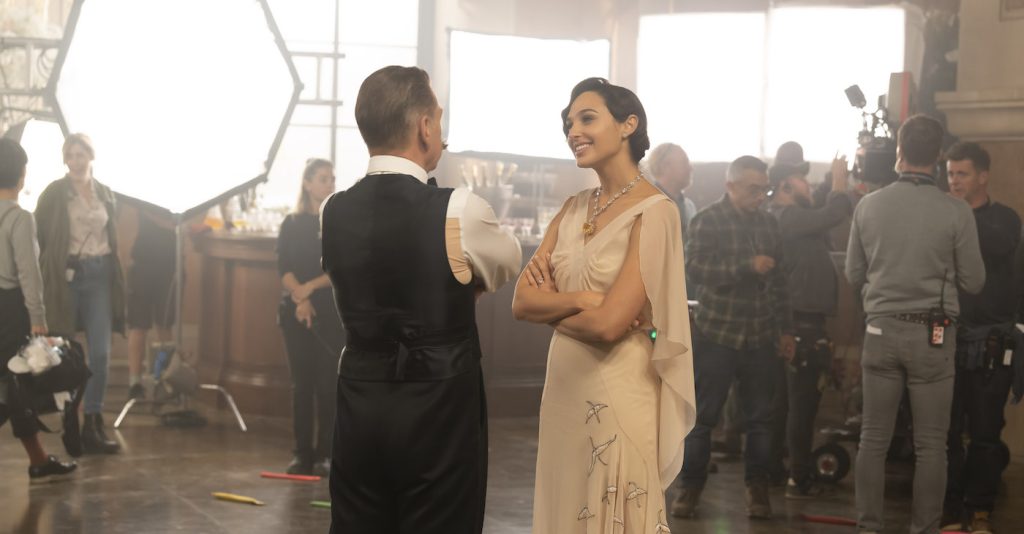 You created a very different look for Linnet's rival Jacqueline, played by Emmy Mackey.
For Jacqueline, it was the opposite. She has nothing, but Jacqueline has an engine moving her, love and revenge, that gives her something that Linnet hasn't got. She's almost aggressive, following Linnet and her husband to Egypt. We wanted to show this passion in a very direct way by dressing Emma in red.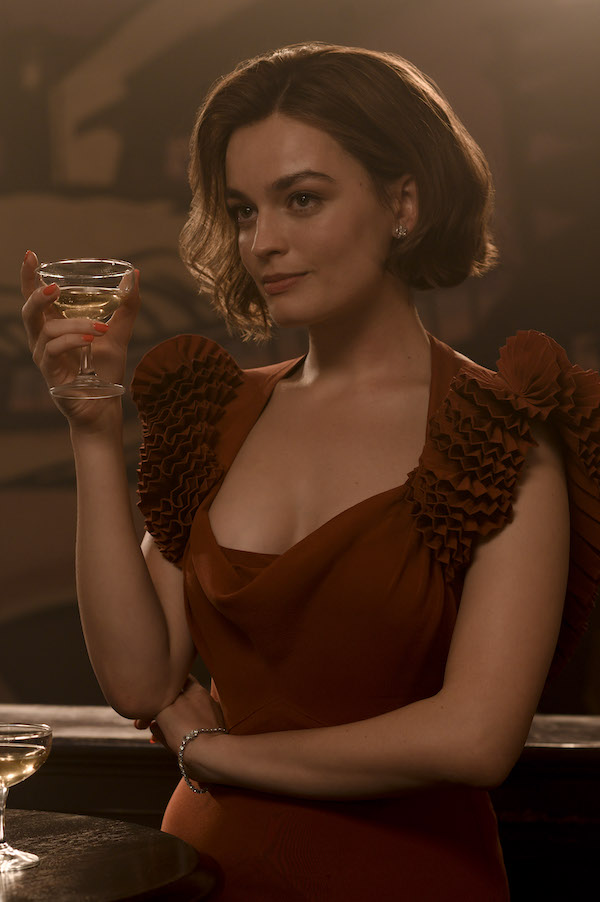 And then, of course, Poirot. This was your first time working with Kenneth Branagh?
Yes but it feels like we've been working together for a long time because he's very direct and very clear about what he wants. Kenneth told me one of the important things about Poirot is that he's almost OCD, obsessive-compulsive disorder. Poirot wants everything to be in place, in perfect condition. If he has a knot here in his tie, the knot has to be perfect. The jacket has to fall perfectly.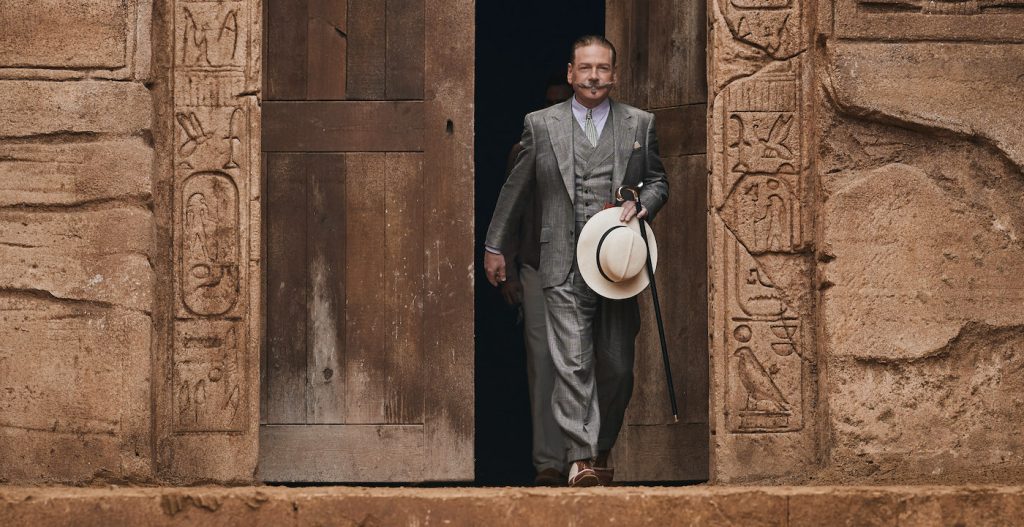 Branagh introduced his version of Poirot five years ago in Murder on the Orient Express, but this film sets the murders in an entirely different setting: a luxury cruise ship on the Nile. How did this premise impact your ideas for Poirot's clothes?
In the first movie, Kenneth portrayed Poirot in dark colors. The thing I thought about for Death on the Nile is that Poirot's not working, at first. He's on holiday and we have to make the audience believe that so I put him in the fancy dress. Poirot's a bourgeoise traveler of the period, dressed in white linen, pretending that he's enjoying the pyramids. That was the whole thing at the beginning of the movie, where we put him into linens and summer suits and this sort of thing. By the end of the movie, when becomes the Poirot we all know and has to tangle with what happened, then he comes back to his dark persona.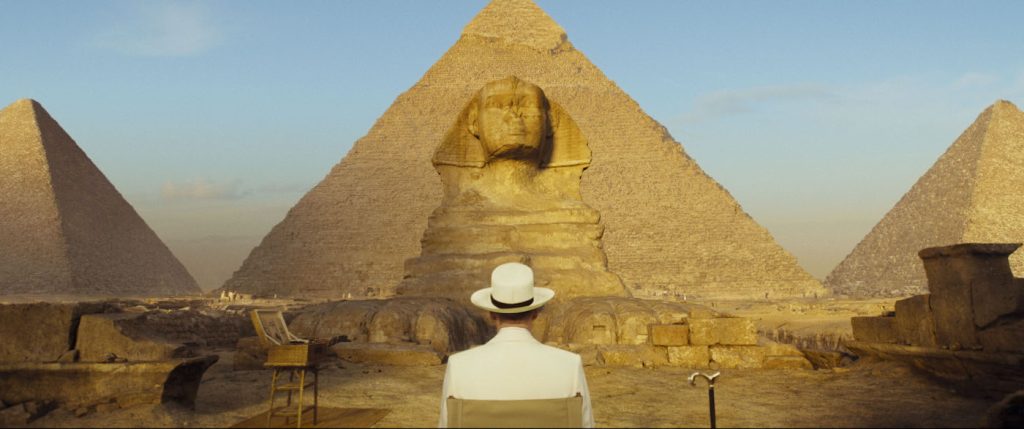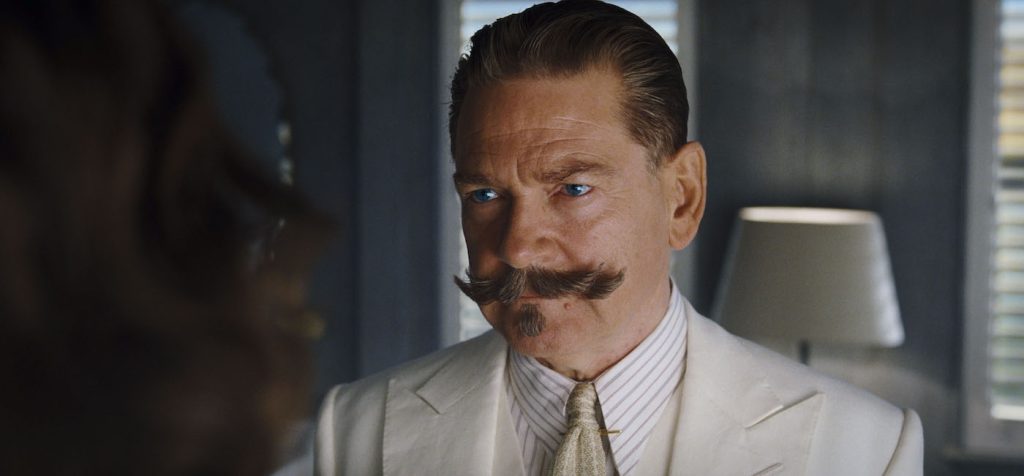 In fact, just about everybody winds up wearing darker clothes by the end of the movie.
Yes because I just thought, these people live in a fantasy world of partying and happy holidays and summer dresses, all thinking, "How lovely are the pyramids, I'm so comfortable, I'm so cool." But the progression in this movie has to be from light and from colors to dark, because by the end when there's this dark confrontation with the real world, they're not living in a bubble anymore.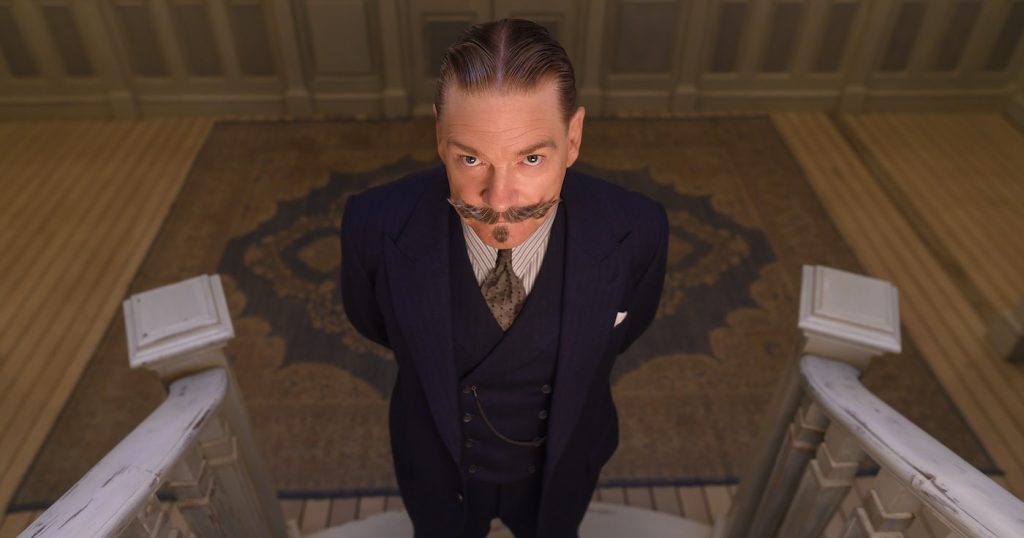 Gal Gadot wears the famous 128-carat Fancy Yellow Tiffany Diamond in this movie. If I understand correctly, it's the real thing, on loan from Tiffany?
Yes. It was scripted that Linnet wore this Tiffany diamond, so it wasn't my idea. I asked the producers, "Can we really get this?" Because it's a mythical diamond of legendary status, worn before by Audrey Hepburn [when she was promoting Breakfast at Tiffany's] and Lady Gaga. But the producers have an arrangement with Tiffany and we were able to get this diamond, with its amazing color. That opened the door to work with Tiffany on many many other pieces of jewelry, both vintage and contemporary. Cufflinks for the men, earrings, and rings for the ladies.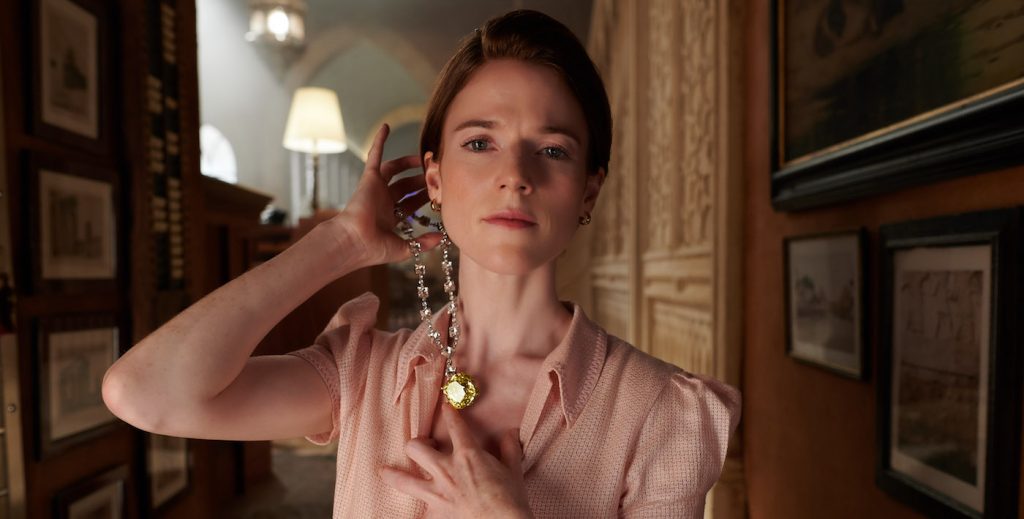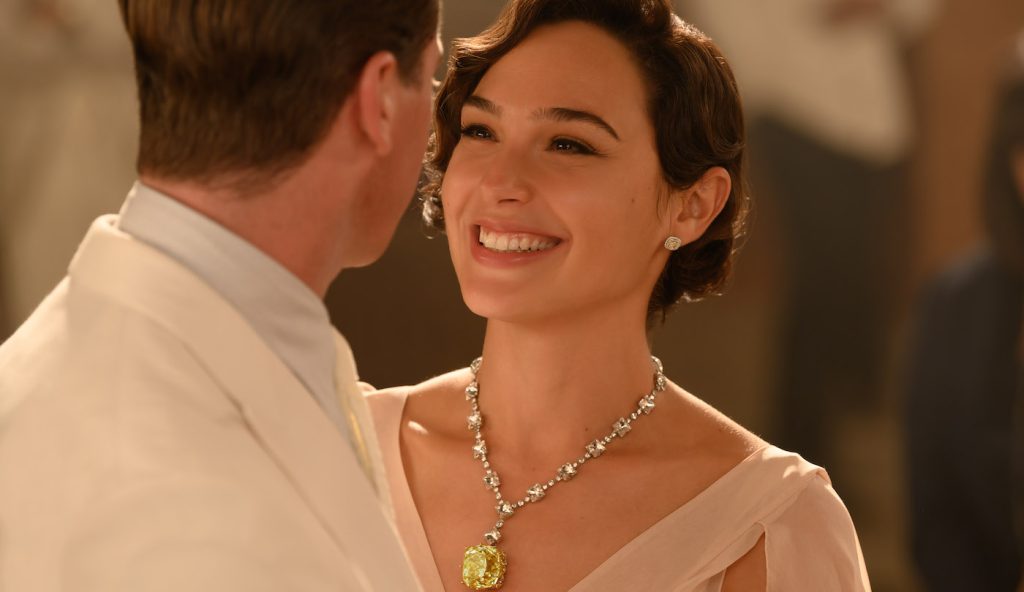 Death on the Nile, like everything else you've worked on, showcases your mastery of materials and shapes but more than anything, I think it's your eye for color that really shines. How did you learn to create such rich palettes in your clothing?
I am from a little island [in the Canary Islands] where the only color is the black of the volcanic ashes and the blue of the sky. And maybe a little bit of green from the plants, the geraniums. That very minimalistic palette made me appreciate color in a different way. I don't like to put in a lot of things, like embroidery and then flowers and then… I don't like to have the eye looking at a lot of different things. I try to make my costumes "clean" in a way that gives shape and color and interest to the protagonists. Because I've always felt that color is a really powerful dramatic tool that can express so many things. You see blue, you feel calm. If you see red, you feel agitated maybe or you feel the passion. It allows you to express so many emotions. I prefer to make an impact on the eye [right] from the beginning. Then they can forget about that and concentrate on the acting.
Featured image: Gal Gadot as Linnet Ridgeway Doyle in 20th Century Studios' DEATH ON THE NILE. Photo courtesy of 20th Century Studios. © 2022 20th Century Studios. All Rights Reserved.